For vegans it is often difficult to find suitable food places when traveling. That is why I want to share the best vegan food in Rome together with some healthy food spots in Italy's capital.
Vegan Burgers in Rome – Flower Burger
A huge recommendation is the restaurant flower burger in Rome! I loved this place. When we entered we were already greeted personally by the restaurant owner Fabrizio who gave us a warm welcome. As it was lunch time the place was packed and seemed to be super popular in the area. Flower Burger has so many colorful burger options with different plant-based patties. We ordered four different colors and found the most beautiful rainbow of burgers on our table. As a side dish they offer edamame!!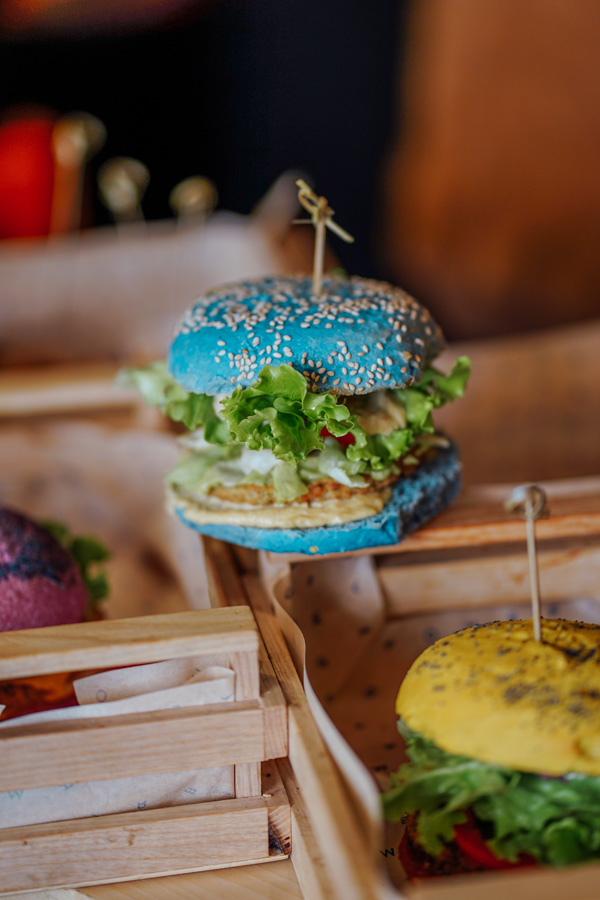 Fabrizio come over to our table every once in a while telling us his personal stories about becoming a vegan and where the history of Flower Burger in Rome. A visit at Flower Burger makes eating vegan so much fun! I came with my boyfriend and my sister who are not the biggest fans of plant based food, but they loved the colorful, tasty burgers as well. Flower burger is definitely a good choice if you are looking for vegan food in Rome.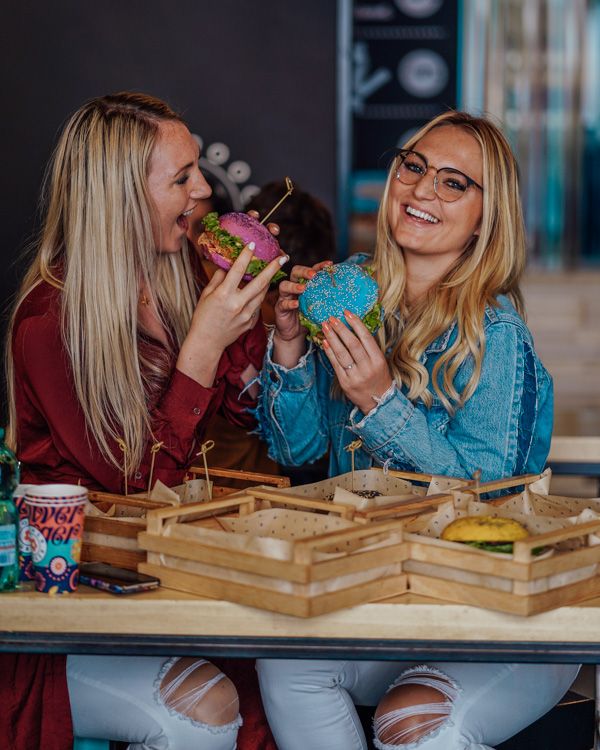 Barnum Cafe
The next healthy food place in Rome I can recommend is Barnum Cafe. Its is a cozy tiny Italian coffee house. We went there for some coffee and I ordered their Matcha cappuccino, which was more like a regular matcha latte in a cappuccino cup. I also had a look at the breakfast menu and saw that they have a lot of healthy and vegan options. If we would have gone for breakfast I would have ordered the avocado toast which sounded very yummy. The place has good and fast internet and we were working from there for like an hour or two. Just be aware that it is a bit dark and loud inside. Here a shot of boyfriend sipping on a matcha latte at Barnum Cafe: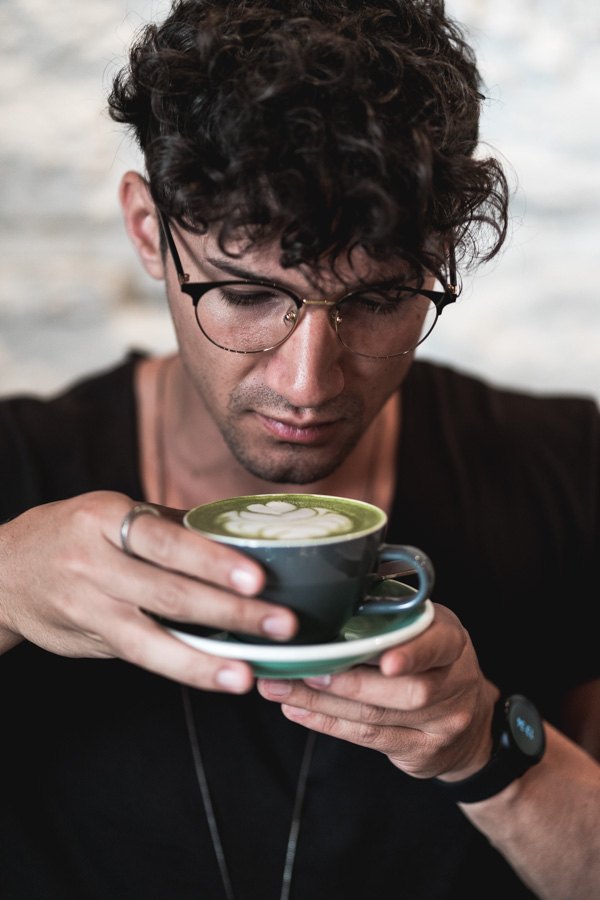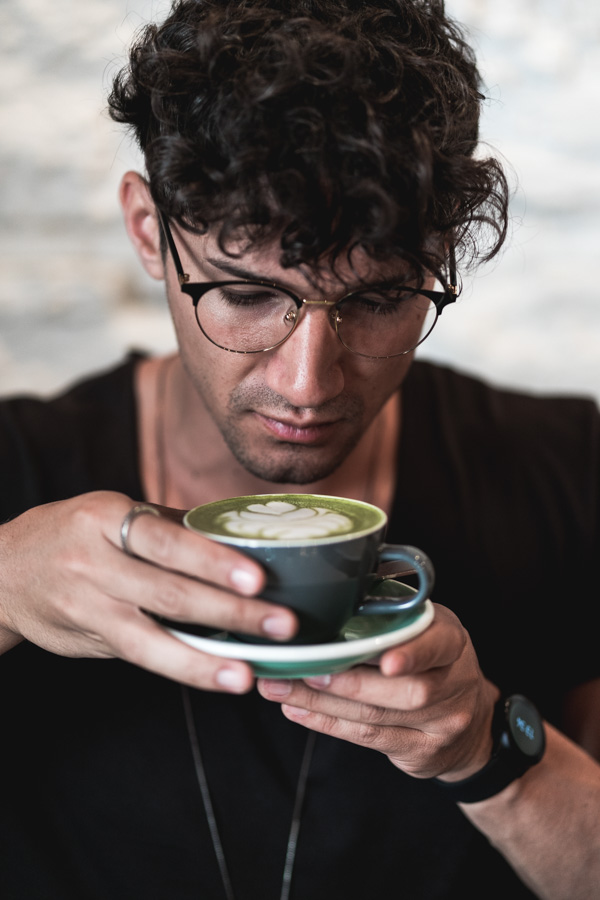 Japanese Brazilian Fusion: Temakinho
For dinner we went to the Japanese Brazilian fusion restaurant Temakinho. It was recommended to me by one of my food blogger friends. The restaurant has such an awesome style and flair. I love the interior design and cool atmosphere. Since it is sushi be prepared to pay a little more than you would for Italian pasta or pizza! Also the portions are a bit smaller than you would probably like them to be. I ordered the salmon poke bowl, which was totally enough for me, but my boyfriend had to order another roll to not be hungry anymore.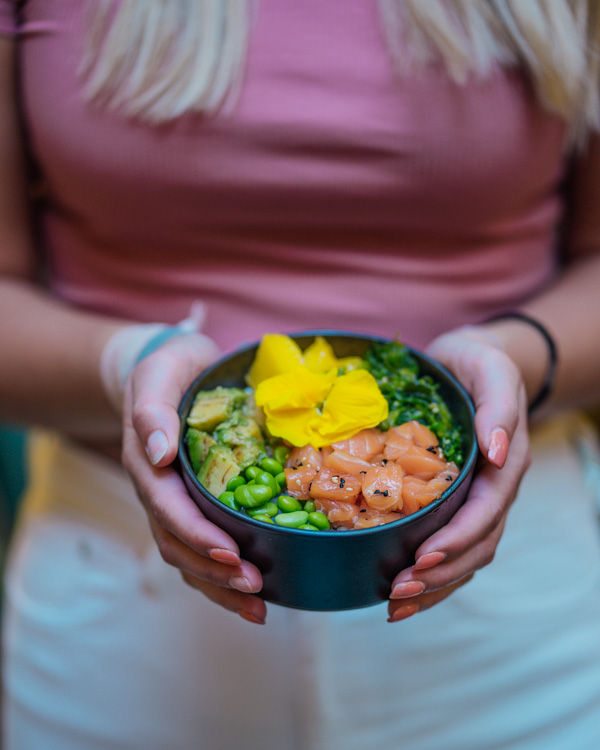 A roll is like 10€ and the Poke Bowls are 13€. What I found particularly interesting are their Tartars. We all know beef tartar, but at Temakinho you find all different kind of beautiful layered fish and vegan tartars. Unfortunately I didn't get the chance to try one because we already had ordered a bunch of other dishes.
At Themakinho there are many vegan and vegetarian options you can get there. If you have a little more budget to spend and want a really unique dinner location I would totally recommend this place for healthy and vegan food in Rome.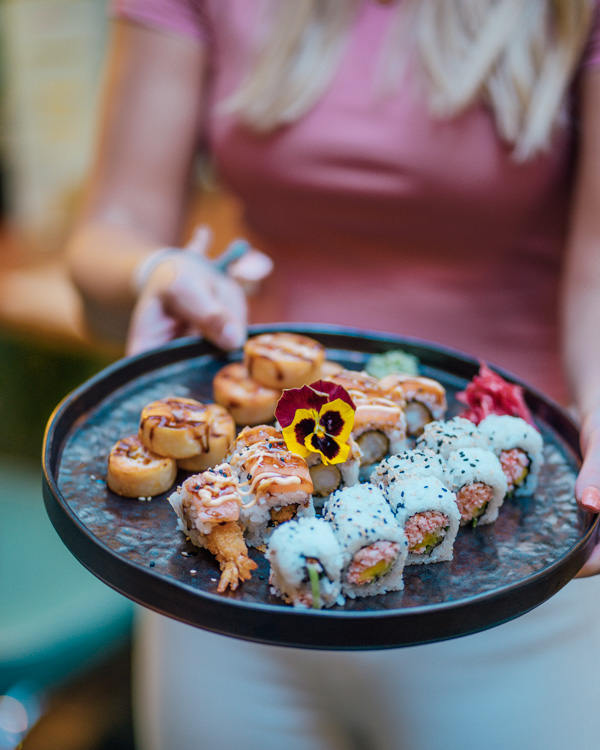 Avocado Bar
Walking through the hipster area of Monti I found this awesome place by accident. I love the avocado concept. Every dish contains some kind of avocado variation! You will find everything from avocado toast to burger, pasta and bowls there. The restaurant is more of a "let's grab a quick bite" place than an actual restaurant. The location is very central, close to the Coliseum actually. Here is their Instagram.
They perfected the art of decorating their dishes with avocado roses and have super healthy and vegan meal choices. A great place for vegan food in Rome and an absolute must for all those avocado lovers out there!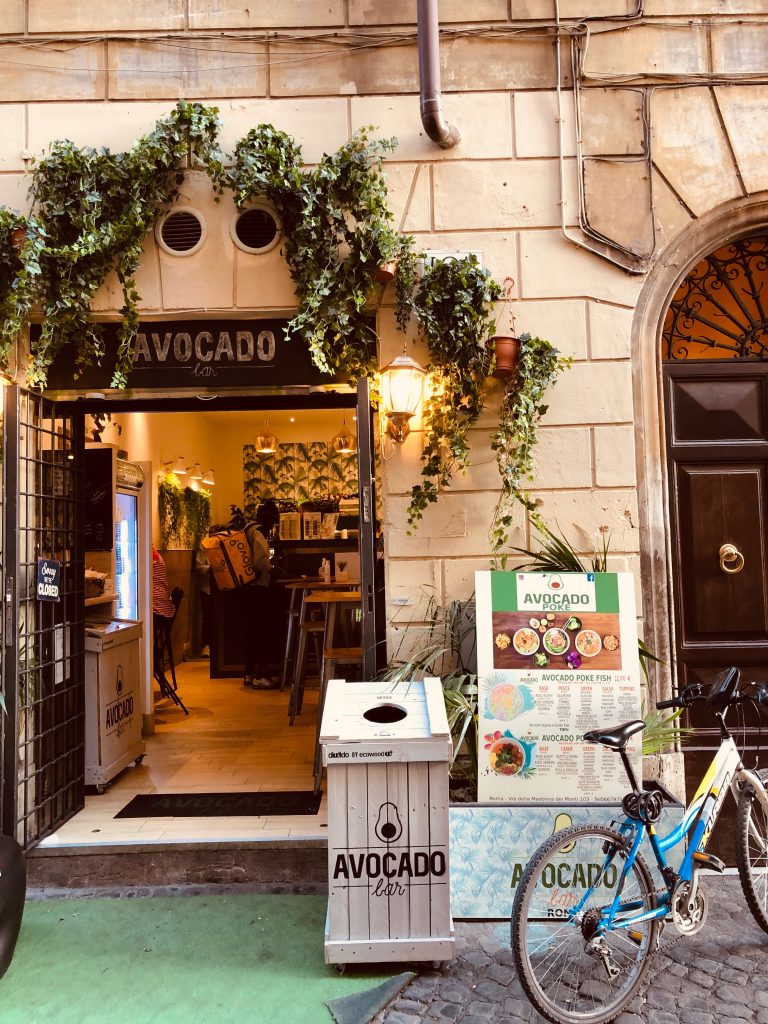 Grezzo Raw Chocolate – vegan food in Rome
Grezzo is a raw vegan patisserie located in the trendy neighborhood of Monti. All products are raw, organic, vegan and free of gluten, soy and animal products including dairy. Basically they put only the best of the best into their sweet treats. I had one of their little cakes which hands down was one of the best cakes I have ever tasted in my whole life. I honestly think you could really taste the difference in quality. Everything we tried was so pure, rich and satisfying. My boyfriend asked me I think four times if what he was eating was really vegan because he couldn't believe it.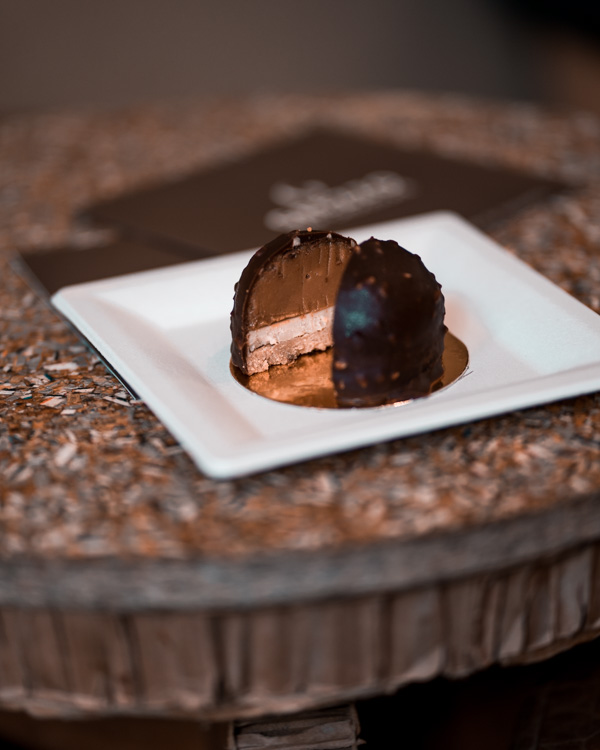 I also really loved the raw aspect of the chocolate. At Grezzo they keep processing temperatures under 42 degrees in order to maintain the nutritional values unaltered and the authentic flavor of the ingredients. We also got the chance to try their vegan ice cream, which is made with fresh nut milk to give it this creamy consistency. All treats are sweetened with natural coconut sugar which has a low-glycemic index that won't spike your blood sugar levels that much.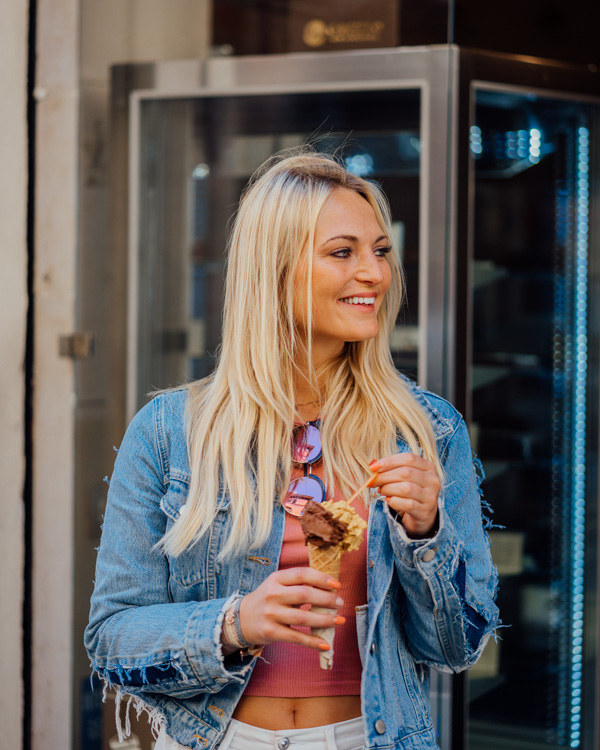 All in all my visit to Grezzo was a whole new culinary experience and I highly recommend you check it out while visiting Rome! Since it is also located in one of the hippest streets of Monti the stroll to the chocolate bar is also super nice.
Anti- tips aka. don't go here
On a side not I also wanted to mention two spots I would NOT recommend after having visited them:
Escosazio : This place is advertised as a juice and organic food restaurant. The second I walked into it I had troubles breathing. I honestly have never visited a more stuffy place. The air was so bad in there and it was unbearably hot. We left after 2 minutes and didn't even order anything. I'm really not sure how people can enjoy a meal in there. It is so small and tiny and there is no air circulation at all. The menu looked amazing and I liked the design of it, but I can't imagine how it must be in the summertime when it is even hotter outside. I went there in April and it was already super stuffy inside.
Ginger: After some internet research many blog posts recommend the restaurant Ginger. I went there and was utterly disappointed. It is super expensive, the portions are the smallest ones I have ever seen and it is so loud because there is constantly a blender running. Not worth a visit in my opinion.
I hope you really enjoyed this fitness & healthy food guide and I could show you some vegan food in Rome that you might try on your next visit!
If you are looking for more travel food guides make sure to check out: Healthy food in Taipei and healthy food in Puebla!
xoxo,