This healthy and vegan chocolate mousse cake is totally sugar-free and simply such a great fitness dessert. The silken tofu in the recipe saves you a lot of calories while adding a good amount of protein.
I kind of created this recipe by accident. My actual plan was to make vegan feta cheese and that is why I had so much left over tofu in the fridge. The same day I tasted this incredible chocolate mousse cake at Bali Buda – my favourite health Café and Bakery in Bali and thought: I simply have to try this myself. After successfully copying their Snickers bars (
my recipe
turned out to be even better than theirs in the end) this became my new quest!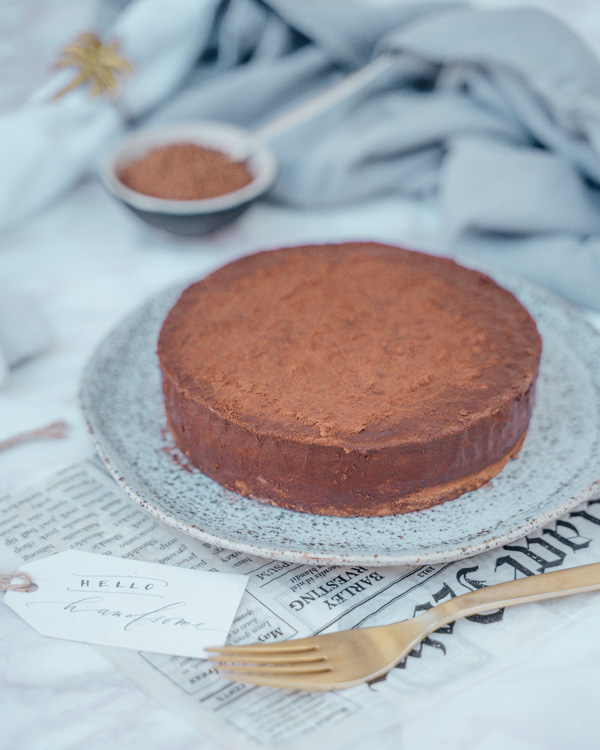 So I went home and checked my fridge and decided to make this cake with the ingredients I still had at home. I wanted to keep it to a minimum of ingredients to make this as easy as possible. All you need for the mousse is: coconut cream, dark chocolate, cocoa powder, coconut oil and silken tofu.
Tofu chocolate mousse?
This vegan chocolate mousse cake will absolutely fascinate you. The main ingredient is tofu and you probably wouldn't think of using tofu in a chocolate cake! However tofu is actually perfect for this kind of dessert, because it gives the mousse the smooths and creamy texture. However, obviously not all kinds of tofus will work for this recipe. You will need to find a very specific kind of tofu:
silken tofu
. For all my German speakers that would be "Seidentofu".
This kind of tofu is really low in calories (only 50kcal per 100g) and carbs (not even 1g per 100g). You will still get a bit of fat (3g) and 7g of protein per 100g. Silken tofu is just the perfect alternative to full fat cream, which would usually be used for chocolate mousse. The tofu itself is very neutral in taste. It will adopt any flavor you add, which is why you can make sweet, but also savory recipes with it!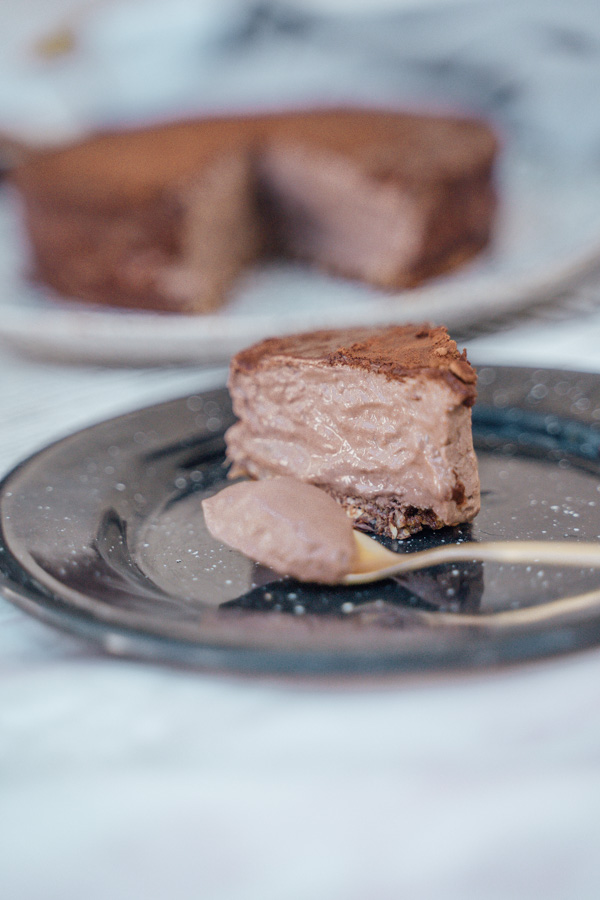 Vegan keto chocolate mousse
The mousse itself is actually low carb & keto. This cake is made with coconut milk, because it gives a wonderful aroma and doesn't water down the mixture too much. Thanks to the coconut cream, coconut oil and dark chocolate you will have a high percentage of fat, but almost no carbs. If you want to keep the cake keto or low carb as well you can switch. from using dates as a base to just nuts & seeds mixed with coconut oil.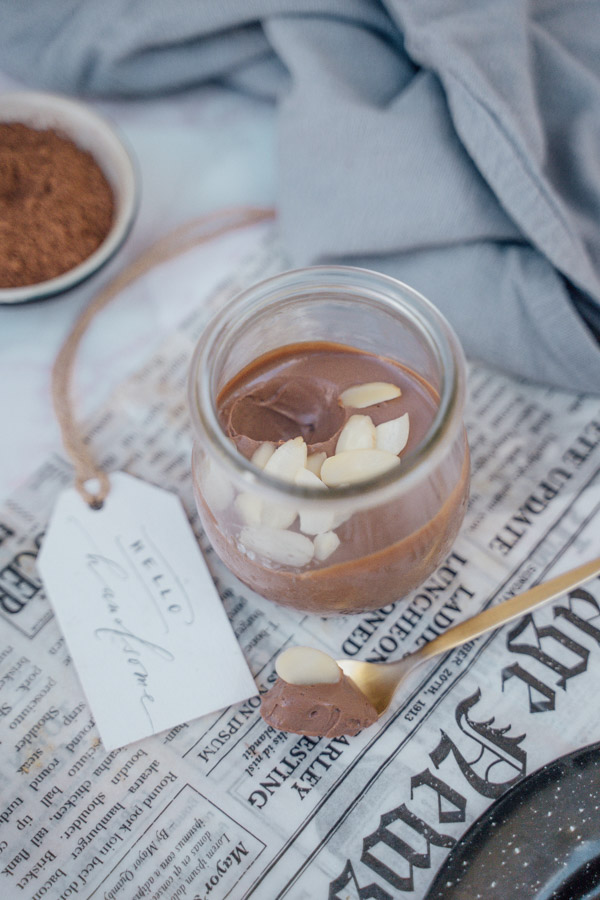 Or you just keep it as is and enjoy the mousse itself. Add some nice toppings and serve chilled.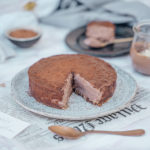 Vegan Chocolate Mousse Cake
A creamy slice of heaven without any of the guilt!
Zubereitungszeit
20
Minuten
Zutaten
Mousse
600

g

silken tofu

6

tbsp

coconut cream

4

tbsp

cacao powder

4

tbsp

coconut oil

100

g

dark chocolate
Base
100

g

oat flour

100

g

cashews

200

g

dates

1

tbsp

coconut oil
Anleitungen
Blend silken tofu with coconut cream.

Melt chocolate together with coconut oil and stir in the cacao powder.

Add the chocolate mixture to the tofu mixture and blend again.

Take out of the blender, but don't clean the blender.

Add dates, cashews, oat flower and coconut oil to the blender with the leftover mousse and mix until well combined.

Press the dough as a crust into a cake tin (with removable base). Add the chocolate mousse and chill in the fridge for at least an hour.
This coconut chocolate mousse cake is so smooth in texture and the creaminess is just next level amazing. If you are looking for another great vegan creamy cake head over to my
cashew cheesecake
.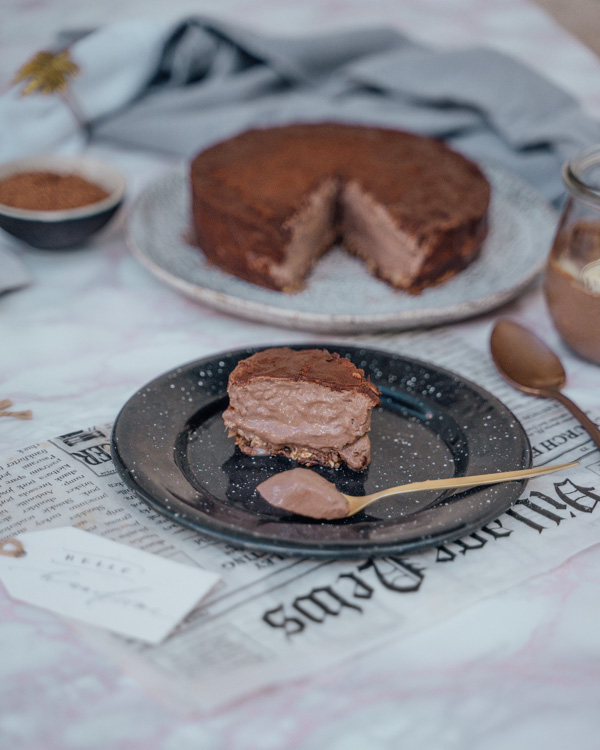 Did you make this recipe?

Did you make this recipe?
Tag @carina_berry and use the Hashtag #carinaberry to get the possibility for a shoutout on my Instagram!
I always love to see your wonderful creations! It makes me so happy to see you guys actually making my recipes.

xoxo,