These healthy pumpkin bars are moist, fudgy and sweet all the same time. This vegan pumpkin bar version is fitness approved, free from refined sugar & gluten! They will turn into your favourite snack this autumn!
Packed with nutrients
If you are a regular visitor of my blog you know how much I love healthy recipes that taste amazing and are easy to make. This pumpkin bar recipe checks all those boxes. It will be ready within a 15-20 minutes with the maximum output of taste and deliciousness.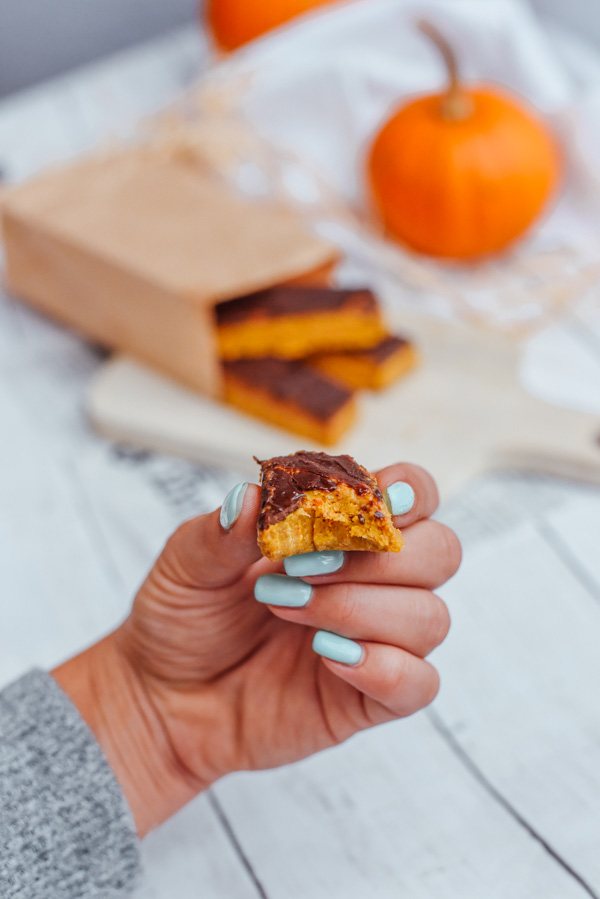 Here are some fitness approved ingredients I included in this recipe:
Extra protein, healthy fat and complex carbs
The main ingredient is oat flour (blended oats). Oats have a high amount of complex, slow releasing carbs that supply your body with energy. I used coconut oil as a fat source since it is very low in cholesterol. Pumpkin has also a lot of healthy carbs and is filled with vitamins and nutrients. I added a scoop of protein to spice up the nutritional values of the dish as well.
Dark chocolate for your health
These pumpkin bars have no frosting like similar recipes, but are covered with a beautiful layer of dark chocolate instead. Like this you are saving a ton of calories. Dark chocolate is actually super good for you because it contains loads of nutrients that can positively affect your health!
20g of dark chocolate is considered a healthy portion per day. Make sure you go as high as you feel comfortable with your dark chocolate. I would consider any chocolate above 70% as good dark chocolate. If you like bitter maybe try this recipe with 90% dark chocolate. Like this you will have the least amount of sugar in your chocolate and the highest amount of pure cocoa.
If you cut the mass into 16 bars one serving will only have around 90kcal! Seriously, you need to try these to die for fudgy pumpkin bars.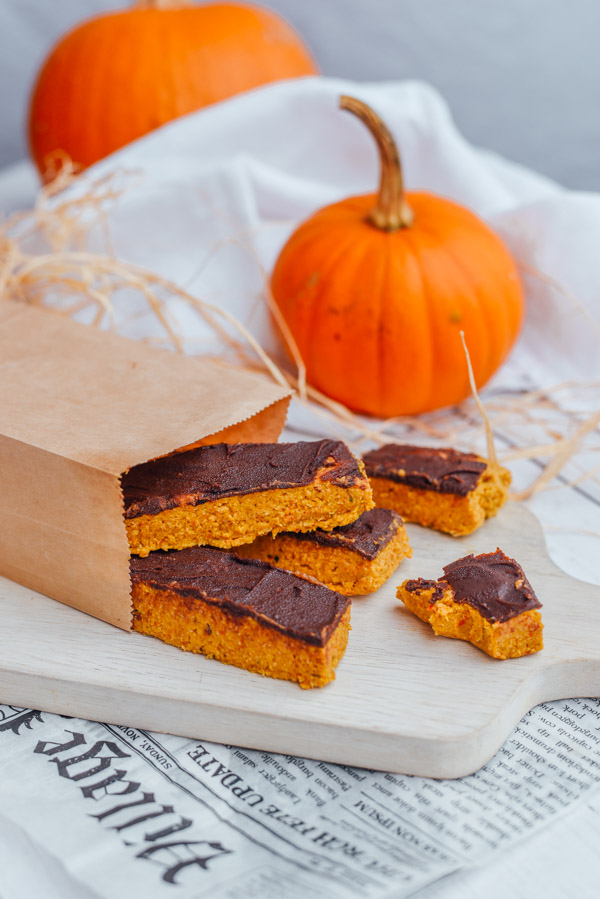 Healthy pumpkin bars recipe
These sheet pan pumpkin bars are easy to make. Here is the full recipe for these delicious healthy pumpkin bars: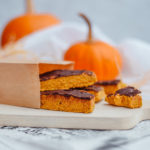 Pumpkin Bars
Healthy pumpkin bars that will melt on your tongue!
Zubereitungszeit
15
Minuten
Zutaten
150

g

pumpkin

70

g

coconut blossom sugar

alternatively date sirup, Xylit or Erythrit

1

tsp

pumpkin or gingerbread spice

200

g

oat flour

40

g

coconut oil

30

g

protein powder

optional

70

g

dark chocolate
Anleitungen
Cook the pumpkin in a pot. Drain and blend in a mixer.

Add the coconut oil to the hot pumpkin puree in a bowl and stir.

Add the rest of the ingredients and mix well.

Place saran wrap in a small plastic container and press the mixture evenly into the box. It should be around 1.5cm thick.

Melt the chocolate and spread as a layer over the entire oat mixture.

Place in the freezer for 1h and then cut into 8 or 16 bars.

Keep in the fridge and eat cold.
Rezept-Anmerkungen
If you ommit protein powder or use date syrup you will have to use a bit more oat flour.
More inspiration for healthy raw bars
I hope you will enjoy these delicious and healthy pumpkin bars! A very similar recipe I made a while ago are actually these yummy carrot cake bars. Since the recipe is in German I wanted to make something similar for my English readers.
There are actually quite a few delicious raw vegan recipes on my blog. In case you speak German check out my vegan snickers bars (most popular recipe on this blog) or the video version on YouTube for everyone who speaks English.
Another great low carb snack recipe are my keto bounty bars. Perfect for all the coconut lovers!
Did you make this recipe?

Did you make this recipe?
Tag @carina_berry and use the Hashtag #carinaberry to get the possibility for a shoutout on my Instagram!
I always love to see your wonderful creations! It makes me so happy to see you guys actually making my recipes.

xoxo,