Welcome to this special guest blog post! Today I would like to introduce one of my super talented foodie friends. Her name is Lenny, she is 17 years old and currently lives in the US. She is a passionate vegan and tries to inspire her followers with amazing plant-based food creations. She will tell you a bit about herself and share a delicious recipe with you in the end!
Lenny and I have been supporting each other on Instagram for a while now and I love seeing her colorful dishes and yummy bowls everyday on my feed. I am impressed by the quality of photos, the creativity of each dish and the love for detail in each shot. You should totally check out her Instagram @vegamelon. She also has a lovely blog which she keeps updating with new recipes. You will find a wide range from mains, to breakfast, dessert and snack recipes. Best you have a look yourself at www.vegamelon.com.
I love that Lenny's plant-based recipes are full of flavor, nourishment, and happiness. The fact that she keeps her recipes quick and easy to make goes hand in hand with my cooking philosophy. Also, we are both fruit addicts. Her favorite fruit is the watermelon and mine is the strawberry. So we are basically fruit sisters 😉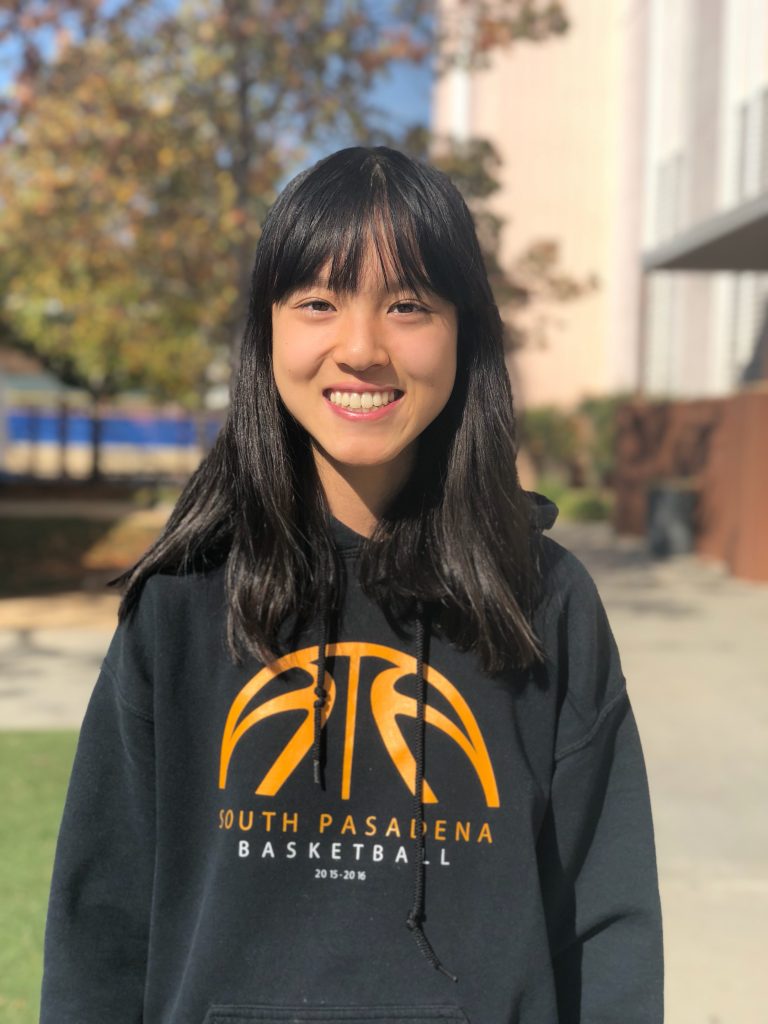 In today's blog post she will be taking over and share one of her favorite dishes with you – vegan bagels with cranberries! So lets hand it over to Lenny:
Meet Lenny – a math & watermelon enthusiast
Hi, I'm Lenny! As you may have already read, I am a passionate 'teen chef' who loves to share her plant-based creations! I started my Instagram blog in January 2017, when I was still in grade 10. I didn't post much in the beginning, but I truly began working on this platform in the summer, starting to share my recipes with the community. Along with my cooking adventures, I also embarked on a journey of food photography, learning how to capture my dishes in an eye-catching way. It's been two years since my very first post, and I can hardly believe how much my skills have grown!
My recipes are generally healthy and easy! I believe that vegan food can taste amazing; it is affordable and approachable. I hope to inspire thousands (and perhaps millions) to eat more plant-based food because it is also much more sustainable for the environment than foods with meat and dairy.
Other than running this Instagram page, I find joy in reading, running, and studying math! I hope to major in mathematics in university and to teach college-level math in my future (of course, all while doing the things I love)! Although, I don't share much about my personal life on social media, I hope to incorporate more of that this year and inspire you the way Carina does, hehe.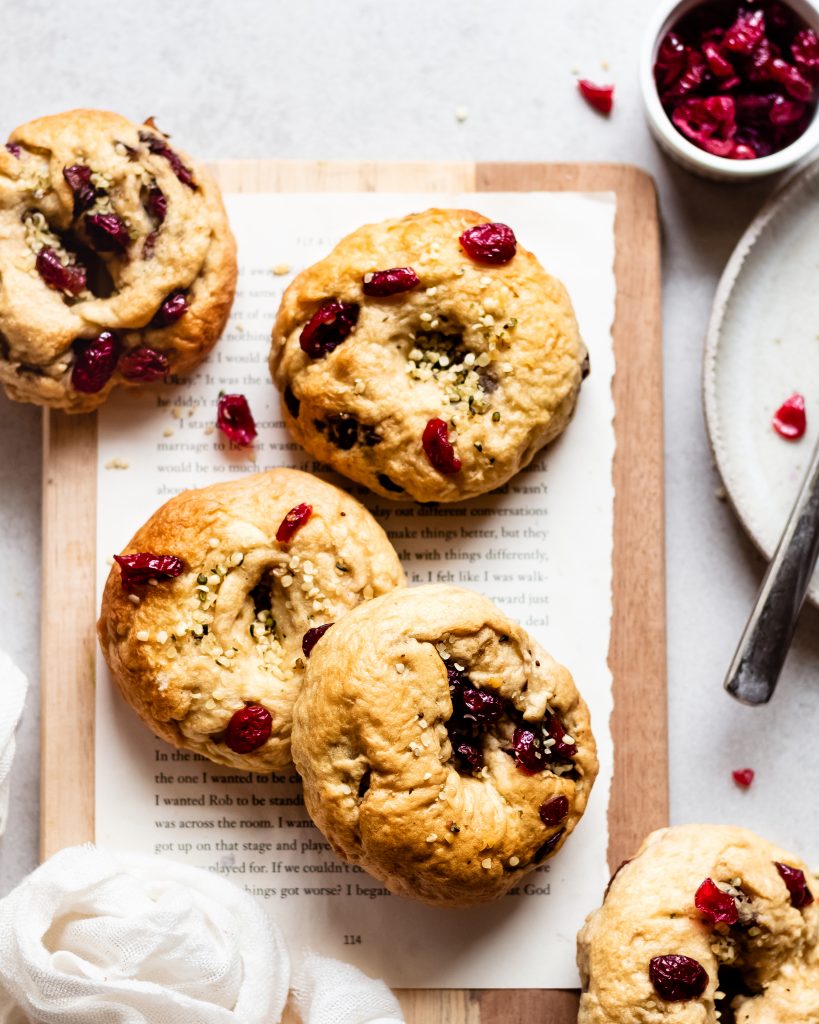 Now, here is my recipe for some delicious seeded vegan bagels with cranberries! These are absolutely customizable and, in my opinion, are superior to store-bought ones. I mean, commercial bagels are delicious and all, but they sometimes have all kinds of weird ingredients/preservatives that might not be so good for your body. These bagels only require 5-7 pantry ingredients, and they'll be ready to serve in a couple of hours! Just imagine biting into a warm, fluffy bagel right out of the oven.
Vegan bagels with cranberries
Ingredients:
dough
-2 cups (240g) bread flour
-1 tsp (3g) instant yeast
-1/2 tsp (3g) fine sea salt
-1 tbsp (12g) granulated sugar
-1/2 cup + 2 tbsp (150mL) warm water
mix-ins
-¼ cup (40g) mixed seeds of choice
-½ cup (80g) cranberries, or dried fruit of choice
for boiling
-1 tbsp (12g) baking soda
-water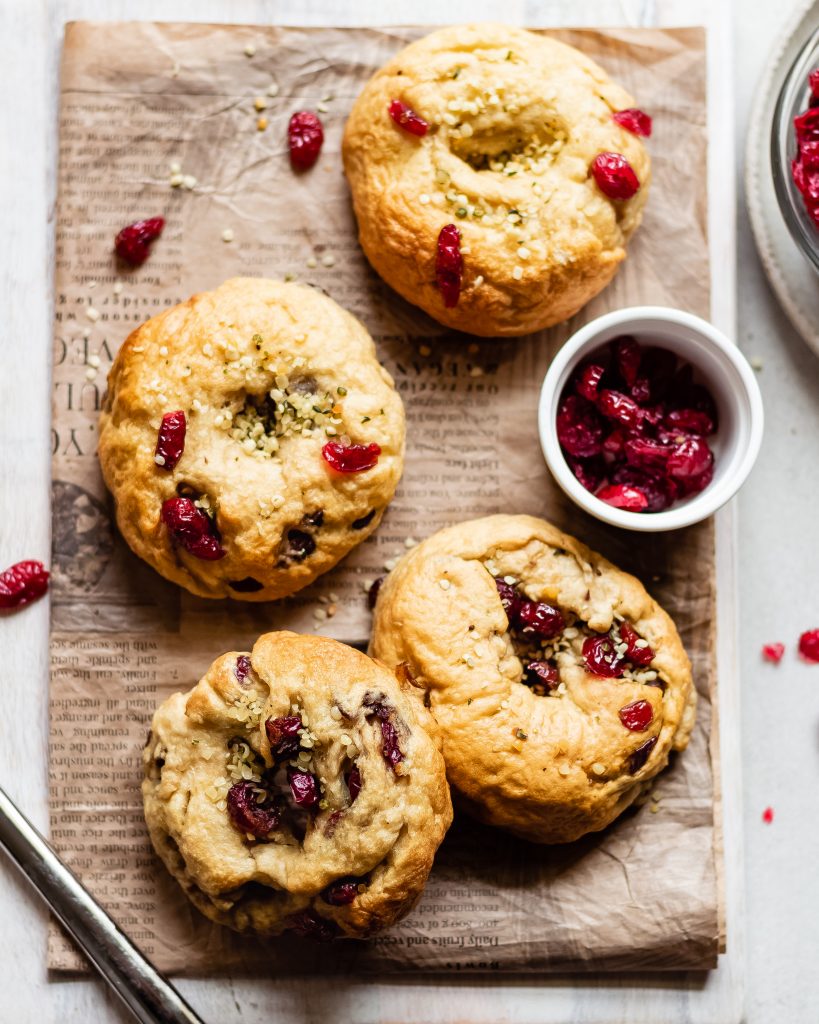 Directions for my yummy vegan bagels:
Mix the dough ingredients in a large bowl.

Once the mixture starts to form, transfer to a flat surface and knead into a smooth dough; about 15 mins by hand.

Shape into a ball and let the dough rise in a covered bowl for 1-2 hours, or until doubled in size.

Once risen, punch down the dough, then mix in the dried fruit and seeds. Divide into 6 equal pieces and form into balls.

Create a hole in the center of each piece using your thumb, then stretch into a ring with your fingers gradually rotating outward from the center.

Place under a damp towel and let the dough rise again, for 30 minutes.

Preheat the oven to 400°F and fill a wide pot with water. Bring to a boil, then add in 1 tbsp baking soda. Alternatively, use 1 tbsp maple syrup (or other liquid sweetener).

Drop in 2-3 bagels and boil on medium heat for 60 seconds on each side. Dry the dough and place onto a greased baking tray.

Repeat for the remaining pieces of dough, then sprinkle on more seeds and bake for 13-15 minutes (until golden brown). Enjoy warm.
I hope you try out these vegan bagels some time! They're so fun to create and will fill your stomach with happiness. And, for more recipes, feel free to visit my Instagram page or my website. Have a lovely week, friends!
Thanks Lenny for sharing this wonderful recipe with my readers. Well, I hope you guys enjoyed meeting one of my awesome foodie friends and will check Lenny's social channels out. If you are interested in meeting more of my talented food blogging friends you can read the guest blog post from Zoe and from Rita as well who already shared amazing dishes on my blog.