It's been a while since I wrote a piece on how to become a better food blogger which is why I wanted to go in a more detailed article today on the best tools for food bloggers. Over the years as a professional food blogger I have learnt so much and wanted to share my knowledge with you. Like this you will be able to work more efficiently, see better results and drive more traffic to your pages.
I will share some of the best tools I use as a food blogger that help me plan, organise and schedule my content. Operating on multiple channels like I do (TikTok, Instagram, YouTube & my blog) can be very challenging at times and it is absolutely essential in my opinion to have tools that will make your daily tasks easier.
Over time I discovered some extremely powerful tools for food bloggers that helped me tremendously. I use them every day. I basically couldn't live without them anymore and that's why I want to recommend them to you as well.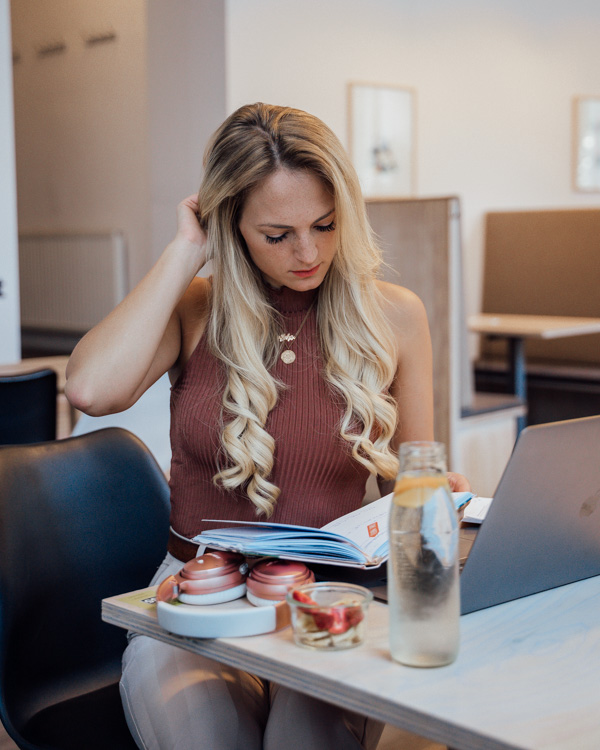 Unum – plan ahead
I could not live without this app! If you follow my Instagram you will certainly already know that I color code my feed. This means I always pick a main color and arrange my photos around that color scheme. Color coding your feed is definitely something that will make you stand out and this is only possible with preplanning your feed. You will need to know exactly which photos will look good next to each other in order to create the perfect "orange" or "pink" feed.
Take a look at this blog post on how to improve your feed with my best tips for Instagram aesthetics!
Unum helps you to do exactly that. You can switch photos around to see what looks best next to each other. You can also pre-write the caption. This will save you so much time during the week if you just sit down for one hour a week to plan your gallery and pre-write all your captions. You only have to press upload and add the hashtags in Instagram and you are good to go!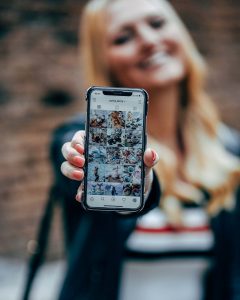 Canva – make outstanding designs
Canva is definitely one of the most useful tools for food bloggers! If you don't want to buy the Adobe inDesign or some other expensive design tool, this will be your go to program! The basic version is free and really all I am using.
It's perfect for creating any kind of designs you need to promote your content. I use it to create my YouTube thumbnails, Insta story swipe ups, Pinterest Pins, flyers or anything else that comes to my mind. You can chose among thousands of different designs and so many fonts. Canva is so user-friendly and fun.
You will want to use Canva definitely to create your personal Pins for your recipes. I always put them at the end of the blog post so people can save them to their favourite board on Pinterest. Like this you are giving them an easy way to save a beautiful picture! It reminds them of making the recipe and brings them right back to your blog.
Here are some examples of Pins I did with Canva:
Kicksta – maximize your Instagram growth
Gaining followers on Instagram can be a time-consuming and tedious process. Especially in the beginning you will need to spend a lot of time liking and commenting other peoples pictures. It's a social network – you need to be social to receive likes and comments in return!
Instagram growth services, like Kicksta, use specific methods such as liking photos posted by people in your target audience, following users in your audience or auto-commenting, to name a few, to get you more organic Instagram followers. This obviously saves you a lot of time on a daily basis!
Using a high quality service like Kicksta will avoid gaining robot followers and have you on your way to reaching your goal of becoming a big Instagram blogger.
Tailwind – Boost your Pinterest traffic
As a food blogger you simply have to use Pinterest! For me its one of the tools for food bloggers that bring the most traffic onto my website.
If you have been using Pinterest in the past you might think it's a lot of work and time consuming! Usually you should pin 10-15 new pins a day! With Tailwind this will become so easy.
All you need to do is sit down for one hour every week and prepare the posts for the upcoming days. Tailwind makes it so easy to schedule hundreds of pins within such a short amount of time. You can group your boards and then pin similar pins to those boards without having to manually type in each individual board.
For example if I want to pin one of my healthy fitness recipes I schedule it for my "fitness food" group board which entails 4 different Pinterest boards (keto food, low carb, fitness food, easy & healthy recipes). Instead of pinning it 4 times its only one click!
It also has so many functions like smart loops and tribes. You can have your favourite and most popular blog posts run in a loop and be rescheduled automatically. Tribes are active Tailwind groups that help each other out by reposting the groups content to their own boards.
I usually try to schedule 2-3 weeks ahead of time because then I can set and forget it! Being consistent on Pinterest will make such a huge impact on growing your traffic and Tailwind is the perfect tool to make this as easy as possible for you. When you sign up you get a trial period to test the tool for yourself. After that you can decide if you want to continue the paid membership.
Here is what my Tailwind schedule looks like currently: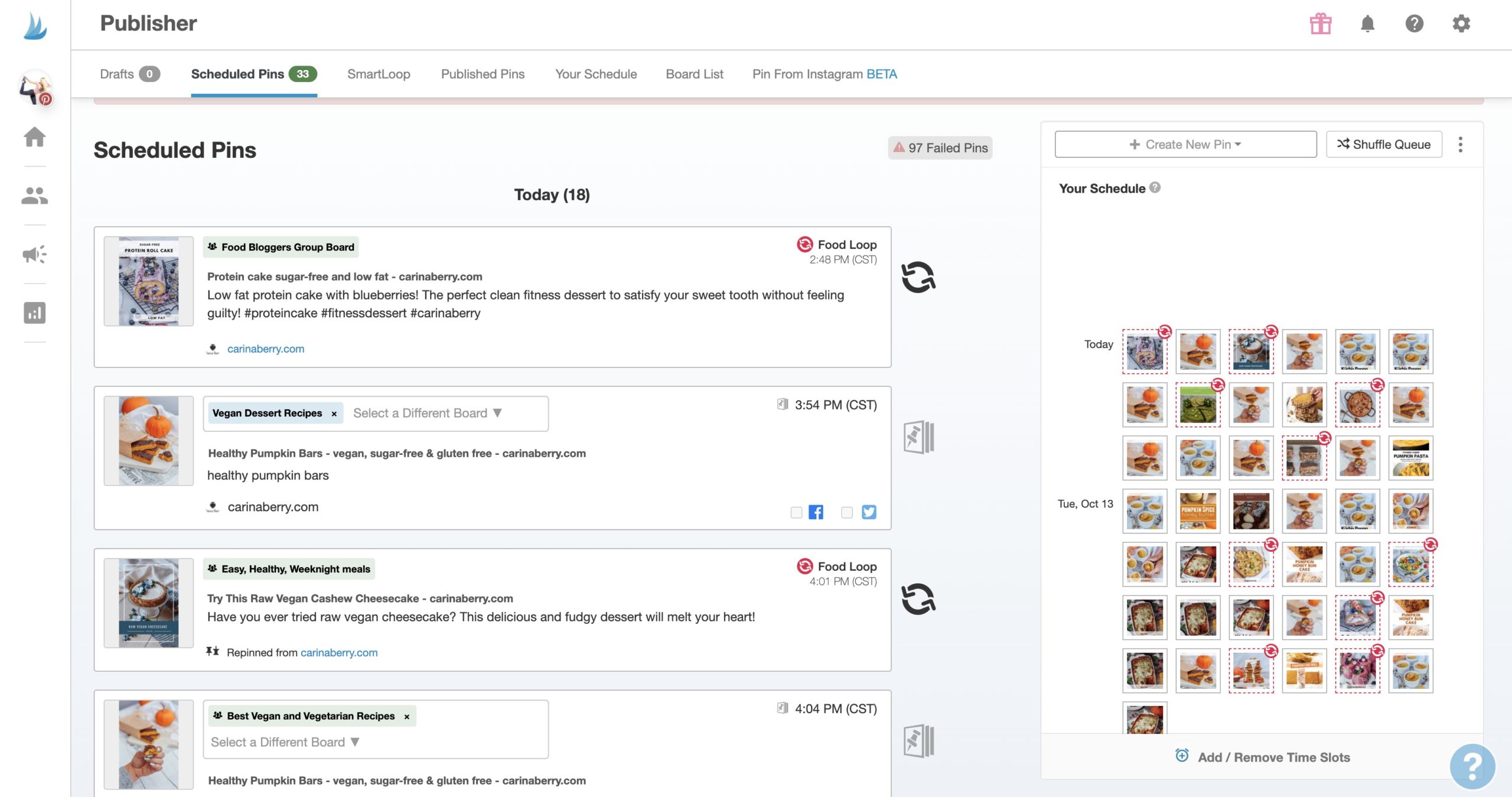 Trello – organise your day
Trello is super practical why I think it is one of the most helpful tools for bloggers to organise their daily tasks. If you are like me you will have hundreds of ideas swirling around in your head and it would be best to do everything right away. Trello can help you to bring structure into your tasks and prioritise them in different lists. You can create individual tasks and add notes, comments, photos and links to each of them.
For example I have only three different lists on my Trello account:
-Things to-do: Here I write done everything that comes to my mind that I need to do sooner or later. Ideas I have for promoting my content, new business projects or general to-do stuff. This is basically where I collect all the ideas that come on.
– Today's priorities: Here I pick a couple of important things out of my first list that I need to accomplish today! If I finished the task I move it to done and if I didn't finish it it stays there until the next day. Be careful to not have too many things in this list and really only focus on todays priorities!
– Done: This list is a collection of all finished projects. I use it as a reference if I need to look something up or have repetitive projects I need to move from done to to-do again after a while.
Whats awesome about Trello is that you can have it on your phone as an app and also as a desktop version. So wherever you are and an idea comes to your mind you can simply write it down or mark it as done.
Here a little screenshot of what my Trello looks like: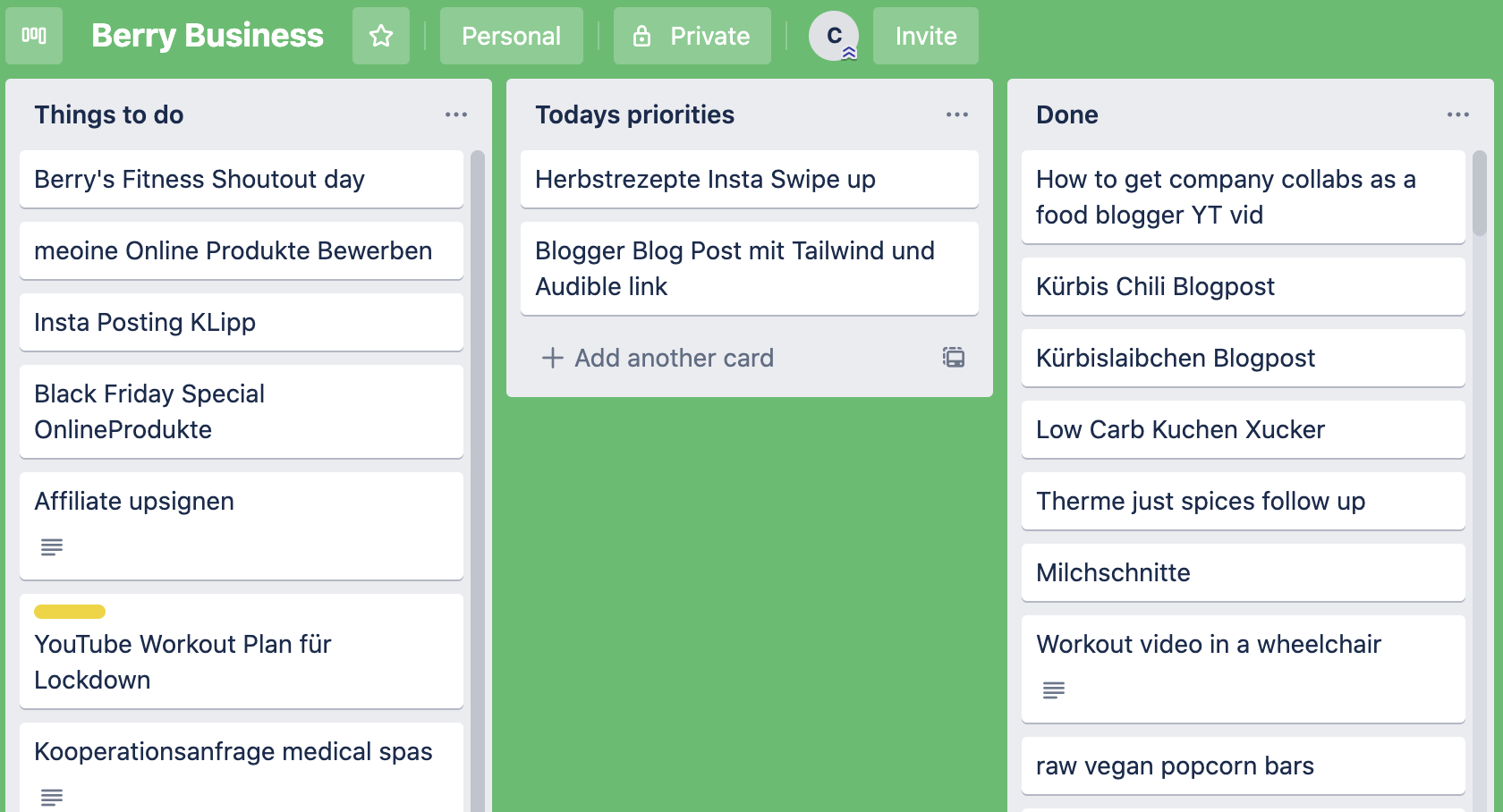 Audible – get your mindset right
Audible is probably not so much of a tool. However, it is still a very important app for your personal and professional development. I love listening to Audible audiobooks because its the perfect way to learn new things and grow as a person. Most people think it's only for romance novel, thrillers and other entertaining books.
Audible makes it so easy to get your daily dose of new knowledge in. You can listen to the audio books on your way to work or university, anytime you spend waiting around for someone or doing mundane tasks that don't need a lot of attention.
Here is a list of my favourite entrepreneurial and motivational books I have listened to on Audible! I totally recommend them to you:
When you sign up for Audible you even get a free book at the beginning and can cancel any time after that. So do yourself and your personality a favor and download one of those books which I recommended for free now!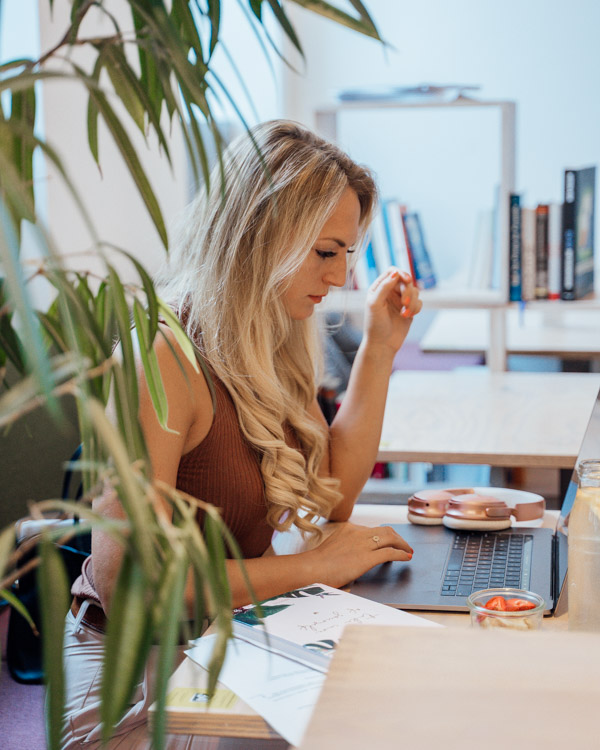 More useful tools for food bloggers & resources
I hope these tools for food bloggers were helpful for you!
If you are really serious about becoming a food blogger you should definitely check out my food blogging success online course. It is such a wonderful, well-rounded course. It will be teaching you everything you need to know in order to become a successful food blogger yourself. It's a location independent, self-study course!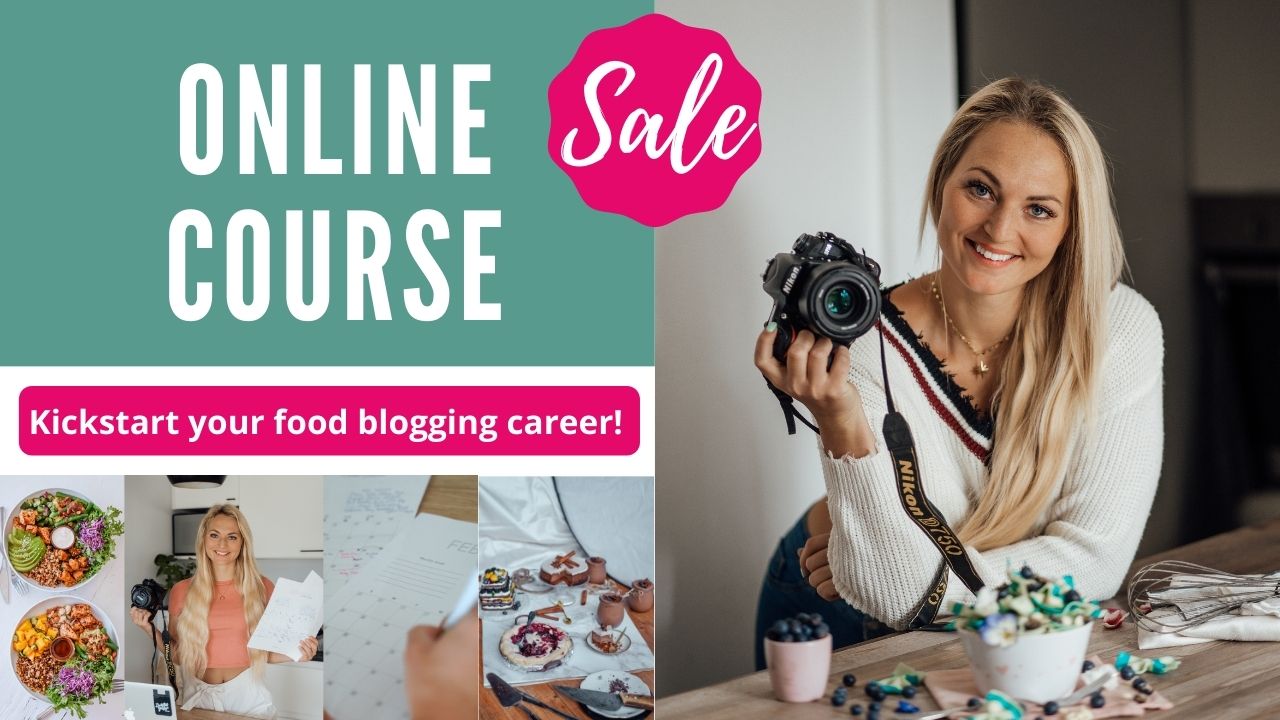 Let me link to some other very important articles I wrote about this topic:
Especially on my YouTube I focus heavily on helping people to become better food bloggers. Please make sure to check out my channel if you are interested in this topic in more detail. It's always easier to explain things in video than via blog posts!
You can also sign up for my free food blogging email series! I will send you helpful content via email to you!
xoxo,