In this food guide on finding the best healthy food in Ubud I will be sharing some of my personal favorite vegetarian, raw, vegan cafes as well as restaurants that I have been to while visiting the bustling center of Bali.
The food experience in Ubud
Early November I got to spend a whole week in Ubud, which is known to be the ultimate paradise for vegans and raw food lovers. Ubud has this spiritual vibe going on, focusing a lot on yoga practices, raw and healing food as well as esoteric powers and supranatural experiences. The smell of joss sticks will follow you everywhere you go and girls with messy hair buns carrying their yoga mats will cross your way many times. Ubud is the spiritual center of Bali and very focused on well-being and healing the body from within. The whole vegan and eating raw concept fits perfectly into Ubudians belief system and is well promoted by new and traditional restaurants.
It's easy being a vegan in Ubud
Lucky enough I got to experience Ubud's cuisine while being on a 30 day vegan challenge. I could not have picked a better place for my plant-based mission! On the 1st of November I started to eat vegan in Singapur and it was almost impossible to find vegan food there. I was desperately trying to find something to eat for lunch and dinner there, asking so many food stalls if they had anything vegan. They just looked at me funny and I had the feeling they had never even heard the word vegan before.
Ubud is completely the opposite of what I experienced in Singapore. If you are looking for healthy food in Ubud you definitely will find a lot of amazing places to choose from. Ubud is heavily vegan focused and most cafes and restaurants already advertise their vegan dishes outside. I was surprised that even the local and traditional Indonesian Warungs (eateries) offer a lot of plant-based meals.
Finding healthy cafes and restaurants in Ubud
Eating plant-based in Ubud is definitely not a trend anymore, but a sheer lifestyle! This is reflected in the amount of plant-based only restaurants you find there. Never ever have I seen so many vegan only restaurants that do not even offer dairy or meat dishes in their menu. However, Ubud is taking it one step further and there are quite a lot of raw vegan restaurants that have opened over the last years. These places prepare all dishes under 48 degrees Celsius to preserve all the important vitamins.
I was surprised by the creativity and originality of the dishes we were served in all of these awesome cafes and restaurants. Everything tasted amazing and it won't make you miss dairy or meat one single bit. During my stay in Ubud is was actually so easy to eat vegan and its so nice to go to a restaurant and not having to think about what to order because everything on the menu is good to go! I discovered eating Tempe in Ubud. Omg it is the most delicious vegan meat alternative!
What I also noticed in all places was that they are very focused on sustainability. None of the restaurants I went to used plastic straws or any other type of plastic for table-wear, take-away boxes or glass coasters. Most restaurants follow a zero waste concept, which I find great!
In this blog post I will share with you my tips for best raw and vegan food in Ubud and will link to my favorite restaurants that I have visited during my stay. These places are definitely a bit more pricey than the traditional Indonesian places, but you also get better quality of ingredients and a nicer atmosphere. Be prepare to pay between 50k and 90k for one main dish.
Best healthy food in Ubud
Seeds of Life – raw vegan restaurant
Seeds of Life was the first raw vegan restaurant I have ever been to. Oh wow what an experience! Walking in you immediately know you found the spiritual center of Ubud. Everyone is sitting on the floor and the restaurant is filled with yogis and guys in dread locks. The menu is basically a novel explaining in great detail each dish, drink and the importance of raw food. They have a taoist tonic bar as well, providing you with the most interesting life enhancing magic drinks. I ordered a zucchini walnut lasagne and my boyfriend got the pizza. For dessert we both had a vegan cheesecake. Food was absolutely delicious! The cafe was very busy so we had to wait a long time for our food.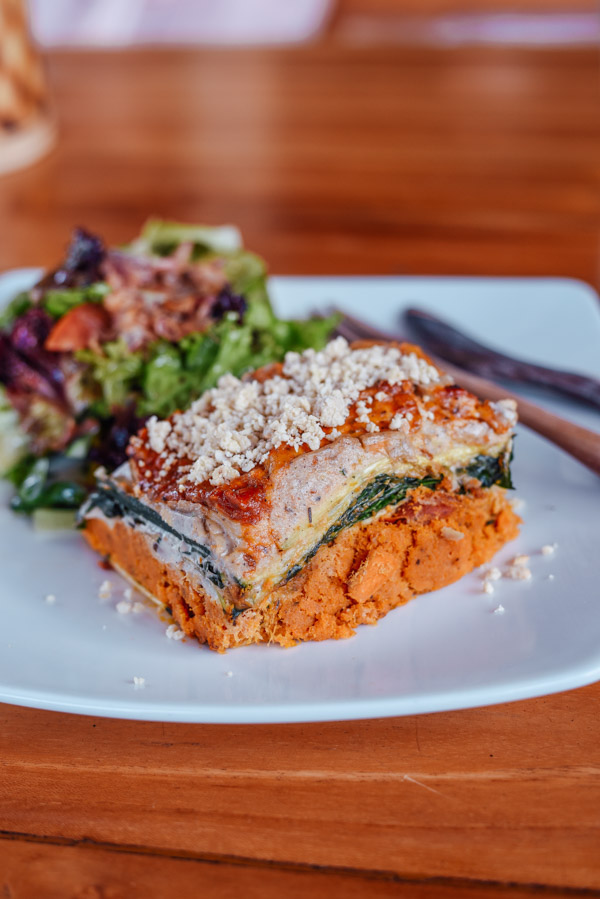 Elixir – healthy dining in Ubud
What I loved about the plant based restaurant Elixir war the nice atmosphere. We went for dinner and it was so beautiful with all the little candles. It seems like a really fancy dinner restaurant and the dishes were super yummy. I ordered the Vegan Kichiri which was lentil daal on sourdough bread and my boyfriend had the jackfruit burrito. Both excellent dishes. We got an order of cassava fries as well that were super juicy and yummy!
They have this thing that if you tag them in your Instastory you will get minus 15% off. How cool is that?!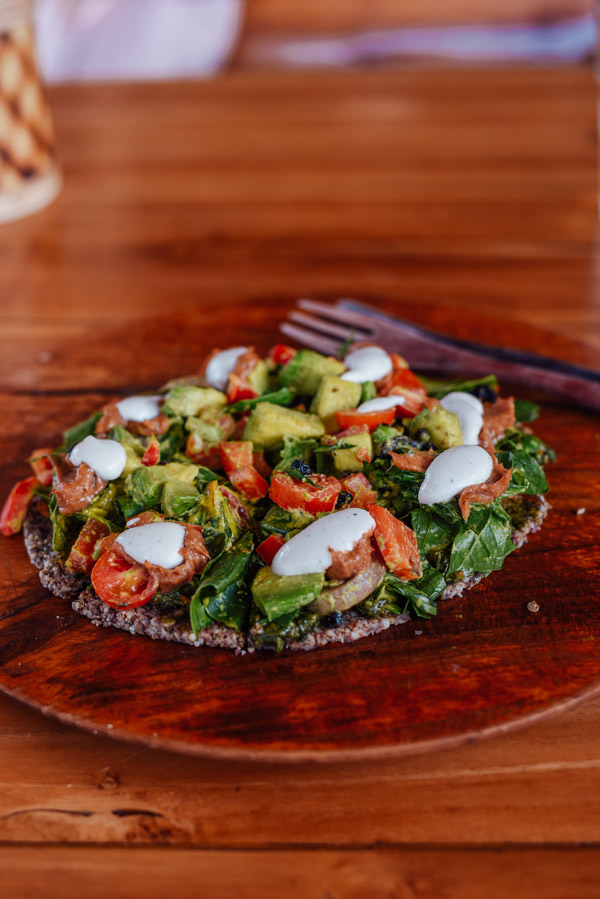 Lazy Cats – go for the location
I was struggling to decide if I should include this place or not. If I would only consider the taste and price-performance ratio of the food it would definitely not make the list, but regarding atmosphere and experience it was definitely the best.
So just know that I was very disappointed by the food. This was actually a vegetarian restaurant, but they had many vegan and also raw options on the menu. They have everything from breakfast, lunch to dinner, coffee and also cocktails! Unfortunately, the portions were very small and tasteless. We went as a group of four and all of us were not happy with what we got so I believe we got a good overview over the menu. However, that being said the location of Lazy Cats is just so cool and even going for a coffee is totally worth it!
They have this awesome hipster/vintage vibe going on and the place simply looks so cool.
Sayuri Healing food – my favorite place for healthy food in Ubud
This has to be my favorite place out of all! Not only is the food amazing, but the space is also very nice furnished. It is quite big and seemed to be super popular as almost every table was taken. Everything is vegan with many raw vegan options as well!
There are a lot of amazing dishes on the menu and every day of the week has a special meal as well. We go the nourish bowl and the Reuben sandwich. Both very colorful and delicious. The highlight at Sayuri healing food, however, were the desserts. Never ever have I tasted such amazing vegan cheesecakes. We had the triple berry cheesecake and key lime pie. Here are some pictures: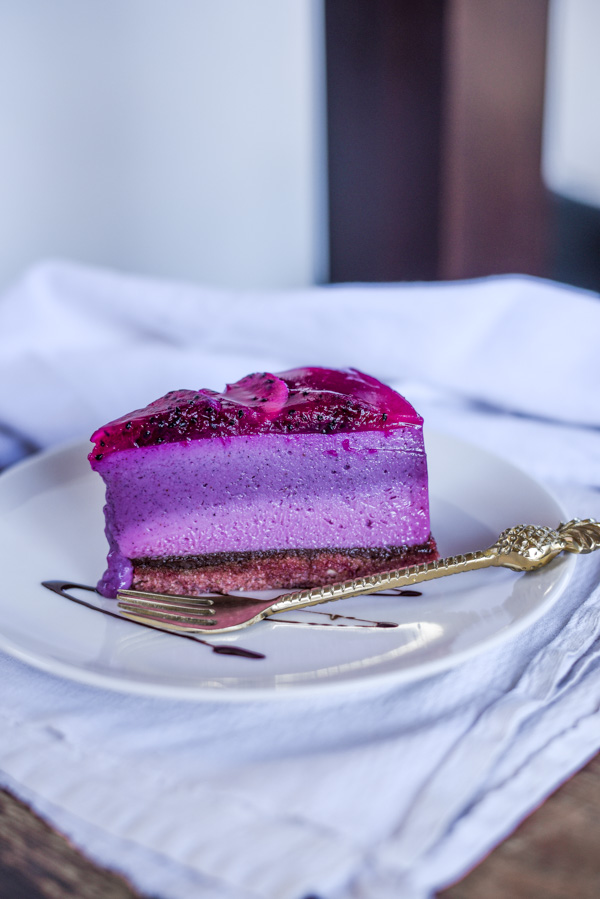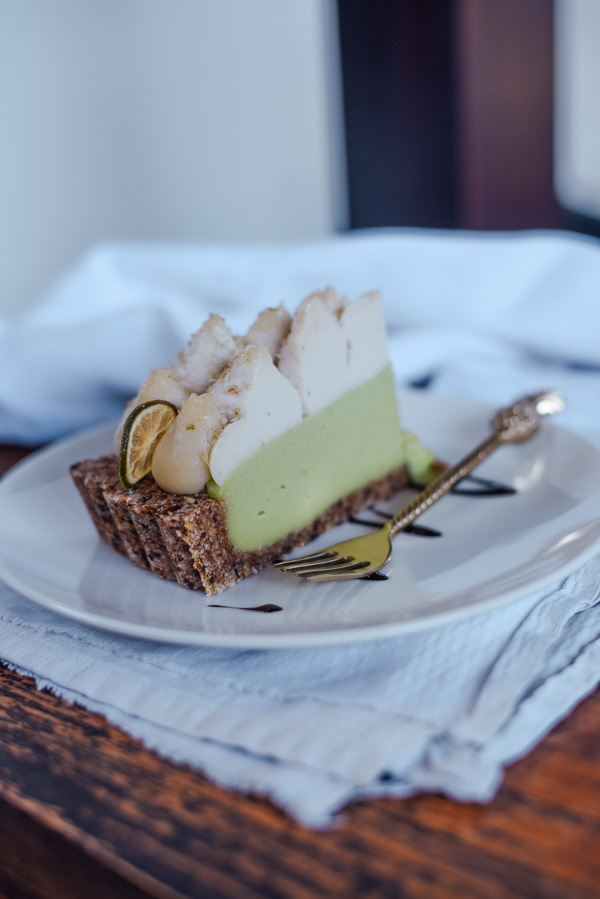 Dessert was so good that we also got two cookies to go and enjoyed them the next morning.
The only thing I cannot recommend is their lattes and drinks. We literally couldn't drink the iced cafe latte because it was so bitter and I had to use about 3 tbsp of coconut sugar to down the matcha latte that I had ordered. I think it was because of their homemade cashew milk that just had a very sour taste. Better stay with water or juice 😉
They have a little shop included selling amazing whole food products like superfoods, cacao butter, home made cookies and coconut oil. It is also possible to get their amazing desserts as take-away!
On top of that they offer raw vegan chef training courses, classes on how to make your own vegan cheese and have detox workshops. If you are looking for healthy food in Ubud this certainly is the perfect place to visit!
More recommendations:
Since I just spent a couple of days in Ubud and couldn't go to all places I am listing here a few more recommendations that I have gotten myself from vegan friends who lived in Ubud for a very long time:
Sage, Bella by Sage, Zest, Alchemy, Moksa, Clear Cafe, Kafe, Watercress, Kismet
These places are not solely vegan restaurants, but offer a great variety of plant-based and also raw meals.
If you are eating plant-based or are just curious to try raw vegan cuisine I hope you will follow this food guide and check out some of the cafes and restaurants in Ubud that I have mentioned in this blog post. I am certain you will be surprised of how amazing this kind of food can taste!
Looking for more restaurant guides? Visit my food guides for Seminyak and Canggu if you travel around more in Bali.
In case you are ever in Tulum, Rome or Taipei make sure to check them out as well!
xoxo,

Pin it: