Da ihr ja nach mehr deutschen Rezepten gefragt habt kommt hier ein leckeres Karottenkuchen Rezept. Also eigentlich habe ich Karotten Fitness Bars daraus gemacht. Es ist wirklich so unglaublich lecker und köstlich geworden, dass ihr gar keine andere Wahl habt als es auszuprobieren! 🙂
Backen mit Gemüse
Gerade im Herbst verwende ich sehr viel Gemüse um süße Nachspeisen zu machen. Zucchini, Süßkartoffel, Karotten und Kürbis geben den Gerichten einen ganz neuen lieblichen Geschmack.
Hier muss man oft ein bisschen out of the box denken und einfach mal was neues probieren. Süßkartoffelbrownies sind zum Beispiel richtig lecker. Sollte ich auch mal ein Rezept dazu teilen. 🙂 Backt ihr manchmal mit Gemüse? Let me know in the comments!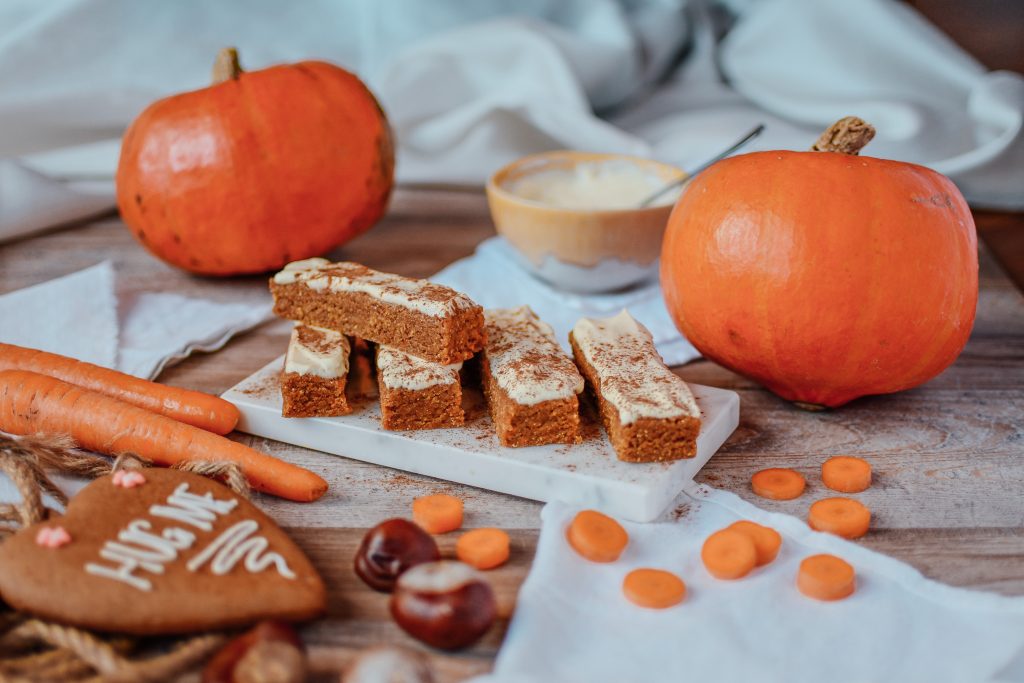 Fitness Approved
Mein Karottenkuchen enthält weder Zucker, Butter noch Mehl. Also alle "bösen" Zutaten wurden mit gesundheitsbewussteren Alternativen ausgetauscht.
Statt dem gewöhnlichen Weizenmehl verwende ich Nussmehl. Nussmehl hat viel weniger Kohlenhydrate. Natürlich dafür mehr Fett, aber auch mehr Protein.
Die Butter habe ich durch Mandelbutter ersetzt. Auch hier habt ihr weitaus weniger Fett aber dafür eine extra Portion Protein dabei.
Den Zucker habe ich durch meinen Küchenliebling Erythrit ersetzt. Erythrit ist ein natürlicher Zuckeralkohol und enthält keine Kalorien.
Raw & Vegan
Bei diesem Karottenkuchen braucht ihr auch gar keine großen Kochkünste. Ihr mischt eigentlich alles nur in einer Schüssel zusammen und stellt es dann kalt. Das Rezept ist eigentlich auch vegan. Ich habe nur dieses Mal ein Protein verwendet welche auch etwas Molkeprotein zugesetzt hatte, was es dann nicht ganz vegan gemacht hat. Wenn ihr aber ein normales veganes Protein nehmt ist alles gut 🙂
Ich war wirklich fasziniert von der Einfachheit aber auch dem Geschmack von diesem Karottenkuchen Riegeln. Es schmeckt einfach wie Weihnachten 🙂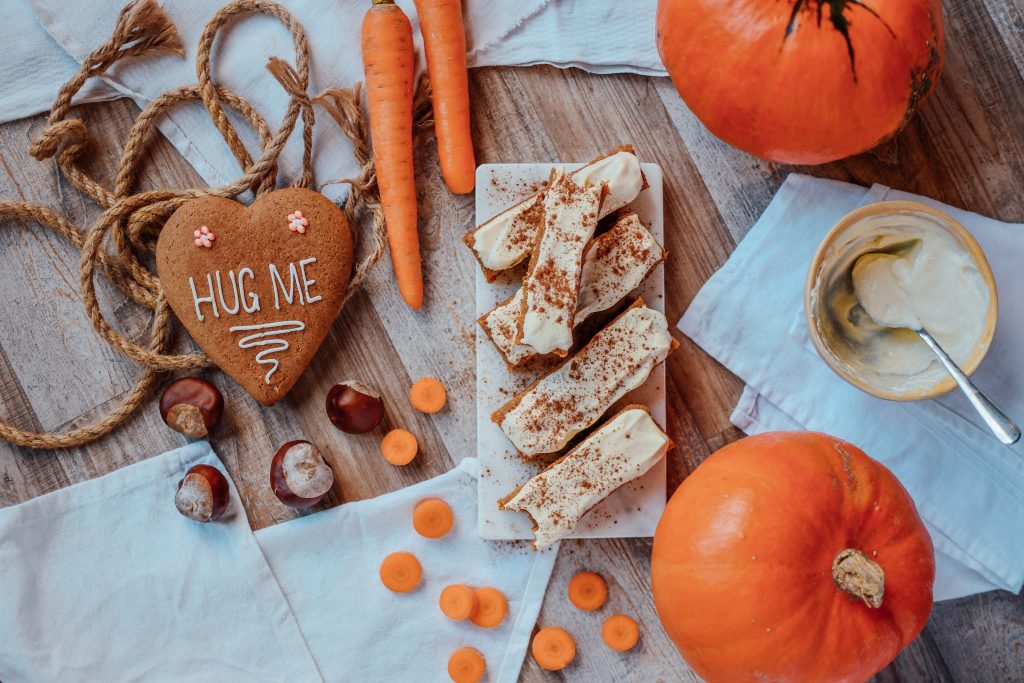 Das Rezept
Nachdem ich nun so davon geschwärmt habe kommt hier nun das Rezept: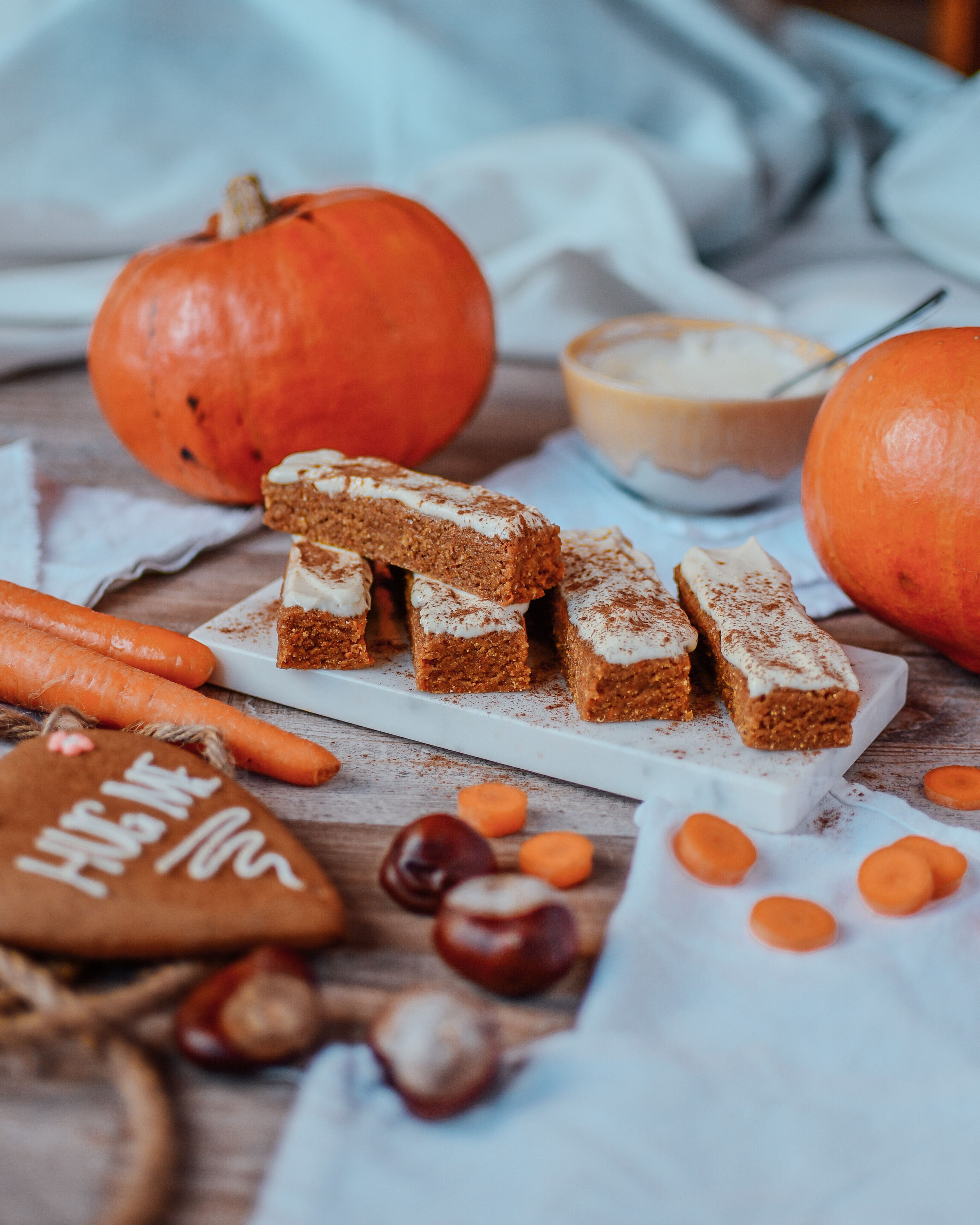 Fitness Karottenkuchen ohne Mehl
2018-10-08 15:40:42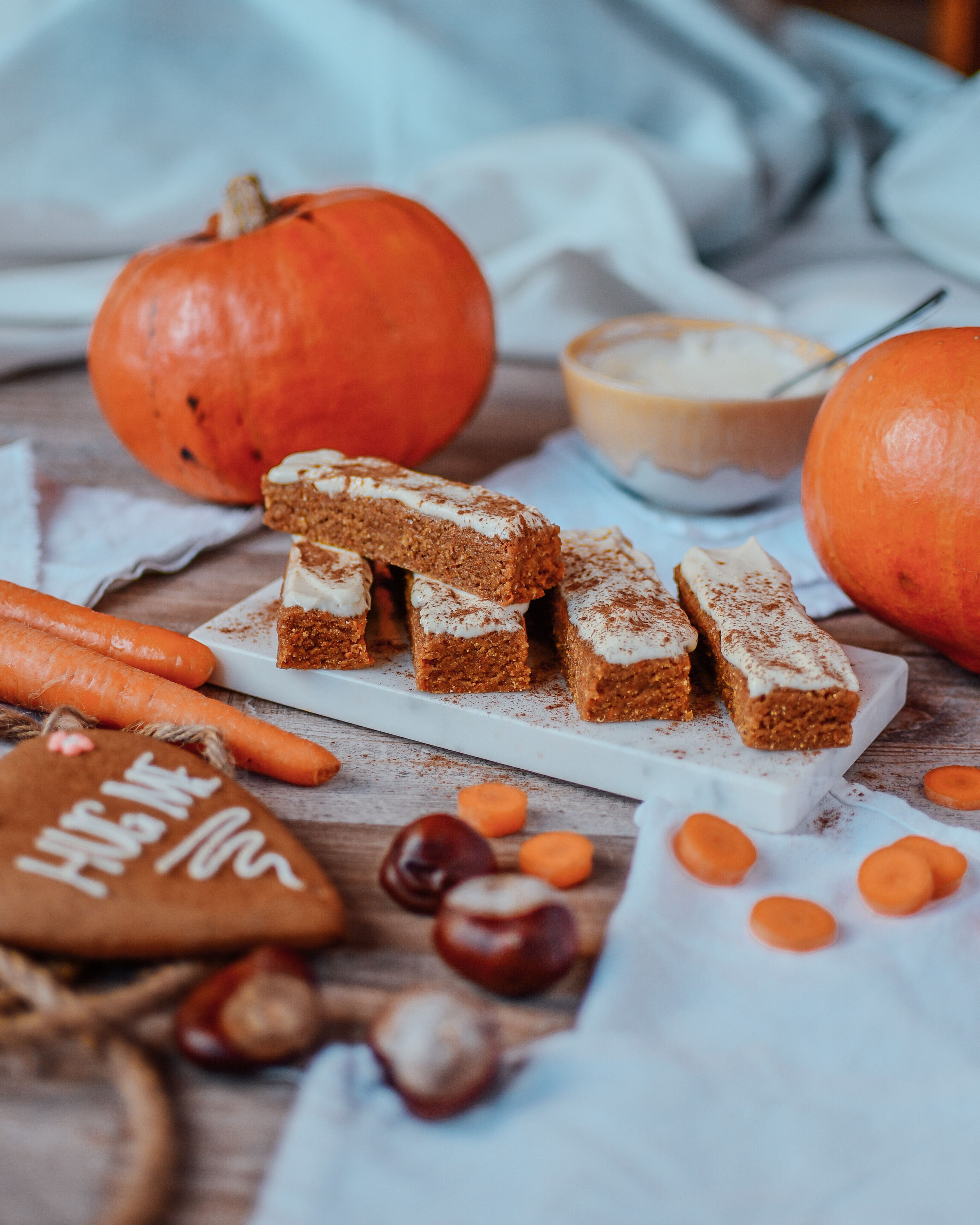 Super leckerer Snack für Zwischendurch
Riegel
1 Becher feines Hafermehl
1/2 Becher Kokosnussmehl
1/2 Becher Protein Pulver (Fit Vanilla)
2 EL Xylit oder Erythrit
1 TL Zimt
1 TL Lebkuchengewürzmischung
1/4 Becher Mandelbutter
1⁄2 Becher Dattelsirup
1/2 Becher fein geraspelte Karotten oder Karottenpüree 1 TL Milch
Frosting
1 Messlöffel Fit Vanilla Protein Pulver 1/4 Becher Frischkäse
1 EL Milch
Instructions
In einer großen Schüssel Hafermehl, Proteinpulver, Xylit, Zimt, und die Gewürzmischung gut zusammen mischen.
In einer mikrowellengeeigneten Schüssel die Nussbutter und das Dattelsirup vermischen und kurz erhitzen. Nun die flüßige Masse mit der trockenen vorsichtig vermischen. Nun noch die Karotten hinzufügen und vermengen bis eine feuchte, bröckelige Masse entsteht.
In eine mit Klarsichtfolie beklebte Auflaufform geben und fest zum Boden und an den Rand drücken. Kühl stellen für mindestens 30 Minuten. Für das Frosting das Vanilleproteinpulver, den Esslöffel Milch und den weichen Frischkäse in einer Schüssel vermengen. Das Frosting über die kalten und geschnittenen Bars streichen und bei Bedarf mit etwas Zimt noch bestreuen.
Notes
Ich habe die Masse als erstes zu Riegel geschnitten bevor ich das Frosting aufgetragen habe.
carinaberry.com https://carinaberry.com/
Suchst du noch nach mehr leckeren Herbstrezepten? Dann schau mal bei meine
Pumpkin Spice Porridge
,
Healthy Crumble
oder
Zwetschgenfleck
vorbei!
Hast du das Rezept nachgemacht?

Dann tagge mich mit @carina_berry auf Instagram verwende den Hashtag #carinaberry
Ich teile immer wieder nachgemachte Rezepte auf meiner Instastory <3
xoxo,