Looking to eat clean but still get in your daily dose of sweetness? Then, this protein cake with yummy blueberries might just be what you are looking for. It is easy to make, low-fat, high protein and very tasty!
Protein cake- a sugar-free indulgence
I love sugar-free protein cake recipes because they simply don't make you feel guilty after eating a big slice of it! Today I will be showing you how to make a Swiss roll, but in a healthy version.
The recipe was inspired by my grandma, who bakes better than anyone else in the world. However, her recipes are usually packed with butter and refined sugar. Nothing for fitness fans. That is why I took her recipe and replaced all the "bad" ingredients with cleaner choices. The result was a very light and low fat cake that is very simple to make and works for breakfast, brunch and dessert!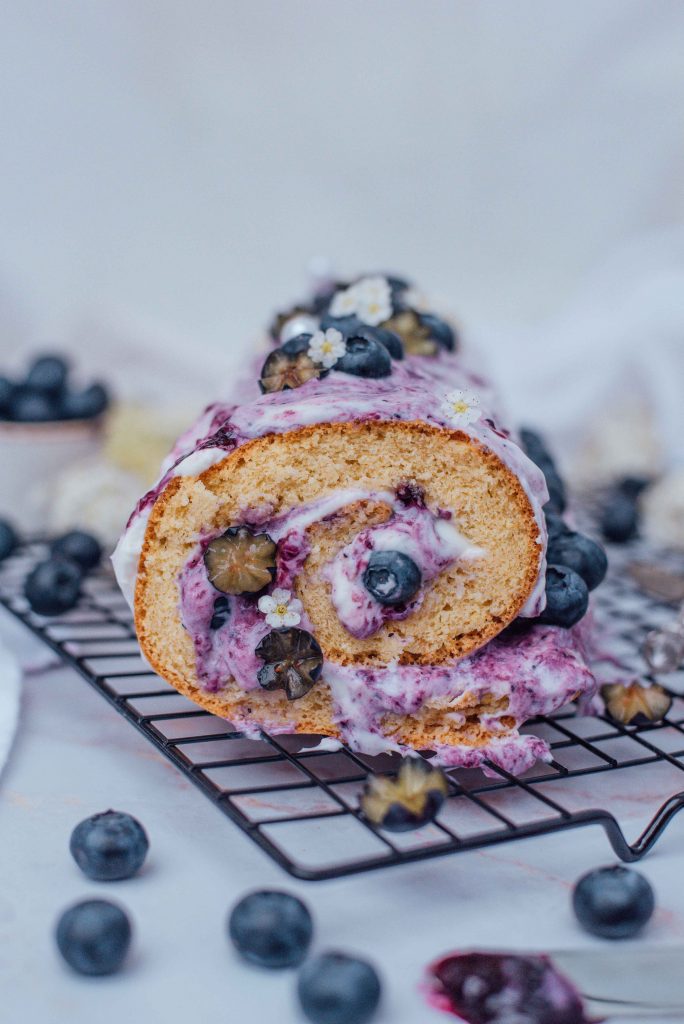 This could also be a protein cake bodybuilding recipe in case you are training for a competition and need to diet really hard. It can be hard to satisfy your sweet tooth on those pre-competition cutting diets. This low-sugar cake will definitely fit into your meal plan!
The whole recipe will take you about 30 minutes and doesn't require any special baking skills. This is how you roll the dough:
Regarding the filling of the protein cake there are a lot of different options that you have. For this specific recipe I used greek yoghurt mixed with blueberry jam and blueberries. But you can literally use any fruit spread, protein cream or anything else that comes to your mind. That is what I love about the recipe. You have the dough as a base and can vary each time with the filling.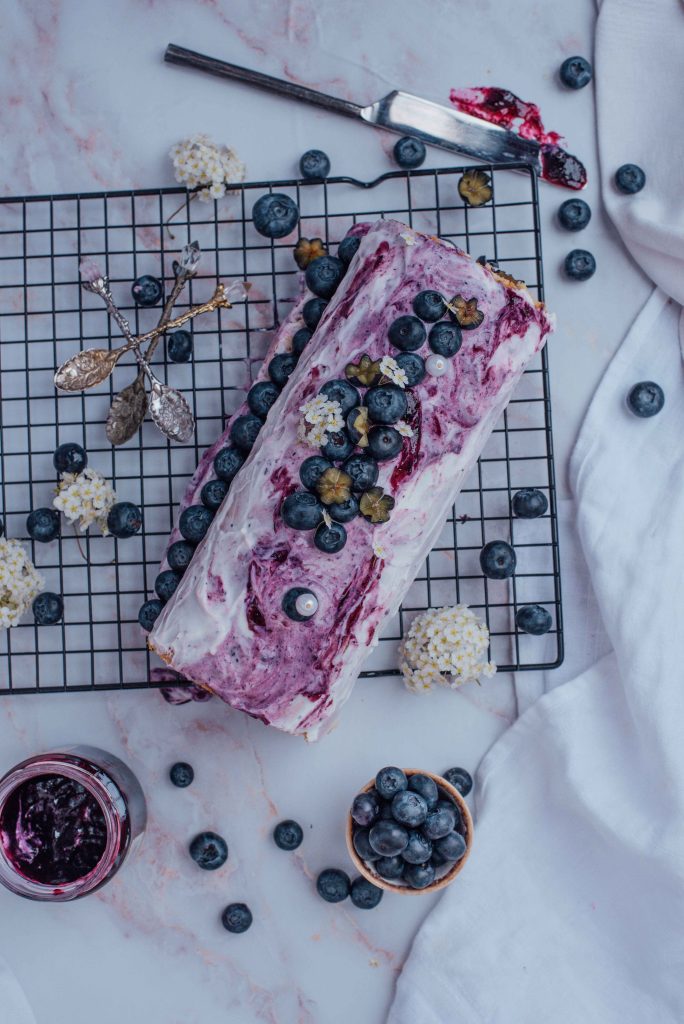 Here is the recipe for you now. Once slice of the cake comes down to approximately 180kcal and only 4 grams of fat! <3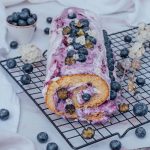 Protein cake roll-up
A clean and healthy way to satisfy your sweet tooth!
Vorbereitungszeit
15
Minuten
Zubereitungszeit
30
Minuten
Zutaten
Dough
4

Eggs

150

g

Icing Sugar Xylit

170

g

spelled flour

2

tsp

baking powder
Filling
200

g

greek yoghurt

200

g

cream cheese

30

g

Xylit

100

g

sugar-free blueberry jam

40

ml

lemon juice
Anleitungen
Preheat the oven to 180 degrees upper-lower heat.
Separate the eggs and beat the egg whites until stiff.
In a bowl, mix the yolk with the xylit icing sugar and stir until fluffy.
Mix the flour with the baking powder and alternate with the egg whites and the egg yolk mass.
Spread the dough on a baking sheet lined with baking paper and place in the oven.
Bake the oven for 10 to 12 minutes.
Remove the dough from the oven and put a clean kitchen towel over it. Flip the dough onto it and carefully remove the baking paper.
Wit the help of the kitchen towel roll up the dough and let it rest until you are done with the filling.
Mix all ingredients (except fruit spread) for the filling together and brush it out onto the dough. Add spoonfuls of the fruit spread over the dough.
Now start rolling the cake up again from one side until you have a nice roll.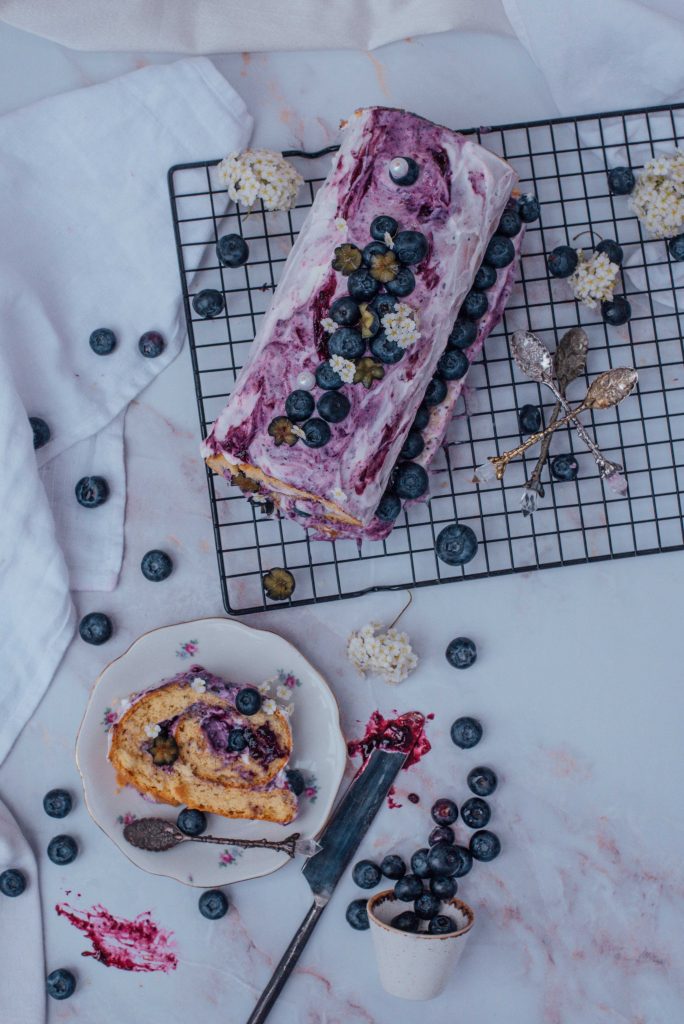 I hope you enjoyed this recipe and will try it out soon!
More clean dessert recipes
In case you are looking for more healthy desserts check these out:
If you want to keep clean and healthy recipes delivered to your inbox you can sign up for my fitness food list and also receive my free E-Book!
Did you make this recipe?

Did you make this recipe?
Tag @carina_berry and use the Hashtag #carinaberry to get the possibility for a shoutout on my Instagram!
I always love to see your wonderful creations and it makes me so happy to see you guys actually making my recipes.

xoxo,

Want to pin this recipe? I made some pins for you: