Ever since my trip to Taiwan this year I have a serious bubble tea addiction. It's a drink that can be found on almost every corner and is hugely popular there. But do you actually know how to make bubble tea? I always wondered how those little black pearls get into my drink.
Making it at home from scratch can sound like a daunting task. In this blog post I will show you how to make bubble tea like at Chatime yourself and show you how easy it actually is!
My inspiration for this milk tea recipe post
Taiwanese milk tea might be the best thing I have tasted in a very long time! I have spent a week in Taiwan at the beginning of January. It was a quiet spontaneous trip and I had no idea what to expect food wise there. I was blown away by the incredible Taiwanese cuisine. You can check out my Taipei food guide here. I knew bubble tea from Austria. It was a short lived trend some years ago. Bubble tea stores opened all around Vienna, but there was no real demand for it and they all closed down again. I don't even think I ever tried the tapioca pearl tea they sold there. So when I came to Taiwan I had heard of the drink but never really tasted it.
After my first pearl milk tea in Taipei I went back to the bubble tea shops every day to get one for breakfast. I love them because they keep you full and I can totally substitute my breakfast for it. After we left Taiwan I had one clear goal in my mind: I wanted to learn how to make bubble tea at home!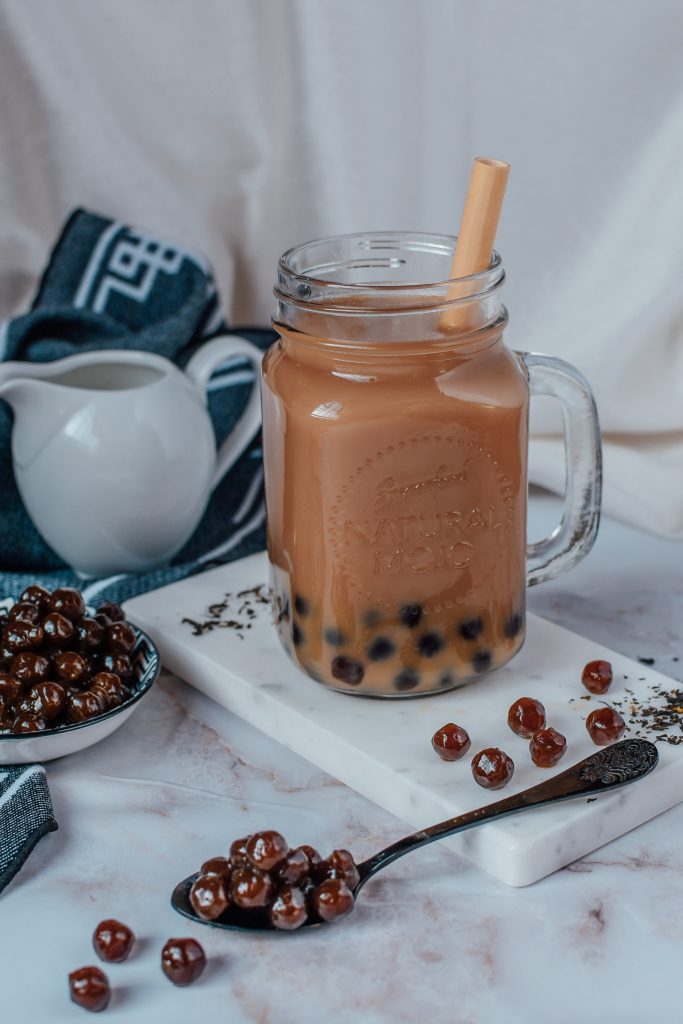 Tea time
Do you usually drink coffee or tea? If you are more on the tea side you will love this easy boba pearl recipe. Since I don't drink coffee I am always looking for some good replacements for it and found one in this drink! Did you know that black tea also contains caffeine? This means it also does the trick of waking you up in the morning! Depending on how long you let the tea brew the caffeine is stronger or weaker. I just recently learned during my bubble tea recipe research that if you infuse the black tea for 2-3 minutes the caffeine will be the strongest. If you infuse it longer (4-5) minutes it will have a calming and soothing effect as the tannins will take over the caffeine. Don't let the tea bag sit in the water for too long. Otherwise the tea will become bitter.
When asking yourself the question how to make bubble tea you must not only consider preparing the pearls, but also the tea itself! Regarding the prefect black tea there are also some differences. My mom goes to London every year to bring home our favorite black English breakfast tea (Yorkshire). I found that was the perfect tea to make the recipe with!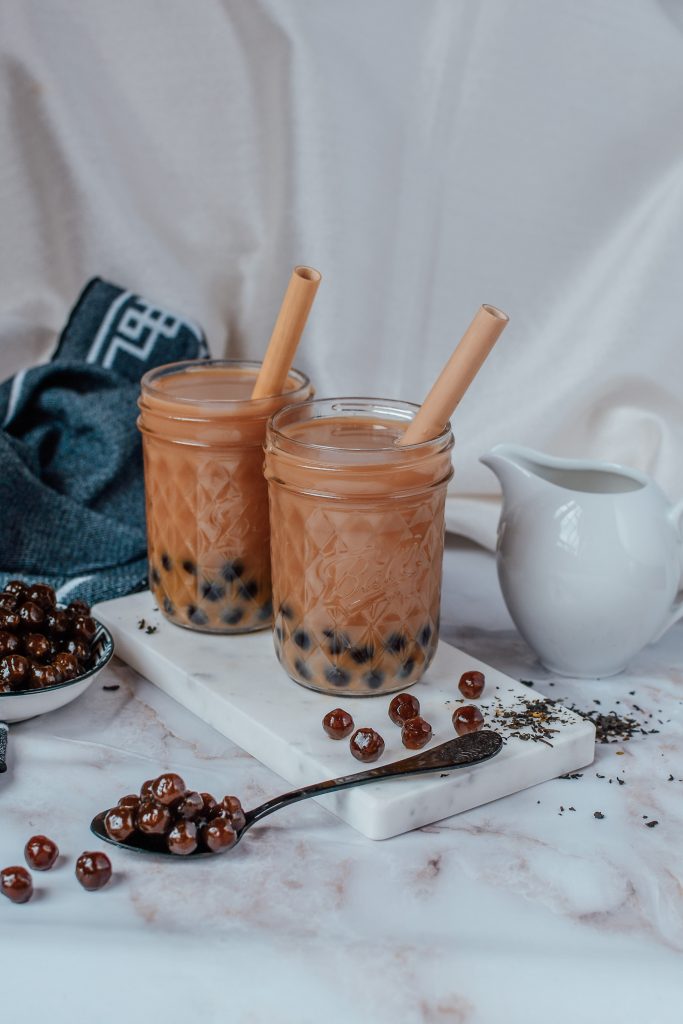 How to make bubble tea
So what are your bubble tea supplies? You actually won't need a lot of ingredients to make this yummy milk tea recipe! I am making my bubble tea with tapioca flour. Since I am all about fitness food and healthy recipes I also want to show you how to make bubble tea healthy without unnecessary calories!
Starting off you will need your Tapioca flour, water and simple caramel. You can make simple caramel by yourself. Just take 2 tablespoons of sugar and add a bit of water so the sugar gets soaked. Stir until the sugar caramelizes. It will become a sticky dark brown substance.
Boil 50ml of water and add it together with the simple caramel to the tapioca flour. You need to be quick with the simple caramel sauce as it will start to harden very very fast. So once it is dark brown transfer it to the tapioca starch and the water immediately and stir. Once it is all mixed together you will need to knead it very well until you get a smooth dough. Be careful it can be super hot in the beginning so don't burn your fingers! If the dough is still sticky add a bit more tapioca.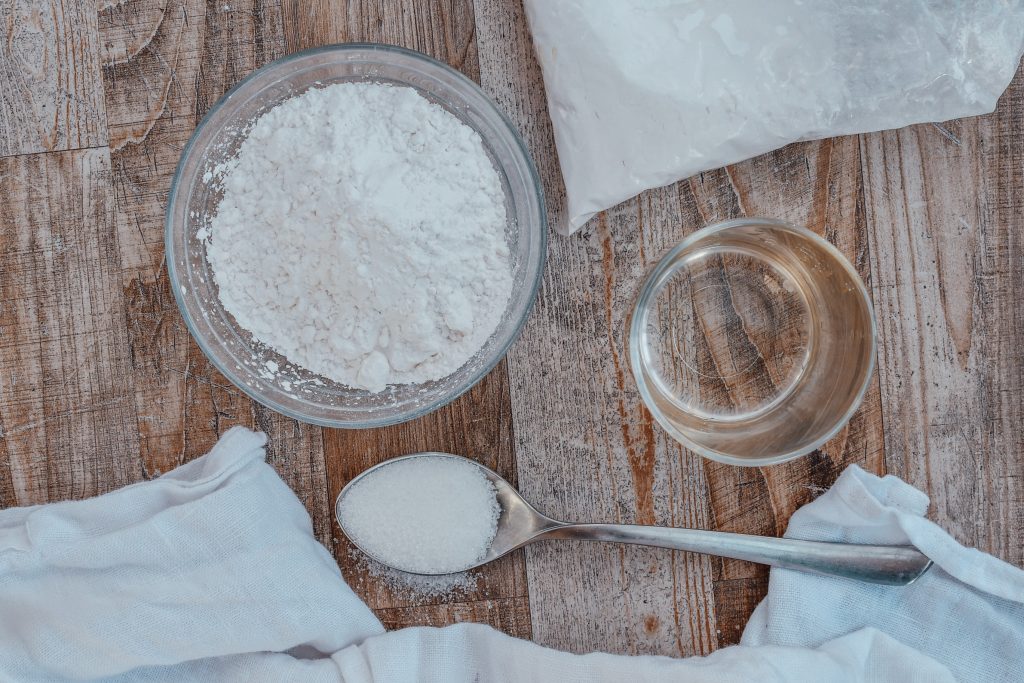 Divide the dough into four different parts and make them into little rolls. Cut pea-sized cubes from the rolls and shape them into little balls. This is very time consuming and the longest part of the bubble tea preparation. Once you have mastered forming a gazillion little balls out of the dough you can put them into the boiling water.
Let them simmer for about 10-15 min and stir occasionally. You can see how they slowly become see through! When they are cooked, drain and rinse them with cold water. Put them into a container and add some sugar syrup, maple syrup or honey to keep them from sticking to each other.
Once you have your precious boba pearls you can start brewing your tea! Put 5g of black tea into 250ml boiling water and infuse for 3-5 minutes. Add milk and sweetener of choice. Once you are done pour the drink into a glass jar and add the pearls. In Taiwan they were sipping their pearl milk tea through very wide straws. I wasn't able to find these here in Austria so I just use a spoon to scoop up some of the delicious pearls with each sip!
Bubble Tea variations
You might want to know how to make bubble tea in a different color.
Of course you can vary this recipe and instead of black tea you can make strawberry bubble tea, pink pitaya bubble tea or matcha latte bubble tea. The options are really endless. As soon as you have the pearls you can exchange the drink depending on your mood! You can also make the pearls themselves colorful! You can use grape juice instead of water or simply add a teaspoon so pink pitaya powder to the starch if you want pink pearls for example!! Just make sure to have 100g tapioca starch with 50ml of hot boiling liquid.
On the picture above you can see I colored the water blue (blue food coloring) to get pearls in a different color. Instead of black milk tea I made a pink pitaya latte!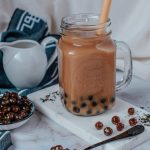 Bubble tea
How to make bubble tea from scratch!
Zutaten
Dough
50

ml

water

100

g

tapioca starch
Caramel Syrup
1

tbsp

water

2

tbsp

sugar
Anleitungen
Bring 50 ml water to boil.

In a separate pot add 1 tbsp of water and the sugar. Bring to boil and stir until the sugar caramelize.

Now quickly add the hot water and the caramel to the tapioca starch. Stir quickly and knead the dough (carefully - it will be hot) until it becomes very smooth.

Now form little, tiny bubbles with the dough - the smaller the better.

Boil the pearls in hot water for about 10-15 minutes and then add to your tea mixture.
I hope you like this excursion to the Taiwanese cuisine and enjoyed learning how to make bubble tea. If you are looking for another fun drink make sure to check out my golden milk and pumpkin spice latte! Follow my Instagram for more inspiration <3
Did you make this recipe?

Did you make this recipe?
Tag @carina_berry and use the Hashtag #carinaberry to get the possibility for a shoutout on my Instagram!
Finally, I always love to see your wonderful creations and it makes me so happy to see you guys actually making my recipes.
xoxo,