The ultimate healthy chocolate chip cookie skillet
How does a giant healthy chocolate chip cookie sound to you? Skip the greasy butter and carb loaded flour and replace it with extra protein and healthy applesauce instead. Once you have tried this low sugar, fudgy, goey and warm piece of deliciousness you won't go back to regular cookies.
What makes this protein cookie skillet so healthy?
This healthy chocolate chip cookie contains no sugar or conventional butter. Two ingredients you usually always find in any traditional cookie recipe, adding so many extra calories to the dessert. I made my low calorie chocolate chip cookie with applesauce. Like this you keep the cookie soft and moist without having to add butter or oil. Instead of regular butter I used almond butter, which is also a great vegan alternative. Also, I replaced the sugar with date syrup, providing you with more complex carbs and less fast acting sugars. The date syrup adds this wonderful caramel aroma to the cookie – simply mouth watering!
I made this fitness cookie in my grandmas skillet pan. The recipe is absolutely perfect for some kind of small pan. Don't just put the dough on a baking sheet, but rather in some kind of mold, pan or casserole. Check here for a skillet pan I can recommend.
The recipe itself is fairly straight forward and simple. You basically mix the wet ingredients together first and then add the dry ones. It's as simple as that. Then you put everything in a skillet pan and bake it in the oven.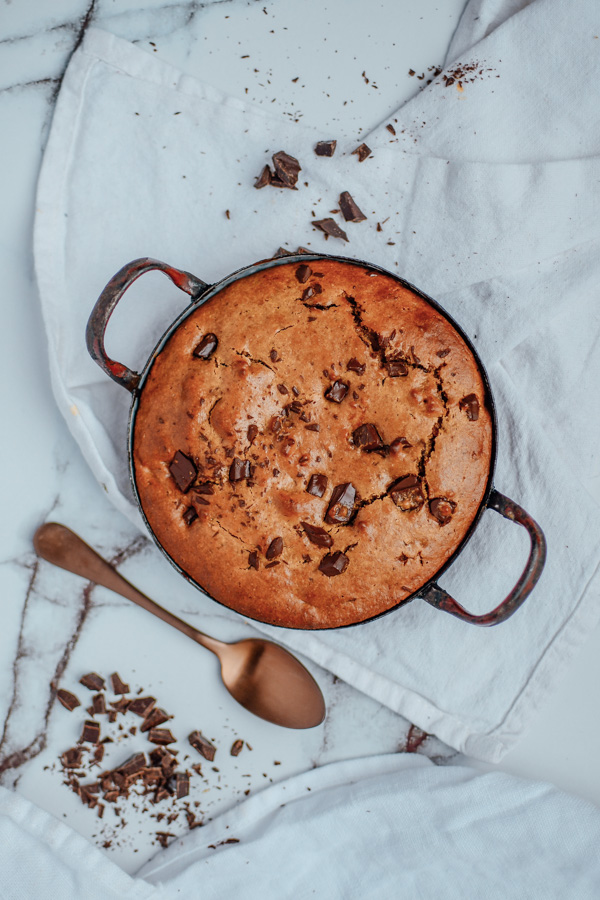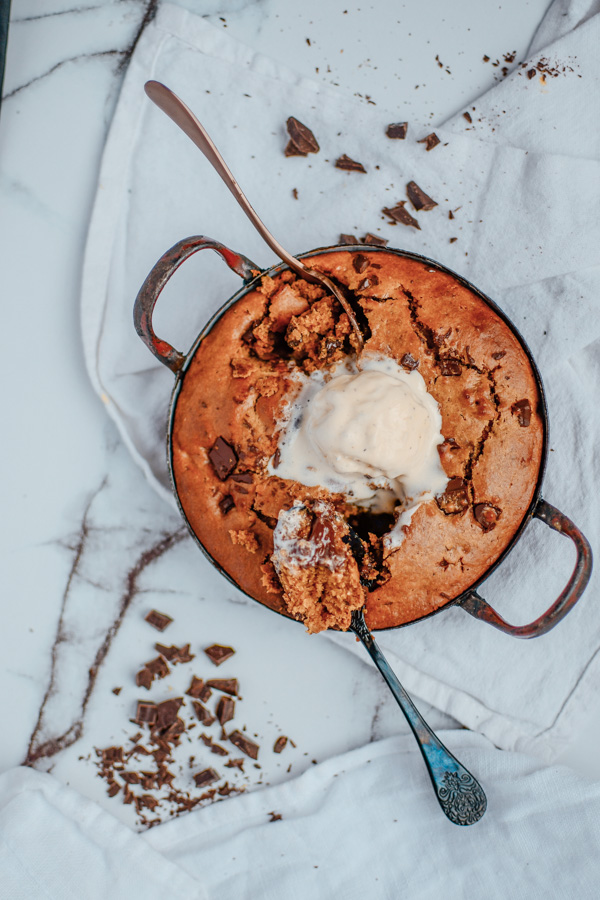 Recipe alternatives for a no sugar cookie
Instead of conventional flour you can also use almond flour for my healthy protein cookies. Almond flour has a lot of healthy fats and is much lower in calories than regular flour. If you want to save extra carbs you can use this as a substitute to even more pimp the macros of this recipe! Instead of making healthy chocolate chip cookies with applesauce you could make the with bananas. As I mentioned earlier this adds moisturizer to the recipe and keeps it soft. To make it even more fudgy you might want to add a big of coconut oil to the recipe. But that is up to you! A simple way to make healthy vegan chocolate chip cookies is simply by adding vegan protein powder instead of whey! Check out my friend @vegamelon for her vegan version of the recipe.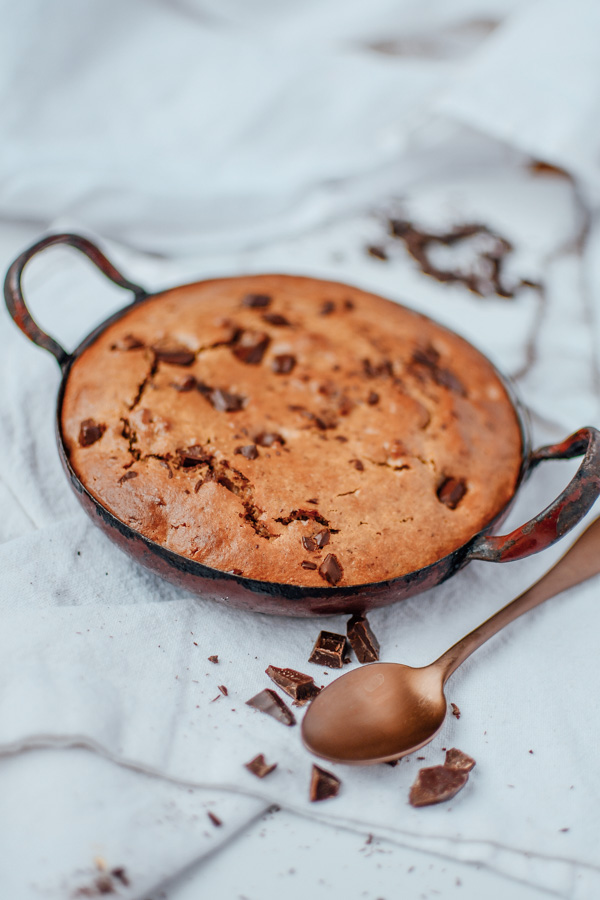 Toppings for low calorie cookies
I love to top this protein chocolate chip cookie skillet with a small scoop of vanilla ice cream. 100g of vanilla ice creams have 138kcal. Additional you can top it with fresh berries. Strawberries and blueberries work especially well with this cookie. Nut and nut butter also work great as a topping. Just be aware of a lot of extra calories when adding these topping options, since they are very calorie intensive.
If you want to make a pure protein version out of this healthy dessert you might want to mix some whey with greek yoghurt and add that together with some fresh fruit onto the cookie. For a low calorie option you can also use sugar free syrup as a topping or sugar free fruit jam or simply eat the cookie bare and naked as it is.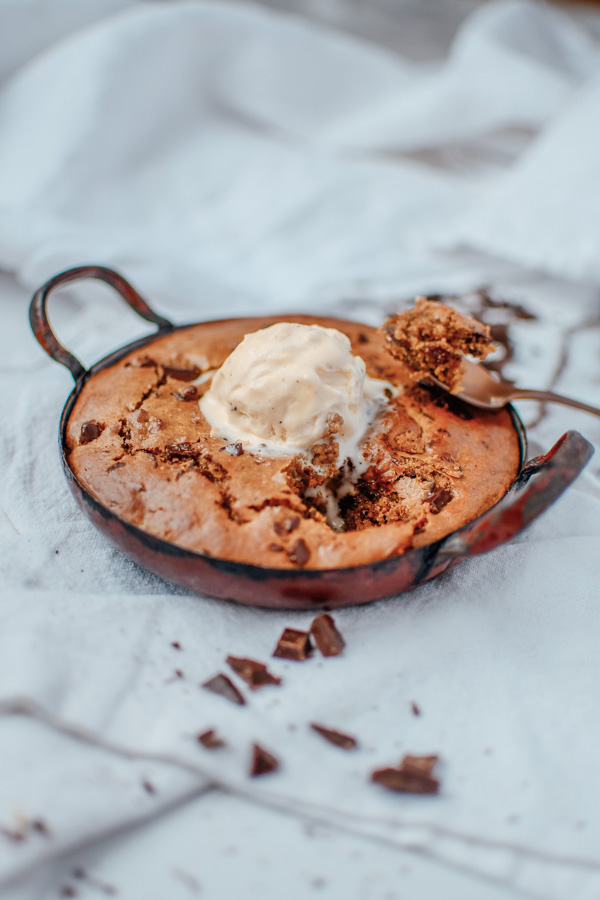 Some other healthy protein desserts to try:
How to make a healthy chocolate chip cookie skillet?
Lets get into how to make this low sugar chocolate chip cookie: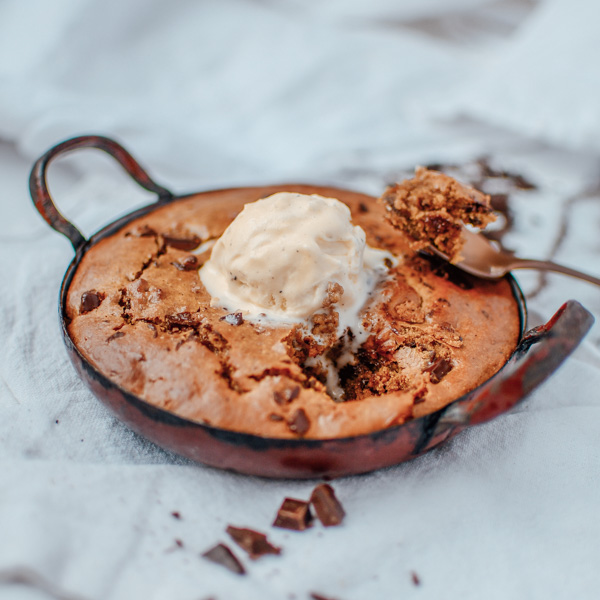 Healthy Chocolate Chip Cookie
2019-04-22 22:24:37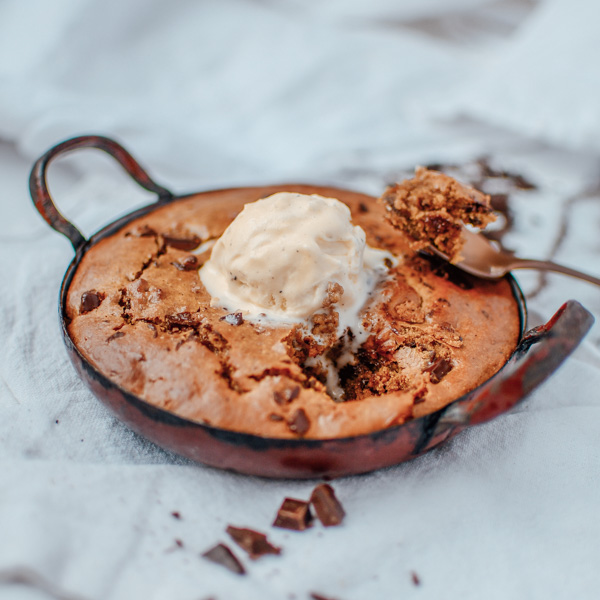 A low calorie and no sugar cookie skillet!
Ingredients
25g Protein Powder (vegan or whey - I recommend Caramel or Vanilla flavor)
100g date syrup
100g apple sauce
70g almond butter
40g spelt flour
1/2 Pkg. baking powder
50g dark chocolate over 70%
Instructions
Preheat the oven to 180 degrees.
Mix the apple sauce with the almond butter and date syrup.
Add the spelt flour and baking powder.
Chop the dark chocolate and stir under the dough.
Put the dough into a greased skillet pan and bake for 15 minutes.
Enjoy while still warm!
carinaberry.com https://carinaberry.com/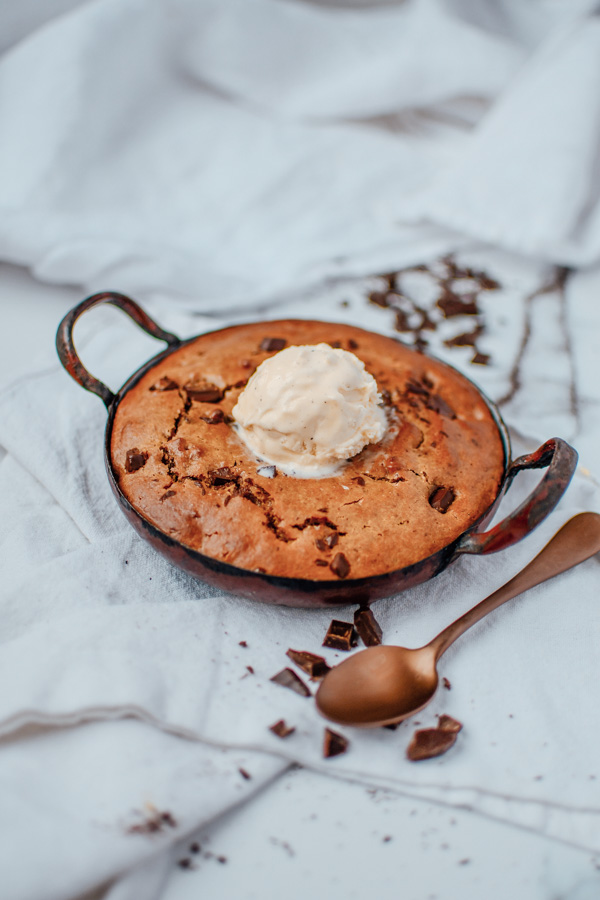 Did you make this recipe?

Did you make this recipe?
Tag @carina_berry and use the Hashtag #carinaberry to get the possibility for a shoutout on my Instagram!
I always love to see your wonderful creations and it makes me so happy to see you guys actually making my recipes.

xoxo,

This post contains affiliate links which means I will make a small commission if you purchase through those links. I only recommend products that I know, trust and love!
Pin this recipe to your favorite Pinterest board: