The first time I tried jackfruit pulled pork was in Indonesia. During my two months in Bali, which is probably the food capital of the world, I learnt to love this amazing vegan meat substitute. The consistency is so authentic and you can barely tell a difference in taste. Just looking at it without knowing would be hard to tell wether its real meat or not. It really fascinated me since it was so delicious and so I decided to try it myself.
Making pulled jackfruit from scratch
When making pulled jackfruit there are a couple very important things to know. I had to make this recipe a couple of times in order to really get it right.
Here is my quick jackfruit story:
Here in Bali are so many jackfruit trees and I kept seeing them on the markets and on trees. So, one day I decided to buy a package of jackfruit and wanted to make pulled jackfruit wraps at home for dinner. What I didn't know is that you are only supposed to use green, young jackfruit for this kind of recipe. I had bought the sweet, ripe fruit in the supermarket. After two bites of my wrap I had to put it aside as it simply tasted so sweet and did not really match the taste of the other ingredients.I didn't want to give up on the project just yet though! So I talked to our Indonesian house keepers and they started laughing and told me that I used the wrong kind of jackfruit. It's like using green banana for banana bread – just the opposite way around!
Green jackfruit & Oil
They showed me a jackfruit tree right outside of our apartment and were kind enough to cut a small, young one down for me. Here I was again with my green jackfruit on a mission to make my vegan pulled pork yet again! I was told to put oil on the knife when cutting the jackfruit open, which obviously I forgot to do and ended up with super sticky fingers and a sticky knife. The jackfruit produces some kind of natural glue and it is so hard to get off. In the end I had to wash my hands with sunflower oil to get the glue off.
Once you managed to cut the huge fruit open you need to cut off the peel and chop it into smaller pieces. Then cook them for about 30 minutes. After that you can finally pull the strings from the fruit and end up with your jackfruit pulled meat!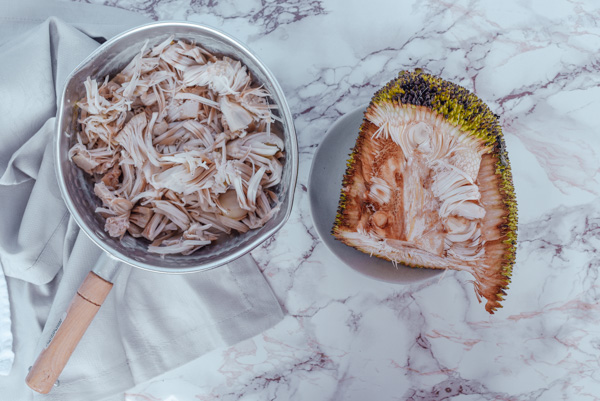 Where to buy green jackfruit?
So you see it was quite a journey to get to the final product. Therefore, if you want to make your life a whole lot easier I recently just found out that you can also buy cooked green jackfruit in Asian supermarkets and also online! But in this blog post I wanted to teach you how it is done by scratch with your own real jackfruit. It is a fun experiment and if you ever get the chance to try it, totally go for it!
The taste of jackfruit meat
Once you have it everything becomes much easier. You might want to know what does jackfruit meat taste like? The jackfruit "meat" itself tastes very neutral and will absorb just any flavor you put on it. That is why marinating the jackfruit is the most important part. You will want to make sure to use it with a tasty salsa or sauce. And please make sure you are working with a young, green jackfruit.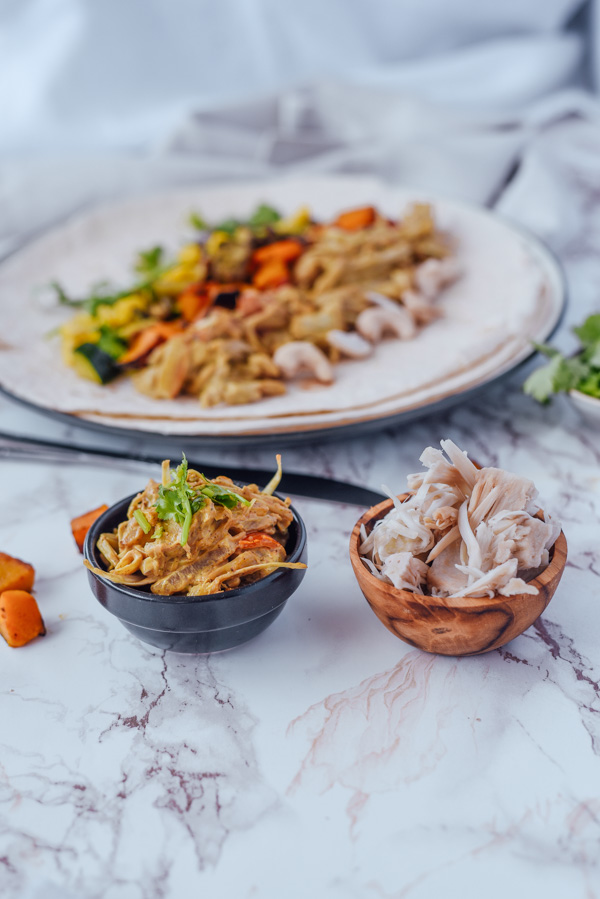 Most people use it for vegan bbq jackfruit pulled pork sandwiches or burritos. For this blog post I made wraps with some leftover veggies I still had at home. But no matter what you use it for as long as you marinate it really well it will taste amazing on everything. Here in Bali I have seen it as a topping on Poke Bowls, in burgers and on salads.
Pulled jackfruit wraps
Below you find the recipe for making pulled jackfruit from scratch and marinating the fake meat.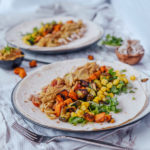 Pulled jackfruit wraps
The perfect vegan alternative for pulled pork.
Vorbereitungszeit
1
Stunde
Zubereitungszeit
15
Minuten
Zutaten
Pulled jackfruit
1

small

young, green jackfruit

or 1 can green jackfruit in water

1

cloves

garlic

200

ml

coconut milk

1

tbsp

curry powder

1

dash

of salt and pepper
For the wraps
6

pcs

tortilla wraps

1

small can

sweet corn

2

pcs

tomato

200

g

of Hokaido pumpkin

1

handful

chopped cilantro

50

g

chopped cashews
Anleitungen
Put oil on a knife and cut the young, green jackfruit in half. Use more oil to cut off the peel and into smaller pieces.

Boil the jackfruit until tender. This should take around 30 minutes.

Rinse with cold water and shred with your fingers or a fork. This is where you also start the recipe using canned jackfruit.

In a pan let the jackfruit meat simmer together with the coconut milk, chopped garlic and spices. Stir for 5 minutes occasionally.

In the meantime you can chop the tomatoes, cilantro and pumpkin for the filling.

Fry the pumpkin pieces until well done and put them together with the pulled jackfruit and the other ingredients as a filling in the wrap.
If you make this recipe….
I am really curious to hear what you guys think of this recipe. In case you try making jackfruit pulled pork yourself, please come back here and share your experience in the comments with me.
Looking for more healthy, vegan recipes? Why not check out my Tom Kha Gai soup or vegan bagels. You can also sign up for more fitness recipe and get my E-book delivered straight to your inbox:
Did you make this recipe?

Did you make this recipe?
Tag @carina_berry and use the Hashtag #carinaberry to get the possibility for a shoutout on my Instagram!
I always love to see your wonderful creations and it makes me so happy to see you guys actually making my recipes.

xoxo,