Are you looking for those picture perfect photo spots in Bali? Welcome to this blog post sharing the most Insta-worthy photo spots in Bali. I have spent two month on this beautiful island and have visited many breathtaking places that I will share with you in this article. As a full time blogger I really wanted to share some beautiful photos from my stay in Bali with my followers and will include the ones I took at each spot here. So lets get into the best Instagram photo spots in Bali:
Insta Hype in Bali
Very much in Bali evolves around taking the perfect shot. We can argue if that is a good thing or not. I have seen so many people waiting in line forever to just snap a quick photo and then leave without even taking an actual look at what they came to see. In the north of Bali whole selfie parks have been constructed for visitors to get their Insta pictures. At the rice terraces they build a ton of swings just to charge a ridiculous amount of money if you actually want to swing on it. Sometimes you even have to buy selfie tickets that give you a couple of minutes in front of a landmark. It is a crazy world over there and a lot evolves around the perfect Instagram picture.
I was actually thinking for a long time if I should even write a blog post about the best photo spots in Bali because I don't want people to plan their whole trip based on where to take the best photos. In the end I decided this blog post could actually be very helpful because it share some of the prettiest and most amazing destinations in Bali. Since I have lived there for two months and was able to get to know the island quite well I simply wanted to share my favorite spots in this list of best Instagram photo spots in Bali!
Handara Gate, Bali, Indonesia
You probably have heard of the famous "gate to heaven" in Bali. The Lempuyang Gate is beautiful, but be ready to wait in line 2-3 hours for a picture. It is absolutely crazy. That is why I recommend you go to this smaller gate up north in Bali. It is actually the entrance of a golf course, but has a beautiful setting with the mountains in the background and lush green jungle.
You will have to buy a "selfie ticket" for a couple of euros that will give you 5 minutes to take photos in front of the gate. Yes, it is a bit crazy and people actually come there just to stand in line, take a photo and then leave again because there is not much else to do. When I was there it took like 30 minutes of waiting time until we had the spot for ourselves. Make sure to bring an airy dress that will look good on photos. Hot pants and crop tops usually don't look that amazing for this shot.
Kanto Lampo Waterfall
I am a huge waterfall fan! During my time in Bali I tried to see as many as possible and I love that they are all a bit different. Kanto Lampo is about a 1h drive from Canggu – which is where we were staying. The waterfall actually looks bigger than it was in real life. It is actually pretty harmless to stand in the middle of it because the water is not as intense as it might look.
However, you are definitely going to get wet for this Insta shot! Be there as early as you can because towards lunch time buses will drop a bunch of tourists and it will be hard to get the spot to yourself. When you take the photo adjust your shutter speed to get the flowy, mystical look of the water!
Munduk Moding Plantation
Pool Goals! If you are looking or that perfect infinity pool you should visit Munduk Moding Plantation. It is a hotel up north and has beautiful villas. We were there for 2 nights and were therefore able to wake up early to catch the sunrise by the pool. There were actually already a lot of bloggers waiting to take their shots as well. The beautiful, soft light is only in the morning. It also looks good for sunset, but you will be very dark on the photo.
I am not sure if you can come to this hotel if you are not a guest. You might be able to eat in the restaurant for dinner and take this shot at sunset. We never really had a clear day when we were there, but I was told they view has to be absolutely spectacular and you are able to see very far!
Uluwatu Cliffs
The high cliffs south of Bali are breathtaking and absolutely stunning. There are multiple beach clubs you can visit like Omnia, Single Fin or the Sundays Beach club. I however have a very special and less crowded recommendation for you. Going to One Eighty is definitely worth a visit. It is more pricey than the other clubs and you will have to pay an entrance fee (around 30 Euros, of which you can use around 25 euros for food and drinks), but in my opinion it also has the best view and the greatest atmosphere.
Hier noch ein zweiter Shot von der Pool Area:
Leke, Leke Waterfall
This waterfall is by far my favorite one. It is so mystical and hidden with lush green leaves and so many plants in the middle of the jungle. It is a 15 minute walk to the waterfall. Depending on the season you will encounter more or less water running down. We got there pretty early and ran into a few other bloggers taking their Insta shot there. The later it gets the more tourists will come so I can definitely recommend being there as early as sunrise to get the spot for yourself.
Banyumala Twin Falls
Since checking out all the waterfalls was on top of my list when I came to Bali, I need to share this one for my best Instagram photo spots in Bali as well. What I love about waterfalls is that they are simply so diverse and unique. Each one is completely different. Banyumala has two bodies of water coming down and a lot of lush greens around the pool. The hike down was quite steep and going up was really exhausting to be honest. I can also advise you to take good shoes for the hike and not to do it in flipflops.
Kelingking Beach, Nusa Penida
Even though this spot is in Nusa Penida and not directly on the main island I had to include it in my list of best Instagram photo spots in Bali. It is probably the most breathtaking view you will ever get. Cristal blue water, powerful waves hitting the shore and rough cliffs overlooking the water.
Certainly, you will find a long line waiting to the the infamous Kelingking beach shot that you have probably already seen a billion time on Instagram. It is super beautiful – but please be careful. Every year people die because they fall down the cliffs taking selfies. It is really dangerous since you are really standing on the edge of the cliff.
Diamond Beach, Nusa Penida
If you are already on Nusa Penida, visiting Diamond beach is a must as well! It reminded me a bit of Big Sur in California and I could have stayed there forever just looking down on the beach and watch the waves rolling in. I actually didn't go down all the way since I have heard it is really steep and dangerous if you don't have the right footwear. So we sadly just went there to take the photo, enjoyed the view a bit and went back since the sun was already setting.
Rumah pohon
If you are visiting Diamond beach, this spot is not far away from Diamond beach. We actually discovered that there is a small trail alongside the cliffs from Diamond Beach to Rumah Pohon. It was such a cool walk. We even saw some monkeys and had the best views with the setting sun. If you were to take the scooter you would need to go all the way back to the main street and then back to the cliffs since there is no direct street connecting Diamond Beach and Rumah Pohon. It would take around 50 minutes with scooter, but only 20 minutes if you walk along the cliffs on the trail.
Again – you need to be very careful here because you are walking quite literally super close to the edge of the cliff and there are no security ropes. At Rumah Pohon you can see Diamond Beach from the other side. Rumah Pohon is a cute little tree house that has been instagrammed already way too many times as well, but simply makes a really good photo opportunity. The locals know this and will charge you around 3.5 euros per person if you wan to take a photo in front of it.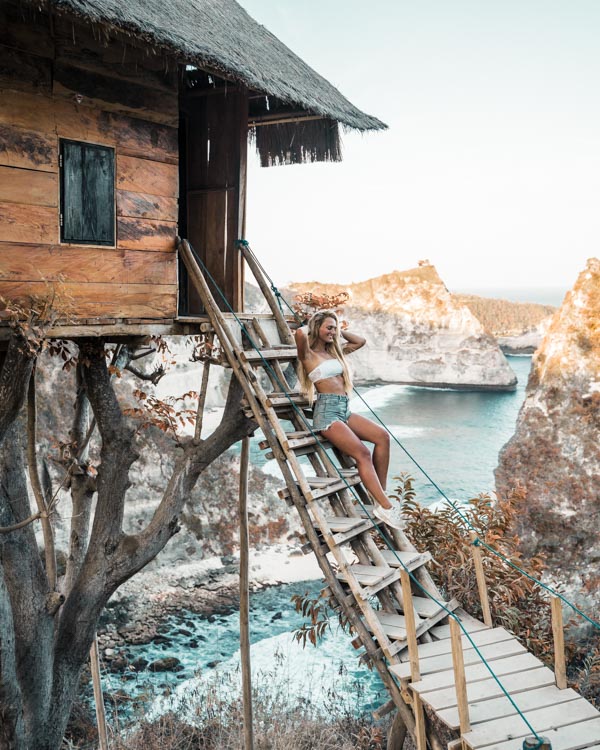 I hope you enjoyed these tips for the best Instagram photo spots in Bali. I loved visiting those places. If you go and have your photo, please don't forget to actually enjoy the spots and put away your phone for a little while to just soak in the experience. Way too many people only go there to take the perfect insta shot and then leave without even really enjoying what they came to see!
Check out my Bali food guides if you are looking for the best food recommendations in Bali:
I also have a whole Instagram highlight with all my best tips for Bali. Check it out on my account here!
xoxo,