In this blog post I am going to share my experience at the stunning 5 star Viceroy hotel in Bali with you. Learn more about the beautiful surroundings, the spacious villas and the exquisite food in the resort.
*ad – in collaboration with Viceroy*
My stay at Viceroy
After living in Canggu for three months I felt like treating myself to a luxurious getaway in one of Balis most beautiful hotels: the Viceroy! Located in the beautiful area of Ubud my boyfriend and I checked into one of the modern villas for a night and felt like we found paradise on earth.
Viceroy is family owned and I was lucky enough to get to know the lovely owners personally. The hotel founder is actually a 88-year old Austrian from a city very close to where I come from. It was so nice to hear the familiar Austrian accent again and hear all the stories of how he built the resort 20 years ago. Now his daughter, Amanda, is running the hotel.
Private Villas
We stayed at the deluxe terrace villa! With its spacious 150 square meters and a beautiful infinity pool overlooking the lush green jungle this is a place to unwind and relax. The many thoughtful design features transform it into the ideal couples' villa. What I loved was the smart sound and TV system in the room.
You can connect your i-Phone to the sound system and play your favourite music will chilling in the traditional outdoor balé seating area or the pool. The TV let's you connect to Netflix for the perfect movie night.
Degustation menu at Aperitif restaurant
The highlight of our stay was definitely the dining experience. We had dinner at the hotel's own fine dining restaurant Aperitif. Let me tell you this dinner was a culinary journey through all sensations of taste!
The restaurant is set in a spacious dining hall inspired from the 1920s with striking view of Ubud's lush jungle. You can indulge in a unique lunch or dining experience with flavours from the island, but als modern European flavours. Many of the ingredients are actually also sourced from the property's own greenhouse. There is the option for a 6 or 8 course degustation menu. In between there were also so many intermediate courses and treats from the kitchen.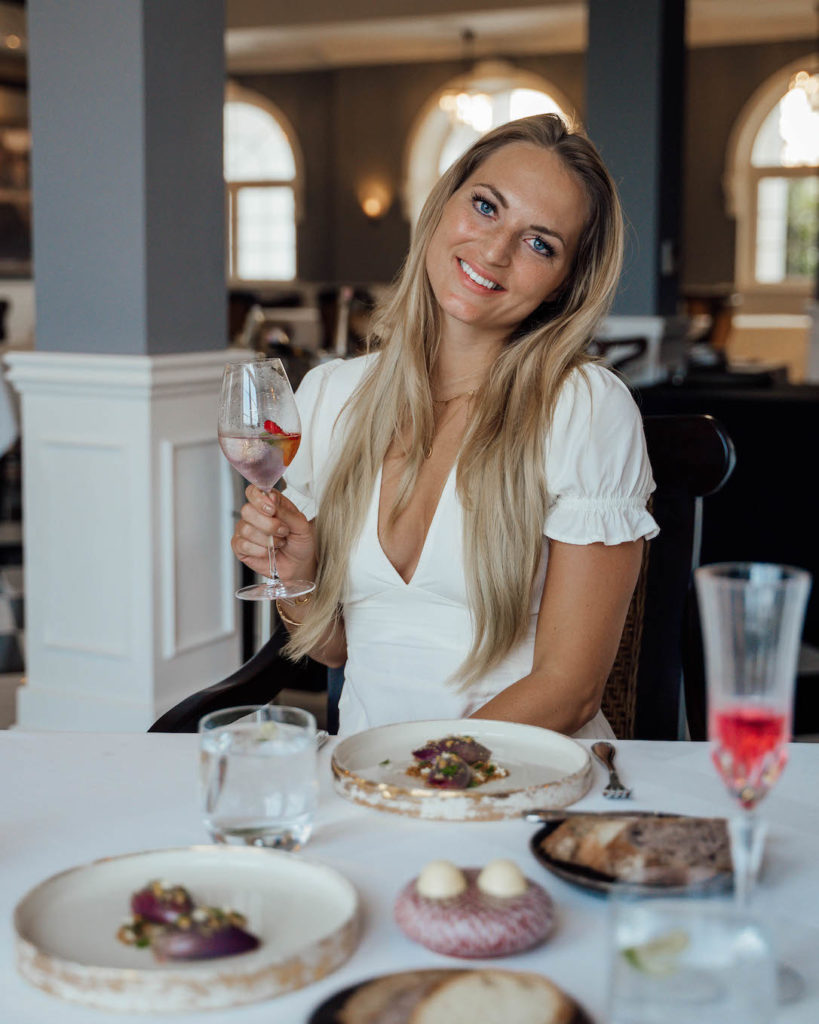 Chef Nic Vanderbeeken, brings over 20 years of experience to lead the team at Apéritif restaurant. His one-of-a-kind creations are simply fascinating and I was amazed by each dish presented to me.
This was food like nowhere else on Bali – so creative, well presented and tasty!
Save 30% off your dining experience!
As a little treat I teamed up with Aperitif and I am able to share a discount code with you now for 30% off from the degustation menu! Make your reservation right here or contact Aperitif directly via email res@aperitif.com, quoting "Carina Berry" to get half off the exquisit dining experience! This discount is valid until the 31th of May. This offer is valid for dinner bookings made until 31th May 2021 and is subject to availability.
Vegan menu available
If you are living plant-based or simply enjoy vegan food there is also the option for the vegan degustation menu. I came back in April to try it and loved the creativity of the dishes and the intense flavours. The chefs really know how to combine the perfect ingredients to make each plate an explosion of taste.
Drinks at the hotel bar
The bar at Aperitif is like no other hotel bar you will find.
Apéritif Bar is Ubud's finest destination for crafted cocktails and viby atmosphere. You will find a unique atmosphere, creative cocktails and can enjoy playing a game of pool with the marvellous view of Ubud's rice fields and jungle. By the way the sundeck facing the jungle is also a perfect place to admire the sunset in Ubud with a chilled cocktail in hand.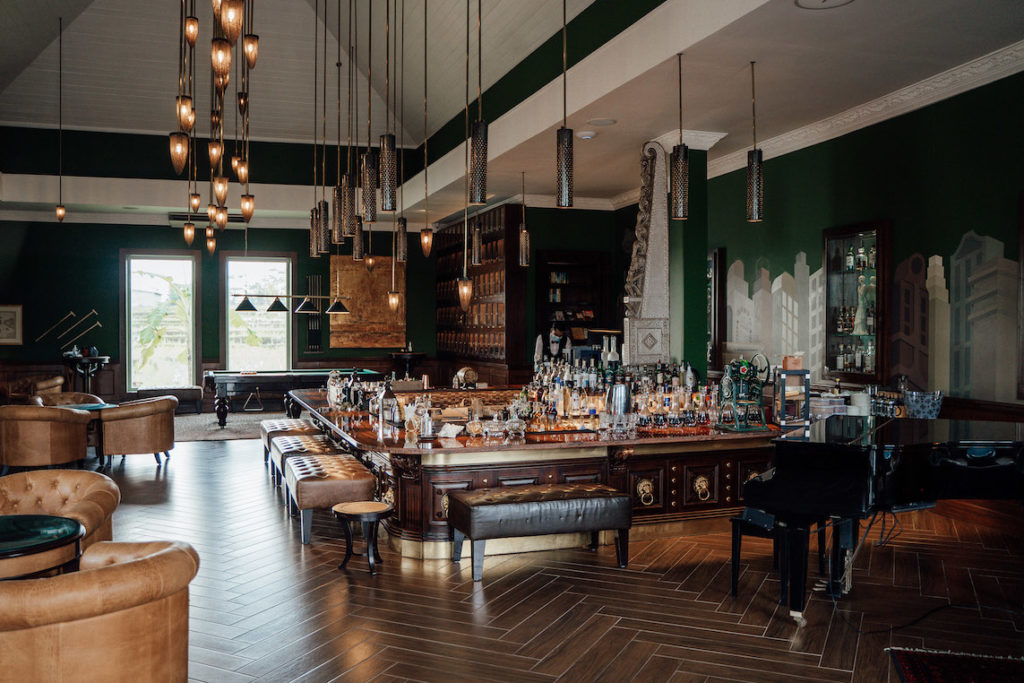 Head mixologist Panji brings over 10 years experience in delivering creative bar menus to Apéritif and is simply such a kind person. You can spend hours at the bar talking to Panji and admiring his work as a bartender!
The Gym at Viceroy
If staying fit while vacationing is as important to you as it is to me, then Viceroy has got you covered! Close to the main restaurant you will find a gym which is definitely larger and better equipped than what you might be used to from regular hotel gyms.
Whether it's cardio, pilates or lifting weights, you can do it all there. Equipment includes a treadmill, cross trainer, rowing machine for cardio, several strength training machines: two machines for legs, a smith machine where you can benchpress or squat, a chest fly machine, two cable towers as well as dumbbells that go up to about 30kg! What I also really enjoyed is that there was additional equipment such as kettlebells and an ab-roller.
The machines and weights might not be the most modern ones, but everything is well maintained and definitely gets the job done. I actually went for two workouts during my stay and always got a great session in. Got to earn indulging in the great food and chilling at the beautiful pools right? 😉
What's great is that there is a small fridge where you can grab a cold bottle of water for your workouts and also hand-disinfection, so you can be sure that everything is clean and you're good for your workout.
Bonus: Connect your phone to the bluetooth speakers in the gym room to play your favourite songs while working out!
Pool area
The pool area was my favourite place to be. It makes you feel like being somewhere between Malibu and Bali. The infinity pool is overlooking the lush jungle and the white pool chairs give it that classy and luxurious feeling. When you turn around you look at stunning white colonial restaurant building and many palm trees.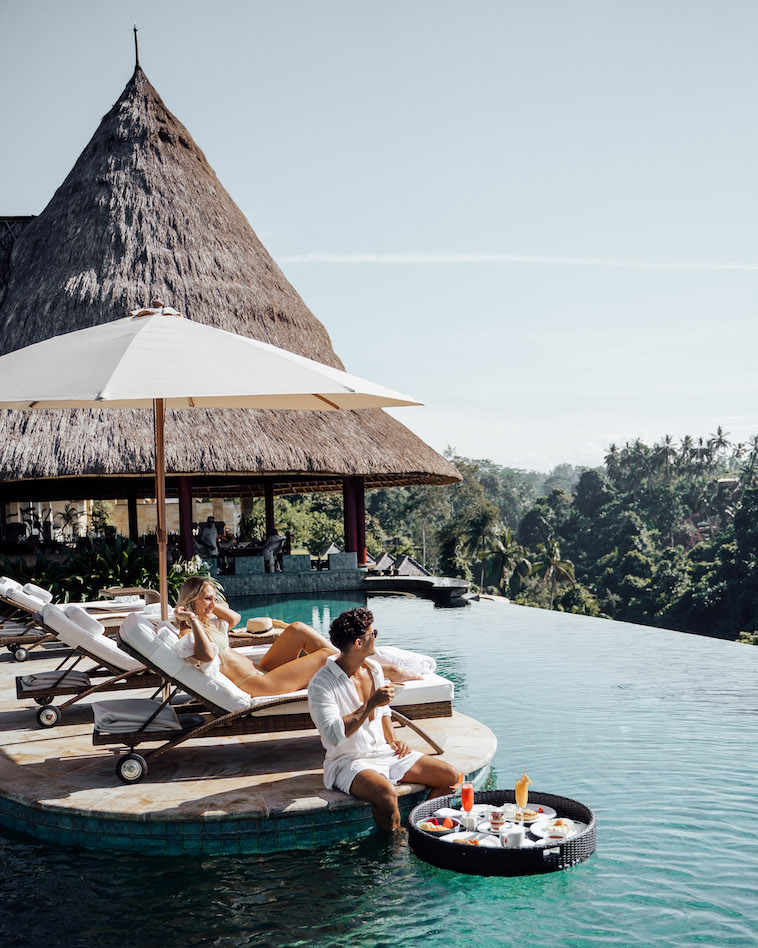 The staff is also so attentive and immediately brought fresh, cold water to my pool chair and opened the sun umbrella. The pool itself is huge and you can actually swim laps and get some exercise in if you would want to.
To sum it up
What I noticed throughout the hotel was the consistent branding and the neatness of everything. This hotel has been planned in such detail and I really didn't find one thing I didn't like there. Of course the Viceroy is more expensive but it's worth it. For a special holiday or honeymoon it is the place to visit in Bali!
xoxo,
Carina