What better way to enjoy a cold November morning than with a hot cup of low carb pumpkin spice latte! Full flavor and none of the guilt.
Pumpkin Lover
Okay I just need to say it again: I ADORE PUMPKIN! Literally these days everything I eat contains pumpkin. So why not also my drink? Let me show you in this recipe how you can make a delicious pumpkin spice latte for yourself.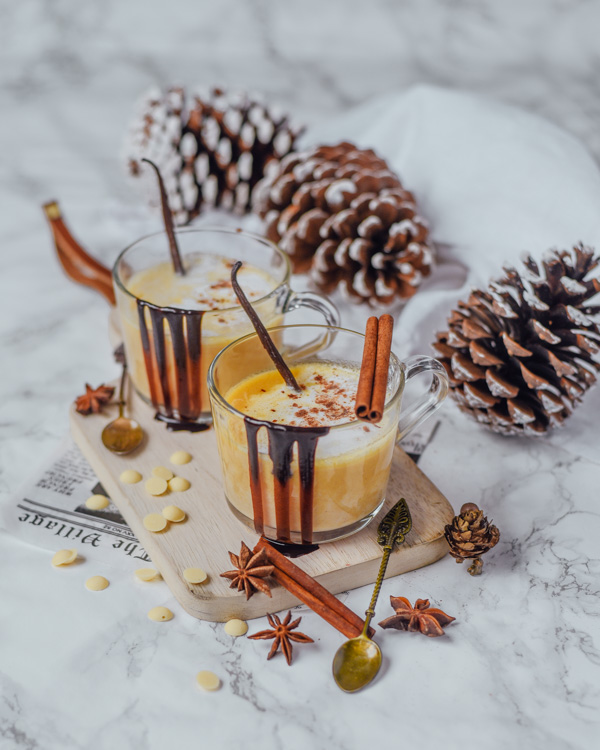 So, since I don't really drink coffee I am always looking for other yummy alternatives that I can enjoy in the morning. Usually I drink tea, but in the fall pumpkin is just way too yummy to not make a delicious, creamy drink with it. That is why I came up with my own favorite pumpkin spice latte recipe.
You know what really surprises me? They also have a ton of pumpkin here in Costa Rica. I have seen everything from a Hokaido pumpkin to Muscat to butternut squash! So happy about this because it means I don't have to miss out on more awesome fall food the next weeks!
Regarding your choice of protein you can either make this low carb pumpkin spice latte totally vegan by using rice/pea or sunflower protein. Of course you can also use whey protein. Here I recommend the flavors cookies & cream as well as plain vanilla.
Did you know that a cup of a Starbucks pumpkin spice latte has almost 500kcal? This recipe isdefinitely a healthier alternative!
The recipe
So for this special pumpkin photoshoot I made a super fancy dark chocolate decoration around the jar. You don't need that though really. I just thought it looks cool 🙂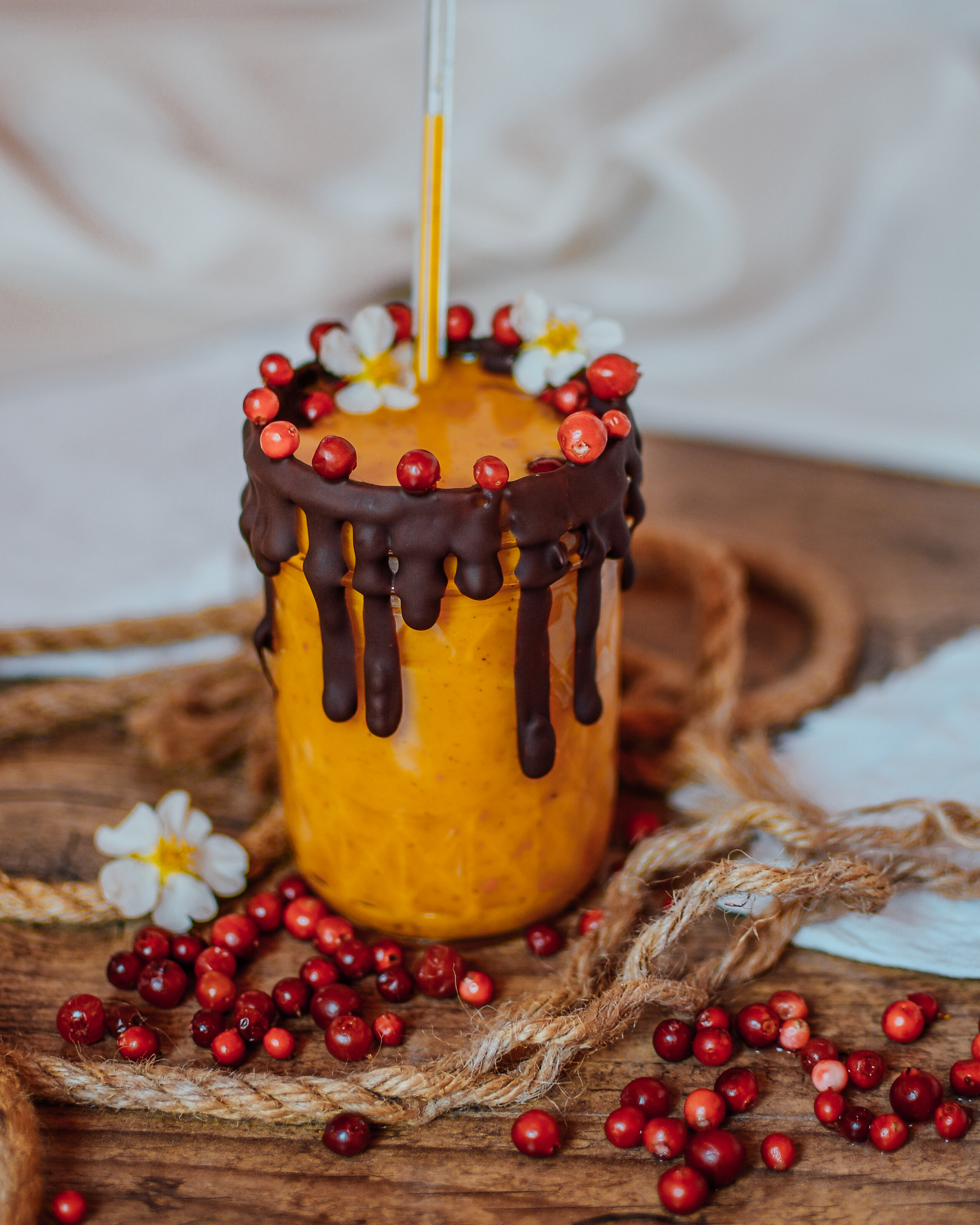 Pumpkin Spice Latte
2018-10-07 05:22:39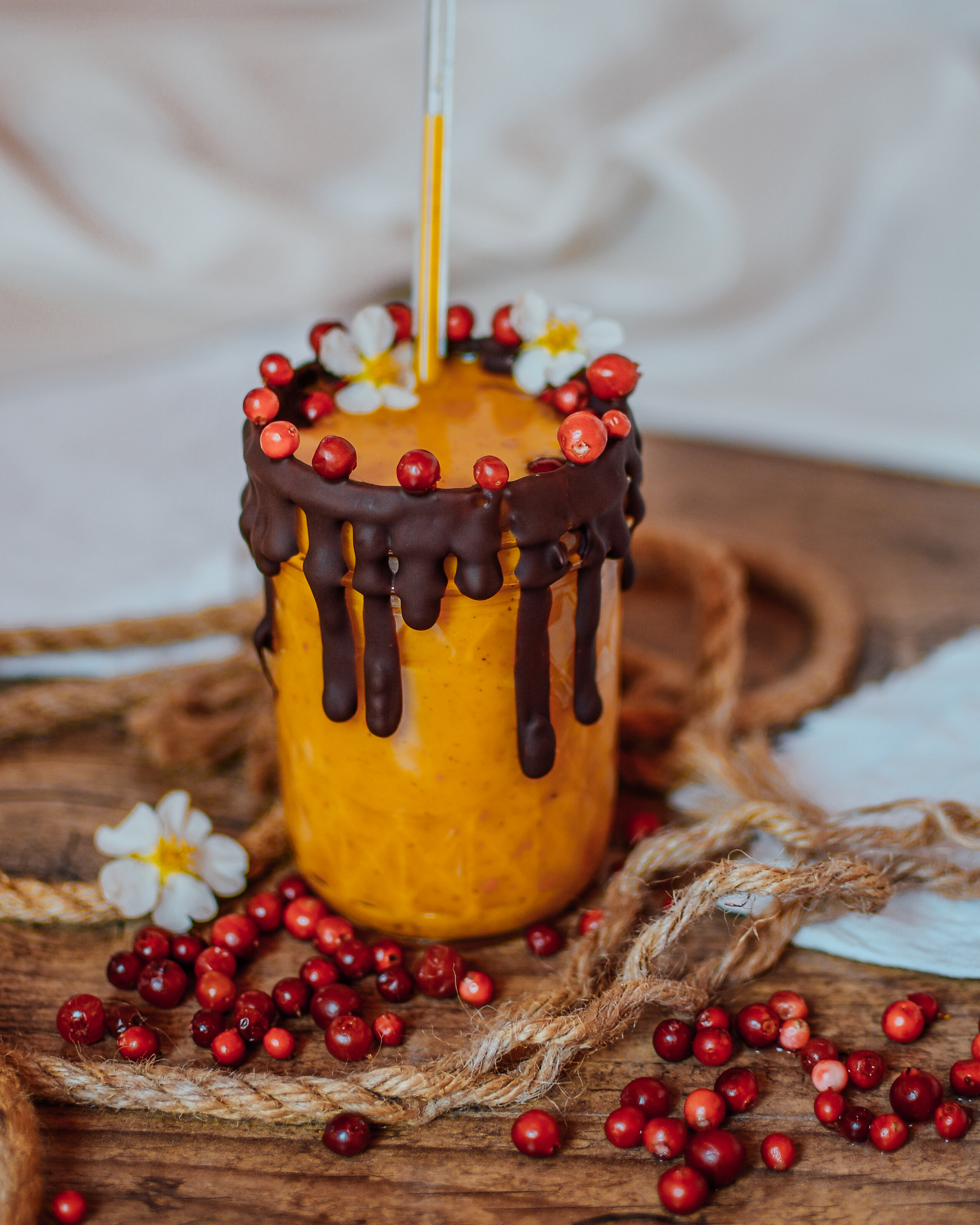 A warm and creamy drink for cold autumn mornings!
Ingredients
200ml almond drink
50g pumpkin puree
1/2 tsp pumpkin spice
1 tbsp protein powder
20g Xylit
40g dark chocolate if you want the jar decoration
Optional: low fat whipped cream for topping
Instructions
If you want the beautiful jar decoration, melt the chocolate in a water bath.
With a spoon, run the chocolate down the rim of the glass.
Then put the fridge.
Mix almond milk with pumpkin puree in a saucepan over low heat.
Stir in pumpkin spice, protein and Xylit.
Pour pumpkin beverage into the chocolate glass.
Notes
If you want you can top the drink with low fat whipped cream.
carinaberry.com https://carinaberry.com/
Looking for more amazing pumpkin recipes? Then I would recommend you check out my all time favorite
pumpkin spice porridg
e breakfast bowl!
Did you make this recipe?

Did you make this recipe?
Tag @carina_berry and use the Hashtag #carinaberry to get the possibility for a shoutout on my Instagram!
Finally, I always love to see your wonderful creations and it makes me so happy to see you guys actually making my recipes.
xoxo,