If you are wondering where to find the best food in Canggu, Bali, then you came to the right blog post! As a professional food blogger I basically eat for a living and sampled my way through the entire restaurant and cafe sphere in Canggu. There are so many incredible places in this tiny village and its the absolute honestly my personal food heaven here. I will share my favorite food spots with you now.
One Instagram spot after another in Canggu
Let's start by saying how absolutely incredible and amazing food is here in Canggu and Bali in general. You find so many tropical fruit, colorful veggies and fresh seafood. Recently some really trendy hipster cafes have opened all across the island and somehow most have settled down in the Canggu area.
Please be aware that these places are not reflecting typical balinese food and are way more expensive than the less fancy restaurants locals would go to. In while I have been in Bali I have barely seen an Indonesian in those places. It is mostly tourists who obviously pay more for food than locals ever would. However, they are gorgeous and beautifully designed. Walking in there alone feels like going on vacation. The places I am going to share with you are honestly some of the coolest restaurants I have ever been to in my life! There is simply such a unique vibe and feeling to them.
I will always link the instagram account of those places. Make sure to check them out as you can really see they trimmed the places for bloggers and foodies to take their Instagram pictures. Literally all of these places have tens of thousands of followers. Crazy!
Healthy Cafes and Restaurant Guide Canggu
I will share my tips for the best food in Canggu now with you. I have selected restaurants that are hip, trendy with a cool atmosphere and beautiful interior design. All spots offer healthy food, many vegetarian and vegan options and a lot of fitness dishes. Rarely ever have I eaten so healthy for such a long time and this is only thanks to these wonderful restaurants I can go to and enjoy an incredible healthy meal that also tastes absolutely amazing at the same time.
So lets get into my best food in Canggu restaurant tips:
1. Cafe Organic
Another lovely hidden spot for the best healthy food in Canggu is Cafe Organic. Make sure to check out their Instagram, as simply looking at their feed will make your mouth water. It is a healthy conscious cafe with a passion for sustainability and waste reduction. They don't use any plastic, which I find fantastic and cook with a lot of fresh ingredients. It basically feels like you are eating a rainbow there! They used to have a location in Canggu, but unfortunately due to COVID they had to shut it down and now only the location in Kerobokan is open!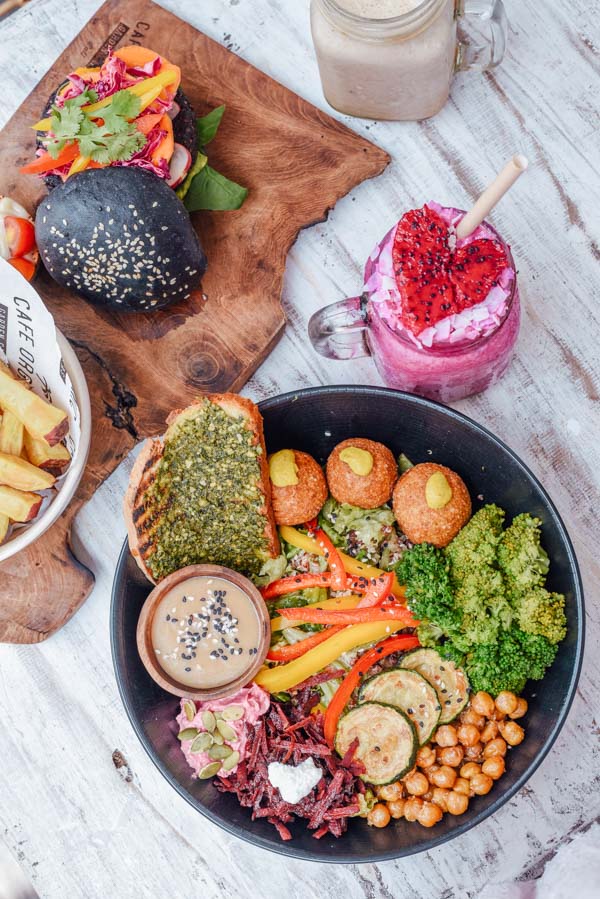 They have a big breakfast and lunch menu! They have organic coffee and fresh smoothies and juices as well. There is a nice selection of different smoothie bowls that are prepared beautifully and all the food simply looks so instagrammable. I met the founder of Cafe Organic personally when we recorded a video for the Cafe Organic Instagram channel. She was the first one opening a plant-based cafe in Canggu and has done quite some pioneer work in this area!
Insta photo spot tip
On the terrace you find a little whit hammock in the corner that just cries for you to take a fun shot in it. Thats the one I took there: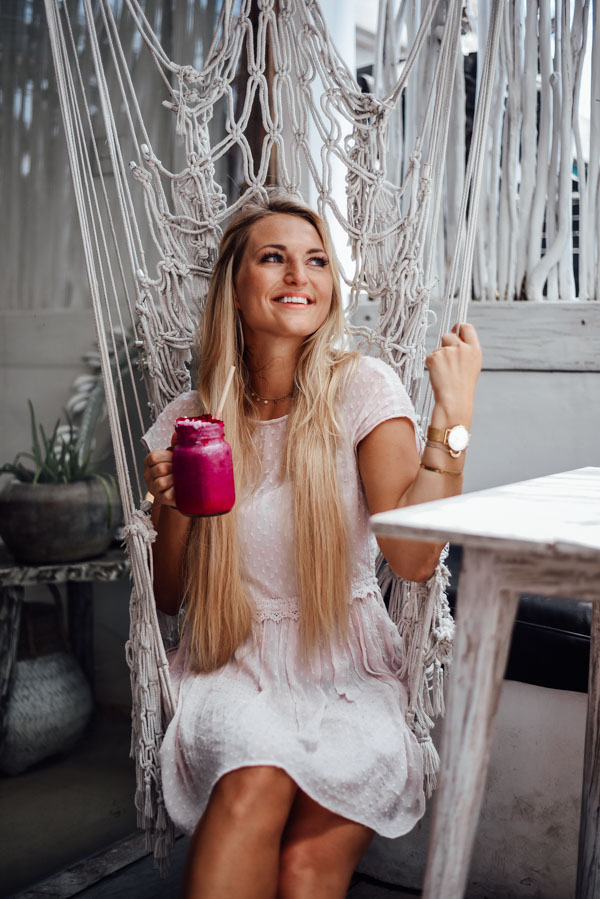 2. Crate Cafe
This healthy food spot in Canggu might as well be my favorite one out of all of them. I love coming to Crate Cafe because it feels like stepping into a food bloggers kitchen. If I wouldn´t know better I would have sworn they hired food bloggers as kitchen staff to prepare the dishes. Everything you order is mind-blowingly awesome decorated. I personally could not do it better than the kitchen fairies at Crate Cafe. The best seller there is the Wuddup avocado, hummus bread. It is such an eye-catcher. This cafe is a must if you are looking for the best food in Canggu.
We went back to Crate Cafe while being on a 30day vegan challenge and what I also loved about this place is the great amount of plant-based option on the menu! I had the scrambeled tofu on toast and my boyfriend tried the vegan burger. We also shared the coconut pancakes. Probably one of the best pancakes I have ever eaten. The food at Crate Cafe does not only look amazing it also tastes delicious!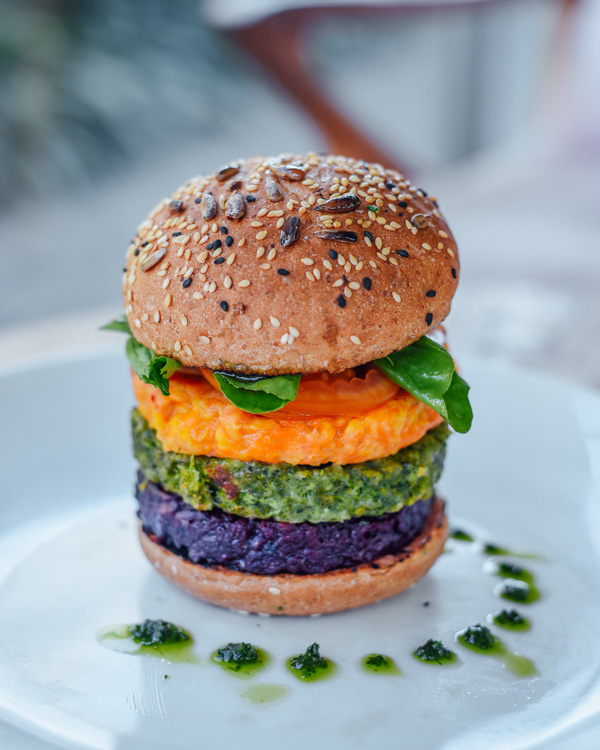 3. Nalu Bowls
I love to include Nalu Bowls in my list of healthy food places in Bali because it is such a cute little spot. They only serve smoothie bowl and compared to the other restaurants don´t have a huge menu selection. Sometimes in other cafes its really hard to decide because they offer so many different dishes. At Nalus its just five different smoothies bowls. During my stay in Canggu I have tried them all and my favorite one is the peanut butter one! We have been going to Nalus quite frequently, also just for coffee, because it is literally right next to our co-working space. I love the minimalistic design of the shop and the beach vibes you get visiting this little food spot!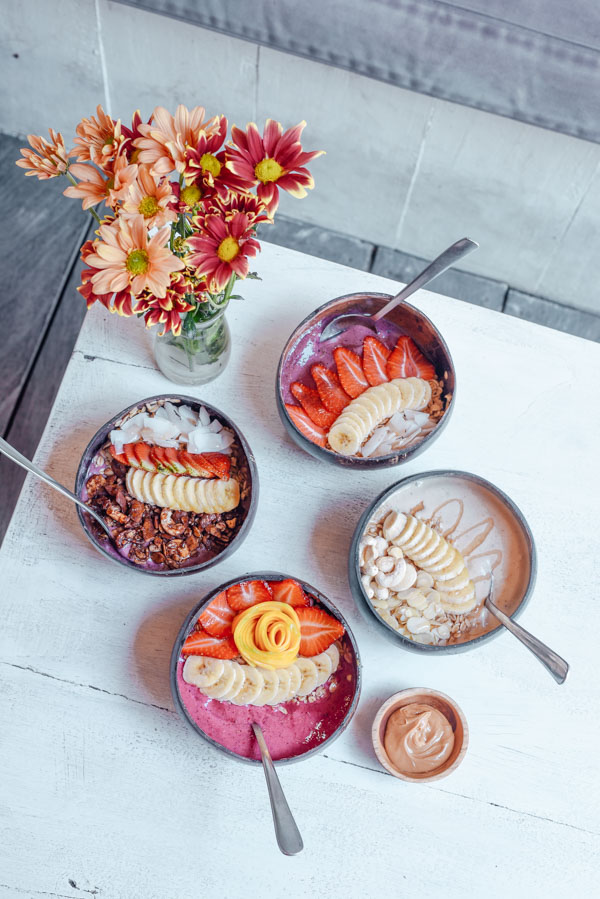 4. Pure Boutique Bali
This brand new place opened in late 2021. A lot of Cafés shut down due to the pandemic, but some even greater ones also opened. Pure Boutique is a cute location if you are into waffles. They have sweet and savory waffles on their menu. It#s also one of the only places in Canggu that knows how to make authentic French macarons.
5. Motion Cafe
A restaurant that only serves pure fitness food is my personal definition of the perfect food place for me! Motion Cafe developed a concept of clean eating and all the dishes you can order are 100% fitness approved by me! I can recommend the mega chicken salad as one of my favorites on the menu. You can also design your own protein shake and choose from different diet styles (Paleo, vegan, ketogenic, high protein). During our stay in Canggu we also tried the meal plans from Motion. In the morning you get all your meals delivered to your home and have everything ready for your day in perfectly labeled containers. I tried the paleo meal plan and my boyfriend the gainer meal plan. This made clean eating so easy and gave us so much more time as we didn´t have to cook for the whole day. Don´t leave Canggu without visiting Motion Cafe!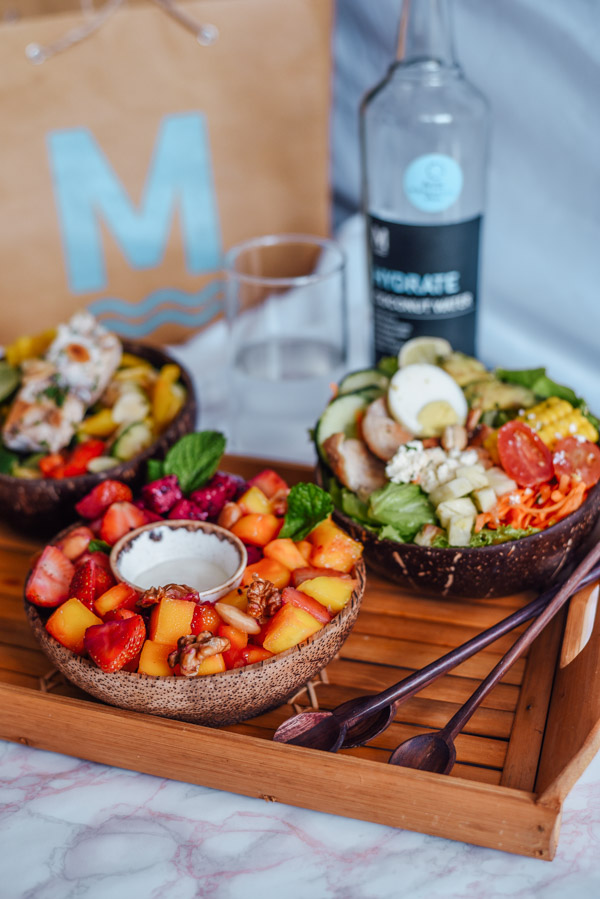 6. Secret Spot
The secret spot is indeed hidden very well, as I only discovered it after a couple weeks in Canggu. A bit off the busy main street it is a cute little surf cafe with a lovely atmosphere and delicious dishes. They only have vegan and vegetarian dishes which are so tasty you would not even miss the meat one single bit. I ordered the "Chicken" Bowl, which was crispy tofu on a Mexican salad and my friend got the tofu poke bowl. For dessert we shared a raw, vegan, gluten and sugar-free snickers bar. Let me tell you this was one of the most amazing things I have ever eaten. The food at the secret Spot Canggu was outstanding and I really recommend you check it out while you are in town.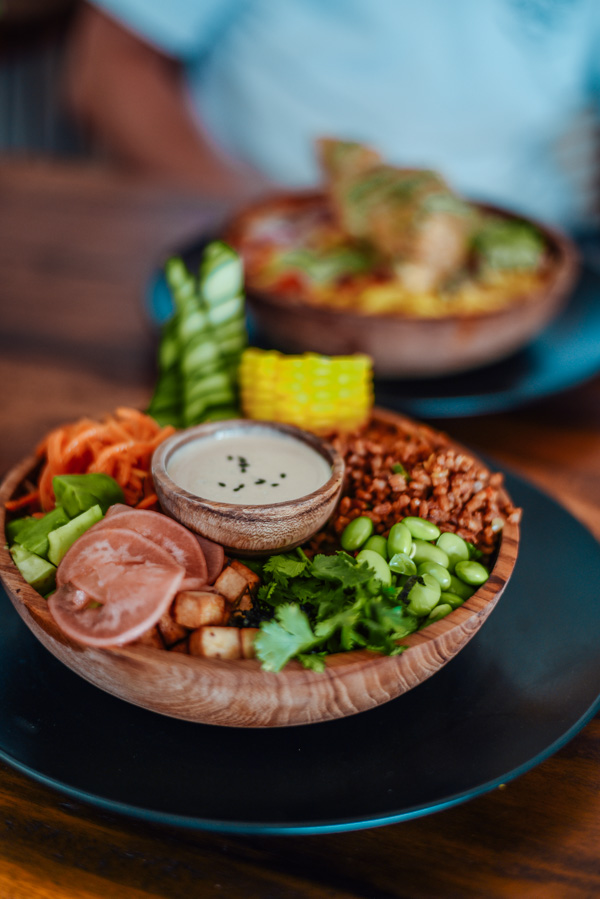 I was actually talking to the owner of the Secret Spot for a little bit and he told me that they are following a zero waste concept and are really mindful of where they source their ingredients. They only use the best and purest food for their dishes.
7. Milu by Nook
Milu by Nook is actually not directly in the center of Canggu, but a little further outside in Berawa. It is by far the most beautiful restaurant regarding interior, style and design. Nude has a beautiful garden with tables overlooking the rice fields. You will get such a comfortable, chill feeling there. No matter how stressful your day was, walking in there will feel like taking a vacation from everything. They have a really big menu and many different choices, also offering a lot of vegan and vegetarian meals. The first time I went I was not so lucky with my meal selection as I didn't like my pumpkin hummus on sourdough so much. The second time I chose something else and liked it much better. I can also really recommend their dessert. We have tried all their cakes and the coconut cheesecake is my absolute favorite!
This place can get really busy around dinner time and it is a good idea to reserve a table if you want to sit by the rice paddies. I recommend you book the table for 5.3opm to be able to see the place still at daylight, spend the sunset hour there and then also see it at nighttime with the many lights.
8. Nude
I went to Nude for lunch and it was absolutely fantastic. We tried the vegan protein shakes, the nourish bowl and the vegan burger. Super colorful and yummy food. You can definitely take insta worthy shots there! The restaurant has very nice interior design and looks like a real blogger place!
What I loved about Nude is that they have an are with aircondition as well. This makes it much nicer to enjoy the meal when its super hot outside. It also seems like a good place to do some work from. I saw many people with laptops and the internet was very fast.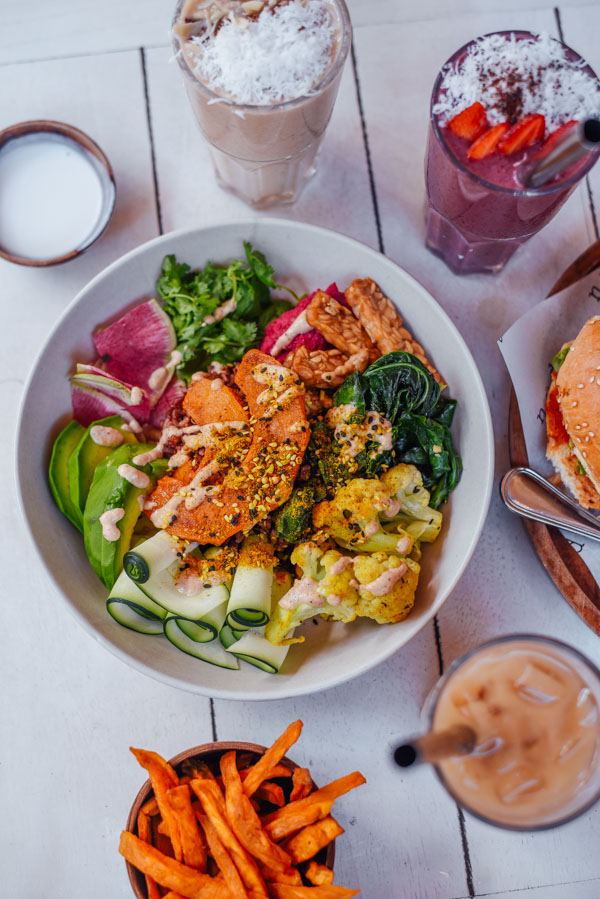 9. Shady Shack
Shady Shack is one of the most hyped Insta spots in Canggu. They have an awesome vegan dessert bar and so many yummy cakes – especially the carrot cake is a must try! It is a really sweet garden setting a bit of the busy main streets. You can go there for breakfast, lunch and dinner. I probably hat the best gnocchi there (they are called pillow talk). They bowls are also always a great go-to!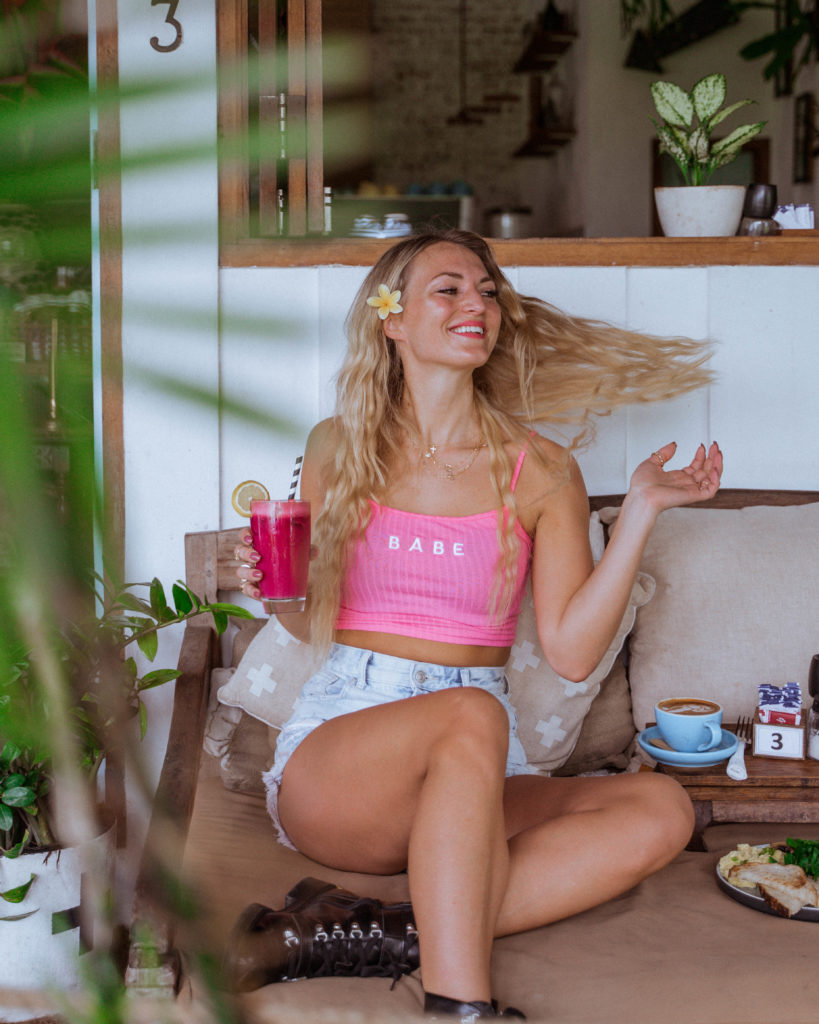 10. Cinta Cafe
Cinta Cafe seems to be a really hip co-working cafe. We saw a lot of people with their laptops and they have great internet and places to charge your devices. My boyfriend and I both had amazing coffees. The red velvet chai latte was especially creative and tasty. Vegan choices were a bit limited, but other than that the menu is very fun and creative. It is a good spot to chill out and enjoy a nice healthy meal.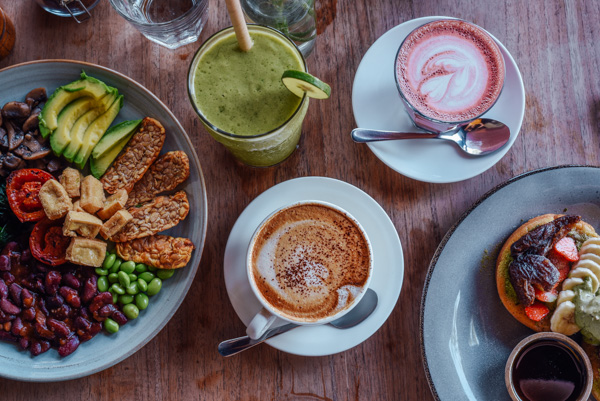 11. I am vegan Babe
This is a Bali staple! I am vegan babe was one of the first vegan restaurants in Canggu and really started the whole plant-based movement in the area.
Be aware that even though this place is vegan it is not necessarily healthy. I actually had to lay down after because I was so full. The pancakes were really heavyyyy. For mains I would recommend the rainbow wrap. That was really yummy.
12. Woods
Another super cute spot, that is brand new is Woods in Pererenan. Pnan like the expats call it is such an up and coming area right now. It is a bit more quite and not that touristy yet. Over the pandemic so many new food places opened there.
I have mixed feelings about Woods. So the presentation of the dishes is incredible and so insanely beautiful, but I was just not 100% happy about the taste. They definitely focused more on how it looks than how it tastes. If you just wanna go for awesome food pics, then that is your place. I have also heard that their dinner should be extremely presentable!
By the way on Sundays they offer Jazz brunches, so that could be a cute weekend activity to check out! 🙂
Tipp: More super cute food spots in Pererenan are: Touche, Shelter, Baked and Honey!
More food
These were my top choices for healthy food in Canggu. However, there are so many other incredible places that didn't make the final top list because they don't serve the typical hipster, healthy and vegan food category that this blog post is about.
That is why I wanted to dedicate a special section for those places as well:
Best Indonesian and local food in Canggu
This where you need to go for the best Indonesian local food in Canggu:
Just Warung: secret tip from my Indonesian professor. Very local, beautiful place and very cheap. Try the chicken curry, its so good.
Casa Tua: Such a great experience. The staff is so friendly and the restaurant is beautiful. Authentic and cheap. They have rabbits running around free!
Warung Local: Indonesian Fast Food: So cheap, cute and authentic. Always a lot of people because everyone loves it there!
Give: I love this place so much! Its a non-profit cafe and what you pay goes towards charity projects. You can choose yourself where you would like to donate the money. This Warung is fully plant-based and everything is so delicious. Best vegan chicken I have ever had!
Warung Lima Rasa: this just opened during the pandemic and has great lunch options for just 2,5EUR
Best Western food in Canggu
If you are looking for burger, pizza and ice cream these are the places I can recommen:
La Barraca: Simply for the atmosphere! You will get complimentary sandwiches in the beginning and dessert after your meal. They also have vegan pizza.
Gelato Secret: best option for ice cream in town
Plant Cartel: vegan fast food restaurant. Really good seitan burger and the loaded fries were amazing as well!
Milk & Madu: the best pizza in town! Sunday and Tuesday they have 2 for the price of one pizza!
Make sure to visit at least some of them while you are staying in Canggu! Check out my food guides for Seminyak and Ubud if you make your way to these cities as well while visiting Bali.
xoxo,

Save this blog post to your Pinterest wall to always find it again: