Take a moment and think of biting into smooth and creamy cashew cream in the shades of baby pink with a crunchy crust. Wouldn't that be lovely? Yes? Well then, I recommend you go and make this raw vegan cashew cheesecake to experience the deliciousness of this plant-based dessert yourself!
Natural food coloring – pink pitaya
I think by now we all know how amazing pink pitaya or the "dragon fruit" is. It is such a powerful natural food coloring and is filled with vitamin C and antioxidants. It is the only thing I use now to color my food and tint it into the most wonderful shades of pink.
The first time I discovered dragon fruit was actually on my travels through Indonesia 12 years ago with my family. We took a boat trip with a local guide and for lunch on the water he brought some of these vibrant pink fruits, cut them open for us and I remember just being so amazed and astonished by the vivid color of the flesh of the fruit. That was in 2008 when the term "superfood" was still unheard of and a lot of tropical fruit not yet sold in Austrian supermarkets.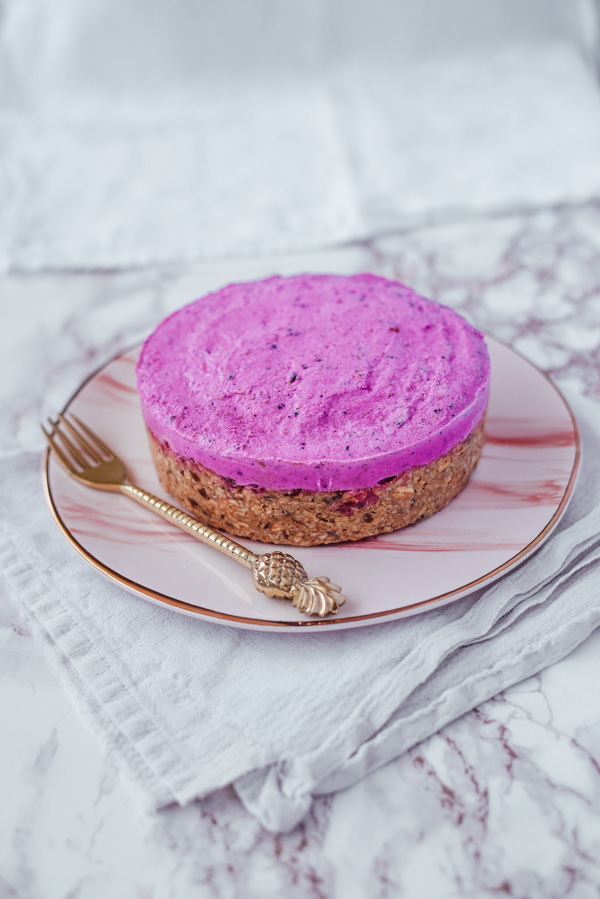 Last year I came back to Indonesia and spent 2 months working and living in Bali, where I got to explore the local food scene in much greater detail this time. Pink Pitaya was still used in almost every restaurant and sold on every market. So I started to make a lot of recipes with it myself, like this raw vegan cheesecake that I am sharing with you now!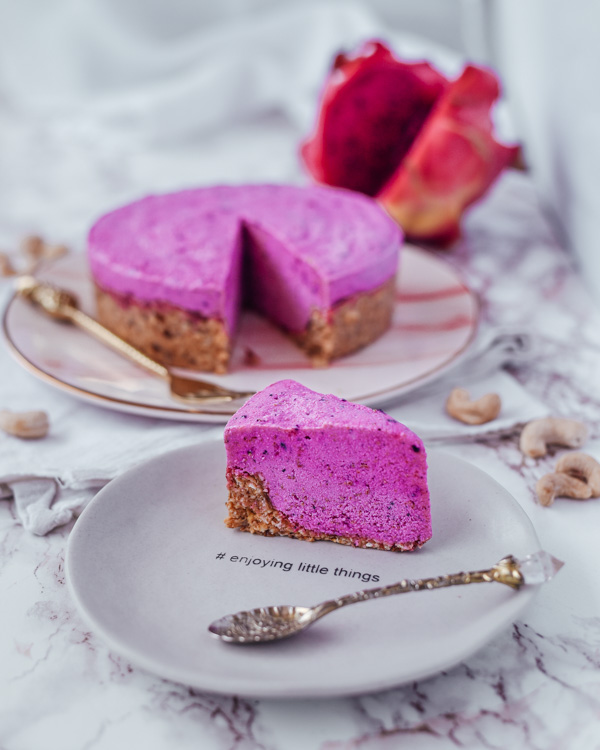 By itself pink pitaya is actually very neutral tasting. Don't try making pink pitaya shakes just out of the dragon fruit itself – it won't taste great. It doesn't have a lot of flavor on its own, which is also awesome as it simply lends its color to the meals you add it to. The more you use of it the deeper pink to almost purple it will get. If you only use a bit you will get soft shades of baby pink! Be careful not to get it into your clothes though. The color is quite hard to get out.
There is also a white dragon fruit. It obviously has less qualities as food coloring and tastes very neutral as well. However, it looks great if you use it for decoration. I love to cut little stars or hearts out and put them as a topping on my nicecream bowls. A guaranteed wow effect!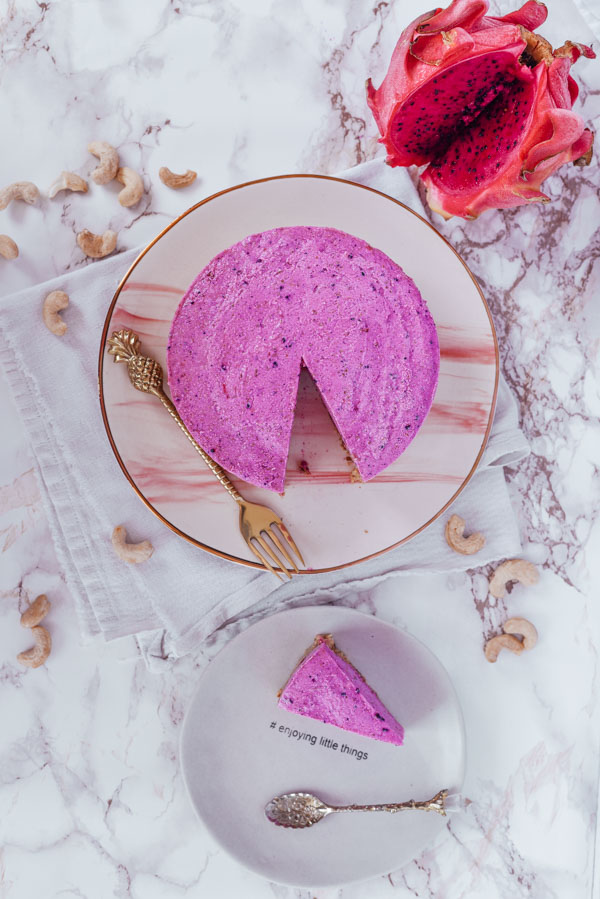 Healthy raw vegan cashew cheesecake
The pink cashew cheesecake is probably one of the easiest recipes you will ever make. It is raw – which means you don't even have to bake this cake, so no need for an oven.
This recipe requires only a handful of ingredients, but a little waiting time. Dates and cashews need to soak and the finished cake needs to set in the freezer. This raw vegan cheesecake with pink pitaya is made up of two layer. The date and almond crust and the pink cashew cream filling.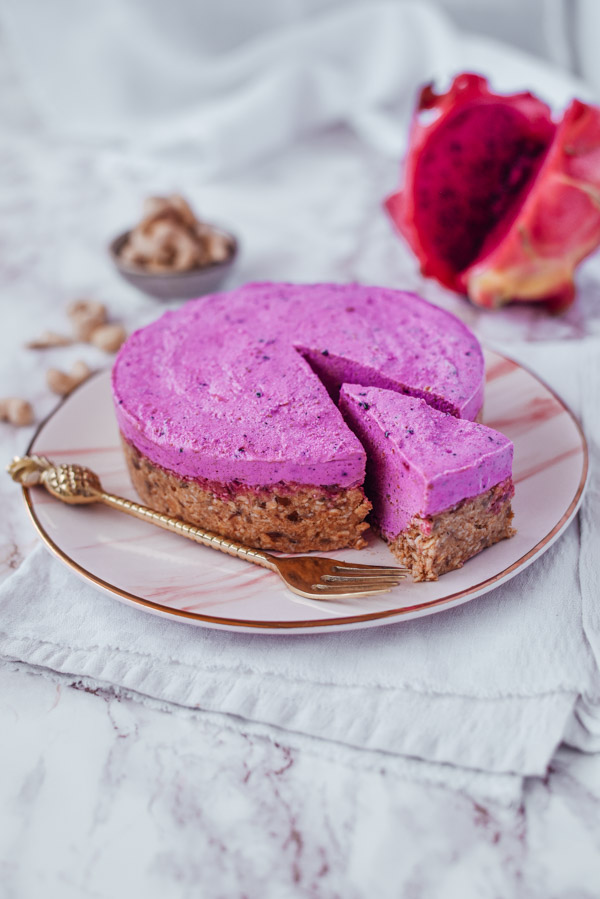 I like to substitute sugar for Erythrit as it is a natural sugar alternative without calories. If you don't have this at home feel free to use whatever sweetener you prefer or fits your dietary needs.
So lets have a more detailed look at the recipe and what you need for this raw vegan cheesecake: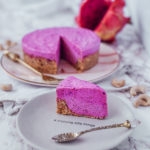 Cashew Cream Cheesecake
Smooth pink cashew cream with a crunchy crust!
Zubereitungszeit
45
Minuten
Zutaten
Filling
200

g

cashews

1 / 2

tbsp

pink pitaya

alternatively powder is also possible

3

tbsp

coconut milk

3

tbsp

xylitol
Crust
100

g

dates

2

tbsp

peanut butter

80

g

oatmeal

1

tbsp

xylitol
Anleitungen
Cover the dates and the cashews in two different bowls with water overnight and let them soak.

Strain the next day and drain.

Mix all ingredients well for the crust and press on the bottom of a small round silicone mold.

The crust should be about 1/2 cm thick and can go a bit further up at the edge.

Puree the cashews with the pink pitaya, coconut milk and sweetener for the filling.

The mass should be as fine as possible. If you use pink pitaya powder you will probably need a little more coconut milk.

Put the filling on the crust and then best freeze the silicone mold.

Before slicing, flip the cake out of the mold and wait 10 minutes until you can cut it perfectly into pieces.

It should then be eaten relatively quickly because it collapses when exposed to room temperature for a long time.
Rezept-Anmerkungen
Once you take it out of the freezer and let it thaw you should serve it quite quickly.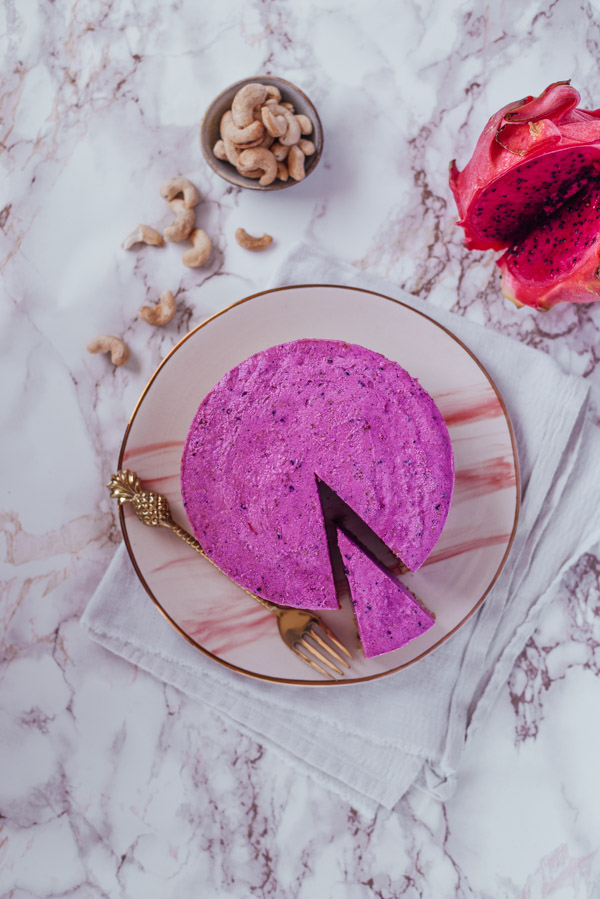 More recipes for the raw, vegan fans out there
I really hope you enjoyed this recipe. Feel free to check some of my other raw, vegan desserts:
If you want you can sign up for my clean & lean fitness cookbook. I will send you 35 amazing fitness recipes straight to your inbox:
Did you make this recipe?

Did you make this recipe?
Tag @carina_berry and use the Hashtag #carinaberry to get the possibility for a shoutout on my Instagram!
I always love to see your wonderful creations and it makes me so happy to see you guys actually making my recipes.

xoxo,