This gut healing bowl is designed to get rid of bad bacteria in your gut, improve digestion and aid stomach pain. It is a natural form of probiotics and totally vegan. Besides these amazing benefits it is also super delicious!
Let your food be your medicine
Have you ever heard the saying let food be your medicine? If not then let me introduce to you the concept of this probiotic gut healing bowl. Consciously consuming the foods in this bowl you can actually make a big difference in your gut health! Every ingredient is carefully picked out and known to help your digestion. Your gut is like your second brain so it better be healthy.
I have experienced major problems with my digestion after a serious food poisoning in Mexico. For a year every time I ate something related to carbs my belly would swell to the size of a six month pregnant lady. It took me a year to figure out how to get my gut health back and stabilize the good bacteria in my digestion. During that time I felt so uncomfortable in my body.
Therefore, I really know from experience how it is to struggle with your gut health. This is why I am so passionate about creating healthy recipes like this probiotic gut healing bowl that actually makes a difference and helps you out!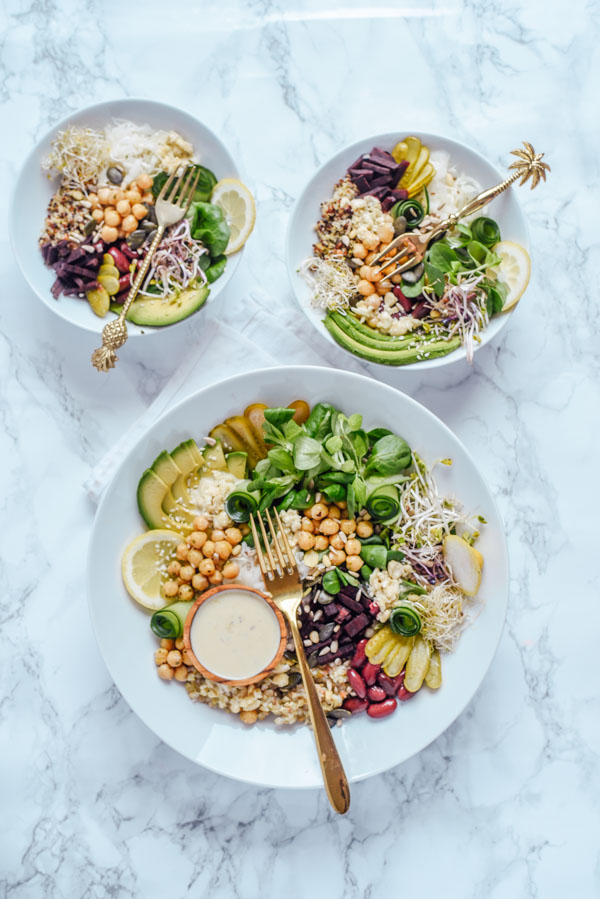 Natural probiotics
Taking probiotic supplements is a new trend and in certain cases can surely be beneficial. I, however, always prefer the natural way first. Did you know that there are foods that act as natural probiotics? You will come across a lot of them in this healthy vegan gut healing bowl. Probiotics are live bacteria and yeasts that are good for you, especially for your digestive system. It's helpful bacteria that keeps your gut healthy.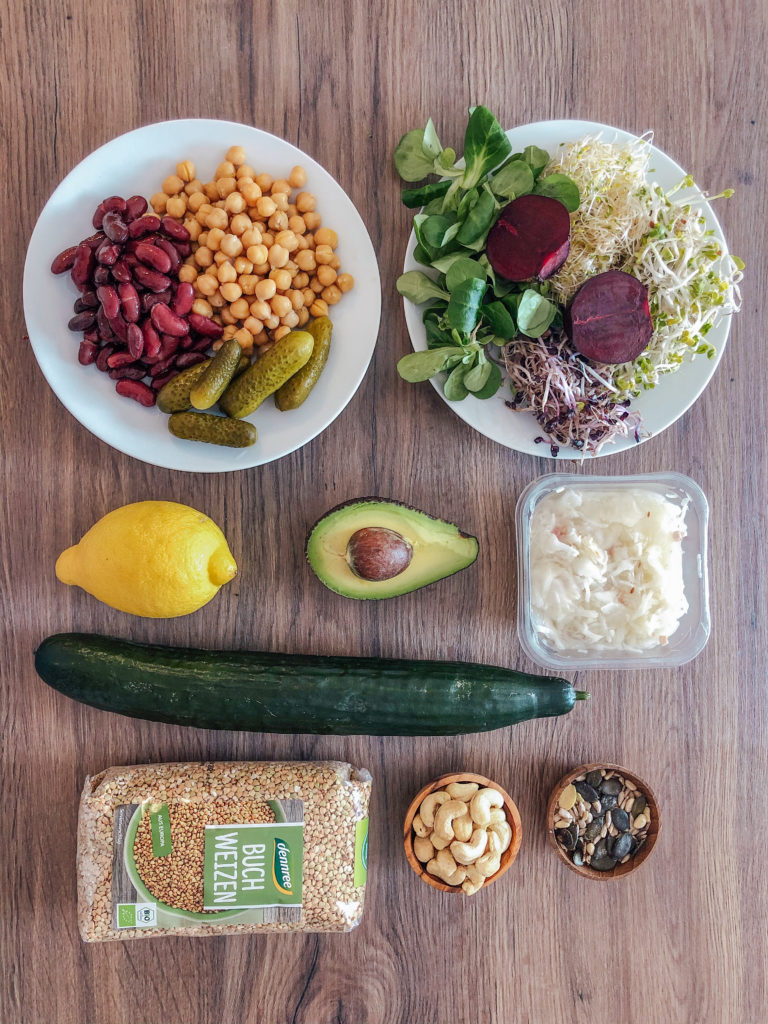 So what are some foods that contain a natural form of probiotics?
pickels
sauerkraut
kefir
yoghurt
raw cheese
kombucha
miso
kimchi
tempeh
Basically everything that has gone a process of fermentation. Probiotics, from both foods and supplements, can have powerful effects on your health.
Other ingredients in this bowl, like chickpeas, beans, buckwheat and beetroot contain a good amount of fibre which aids digesting as well. Ingredients like cashew, seeds and avocado add healthy unsaturated fatty acids that are crucial for our body to function properly. So you see it is a well rounded mix designed to optimize your health.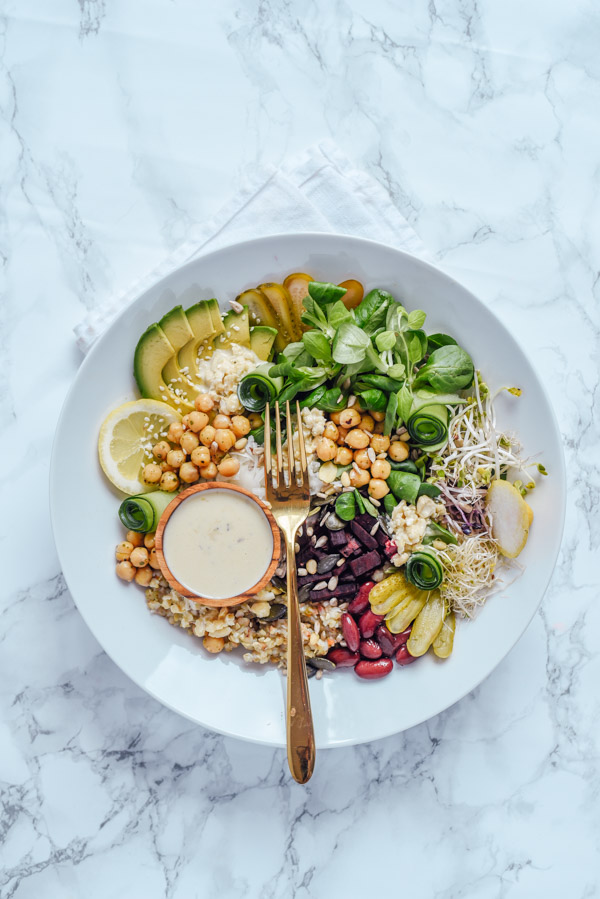 How a farmers market inspired me to create this recipe
I was inspired to make this recipe on my trip to South Africa. I lived there for two months and often visited my favorite weekend farmers market. There, I found a healthy vegan food stall specialized on gut healing foods. They were selling kombucha, kefir and special bowls. The owners told me how much of a difference it can make if you start including more of these healthy foods into your daily diet. At first looking at their bowls I was super skeptical and sure they would taste horrible. I mean how can pickles and sauerkraut can taste good in a bowl?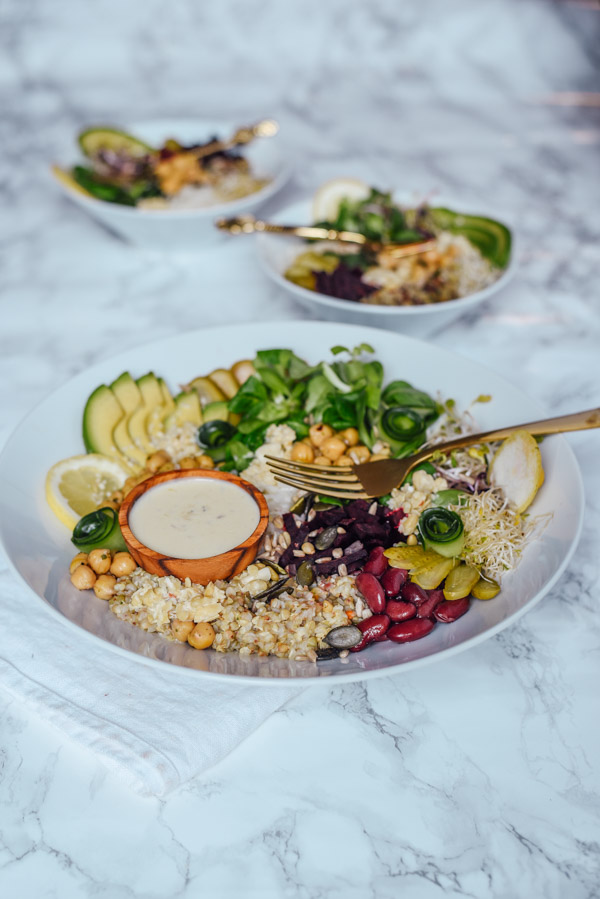 In the end I decided to give it a try anyways and was immediately won over by the unique combination of flavors. Coming home to Austria I made up my own recipe for a gut healing bowl and created an extremely tasting mixture while still including valuable probiotic and high fibre ingredients. To be honest it turned out to be one of the best bowls I have ever made and I am so happy to have come across a recipe that is so delicious while still totally benefiting your body!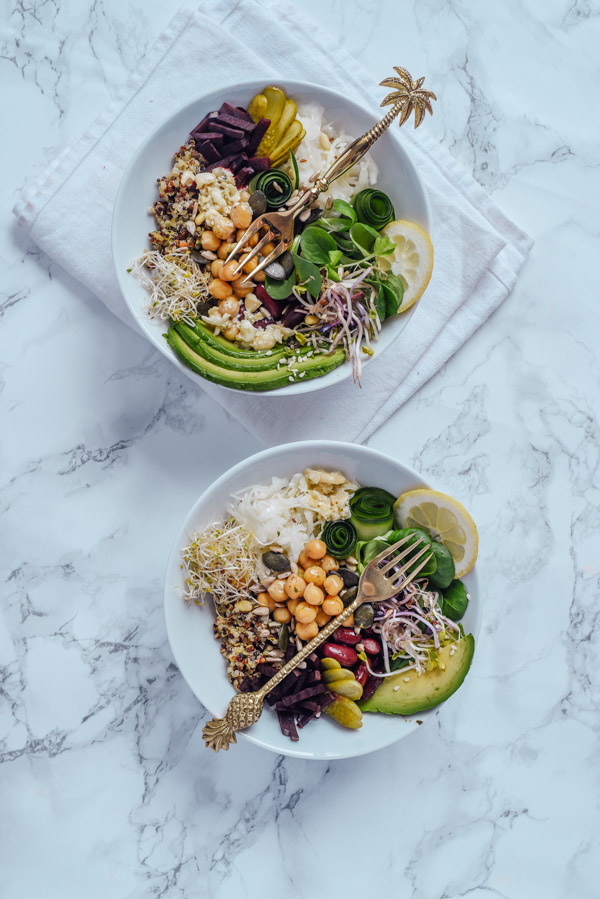 So lets jump into the recipe and let me share with you what you need to make this bowl of pure gut magic: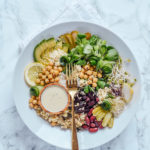 Gut Healing Bowl
Designed to aid stomach pain, improve digestion and get rid of bad gut bacteria.
Zubereitungszeit
45
Minuten
Zutaten
Bowl
70

g

beetroot

1

handful

baby spinach

100

g

buckwheat

dry

2

tbsp

kidney beans

canned

2

tbsp

chickpeas

canned

1

cucumber

1/2

avocado

2

tbsp

sauerkraut

4

pickles
Dressing
30

g

cashews

2

tbsp

olive oil

1

squeeze

lemon juice

salt & pepper

depending on your liking
Toppings
1

tbsp

seeds

sunflower, pumpkin, sesame, flax

1

tsp

sprouts
Anleitungen
Cover the cashews in water and set aside for the dressing.

Now start by cooking the buckwheat in water for about 15 minutes until cooked. Drain and put at the bottom of two bowls as the base. You can cook the buckwheat in vegetable broth to add extra taste.

Cook the beetroot and once done dice it into small pieces.

Drain the chickpeas and beans. Season them to your liking (herbs, pepper, salt).

With a vegetable peeler peel a couple of slices off the cucumber and roll them in.

Cut the avocado in half. Take off the peel and slice it.

Slice the pickles. Add the spinach to the bowl.

Place the sauerkraut, pickles, avocado, chickpeas, beans, diced beetroot and spiralized & rolled up cucumber on the buckwheat and spinach in the bowl.

With a blender blend the cashews, oil, lemon juice, salt and pepper to a dense dressing. Put on bowl.

Sprinkle seeds and sprouts over the bowl.
Rezept-Anmerkungen
Tip: it might look super pretty, but it takes even better if you mix all the ingredients up before eating!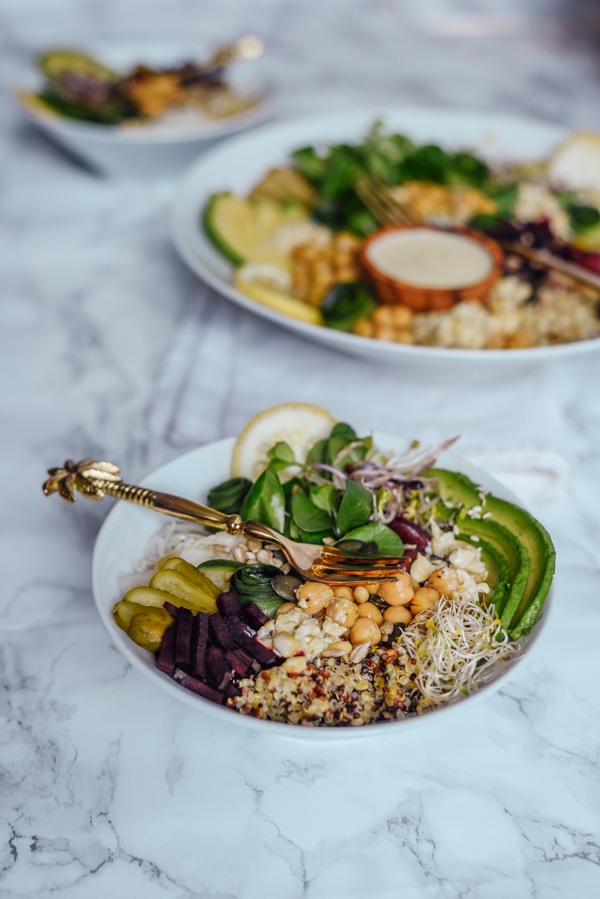 I hope you found this article interesting. Make sure to check out my other healthy bowl recipes like the poke bowl or buddha bowl.
Also, did you know you can sign up for my free Clean & Lean Cookbook? I'll send it straight to your inbox.
Did you make this recipe?

Did you make this recipe?
Tag @carina_berry and use the Hashtag #carinaberry to get the possibility for a shoutout on my Instagram!
I always love to see your wonderful creations and it makes me so happy to see you guys actually making my recipes.

xoxo,

Pin this to your Pinterest board: