Get ready for the best french toast casserole ever made! Golden, crisp and fluffy croissants blended with smooth cream cheese and fruity strawberries simply make the perfect combo. Wouldn't you agree?
Healthy french toast casserole
This is actually a healthy french toast casserole since it is completely sugar-free as well! If you are a regular visitor of my blog you know that I like to take conventional recipes and make them healthy (healthier). I believe a lot of traditional recipes have a lot of unnecessary sugar in them and some ingredients can always be swapped for healthier ones. This is exactly what I did with this french toast casserole with cream cheese. Instead of using refined sugar I used Xylit which has 40% less calories than regular sugar. I substituted conventional cream cheese for low fat cream cheese to save some extra calories and also used sugar-free fruit jam to make a healthier french toast casserole!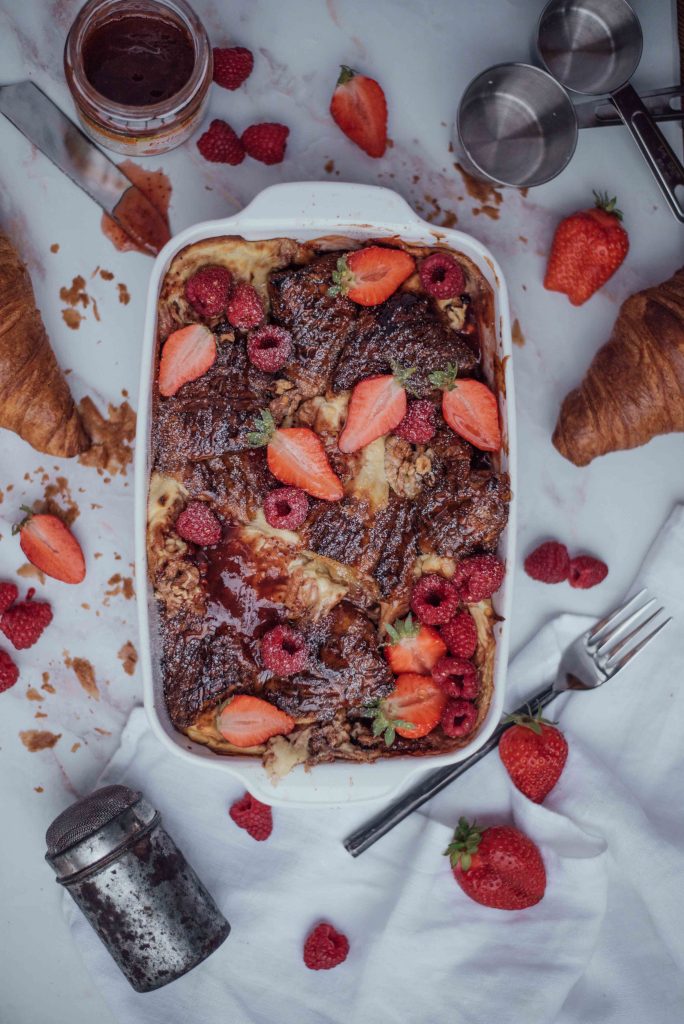 Ways to adapt the recipe
There are actually multiple ways you can make this recipe. You can make this dish french toast casserole blueberry style or use raspberries instead of strawberries. I found all kinds of berries work perfectly, but it also tastes super yummy if you use apples and apple sauce! You also don't necessarily need to use croissants either. You can, for example, also make a brioche french toast casserole by using brioche bread or any other type of sweet rolls or toast!
What I love about this decadent french toast casserole is that it is a great way to make use of hard, old bread. Before you throw it away this is a great dish to make with it. Yay to less food waste!
Tip: If you are actually using older, harder bread make sure to really let it soak up enough liquid before putting it into the baking pan. Otherwise it will not get soft in the oven. Also, make sure this breakfast bake is served while it is still hot/warm. It will not taste nearly as good when it is cold. If you want to go a little crazy you can add a scoop of ice cream. Which obviously makes it less healthy again.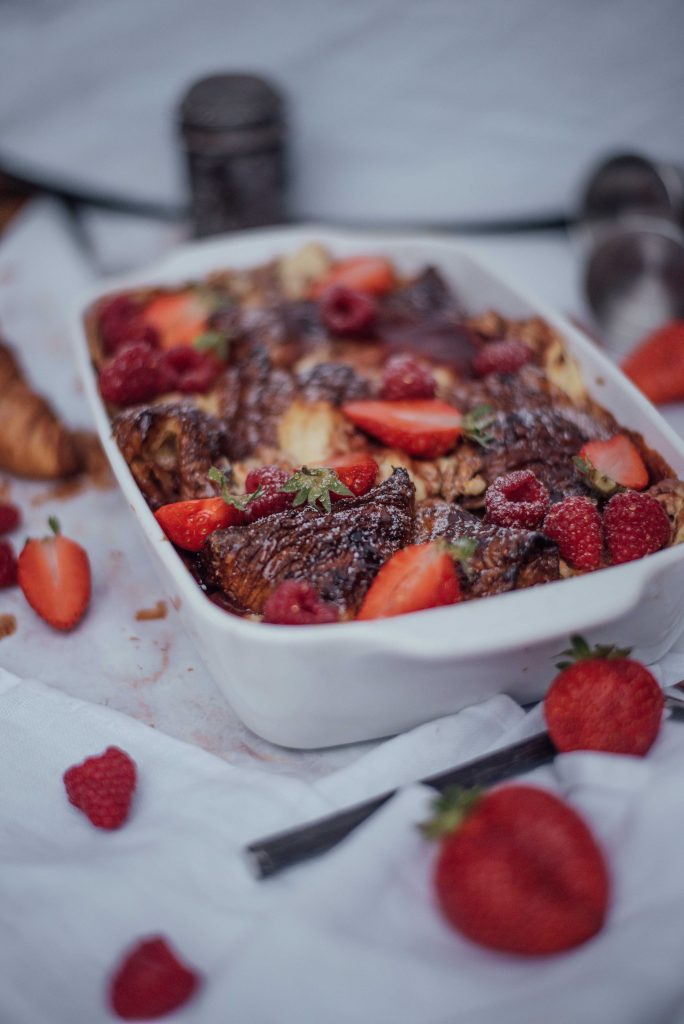 Recipe french toast casserole with cream cheese
Let's get into the details of this berry french toast casserole!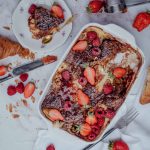 The best french toast casserole with cream cheese
A sweet breakfast bake for weekend brunches!
Vorbereitungszeit
5
Minuten
Zubereitungszeit
15
Minuten
Zutaten
3

eggs

80

ml

of milk

2

tb

Xylit icing sugar

or regular icing sugar

1

tb

Xylit

or coconut sugar, honey, or sugar

Juice 1/2 lemon

1

teaspoon

cinnamon

5

croissants

200

g

low fat cream cheese

100

g

sugar-free strawberry jam

100

g

fresh berries

1

tbsp

honey
Anleitungen
Cut the croissants apart in half. In a bowl, mix the eggs with the milk, cinnamon and Xylit icing sugar. Soak the halved croissants briefly in the mixture by turning them from side to side. Place them in a casserole dish. Pour the remaining egg mixture over it.
In a second bowl, stir the cream cheese with the Xylit and lemon juice and place different scoops of it on the casserole. Then put the jam on top of it.
Bake the casserole in the oven at 180 degrees. Decorate with berries, drizzle with the honey and a bit of Xylit icing sugar.
I really hope you enjoyed the sweet breakfast casserole recipe. It truly is super yummy. I made it for a family brunch one weekend and it was gone in an instant and my family members were begging me to make it more often. Yes, that's how addicting it was!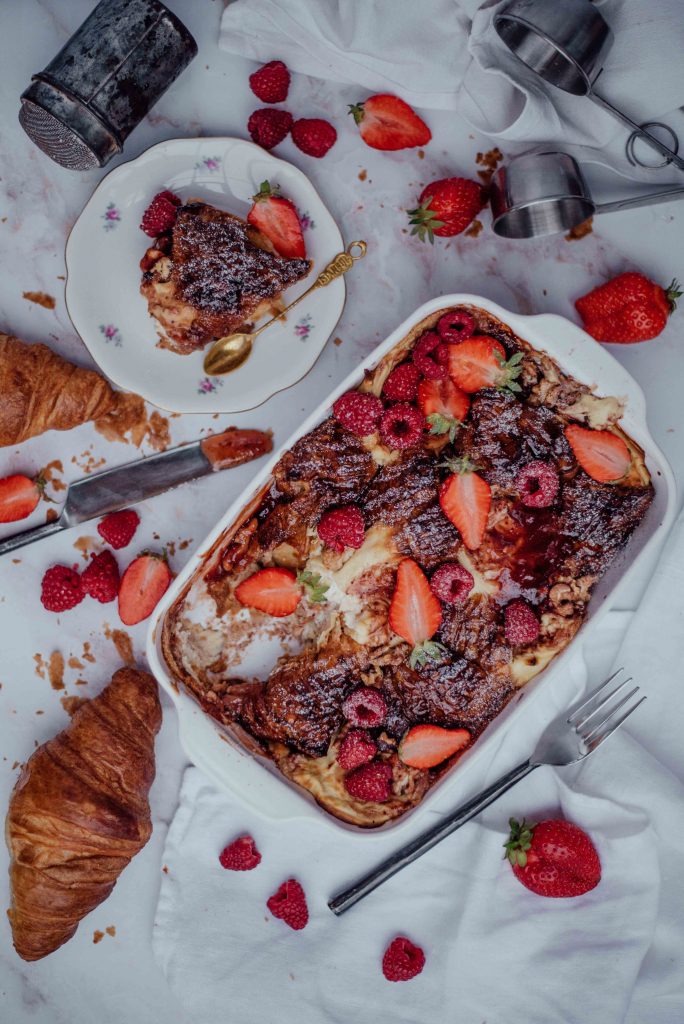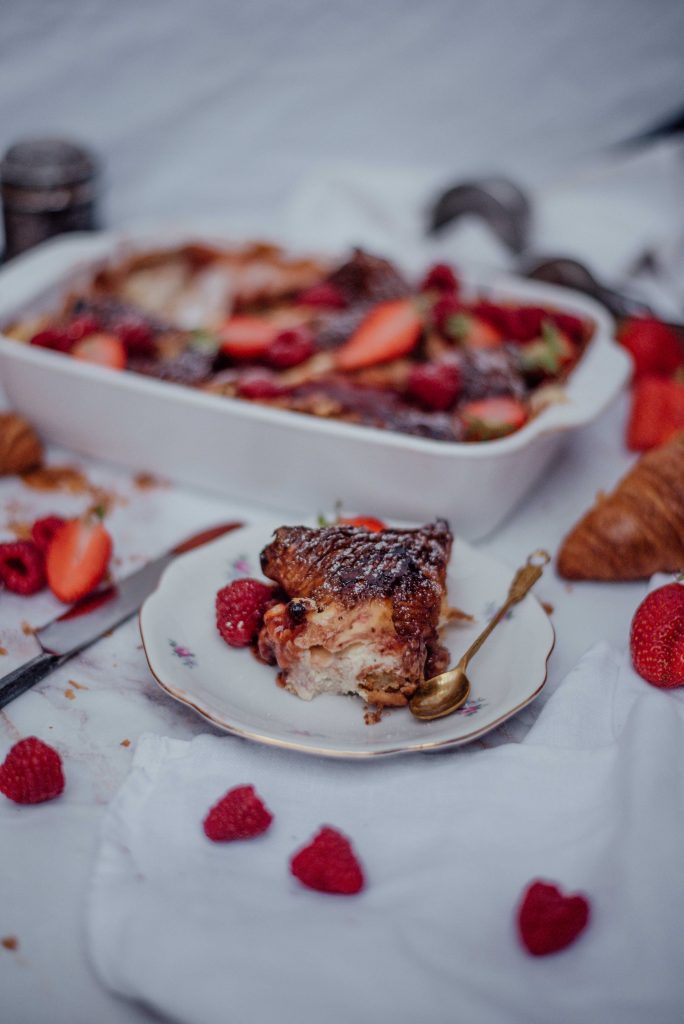 Here are a few more sweet but healthy recipes I absolutely love from my blog:
I you want you can also sign up for my free Clean & Lean E-Book. I will send it to you per email and you will have 35 awesome recipes to make that are healthy and delicious!
Did you make this recipe?

Did you make this recipe?
Tag @carina_berry and use the Hashtag #carinaberry to get the possibility for a shoutout on my Instagram!
I always love to see your wonderful creations and it makes me so happy to see you guys actually making my recipes.

xoxo,

Make sure to save this recipe to your Pinterest board: