So excited to share this Puebla food guide with you all. Puebla is in my opinion the heart of gastronomy in Mexico. It is super well known for its incredible cuisine and extravagant restaurants. After having lived here twice I feel like I know my way around the best food spots in town pretty well and would love to share them with you now.
The amount of cool, unique trendy places is really astonishing in Puebla. It was something I certainly didn't expect when I came here the fist time. I can honestly say our restaurants & cafés in Austria don't even come close to the awesome food spots you will find here!
Gastronomy is super important for the city of Puebla. In almost every university you will find a gastronomy major, which is also what I studied during my exchange semester here. It is the soul and beating heart of the Mexican haute cuisine. The food is really so unbelievably good here and in this Puebla food guide I want to present you my top food choices of the city!
Puebla Food Guide
Breakfast
Here a list of my favorite breakfast spots in Puebla:
1. Olivia
I adore this place and therefore it is on top of my list for my Puebla food guide. The vibe, the atmosphere, the healthy food and the fair prices. When I go I always get the "Dejalo Fluir" Detox shot at Olivia, which is a mix of apple vinagre, himalayan salt, honey, cinnamon and cardamon. A perfect start into the day! The matcha pancakes, smoothies and Açai bowl are my top choices there. They have a good internet connection as well and I love to work from there every once in a while.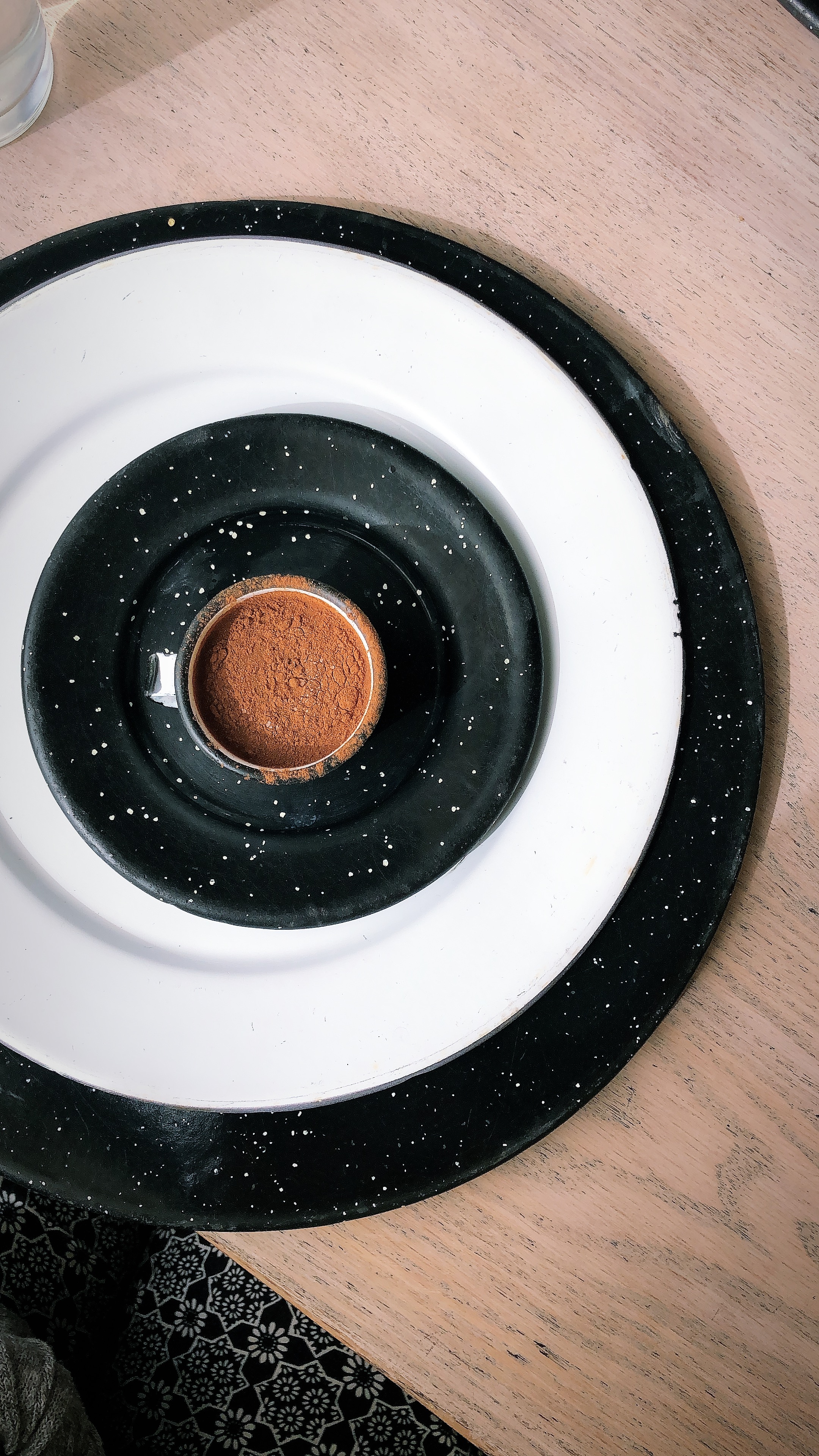 2. Mama Elena
I love this place because of the beautiful view onto the cathedral of Cholula. Its a super cute restaurant and they have a couple of healthy options. I unfortunately couldn't make it there this year, but I remember from last year I loved their chia pudding and the fresh pressed juice is also really good. Check for special events there. Last year we went for a five course Valentines dinner with a view onto the cathedral. Mama Elena is really a magical place!
3. Tonico 12
This place is definitely on top of my food list here in Puebla. What ever you order will guarantee an explosion of color on your plate. Everything is homemade and super high quality ingredients are used. Tonico 12 has many vegan and vegetarian options and uses a lot of superfood for the dishes. I had characol pancakes and a characol smoothie which tasted amazing! What I also really liked was how they decorate the dishes. Tonico 12 is on my list for breakfast places, but I also recommend it for a healthy lunch or dinner option!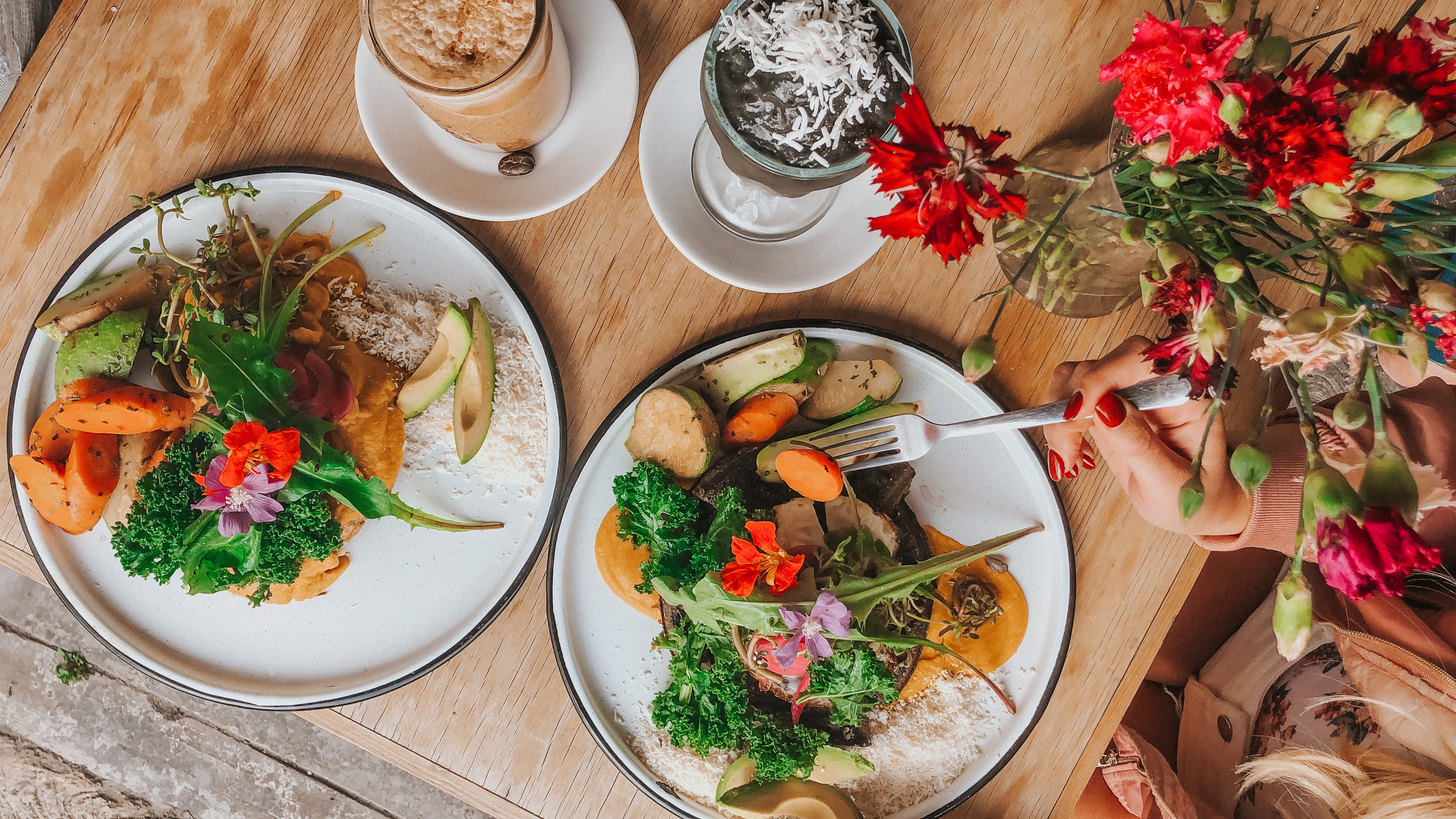 4. La Cupula
This is a restaurant downtown in the center of Puebla. Its a rooftop restaurant so you have an amazing 360 degree view over the entire city. We went there for breakfast which I can highly recommend. It is a buffet and only costs 150 pesos (like 8 euros) and you have a huge selection and can also get fresh Chilaquiles, Enchiladas and Omlettes from the kitchen. Highly recommend checking out la Cupula!
5. La Chula
This is a tiny little juice bar in Cholula. Everything is made right there in front of you. The ingredients are super fresh and the choice of healthy juices are amazing! They also offer a small breakfast menu including omlettes (which were incredible) and bowls (even better). We had the crazy monkey bowl which included peanut butter and banana!
6. Soul Vali
Tulum vibes coming right up with this one. A visit at Soul Vali feels like a short term vacation. The tropical and chill atmosphere makes eating there super enjoyable. It is situated in a little garden with beautiful white hammock chairs and wooden tables. They have a huge selection of healthy bowls and decorate them like top food bloggers! I think we spent like three hours there soaking in the atmosphere. Soul Vali also has Wifi so its a good place for a little work session as well.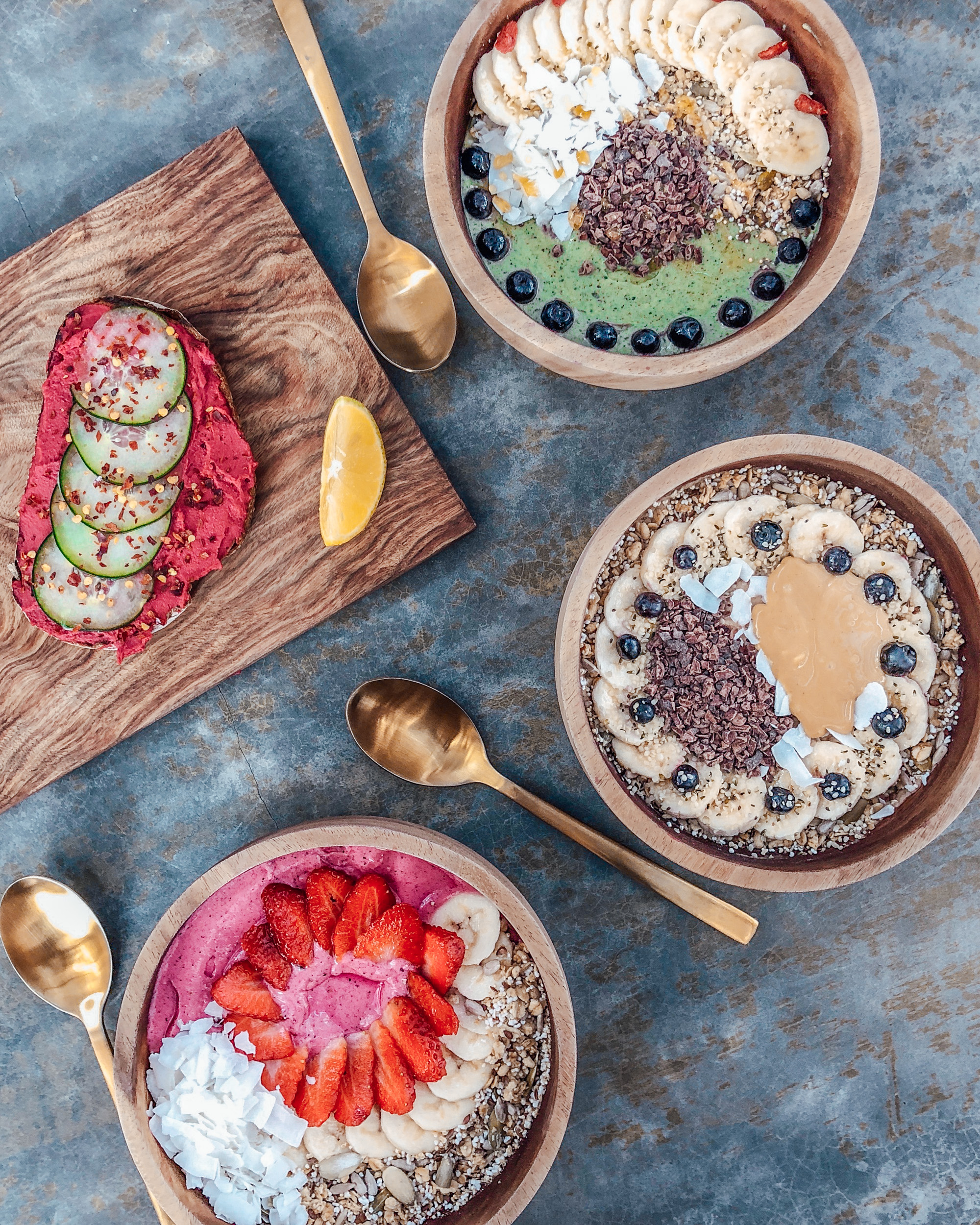 Lunch & Dinner
7. Casona de los Sapos
I am putting this place first on my Puebla food guide regarding dinner & lunch choices. Out of all the places we went to it definitely impressed me the most with their dishes and quality of food. Casona de los Sapos is a small boutique hotel with only 19 super luxury rooms hosting three restaurants and one French bakery.
We had dinner at Osteria del Rospo and were stunned by professional service and haute cuisine sent from the kitchen. We treated ourself to a three course meal there and were so happy about all the healthy low carb options that can be found in the menu. The combination of flavor we found in all dishes were so well balanced, but also challenged your senses at the same time. This is really what I call a unique food experience. The next morning we had breakfast in their French restaurant. We were offered some of the fresh pastries from the bakery and ordered some main dishes. I rarely ate such a good salmon omelette.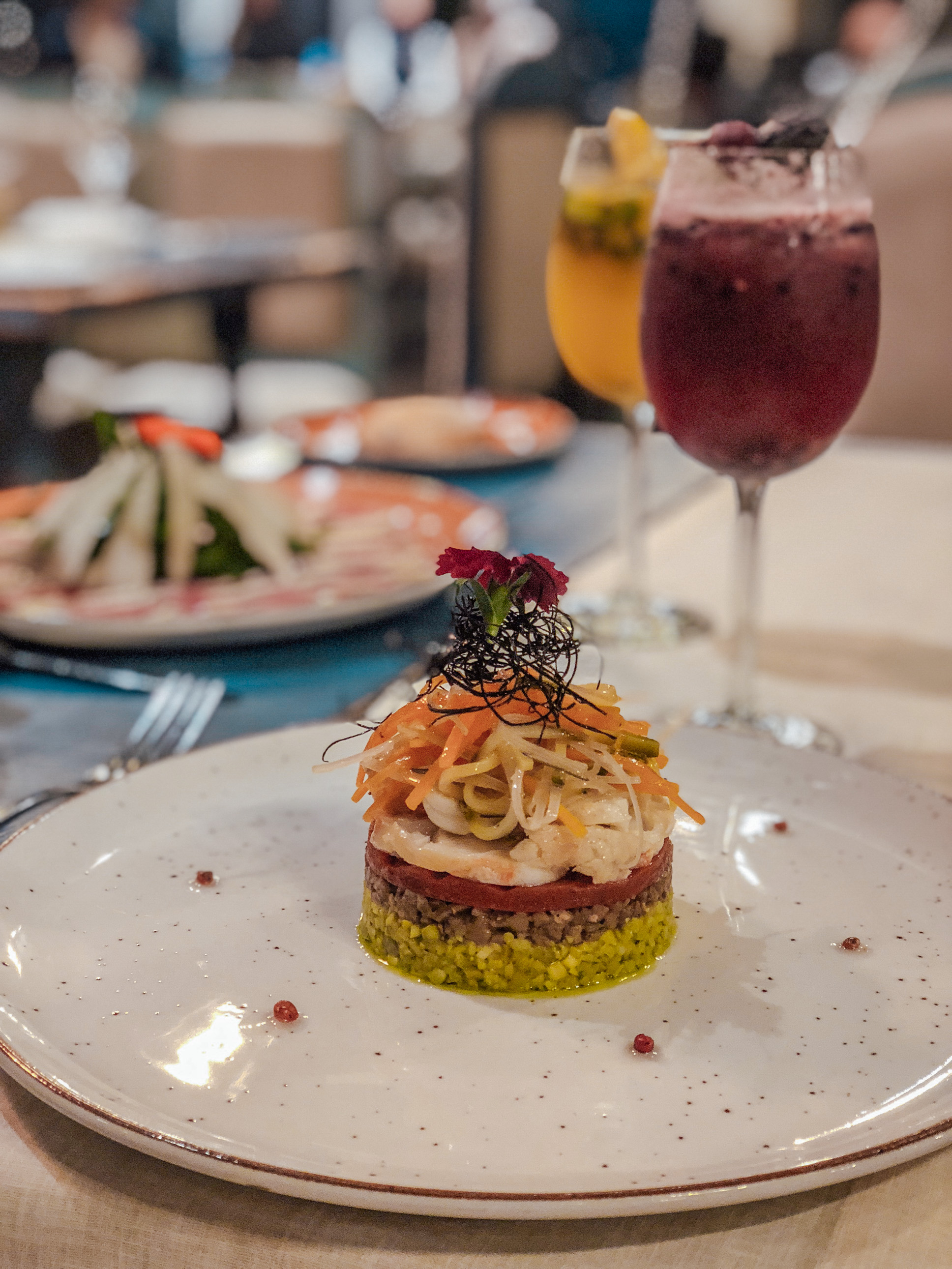 8. Textileria
This place is simply so cool. Honestly I wish we had a restaurant like that in my city at home. The interior is super stylish and has a modern/vintage twist. The service is world class and the waiters make you feel like the most important person in the room. Although I consider Textileria quite fancy the prices are absolutely affordable for any European. As a starter they bring you this fantastic bread with different kinds of sauces to try. I was feeling a bit adventurous when we went there and ordered the grasshopper tacos. I also had salmon there one time which was incredible and needs to mentioned on my Puebla food guide.
9. Intro
This is probably one of the higher priced restaurants in Puebla and has made quite a name for itself. My host sister is managing the bar so I simply had to come and check it out and go for a drink there. After a super delicious non-alcoholic matcha cocktail at Intro we got some food there as well. I ordered the cauliflower with feta cheese, which was really yummy and my friends had octopus and ceviche. Expect to pay a bit more here than in other places, but also expect top class food and amazing service. When we sat down the chef send a little greeting fro the kitchen with was also super yummy! I loved the interior and classy style of the place.
10. La Berejena
You might not expect to find good pizza in Mexico, but la Berejena will prove you wrong. They have a super creative pizza menu, offering different combinations of flavors you have never tried before on a pizza. The place is usually packed, but after a short while waiting we got a table. The decoration of the restaurant is super hip & trendy. I ordered a salad because it just sounded so amazing. It was with caramelized pecans, goat cheese, apple slices and jamón serrano. I also shared a pizza with my boyfriend which was delicious.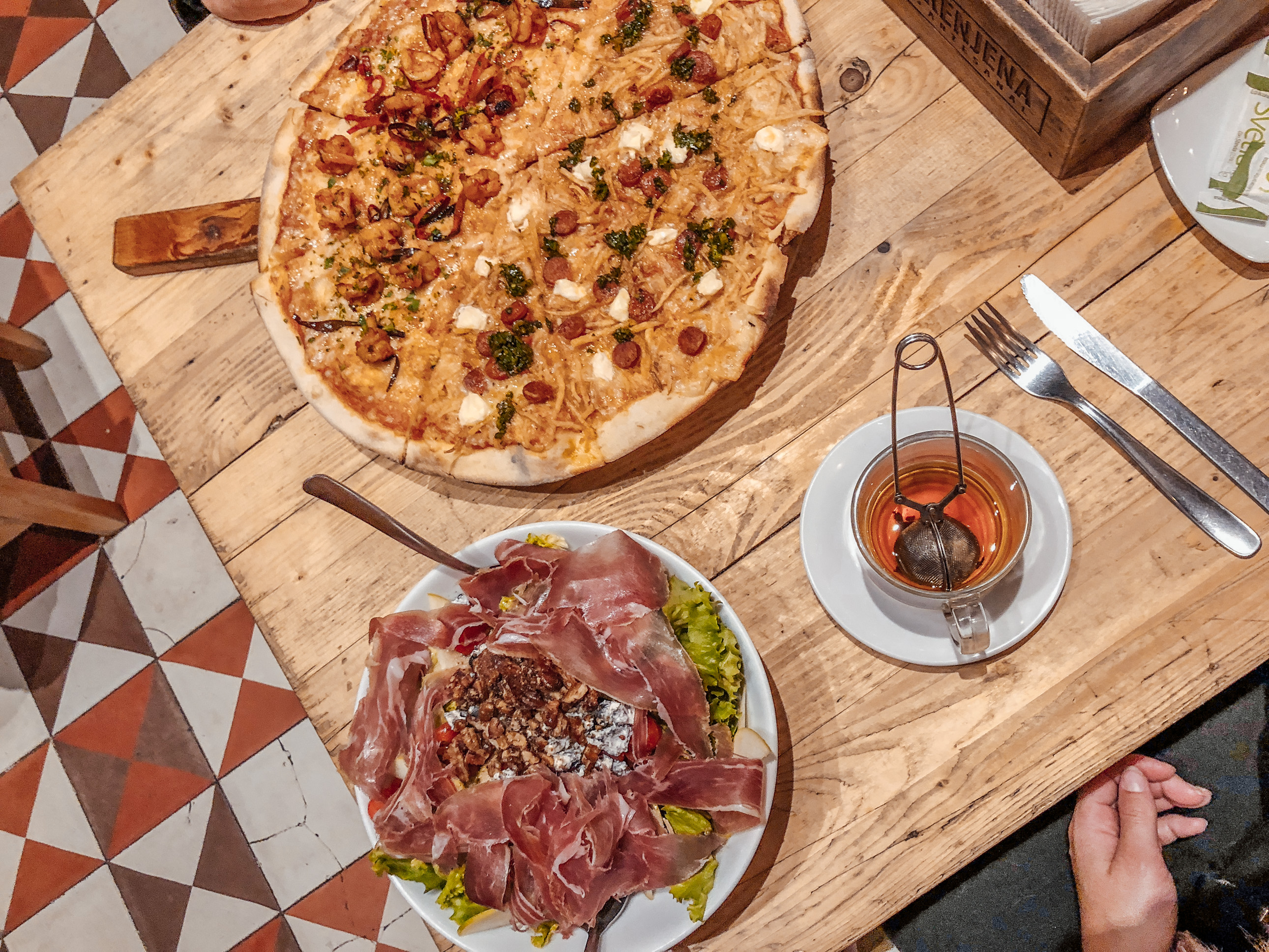 11. The Ocho30
Another hipster food spot in Puebla that needs to be mentioned in my Puebla food guide. There are a couple Ocho30 restaurants in Puebla, each one specializing in one specific meal (paninis, pizza,…) What I really love about 80.30 is the interior decoration. It is just so cool! My two favorite ones are in Cholula and in Lomas de Angelopolis. I ate lasagne there last time, which was great. The prices are super affordable, but don't expect huge portions. Perfect for not gaining weight though 😉
12. Sushi-iito
Okay I simply had to put this one on my Puebla food guide list because I went there so many times. This is not the traditional high end restaurant you would expect. It is a pretty basic sushi chain with an AMAZING offer I simply was not able to resist. So, I absolutely love sushi and Sushi-iito has this offer from Monday to Thursday where you order one roll and get the second one for free! Whaaat?! Yes you heard correctly!
The best thing, one roll costs like 100 pesos (4 euros) and it is actually really good sushi. Totally recommend you to check it out when you are here. We loved going to the one in Lomas de Angelopolis because it has a nice atmosphere as well. Oh and by the way don't go to Shirushi. OMG I absolutely hated that place. That was my worst food experience in Puebla. So if you are on the lookout for sushi go to Sushi-iito instead!
Top chefs in Puebla
Since I studied here for half a year in the field of gastronomy & mixology I was also able to get to know a lot of people working in this area here. Many of my friends are top chefs and bartenders here who are also being flown around internationally to cook in different countries. The Puebla food guide would not be complete if you didn't get to know some of the chefs behind the scenes. Here I would like to present two of my favorite talents of the city.
Elena Centeno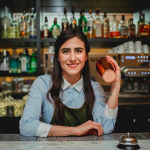 This sweet girl is actually my host sister. Elena has an incredible talent for creating the most amazing cocktails and is head of bar at Intro, one of the finest restaurants in the city. She has entered various mixology competitions and impressed the judges more than once!
Since I don't really drink alcohol she made me a super special "healthy" matcha cocktail. I was really impressed by the taste and creativity of the drink.
Her signature drink Green Velvet is also super healthy. Its with avocado, egg white and matcha! Sounds like a pure fitness drink, right?!
Daniel Nantes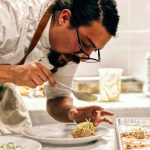 This guy has some real skills! Daniel is of the uprising stars in Pueblas gastronomy world who was just recently flown to Russia to cook for the Mexican embassy in Moscow! His skill to innovate new dishes and combine all kinds of ingredients into a firework of flavors is unique. During the time I was here I was lucky enough to have tasted a three course meal he and Elena put together (they are dating by the way – what a power couple in the kitchen).
Make sure to check out their Insta for some real high class food inspo!
My love for Puebla
I hope you enjoyed this Puebla food guide and will check some of these places out if you ever get to the city! I promise you will be stunned the by the high quality and unique restaurants & cafés you find in the city. If you are looking for more food tips in Mexico I recommend you check out my Tulum food guide.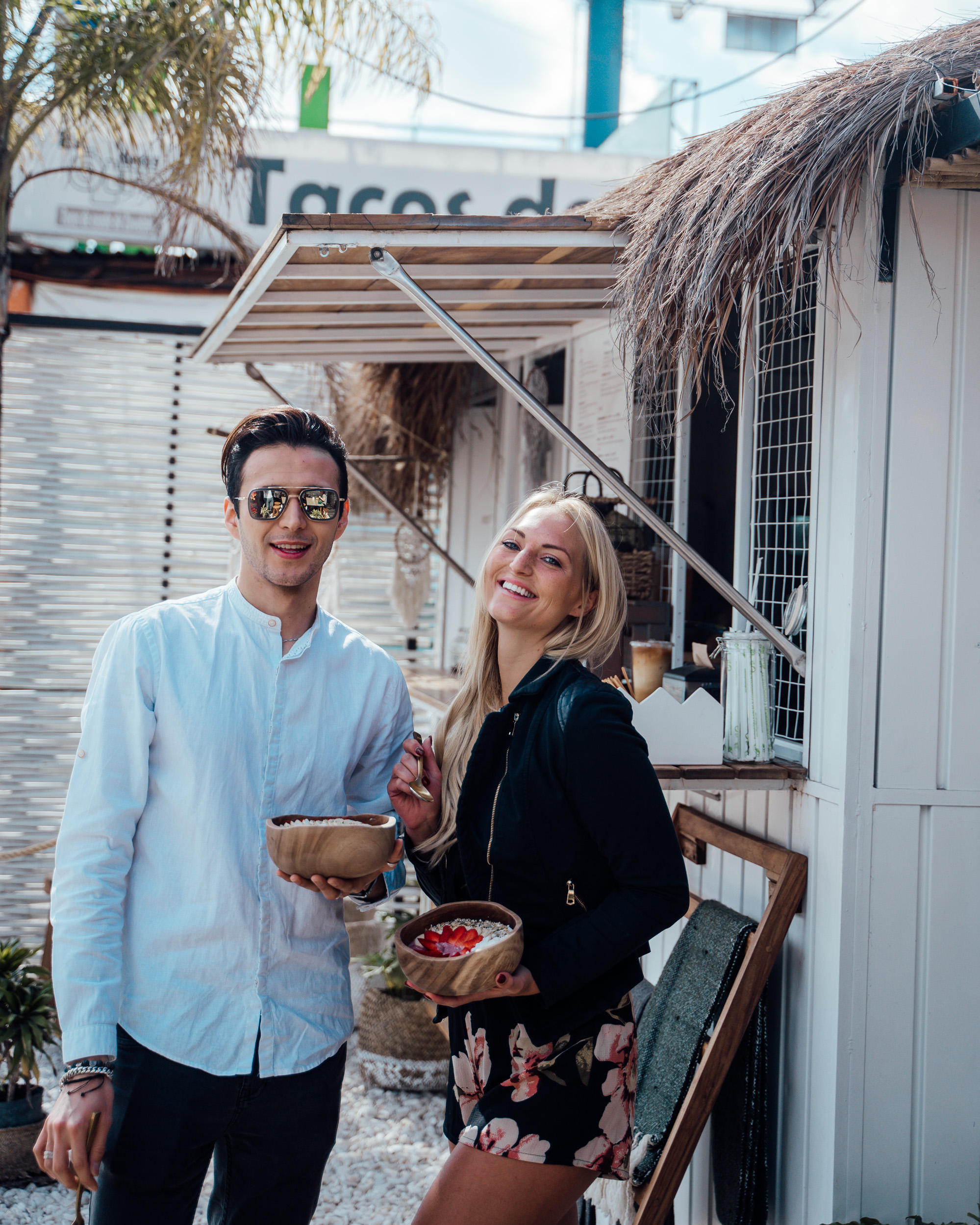 I honestly really love Puebla and I have a close connection to this city because I lived here for quite a while and have made tons of friends here. It has such a charm and besides the food there are also so many things to see and do. They have this super cool VIP and 4Dx cinema that makes every movie experience so memorable. Also visiting the markets, taking a spin on the Estrella de Puebla and shopping at some of their fancy malls is a ton of fun.
Let me know if you still have any questions and I am happy to answer them in the comments!
xoxo,