Trying to find out if being a digital nomad in Canggu is right for you? Well, then you definitely came to the right blog post. I have spent two months living in Canggu as an online entrepreneur and have really gotten to know this little town quite well. In this blog post I will tell you more about the food, sports, accommodation, co-working spaces, nightlife and safety in Canggu.
I actually wanted to hold my excitement for how much I love living in Canggu for a couple of paragraphs, but here it goes: this place is absolutely the best!
The food in Canggu – Cafés, restaurants and bars reviewed
Canggu is literally my personal food heaven. As a food blogger especially I could not ask for more amazing places to eat out! One café is more beautiful than the next. There are so many choices for every single diet. Raw, vegan, vegetarian, keto, paleo, unhealthy pizza,… You will find everything you are looking for in Canggu. Prices are reasonable, however the hipster places are obviously more expensive than the local "Warungs" (little eateries) Be prepared to spend about 1/3 more if you go to the new stylish restaurants and cafes. The sphere is also changing so much and so fast. I have lived in Canggu for only two months and I have seen whole new restaurants from starting construction to opening in that time.
Please make sure to check out my blog post on best healthy food in Canggu, where I am sharing my favorite places in great detail!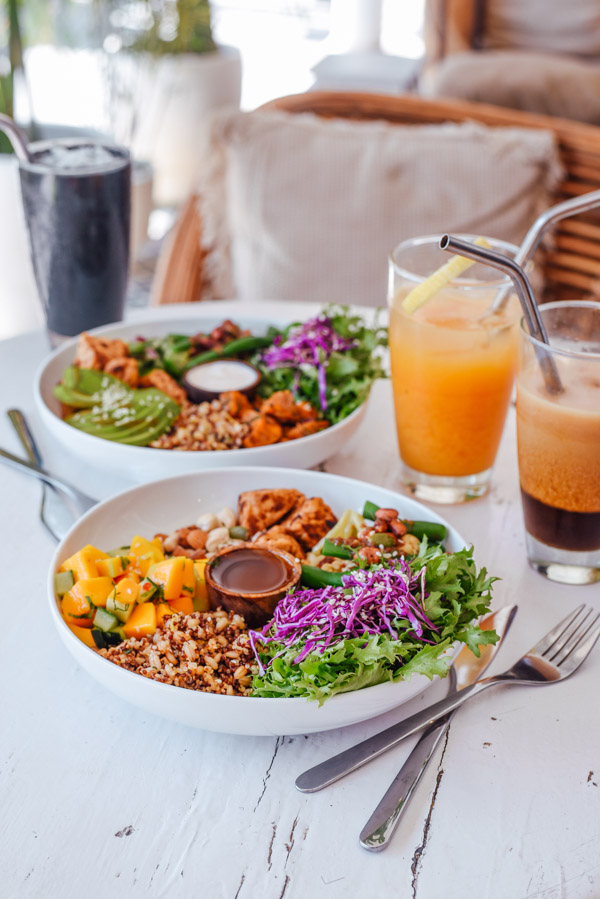 Doing sports in Canggu – Surfing, Yoga, Crossfit, Fitness
Getting your workout in will be super easy in Canggu. No matter what sports you practice you will find a place that offers it. Obviously you will find a lot of Yoga studios and more and more crossfit studios are opening, but I have also seen MMA studios and horse riding centers. The most famous crossfit place is Wanderlust Fitness and for yoga I can recommend Ecosfera. The big beach clubs like la Brisa and Finns are also offering weekly yoga directly by the beach. I can highly recommend attending those classes. You pay 100k and have the most amazing morning workout directly by the ocean with a professional yoga teacher.
On the beach every couple meters you find a surf school and can rent boards for 3 euros for 2 hours. When I got to Canggu I wanted to sign up at a gym and checked out all of them. I can recommend the body factory (upper class, luxury gym), avenue fitness (average prices), Sayuri (local gym). I actually signed up at the local gym because it was much cheaper and closer to my apartment. It was only 20 euros per month.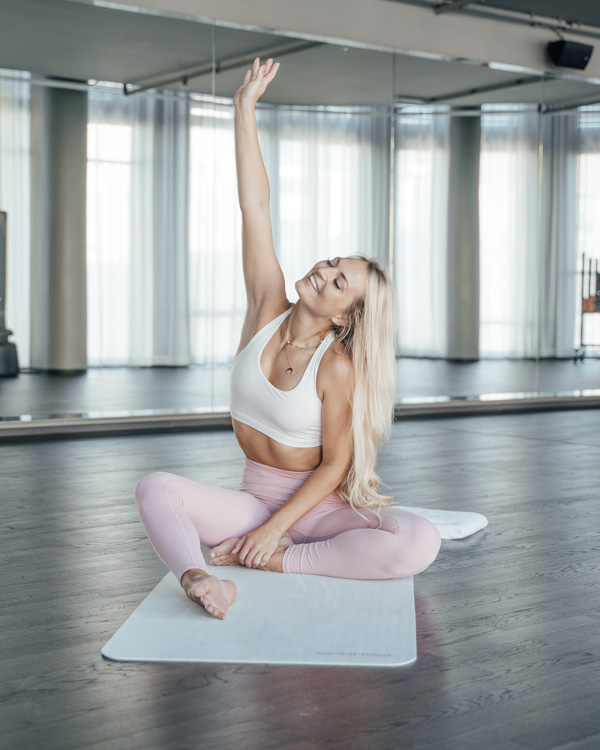 Co-working spaces in Canggu
The week I arrived in Bali I made sure to check out all the co-working spaces in Canggu, because I wanted to make sure to really work from the one I felt most comfortable in. I was surprised how many of them already opened in the tiny village. There are 5 or 6 in total right now. Can you believe it? Canggu has only 40.000 inhabitants and more co-working spaces than the capital of my state in Austria! The two most famous ones are Dojo and Outpost. These are the "oldest" ones and those who really brought digital nomads to this area. Recently a couple others opened as well. Price wise they are all pretty similar. You can pay per month, per week or per hours. Internet is fantastic in all of them.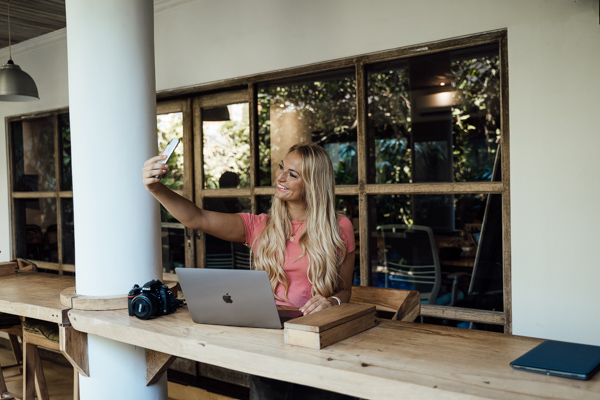 Here a quick rundown of the co-working spaces in Canggu that I have been to:
Dojo: I signed up at Dojo for 2 months and couldn't have loved it more. They do a great job connecting the co-workers through many social events. Dojo offers keynotes, networking events and fun activities on a weekly basis. They have a café included and serve you drinks & meals straight to your seat. People were super friendly and it was so easy to find new friends through all the social activities going on there. It has the perfect location very close to the beach. Sometimes we went for an after work drink to the la Brisa beach bar and watched the sunset from there or went for an early morning surf and to work after at Dojo. They partnered with Hubud in Ubud, so if you spend some time there you can also use that space for free.
Outpost: This place seemed a bit outdated to me. I just didn't like the vibe. However, you will find everything you need around this co-working space and if you live in Berawa (which is another part of Canggu) it might be the closer choice for you. Right next to it is a gym and a healthy cafe. It also has a pool that you can use.
Tropical Nomad: This place is pretty new and so stylish! Probably my favorite if it wouldn't be for the "bad" location. It is a bit out of the center right at the most feared intersection the so-called "shortcut". There is so much traffic on that side of town and the road is continuously jammed. You can do a one day free trial day to see if you like the space. They also have a very cute cafe and a nice garden at tropical nomad.
ConCon: This one is pretty new as well and closer to the beach. It was quite expensive though. They collaborate with the hotel below it and you get to use the pool for free as a member. The space was also much smaller than the other ones, which is why we decided to not work from there.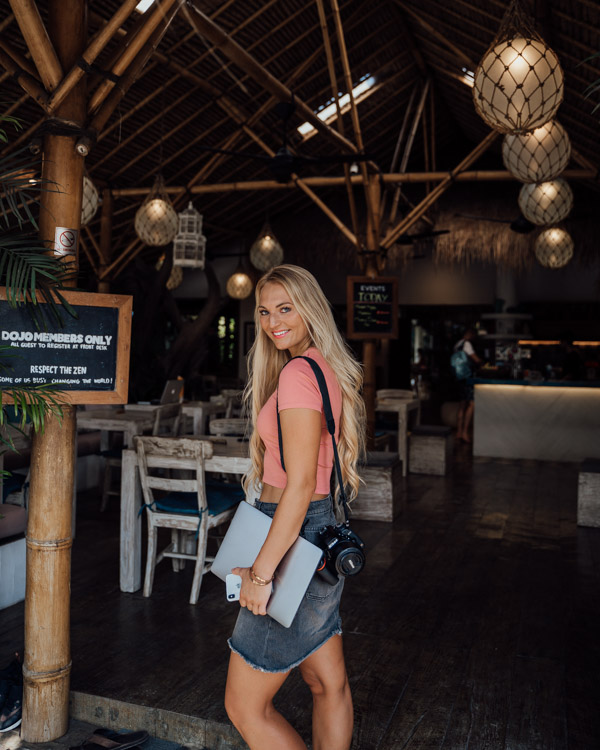 Co-working from cafés
If you don't want to spend so much money on a co-working space you can alternatively work from one of the many cafés in Canggu. That is actually what I did once I ran out of hours at Dojo at the end of my stay. Most of the cafés are work-friendly and have great wifi.
I can recommend the Common café, Nude, Alterego, Cassava, Cinta Cafe and the Sloth.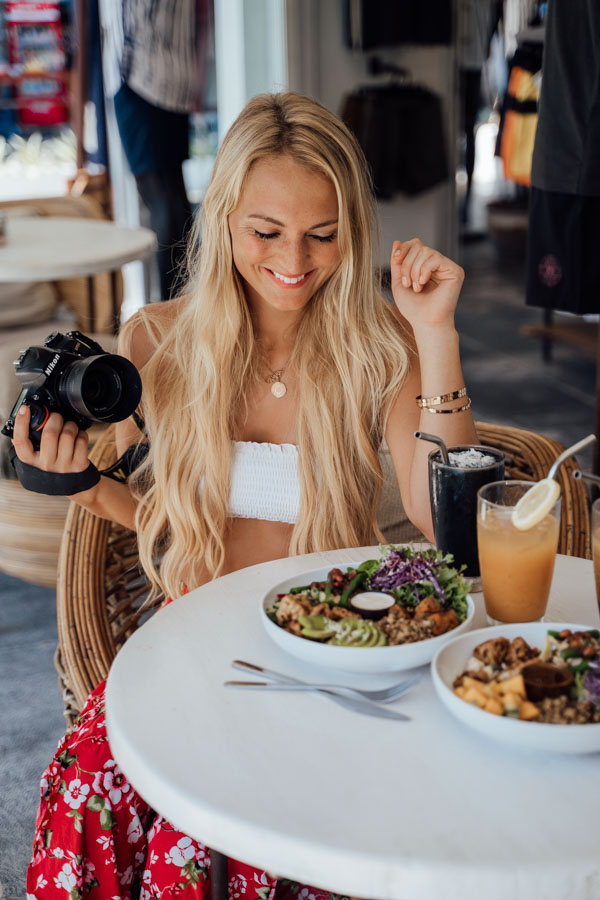 Accommodation for digital nomads in Canggu
Most co-working spaces also offer co-living. All through Canggu you will find many guest houses and home stays. It is very easy to find accommodation and won't cost you too much, unless you want your private villa. I stayed in a beautiful guest house together with my boyfriend for 16 euros a night! Definitely less than what I would be paying at home in Austria for an apartment.
You can book long term stays through Airbnb or directly at the guest houses. Most places have daily room cleaning, a pool and a common kitchen.
Nightlife in Canggu
Being a digital nomad in Canggu gives you access to some of the greatest parties in Bali. Two of the best beach clubs are located in Canggu. La Brisa and Finns. Every month you will find unique DJ events there attracting all kinds of fun party people. Every Friday is a big party at the lawn, which is quite famous. For pre-drinking Old Mans is a really good option. There are also so many other nice bars and even breweries for you to chose from. Another place I can totally recommend is called alternative beach. Every Monday at 6mp they have an outdoor movie night and on Saturdays big pool parties.
Walkability and Safety
Maybe the online bad thing I have to say about living as a digital nomad in Canggu is regarding traffic safety. People drive like crazy and there are no rules. They also drive on the other side of the street than us Europeans which makes it harder for tourists to navigate well in the traffic mess. Pretty much everyone has a scooter in Canggu. It is the fastest and easiest way to get around. A lot of accidents happen however, because most people don't really know how to ride it properly. Walking from one place to another will take you a long time and your best bet is always hopping on a scooter.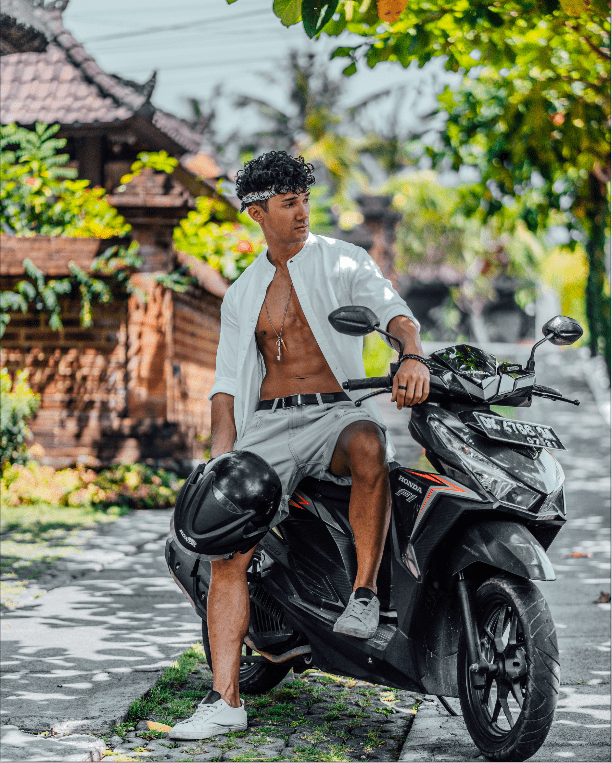 Apart from crazy traffic, during my two months in Canggu I have never felt unsafe one single time there. You can walk outside at night without a problem. A couple of times I have left the key in my scooter or personal items on the table and nothing ever got stolen.
Why I would recommend Canggu
To sum it up the quality of living as a digital nomad in Canggu is simply so high. You can live at low cost and get an amazing lifestyle at the same time! You can go out to eat to beautiful restaurants, attend fun social activities and live in beautiful places for very little money. The chill vibe and nice atmosphere here is really one of a kind. I could not imagine a better place to be as a digital nomad and online entrepreneur than in Canggu!
Let me know if you have any specific questions, I didn't answer in the post. I would be happy to help!
xoxo,