Adorable Valentine's day cookies for your sweetheart. These stunning little love letters are the perfect gift for your loved one! It's a thoughtful token of appreciation on this special day.
Valentine's day cookies made out of shortcrust pastry with a twist
If you are a regular visitor of my blog you surely know how much I love easy and fast recipes. This one is especially simple. I used my grandma's Austrian "Mürbteig" recipe, which is German for shortcrust pastry. Since I am a fitness food blogger I always try to substitute unhealthy ingredients in recipes with better options. This recipe made it a bit hard for me because the original literally consists of butter, flour and sugar. Basically my worst fitness food enemies all combined in one recipe 😀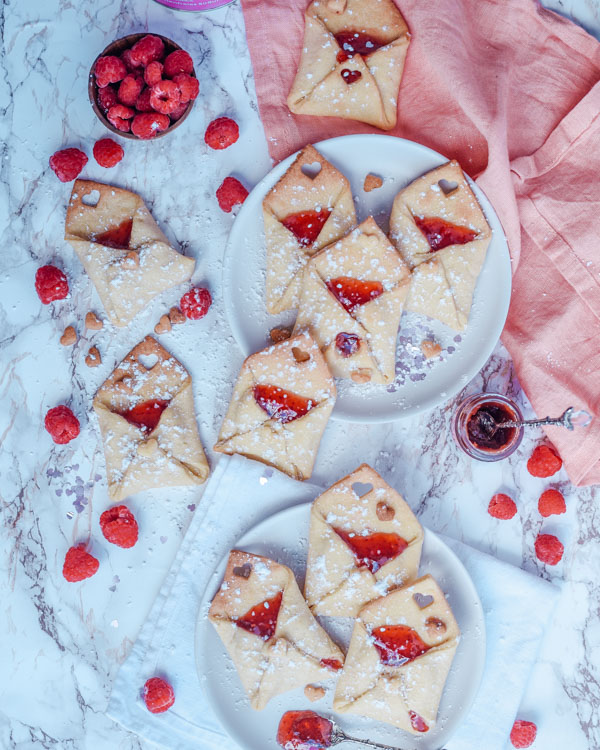 However, I found a solution to substitute at least parts of this recipe with healthier options. Did you know that there is a calorie free sugar alternative to icing sugar? Have you ever worked with powdered Erythrit? It actually looks like sugar and you can use it exactly the same way without the calories though! Amazing right?! This is the brand I use. Erythrit does not affect your blood sugar levels and therefore is also suitable for diabetics.
You can substitute the white flour with wholemeal spelt flour or just use the regular one if you want bright cookies. There is unfortunately not really an alternative for the butter in the Valentine's day cookies recipe. We need it for the consistency.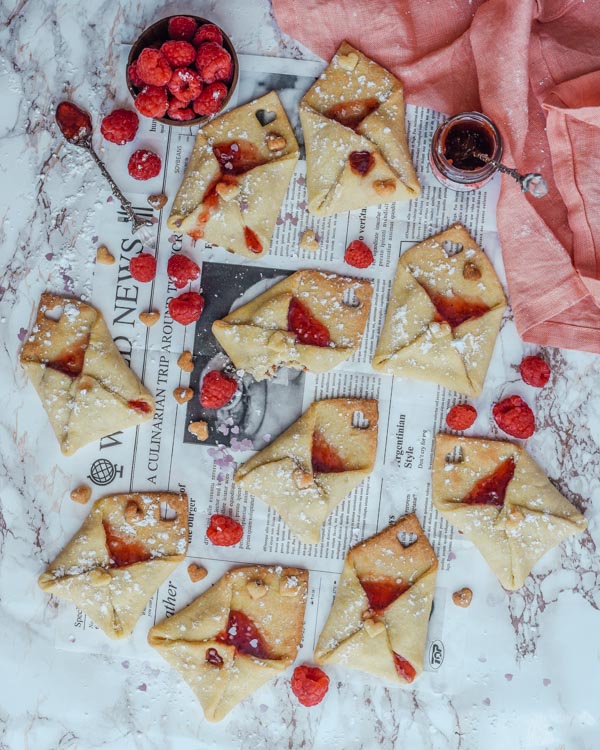 How to make love letter cookies
It is actually very simple once you have the dough. It's best if you have a big square shaped cookie cutter or you make yourself a template out of paper. Cut a square (about 5cm each side) out of white paper and place it over the dough before cutting. Once you have your square shaped pieces of dough you can look for bottle cap to place in the middle of the dough. Fold the left edge of the square and the right side together over the cap in the middle then place the bottom edge on top of it. Now you should already see the letter shape. If you have a tiny heart cookie cutter you can now cut out a little heart at the top or where the edges in the middle come together.
Now you can bake them in the oven at 180 degrees for 10 minutes. When you take them out immediately remove the bottle cap from the cookie before it cools down.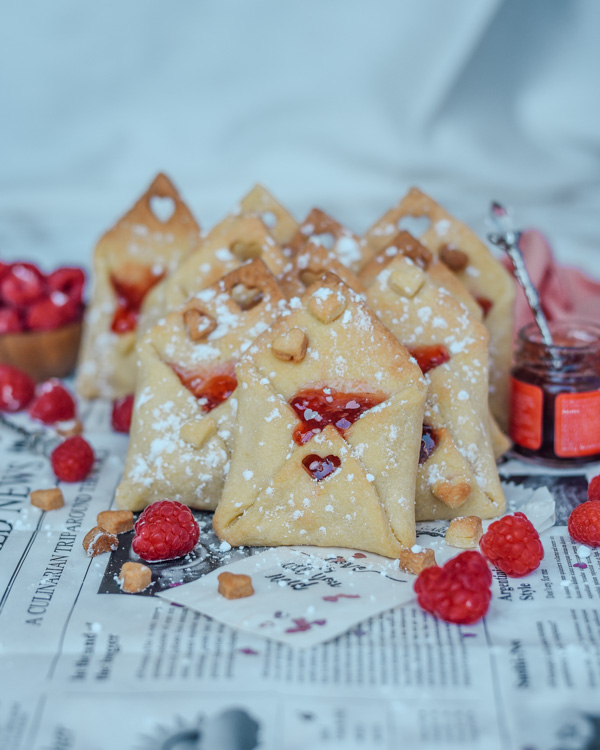 How to fill the Valentine cookies
For the filling I recommend you use red berry jam. I love the color red for Valentines Day. Try to find a jam that has a really red/pinkish color. There are some strawberry jams that look quite brown, which is not the best option for this kind of cookie. You can also fill this cookie with protein cream, nutella or whatever else comes to your mind! Put some more of the powdered Erythrit over it before you serve it and enjoy!
If you are into cookies you might also want to check out my healthy protein cookie skillet recipe over here.
Full recipe recap
Here is the print out recipe for these lovely Valentine's day cookies for you: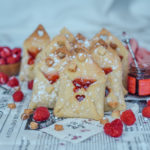 Valentine's Day Cookies Love Letters
Cute tokens of appreciation for your loved ones!
Zubereitungszeit
30
Minuten
Portionen
12
Love Letters
Zutaten
Dough
300

g

flour

plain

200

g

butter

100

g

powdered Erythrit

or Icing Sugar

1

egg
Anleitungen
Press a hole into the middle of the flour and add the egg and icing sugar/ powdered Erythrit.

Cut the cold butter into small pieces. Knead the cold butter into the mixture until you get a smooth dough.

Form a big ball of dough and wrap in saran wrap before you place it for 30 minutes in the fridge.

Roll the dough out till about 0.5cm thick.

Place a 5x5cm square template or square shaped cookie cutter over the dough and cut squares out of the mass.

Place them on a baking sheet with baking paper. Find a bottle cap to place in the middle of the cookie.

Fold the left and the right edge together in the middle over the bottle cap. (not plastic!! - glass, metal or aluminium)

Fold the bottom edge up over the middle.

If you have a little heart cookie cutter, cut a small heart out in the top edge.

Bake at 180 degrees for 10 minutes and immediate remove the cap.

Once cold fill with red berry jam and sprinkle with more powdered sugar.
I hope you enjoyed this recipe. Make sure to tag me in your IG stories if you end up making it!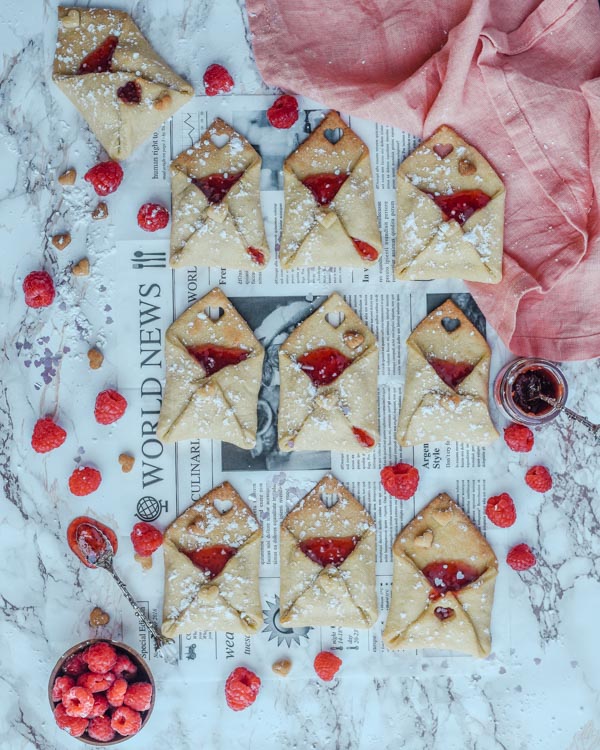 Did you make this recipe?

Did you make this recipe?
Tag @carina_berry and use the Hashtag #carinaberry to get the possibility for a shoutout on my Instagram!
I always love to see your wonderful creations and it makes me so happy to see you guys actually making my recipes.

xoxo,

Make sure to save this recipe to your Pinterest board so you can find it again next year: