Seminyak offers a variety of different blogger places and Insta worthy restaurants. In this blog post I want to show you the best healthy restaurants in Seminyak with the most colorful Insta food spots. All restaurants mentioned will also offer a great selection of vegetarian and vegan food! So here we go!
As a full time food blogger I am always on the lookout for new healthy restaurants and trendy cafés. I love to discover the secret spots of a city and will share my favorite places in Seminyak with you now. Since I really like to eat healthy and mostly vegan I will be sharing only fitness approved restaurants that offer a great amount of vegan, raw, vegetarian and fitness food choices. All of them are super cute and an absolute recommendation. Go and check them out while you are visiting Seminyak. Most places are open for breakfast, lunch and dinner.
I'll be linking their Instagram account. Make sure to check them out as they are all doing an amazing job with their feed and it's simply so beautiful to look at all the colorful food. I usually always check out the account and then decide from there what I want to order because you get a better impression of how your food will look like than just reading it on the menu.
Balibola
It can't get any more colorful than Balibola. This place is basically designed for Instagrammers and bloggers. They even have their own photo wall and an icon on the menu that indicates which dishes are "instagrammable." Snapping your perfect Instagram food picture won't get any easier than at this beautiful place. All the dishes are decorated in such a creative and beautiful way. We had the best vegan burgers of our entire time in Bali there. I can really recommend the burger with the vegan cheese sauce. A lot of dishes are plant-based and most of them are vegetarian. Balibola has a flexitarian approach which they explain in the menu. I thought that was really cool as well.
The "cheese sauce" was made out of carrots and one of the tastiest things I have ever tried in my life! We also had the WTF waffles. As you can see on the picture above they were absolutely crazy! I have never seen anything like this before. Huge recommendation for insta worthy, but also healthy food in Seminyak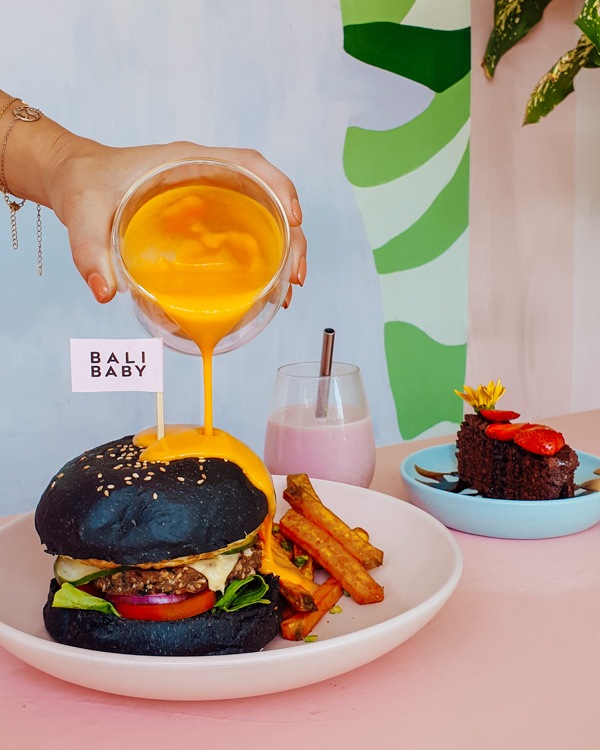 Eat Play and Love
When listing the most colorful restaurants with the best food in Seminyak Eat Play Love has to be on the list! It is brand new and you can tell how much love and detail the owners put into this restaurant. It is quite big with a downstairs und upstairs area. On the roof top upstairs you will also find and are with aircon, which makes it nice to eat when it is very hot outside. I went with a couple of friends in October and we had such a feast there ordering so many delicious meals and shakes. They have some korean inspired dishes, which I thought was very creative. I also loved the pink latte with beetroot! The smoothie bowl was great and so was the french toast! It is a great place to hang out and enjoy a delicious, nutritious meal.
Kynd
Looking for a place where you can get your Instagram handle in tiny papaya letters put into your smoothie bowl? Yes, thats what they actually do at Kynd café! This is another top spot for everyone looking to take that perfect food shot. Beautiful smoothie bowls, ice cream scoops with mermaid tails in it and yummy vegan bowl options is what you will find at Kynd. They have a huge Instagram account and I believe most well known bloggers have been there already.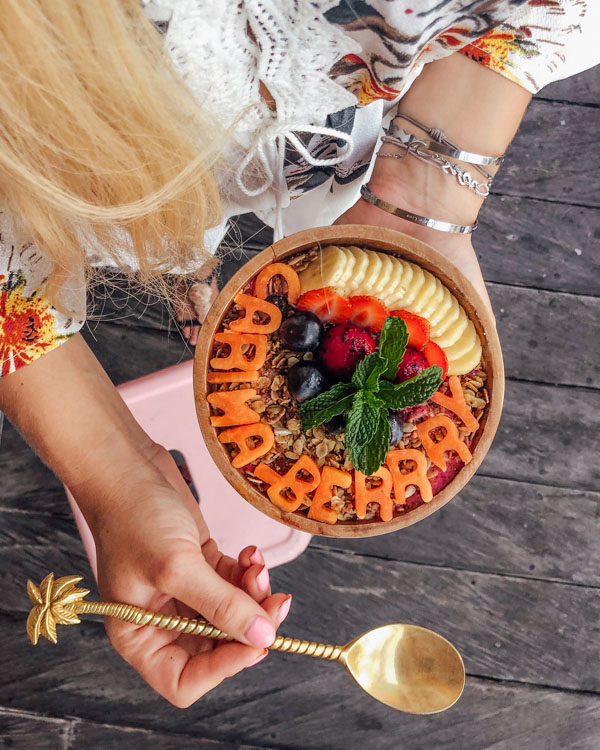 You can either sit down in their cute garden area or get something quick on-the-go in their creamery. In my opinion, definitely one of the best healthy restaurants in Seminyak. Outside the creamery is a colorful wall with a nice writing. Another fun picture spot you shouldn't miss!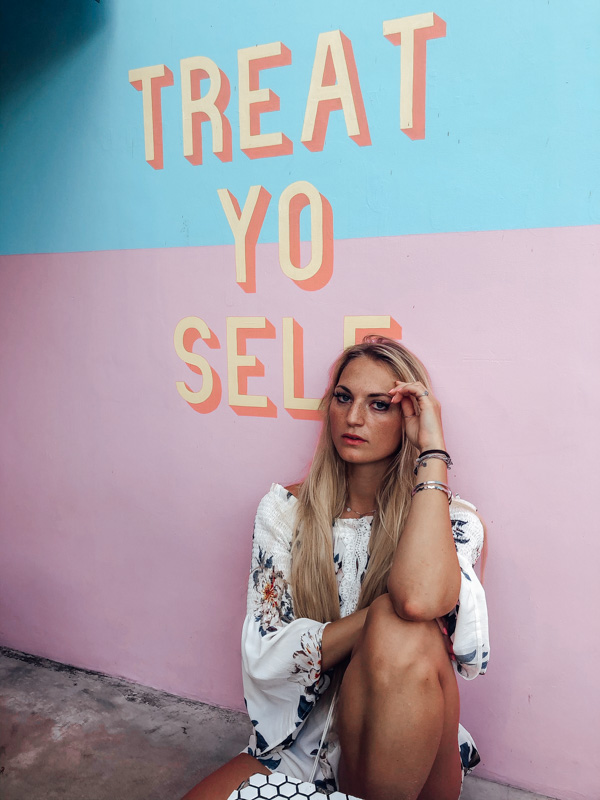 Coffee Cartel
This is a place I was unfortunately not able to visit myself, since I ran out of time in the end and couldn't make it there anymore. I had it on my list for the longest time and have only heard good things about it! If you are a coffee lover this is a must see for you. They make the most artistic coffee foam creations you will ever see.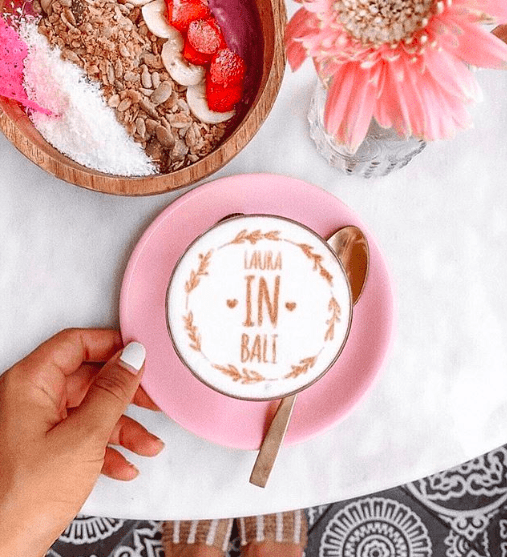 So if you are looking for the best healthy restaurants in Seminyak, please make sure to check some of these places out. It's just such a unique dining experience and you will be eating so colorful and delicious!
If you are traveling around Bali make sure to also have a look at my other food guides from Ubud and Canggu. Especially the one in Canggu is very detailed, as I have spent 2 months there and really got to try all of the places there.
xoxo,