The wonderful aroma speculoos combined with delicate melting chocolate and a core made of marzipan – these biscoff truffles are definitely a tough competition for all Christmas cookies!
Quick, easy & delicious
If you are a regular reader of my blog you probably already know that I am a big fan of easy recipes. Therefore, I can guarantee you will love this recipe because of its simplicity! You don't need to start the oven or spend a long time in the kitchen for this Christmas snack. You only need a handful of ingredients and you will be amazed at how easy it is to prepare.
For the best result of these biscoff truffels, it is important to use dry caramel biscuits (speculoos cookies) and not to replace them with soft gingerbread. Here is the brand I used and can recommend. I am sure you are familiar with these kind of caramel cookies. They are usually served with your coffee at a Café.
To add a little special I included marzipan in this Christmas recipe. I filled these delicious biscoff truffles with a core of marzipan. However, if you are not a fan of marzipan, you can simply replace it with a hazelnut or almond in the middle of the speculoos balls!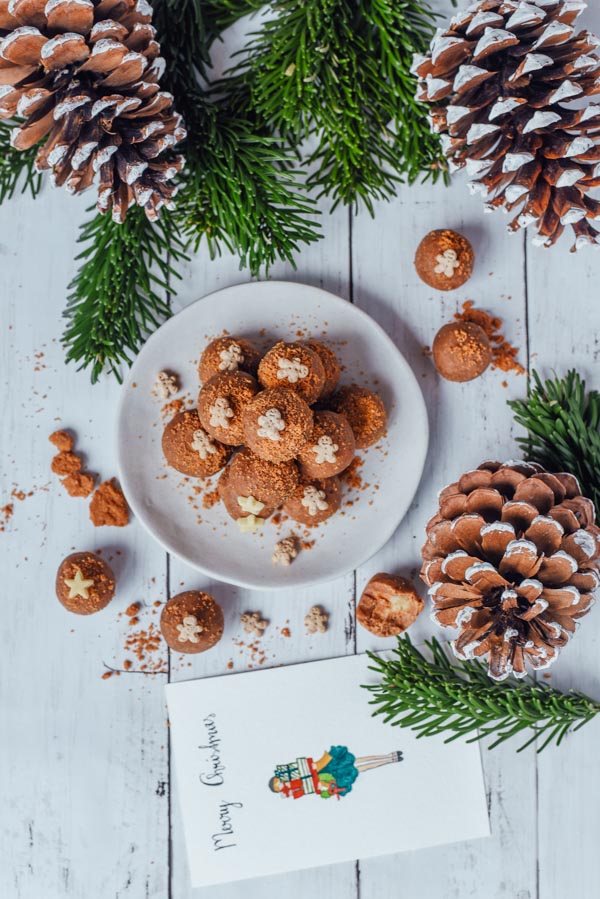 A small but, but high in calories!
Each of these small speculoos bites is a treat itself! However, let's not loose track of the calories we are consuming here. I usually only post very healthy fitness recipes on my blog – but for Christmas I wanted to make a little exception. Plus I had this recipe on my radar for the longest time.
Since this biscoff Christmas bite recipe is not the regular fitness approved recipe I post I just want to give you a word of warning regarding its calories and macros. I believe it is important to indulge ever once in a while in delicious things like these small bites, but at the same time be aware of the calories we are consuming.
Once truffle has 103kcal and a ton of carbs and fat. Just keep that in mind when snacking on them 😉
My easy Speculoos Truffles Recipe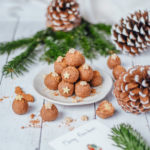 Biscoff truffles with marzipan
The perfect treat for the Christmas season!
Zubereitungszeit
15
Minuten
Zutaten
150

g

speculoos biscuits

130

g

white chocolate

50

g

cream cheese

50

g

grated almonds

50

g

marzipan paste
Anleitungen
Mix the speculoos biscuits into fine crumbs in a food processor.

Put 120 grams in a bowl and save 30g for later.

Add grated almonds to the bowl and mix.

Now melt the white chocolate over a water bath or in the microwave.

Stir the cream cheese into the melted chocolate and then slowly stir in the dry mass.

Place the dough in the refrigerator for an hour to cool.

Now take a hazelnut-sized portion of marzipan and form small balls around it with the speculoos dough.

Put the remaining 30g speculoos crumbs in a small bowl and roll each ball in it individually.

Place the finished truffles in the fridge.
I hope you enjoyed this recipe and wish you a wonderful Christmas time!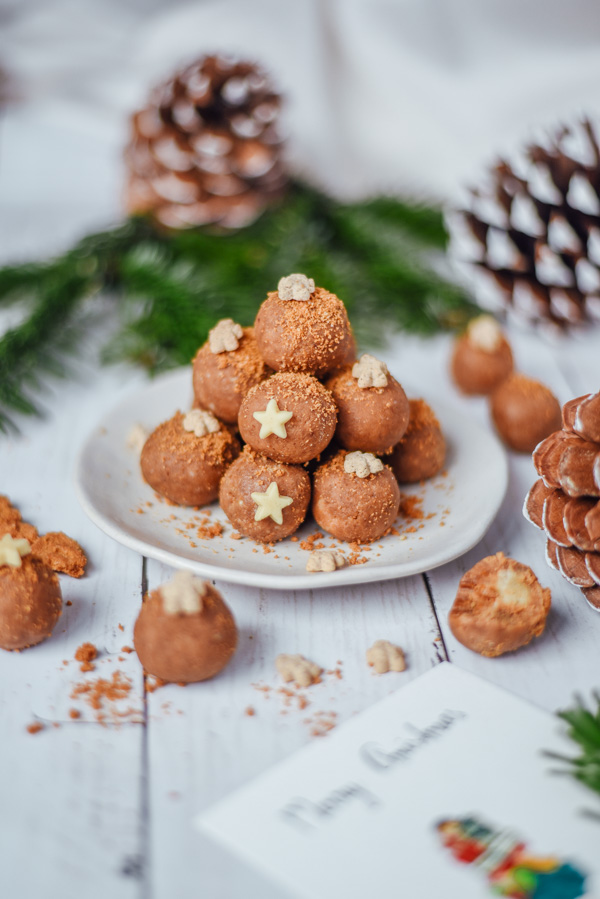 Did you make this recipe?

Did you make this recipe?
Tag @carina_berry and use the Hashtag #carinaberry to get the possibility for a shoutout on my Instagram!
I always love to see your wonderful creations! It makes me so happy to see you guys actually making my recipes.

xoxo,