As I am writing this blog post about healthy food in Taipei I am sitting in this cute little plant-based vegan cafe snacking on a whole wheat cashew cheese sandwich and enjoying an unsweetened vegan chia tea. At first you might not expect to find healthy places in Taipei, but I am here to show you that the city offers some great choices for conscious eaters. Also, scroll all the way down if you want to find the best Mochi in Taipei!
Healthy food in Taipei
I have spent a week testing different restaurants and cafés in Taipei and want to summarize my best healthy food experiences in this blog post. Healthy food in Taipei is something quite "new" apparently. I have talked to the owners of several restaurants who all were mainly expats coming back to Taiwan to bring plant-based food and healthy choices from their oversea adventures to the city of Taipei.
I was told Taiwanese people are not so interested in eating healthy yet as their local food is mainly fried and very calorie rich, but the trend is slowly taking off here as well. The owner of one restaurant even told me that they were the first ones to introduce kale to Taiwan. So the whole concept of plant-based food and clean eating is quite new here. Which makes it super interesting to find the hidden gems of fitness food in the city.
In this blog post I want to share the best healthy food in Taipei with you, introducing 4 of my favorite cafés and also giving away some additional food recommendations in the end.
First off, what I loved about all of them was that each of these places had super fast wifi available. If I have had more time in Taipei I would have totally gone to them for some morning work sessions with my laptop 🙂
The tamed fox
Besides the delicious food I had at the tamed fox my highlight was their super cute little poodle dog Rae. He is so tame and instantly jumps on your lap to sit with you during breakfast. Definitely one of the sweetest little dogs I have ever seen and it made my visit to the tamed fox so memorable! This restaurant is situated within a short walk from the red line metro stop Xyni Anhe. The interior is very minimalist and stylish.
What impressed me was that they are making their own fresh granola right there in front of you in the kitchen, filling the restaurant with a delicious sweet smell. There is also a small shop in the café where you can buy beautiful mugs, portable cups and other fun things. The owner herself is super nice and we talked to her for a while. She has lived in Chicago and Los Angeles for quite some time and speaks perfect English.
Regarding the food we ordered several awesome dishes. Avocado toast with edamame hummus, an Açai chia pudding smoothie bowl and the banana bread french toast. Everything is made fresh right there on the spot with a lot of love and details. Each dish looks absolutely beautiful and is decorated in real food blogging fashion.
Taking a closer look at the menu I was able to find some very unique hot drinks like the black sesame actived characoal latte, the sun moon lake milk tea, the spice girl (turmeric, cayenne, pineapple, lemon juice) and they even had my new favorite drink golden milk. It also seems like a great spot to try typical Taiwanese oolong tea. For mains they have everything from Shashuka to a smoked salmon plate and chicken bowls.
If you are looking for a good Açai smoothie bowl in Taipei this is the place to find it. I like that they enhanced the recipe with a greek yoghurt chia pudding on one side and topped it with their own homemade granola. There were so many yummy dishes on the menu I had a hard time choosing. Really recommend this place for a good breakfast experience in Taipei!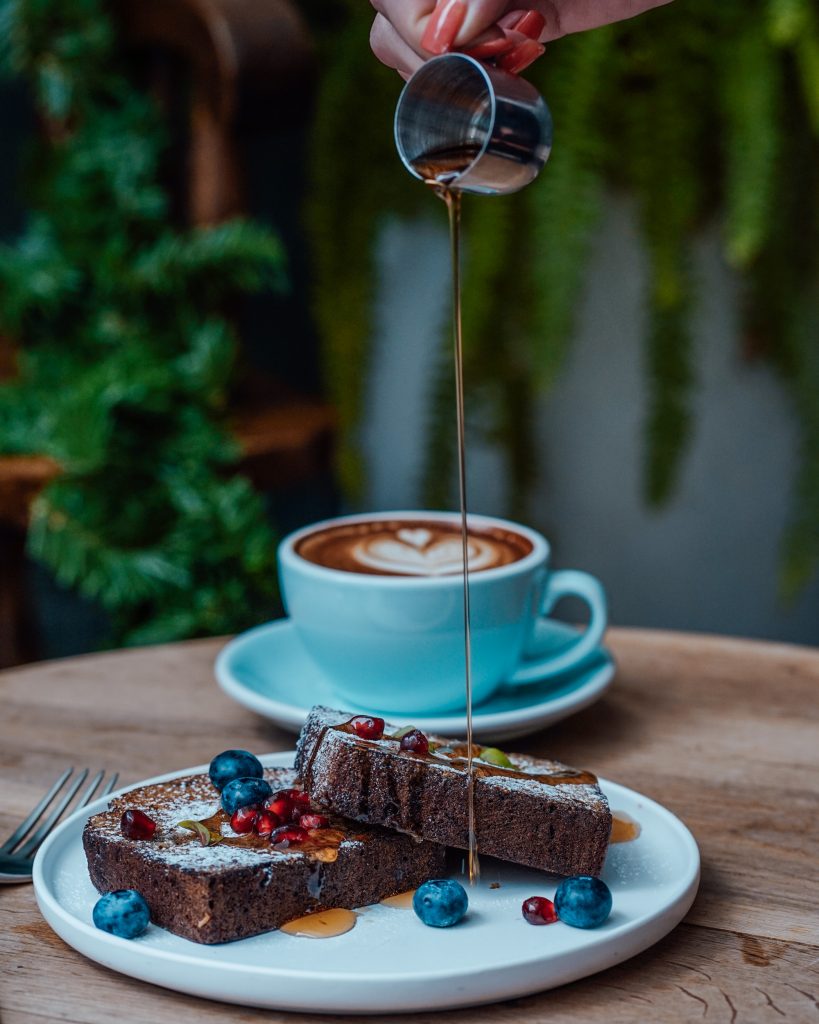 The Antipodeon
Regarding the atmosphere of the restaurant the Antipodeon definitely takes one of the first places on my list of healthy food in Taipei. I just loved the interior design. I was also lucky enough to still see their super creative Christmas decoration which was an upside down Christmas tree hanging from the ceiling. Everything is very stylish and modern.
This place is definitely best for breakfast. They have a huge selection of amazing platters and good morning food choices. Most of it is healthy, but I also spotted some cheat day options – like the cinnamon roll we couldn't resist to order.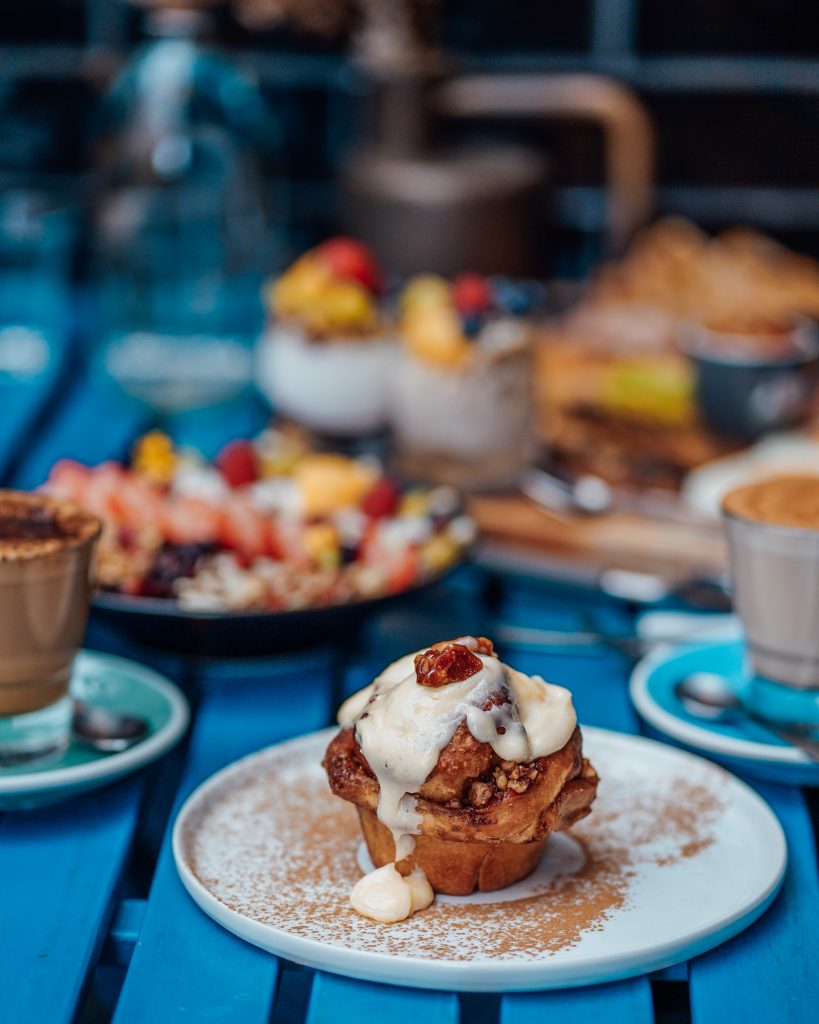 We got the queens platter featuring smoked salmon, grilled halloumi cheese, roasted cherry tomatoes, eggs, ham, avocado, beans and one sweet yoghurt and muesli parfait. We also ordered their signature Açai bowl which was topped with so many delicious things. Best smoothie bowl I had in the city by the way. They have some yummy porridge for those oats lovers and I even found Austrian Bircher Müsli on the menu! And if you are one of those avocado addicts than this is your place. The Antipodeon has everything from avocado baked egg to smoked salmon avocado toast and even an avocado breakfast platter.
I was not surprised to find out that the owner is an expat from Brisbane, Australia, who let his inspirations flow into the dishes making them so unique. The restaurant also has a little patio, which makes it perfect to sit outside on a sunny day. It is really a lovely café and I would highly recommend you to go and check it out.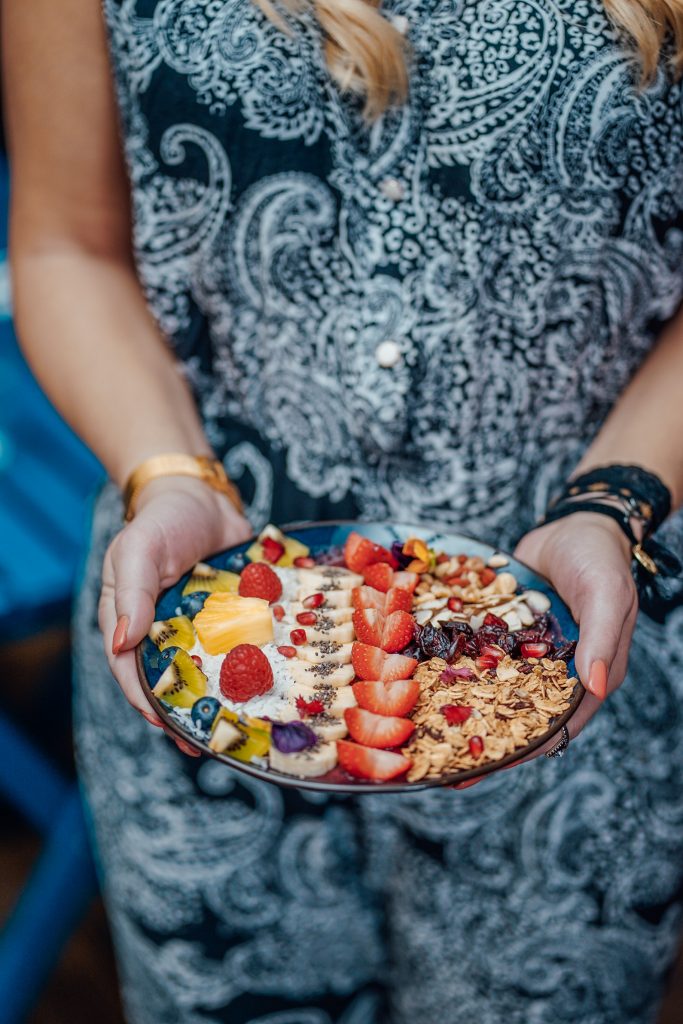 Café by Juicy Diary
This very special fitness place has to be included in my list of healthy food in Taipei. Already when I entered the restaurant I was excited about the super fancy look of it. Expect more of a restaurant flair than a normal café one. The tables are set with beautiful silverware, flowers on each table and stylish lights. Juicy diary used to sell fresh pressed juice and then since the demand was so high also opened a Café a couple of years ago. I find it the perfect healthy lunch or dinner spot.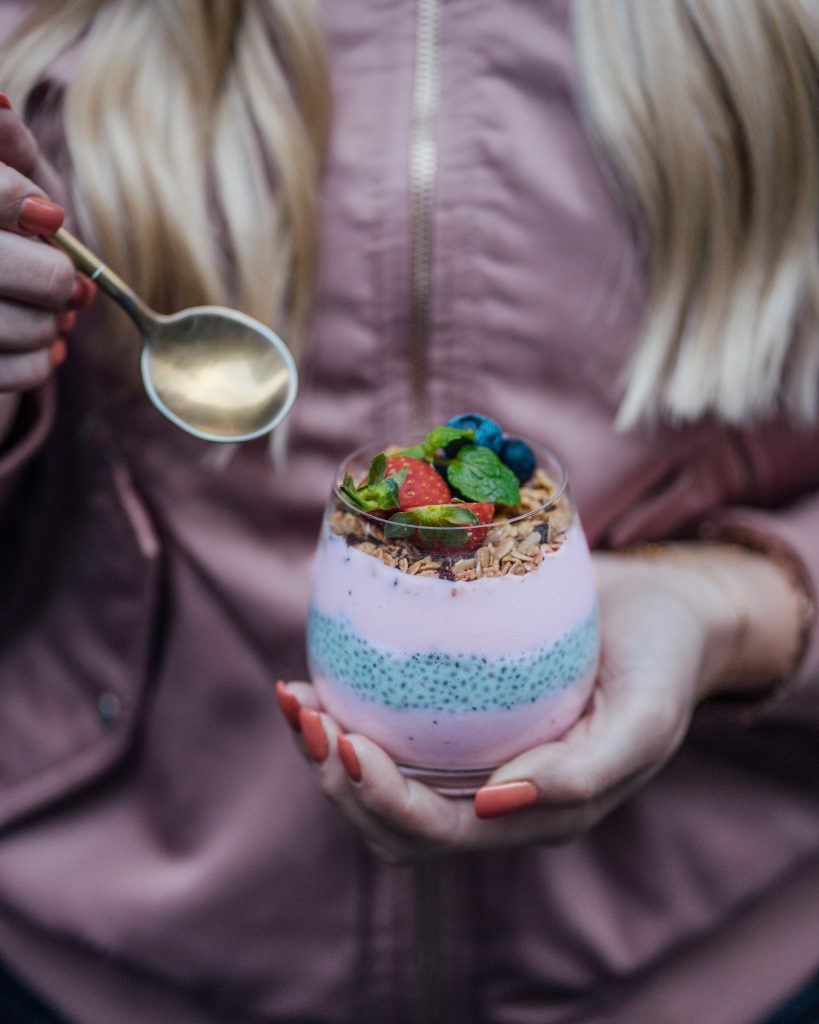 I think we were looking at the shiny menu for half an hour before we could decide what to order. So many healthy options! We finally got the chicken chipotle bowl, avocado toast and a chia pudding as a dessert. Since this Café by Juicy Diary is popular for its juices we also tried all of them. My favorite was the citrus one (I think that was actually the name of it) and my boyfriend really liked the red juice.
I am glad we actually shared the bowl because it was quite a big portion. The avocado toast was incredible and to my surprise I liked the chia pudding out of everything I ate there the best. It was a mixture of different aromas with a subtle sweetness was fascinating. The owner also recommend us to eat the special filled brioche, but we simply did not have any more space in our stomachs. Like this we also were not able to eat the delicious carrot cake for a second dessert as we initially intended to.
We also got a chance to chat with the owner of the place who told us that she has lived in San Francisco for a really long time and that she brought healthy food back to Taiwan. She actually introduced Kale to Taipei when she first got started with Juicy Diary. How awesome is that?! Also, I would love to point out the amazing waiters that were on top of their game!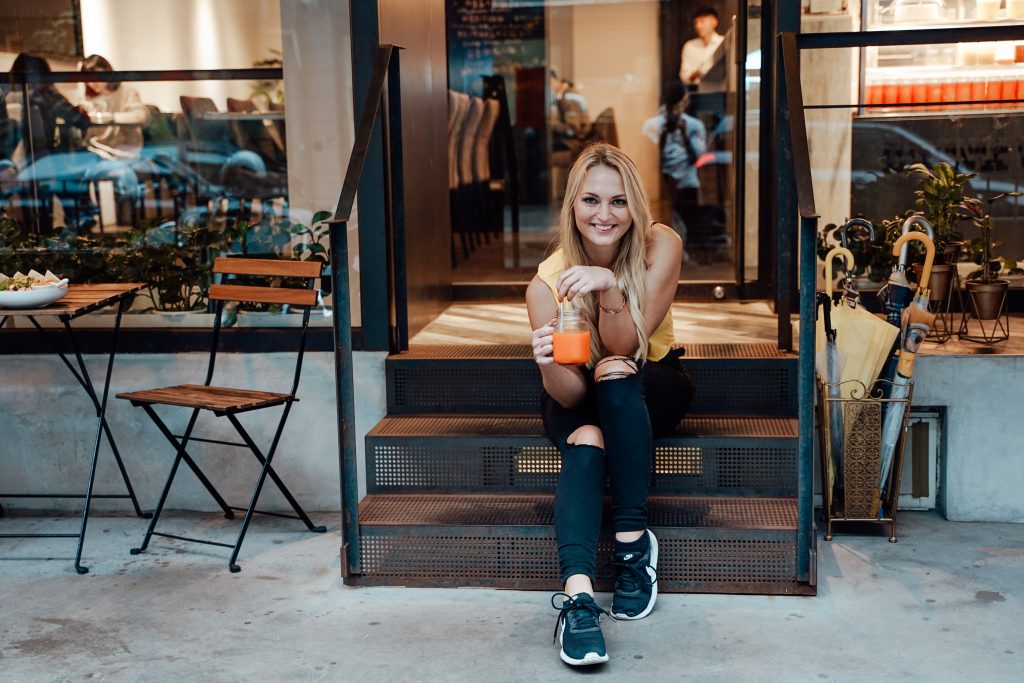 Ooh Cha Cha – Plant-based café
This vegan café is situated within a short walking distance to the Gutding metro station and is also very close to the center of Taipei. I am actually here right now as I am writing this blog post looking at my B.L.M.T sandwich filled with tempeh bacon, lettuce, cashew mozzarella, tomato and cashew sour cream. It is the first time I get to try vegan cheese and I love it. This cafe is quite different than the other places mentioned earlier as it only serves vegan food. The menu selection ranges from salad bowls to sandwiches, rolls and burgers.
Everything is vegan and they are making everything fresh in front of you. The café also have great smoothie choices, but I consider Ooh Cha Cha more of a lunch place than a breakfast venue. The Chia Masala I ordered is totally homemade and tastes much less sweet than I am used to! Definitely a good thing if you are trying to save calories. Ohh Cha Cha is definitely on top of my list for healthy food in Taipei!
Main take-aways
All food places mentioned above serve really healthy food. So they are the perfect option if you are looking to eat clean, vegan or gluten free in Taipei. They are however not the perfect option if you are looking for a very traditional taiwanese experience. As mentioned above in the first paragraph the local food is not so healthy and therefore these restaurants are heavily inspired by Western healthy food vibes. One exception is the drink menu, all of them serve very traditional matcha latte and Oolong tea. They are all beautiful in their own way, have good wifi and unique food choices I am sure you will enjoy if you want to eat healthy in Taipei. Regarding prices they are all a bit more expensive than local places, but definitely affordable.
Best Mochi in Taipei – Additional recommendations
During my week in Taipei I went to many different food markets, local restaurants and also the healthy places mentioned above. I quickly want to give you some extra tips of what you should not be missing out on when you are in Taipei, even though these options are not very healthy but suuuuper delicious.
Mochi – I Jy Sheng: they literally call themselves the best bakery in Taipei and I would sign that statement in an instant. Imagine a french macarons bakery but for chinese mochi! It is so incredible. They have this fresh hand made mochi in different flavors. I Jy Sheng is located on the first floor of the Taipei train station and so worth a visit. It is the best mochi in Taipei and I recommend you get the peanut butter Mochi. It is by far the best mochi I have had in Taiwan!
Soup Dumplings- Xiao Long Bao: When you go to Taiwan it is a must to try the traditional soup dumplings. These are chinese dumplings filled with soup. You need to put the bao on a spoon and poke a hole into it to make the soup come out. Xiao Long Bao is a chain and has several locations around town and the best choice if you are looking for soup dumplings
Dim Sum- Din Tai Fung: This chain is so popular we actually had to wait one hour to get a table. So many locals were eating there which is always a good sign when going out to eat in a different country. They also have two kinds of soup dumplings if you only can make it to one restaurant then go to this because you will get both of the dumpling experiences there 🙂
Street market food: Shillin night market: For local street food we went to one of the biggest night market where 600 vendors sell yummy traditional food. Some things we tried: Sticky rice on a stick, fried quail eggs, filled dumplings, chinese pancakes, fried mochi, pineapple cake and much more.
Extra tip – best tea house view of Taipei
Moreover, I had to include this tea house tip we went to. I mean if you are looking for healthy food in Taipei tea definitely counts! The view you have there while sipping your traditional Oolong tea is simply breath-taking! To get to this special tea house you actually need to make a half-day trip to Maokong station. Take the gondola from Taipei Zoo to the last stop which is Maokong station. Then walk out of the station and take a right, passing the bus stop and you will see the tea house. It is called Sih Ye and has a wide selection of chinese teas.
The tea house is overlooking the beautiful green mountains of Maokong and you can see all the way down to the skyscrapers of Taipei. You can even see the Taipei 101 in the distance. The restaurant has little "rooms" for each guest with pillows on the floor and a table in the middle. You take off your shoes and have some relax time with your soothing tea.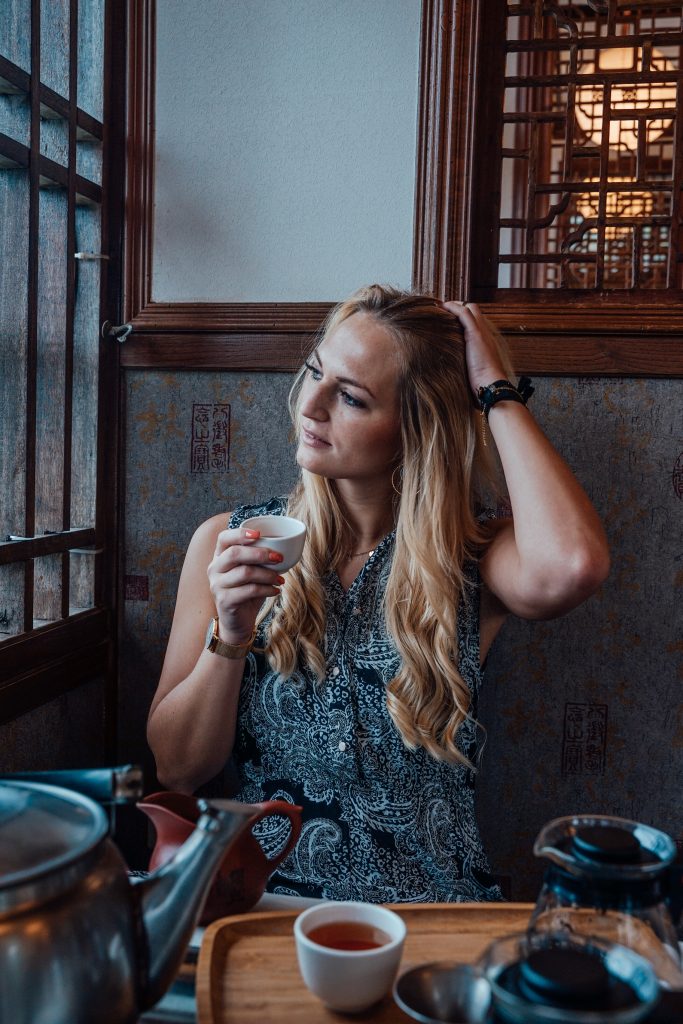 My take on Taiwan
It was my first visit to Taiwan – or to any chinese speaking country for that matter. I absolutely loved it. It was probably one of the coolest city trips I have ever done. I really liked it because it is so different than Austria. You get a complete different cultural experience, different food and you basically cant read anything. It might surprise you how clean the city is. I swear you would have been able to lick the metro floor. In the metro station I saw them sweeping the floor several times in front of me 😀 You can literally go to any public bathroom in every metro stop and not be completely disgusted by them. They are clean and don't stink at all.
I also love the order in Taiwan. They love to queue for everything and nobody, seriously NOBODY would ever dare to jump the line. In the metro they have exact lines of where to get out and where to get in. The Taiwanese are super respectful and kind people.
I hope you enjoyed my blogpost on healthy food in Taipei. I had such a good time there and hope you will get to make this awesome experience yourself some day!
In case you are looking for more culinary travel guides you can check out my Puebla food guide and my Tulum food guide for the best spots to eat healthy there!
xoxo,