Celebrating Summer
What I love most about the summer is the wonderful barbecue season! It is so easy to eat healthy and not miss out on the tasty barbecue goods. You guys asked me to make more savory recipes, therefore I would like to share two of my new go-to low carb barbecue recipes with you.
I discovered shrimps to be the ultimate hit regarding the perfect summer barbecue. So, I experimented a bit with different shrimp variations, also pairing it up with pineapple in my second recipe.
May this summer celebrate slow, delicious, lazy days and simplified living. Let's read long books, stay up late drinking wine with friends and stroll our local farmers markets, slowing life down enough to taste its sweetness. Here is to backyard bungalow get-togethers, shrimp barbecues, long sunsets, beach picnics and getting back to nature!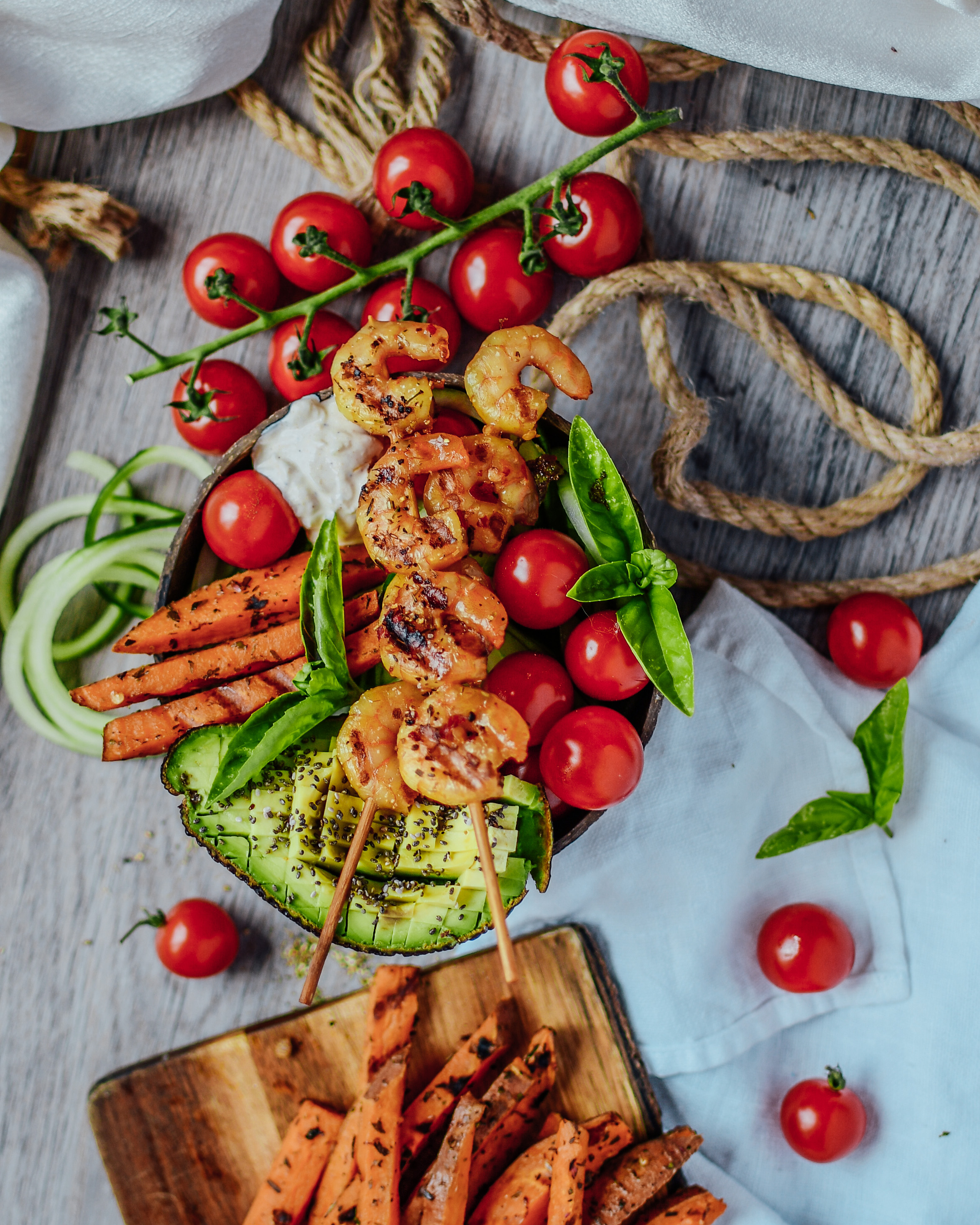 Summer Barbecue Bowl
This bowl is a delicious compilation of my favorite summer food. Tomatoes and cucumber straight from the garden. Crispy sweet potato fries, tasty avocado and protein packed shrimp!
This is what you need for this unique salad bowl:
100g of shrimp
100g of tomato
1 cucumber
50g of greek yoghurt
200g of sweet potato
clove of garlic
1/2 avocado
salt & pepper
balsamic and olive oil
rosemary, thyme, marjoram
2 wooden skewers
Method: Cut the sweet potato in rectangular fries and place in a bowl. Marinate with olive oil, salt, pepper, thyme, marjoram and rosemary. Put aside. Place the shrimp into another bowl and marinate the same way. Put the garlic clove into a press and mix with the greek yoghurt and some salt. Put aside. Put the the shrimp onto wooden skewers and place them together with the sweet potatoes on the barbecue grill. Wait until the have the typical barbecue pattern and are done. In a bowl spiralize the cucumber and marinate with olive oil, balsamic, salt & pepper. Put into a nice bowl and decorate with cocktail tomatoes, half an avocado (sprinkled with sesame or chia seeds). Now place some of the sweet potato fries and greek yoghurt mix on it. Finally top with two shrimp skewers and serve while still warm.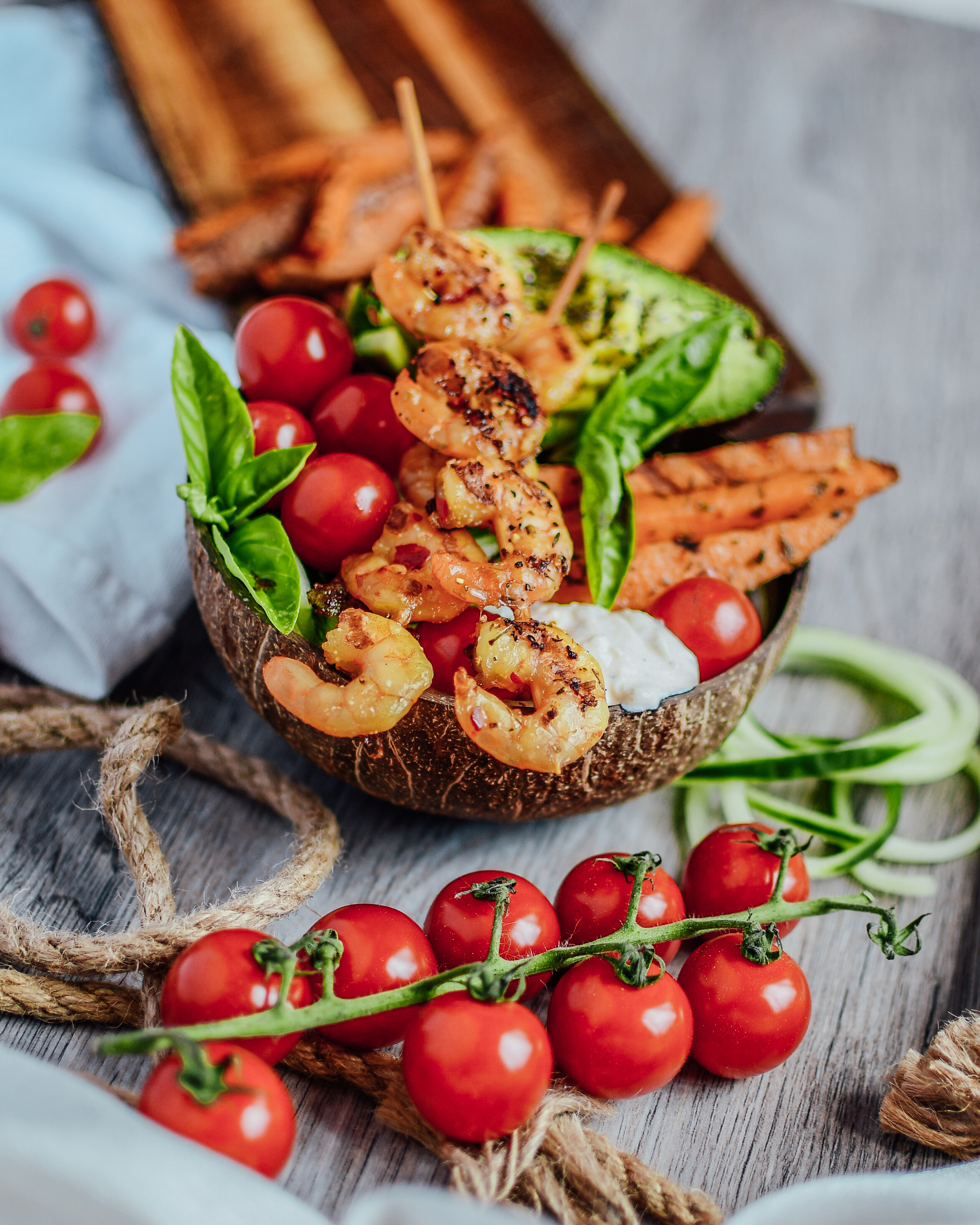 Pineapple Barbecue Shrimp Skewers
Okay I admit this is a crazy creation I very spontaneously made up when I had leftover pineapple sitting in my fridge. Usually I am not the biggest fan of combining sweet and sour taste into one dish, but this one is actually pretty great and I was surprised myself!
Ingredients:
200g pineapple
100g shrimp
100ml water
1 tbsp of honey
pinch of salt
1 lemon
some rosemary
wooden skewers
Method:
Cut the pineapple into nice rectangular pieces. Dissolve the honey with some water and at the juice of a lemon. Add a pinch of salt. Let the shrimp and pineapple soak in it for about 15 minutes. Take some wooden skewers and put alternating pineapple and shrimp on it. Place skewers onto a barbecue grill until well done on both sides. Cut rosemary into small pieces and sprinkle over the skewers. Serve while still warm.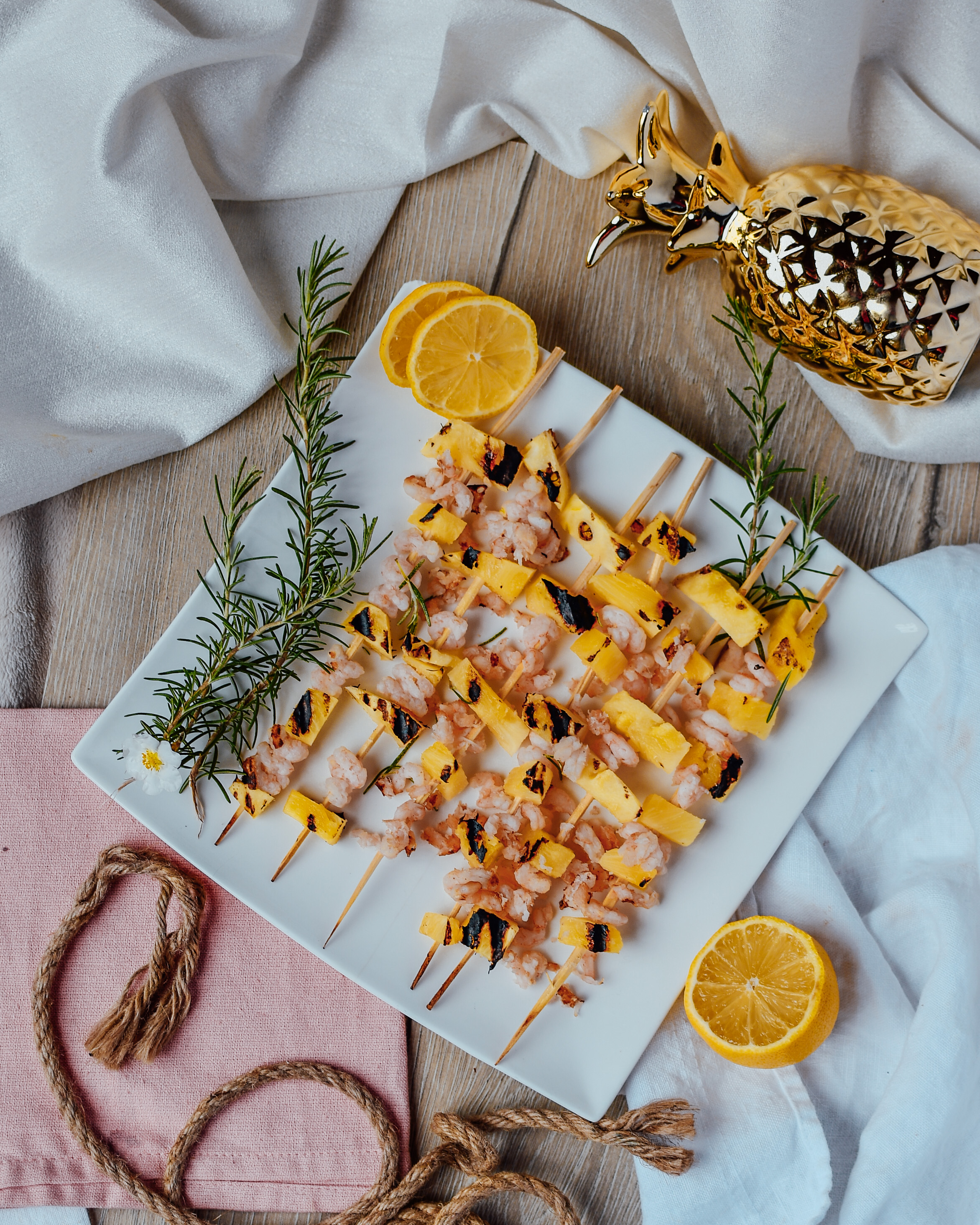 I hope you enjoyed these recipes 🙂 For the perfect side salads check out this blogpost here. Also, here is my dessert suggestion to round up the night. For more recipe you can also check my Youtube channel.
Happy start into your summer season!
xoxo,