Avocado cheesecake for dessert? Definitely something new to try, right?
I promise you will love the creamy and smooth texture of the avocado. Lime zest and just add that extra tang that makes this dessert so interesting.
Recipe Inspiration
I just recently came up with this dessert traveling through central America since we eat so many delicious avocados here. The other day we went to a local farmers market and bought three avocados. As luck had it they became ripe all at the same time and I had to find a way to quickly use as much avocado as possible. That's by the way also how my stuffed avocado recipe came along. Yes – we were eating a lot of avocado that day 😀 Well anyways, so I had a bunch of limes laying around and I needed to make something green for my Instagram feed. Put those factors together and you get avocado cheesecake! All of a sudden it just made so much sense since the buttery avocado and zesty lime just go together so well.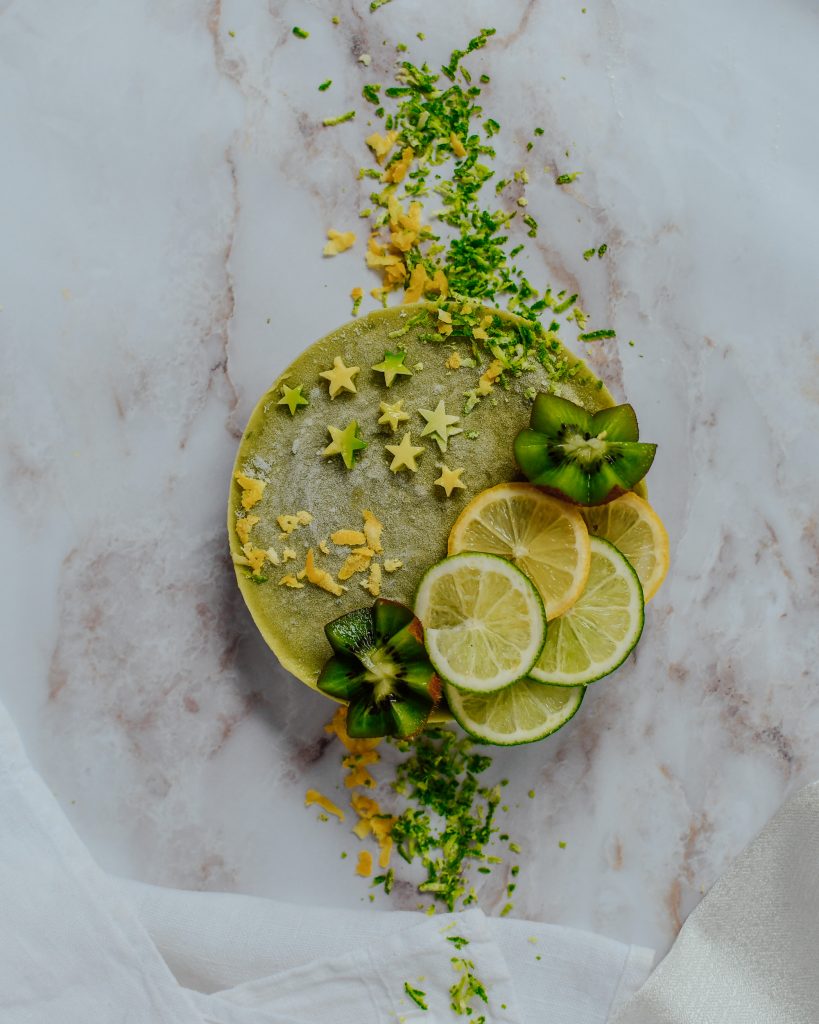 Fitness Food
This recipe is free from all the bad stuff you can imagine. My avocado cheese cake is a raw, dairy-free, gluten-free, refined sugar-free dessert. Say what? Yes its possible and you will see! What I also really love about this avocado cheesecake is that it it is loaded with healthy fats. Avocado has a lot of unsaturated fats which are so good for your body! Since this is a no bake avocado cheesecake recipe you will preserve all the healthy vitamins inside the cake.
Furthermore this cake is super low carb actually. My boyfriend is currently on a very strict diet, as he is training for the Mr.World competition in January. So all the recipes I am currently making need to be 100% clean. If you might remember my Instastory from that day – he ate half of the cake at once!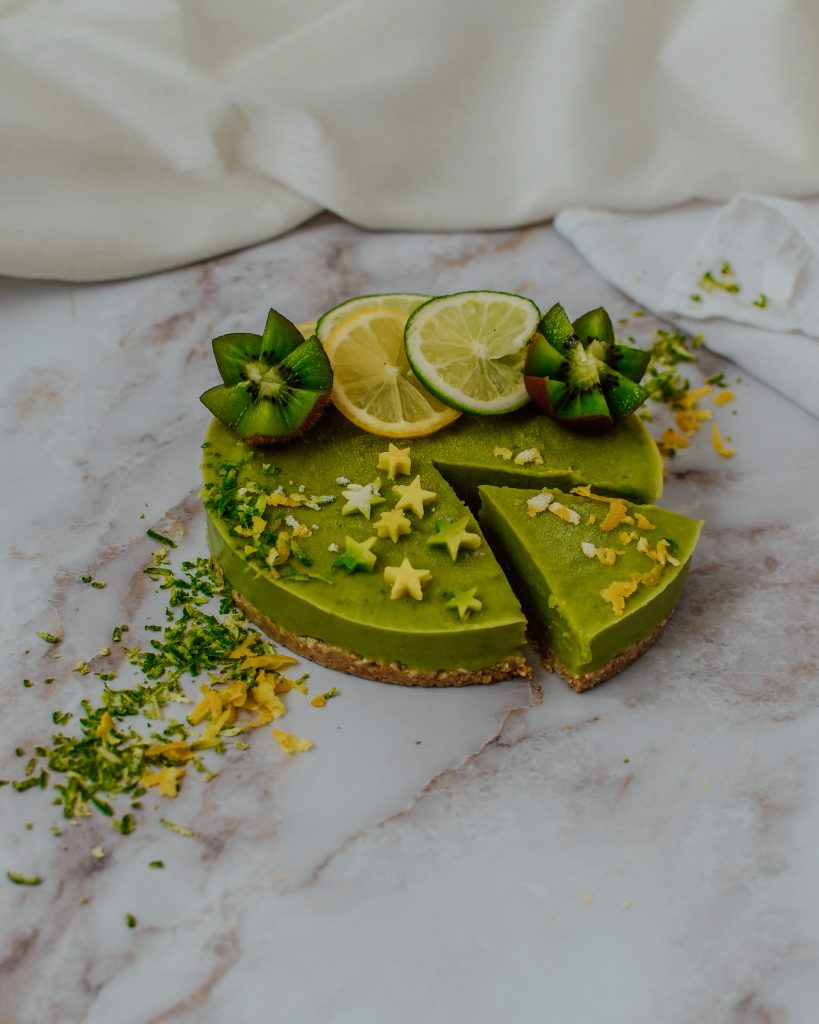 How to make it avocado cheesecake
Its is a really easy avocado cheesecake recipe as most of it comes together quickly in a blender or food processor. Its a no-bake cake so it also won't take you a long time to make it.
You will start by making the crust. Combine all ingredients and then press them onto the bottom of a silicon mold. After that you will be blending all the ingredients for the filling in a food processor and simply pour it over the crust. Next you will want to freeze your cake for 2 hours and its ready to be enjoyed. Yes, its as easy as that!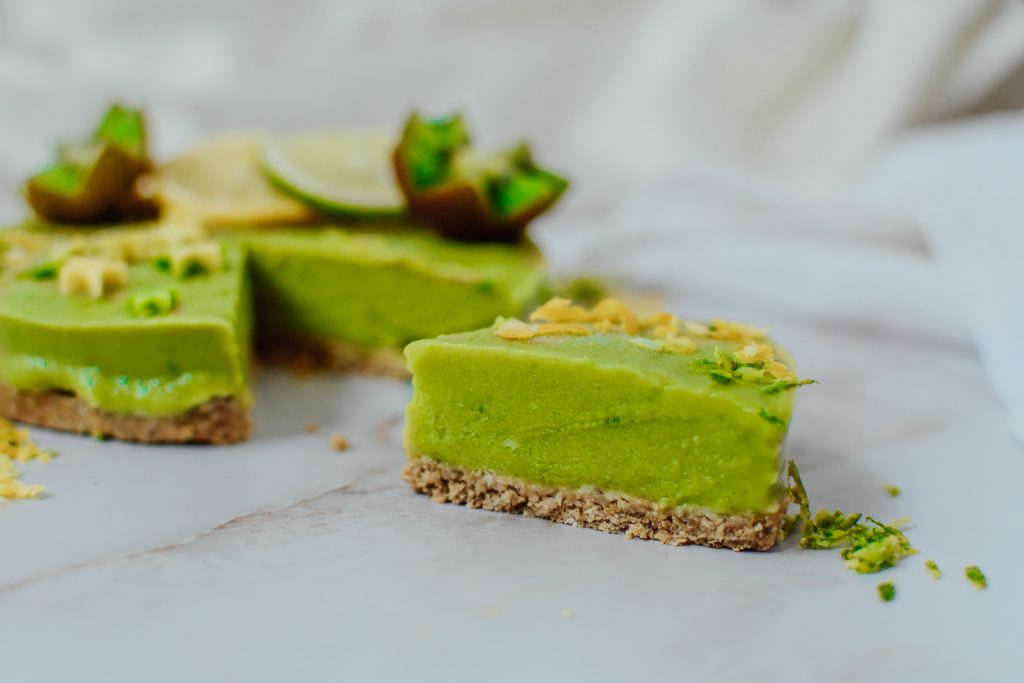 Decoration Tips
You might want to decorate your avocado cheesecake a bit. I sliced some limes and lemons and put them on the cake. It also looks super beautiful if you grate some lime zest and sprinkle that over your cake. Since kiwis also have a really nice green color I used them for decoration as well. If you have tiny little cookie cutters you can cut out stars or hearts from an avocado and place that on top of the cake as well.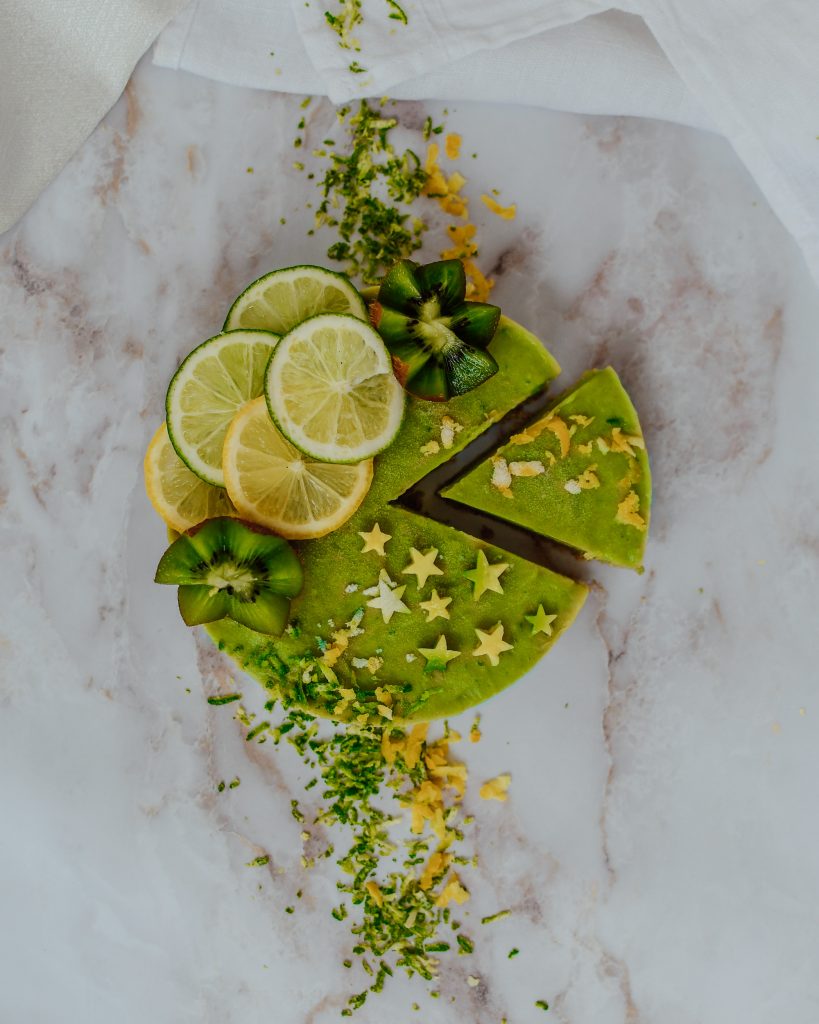 The recipe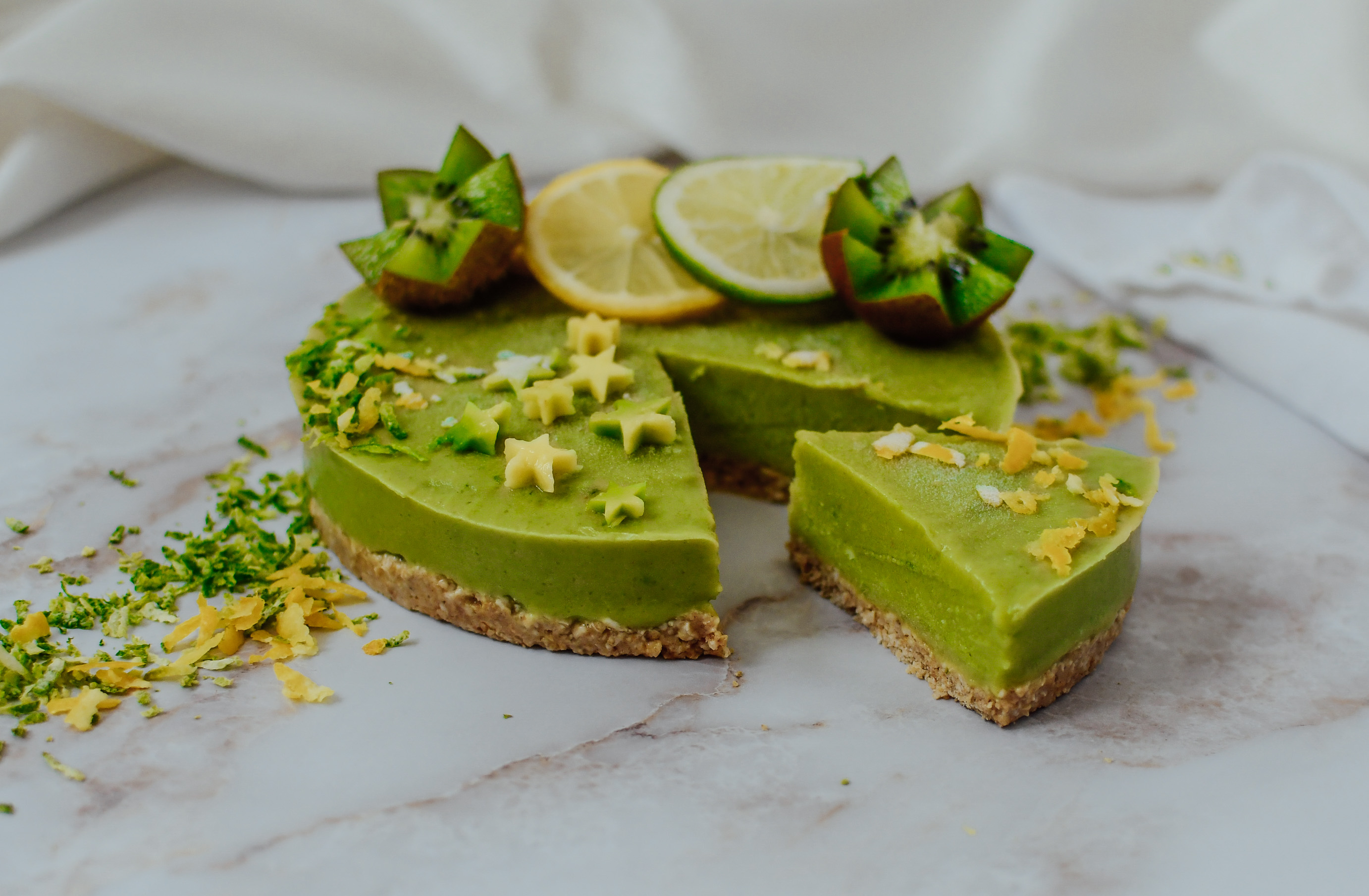 Raw Vegan Avocado Cheesecake
2018-11-08 01:53:30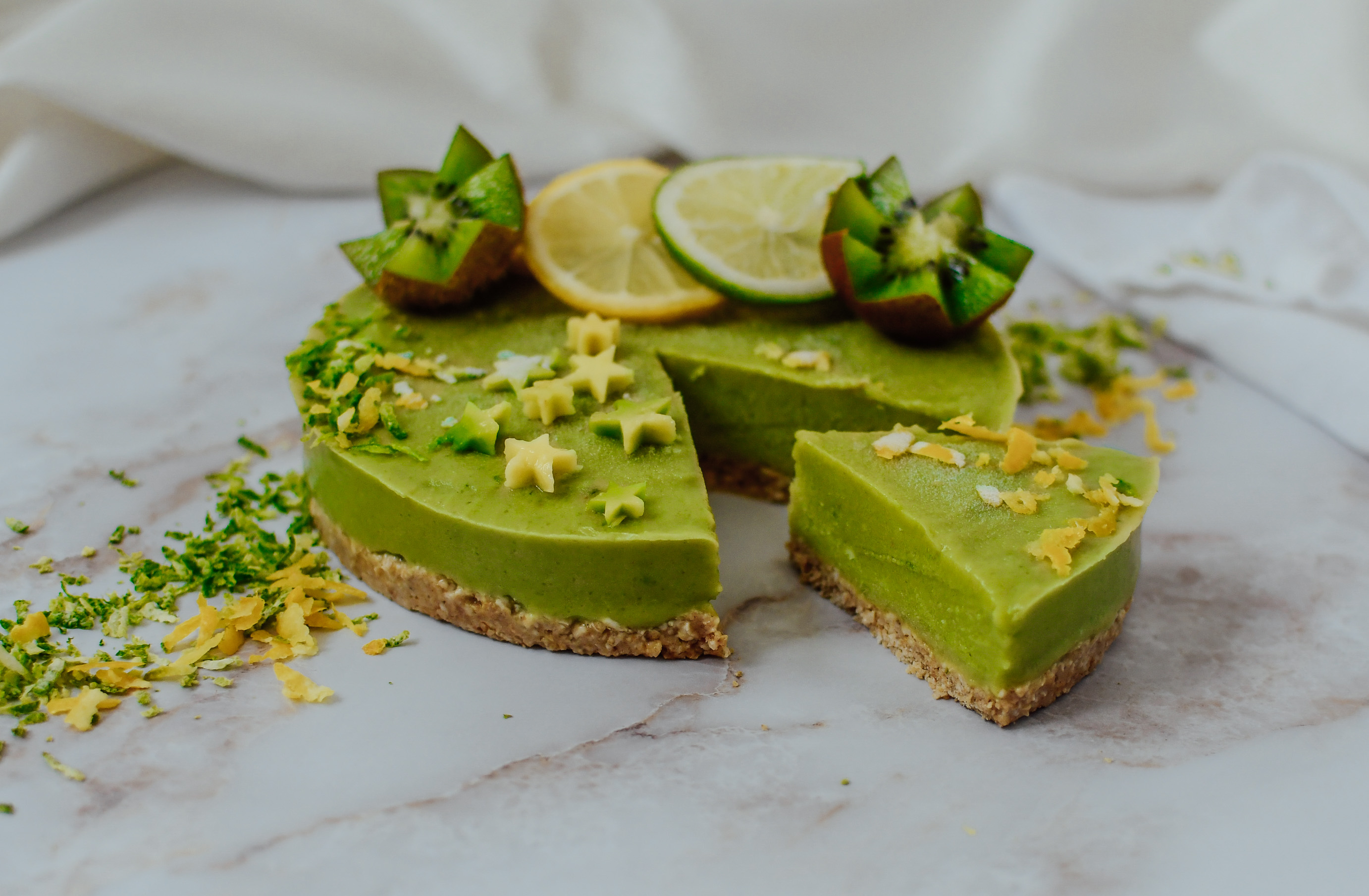 Serves 3
A raw, dairy-free, gluten-free, refined sugar-free dessert.
Ingredients
2 large avocado (ripe)
1 tsp lime zest
Juice of 2 limes
30g of Xylit or Erythrit or a couple Flavdrops
2 tbsp full fat coconut cream
Crust
100g fine oats
3 tbsp peanut butter
1 tbsp honey
1 tsp cinnamon
50 ml water
Instructions
For the crust, mix all ingredients into a crumbly mixture.
Press on the bottom of a small silicon mold.
In a blender, finely puree all the ingredients for the filling.
Fill the mass in the silicone mold and place in the freezer for 2 hours.
Remove the frozen cake from the mold and decorate with lime slices, zest and kiwis.
Notes
I made this recipe with a SMALL silicon mold. If you only have a big one I recommend you double to ingredients. You can also make the same recipe in little muffin molds.
carinaberry.com https://carinaberry.com/
Looking for more inspirations?
If you are looking for more vegan cakes I can really recommend my raw vegan cashew cheesecake. It is one of my all time favorite recipes! Another interesting dessert idea are my vegan pineapple cups. Maybe also worth a try.
Also you can head over to my YouTube for more recipe videos or my food blogging online course for more foodie tips and tricks.
Free Fitness Cookbook
Today I would also love to share my Clean & Lean E-book with you! It's my own E-book which I published last year filled with delicious, healthy recipes. Sign up for my fit food tribe and receive it for free!
Did you make this recipe?

Did you make this recipe?
Tag @carina_berry and use the Hashtag #carinaberry to get the possibility for a shoutout on my Instagram!
Finally, I always love to see your wonderful creations and it makes me so happy to see you guys actually making my recipes.
xoxo,

Pin this raw avocado cheesecake recipe: