Pumpkin porridge for the fall season! Sweet and creamy with just a couple ingredients, totally vegan and ready in 15 minutes!
Bye summer, hello fall
Alright guys we have to admit it. Summer is over. Bye, bye see you next year. Time to bring out those cosy socks, warm sweaters, cool leather jackets and nice boots for the colder season of the year.
With this post I want to share one of my favorite fall recipes. You might not know this but I have a secret pumpkin obsession. During October and November almost every meal includes some kind of pumpkin. Also my breakfast. Since I absolutely looove this recipe I had to share it with you in a dedicated blog post. This pumpkin porridge is so creamy and warming.
Fitness Pumpkin Porridge Variations
If you would like to add some extra protein this is the perfect opportunity to mix in an extra scoop of your favorite protein. I can recommend using vanilla, but chocolate is also super yummy!
For vegan fitness versions of this pumpkin porridge I have used hemp protein and sunflower protein in the past and it was also super tasty. Only the hemp protein gave it a slightly different taste than it usually has.
Pumpkin Porridge Toppings
Since this is a hearty and smooth fall composition I would recommend topping it with fall fruit like pears or apples.
I would also prefer slightly simmered apples or pears instead of raw ones. Like this the flavors evolve better and if you add some cinnamon and honey its just the perfect topping.
When I make it I usually use nut butter as well which adds so much extra delicious flavor to the pumpkin porridge . In the pictures you see peanut butter I put on top of the yummy bowl. I also really like cashew butter, but that didn't came out so well on the picture 😉
Another topping I can recommend are nuts. I used very special red nuts that my grandma has in her garden. But regular walnuts, pecans or almonds will do as well.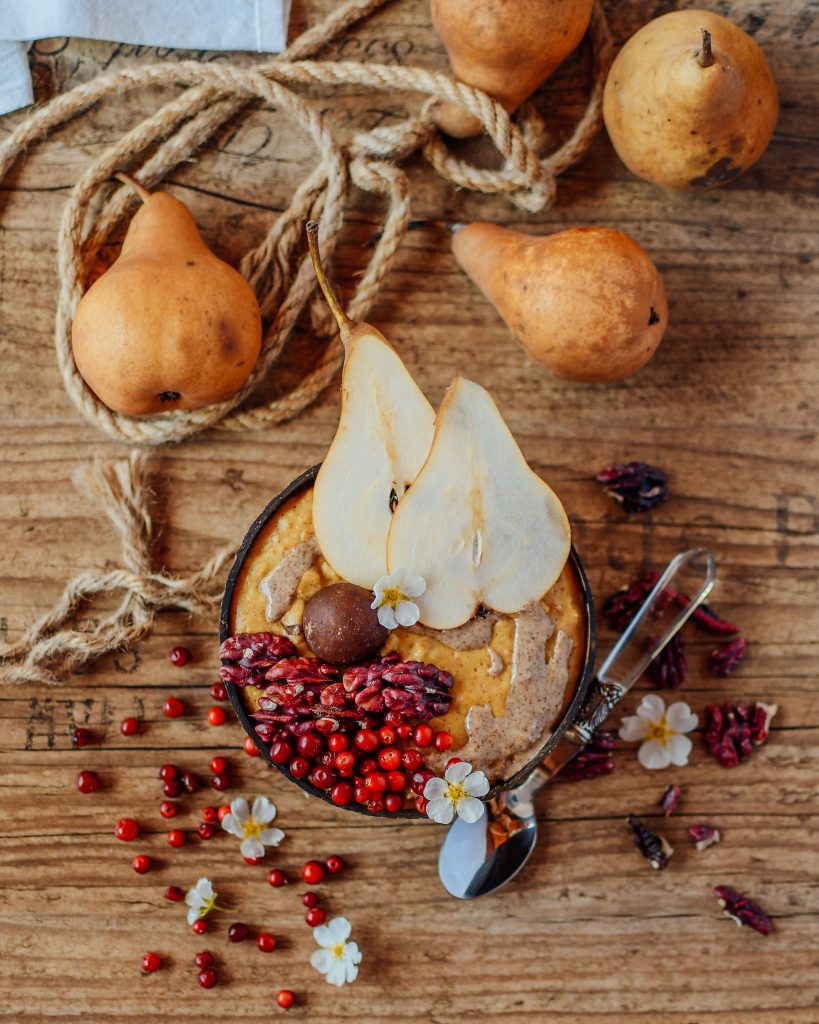 The ingredients
For this easy pumpkin porridge you will just need a handful of ingredients.
It is super easy to make and will take you only 15 minutes.
Regarding the type of pumpkin I only have made it with Hokaido. I like to use this kind of pumpkin because of the beautiful orange color. I am sure the other ones will work fine too.
As I usually do I substituted regular refined sugar with Erythrit again to save quite a bit of calories. If you don't have that at home you can use honey or regular sugar or Xylit.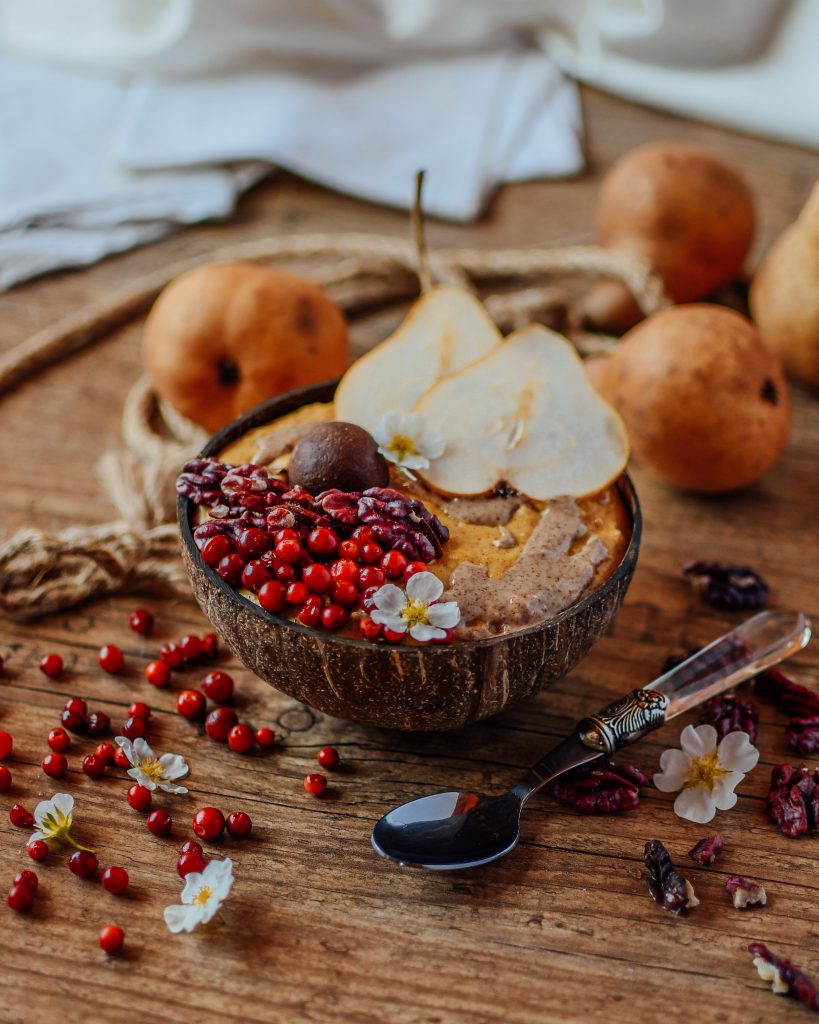 I hope you will find great use of this recipe this fall season. I can promise you its worth a try for every pumpkin lover out there!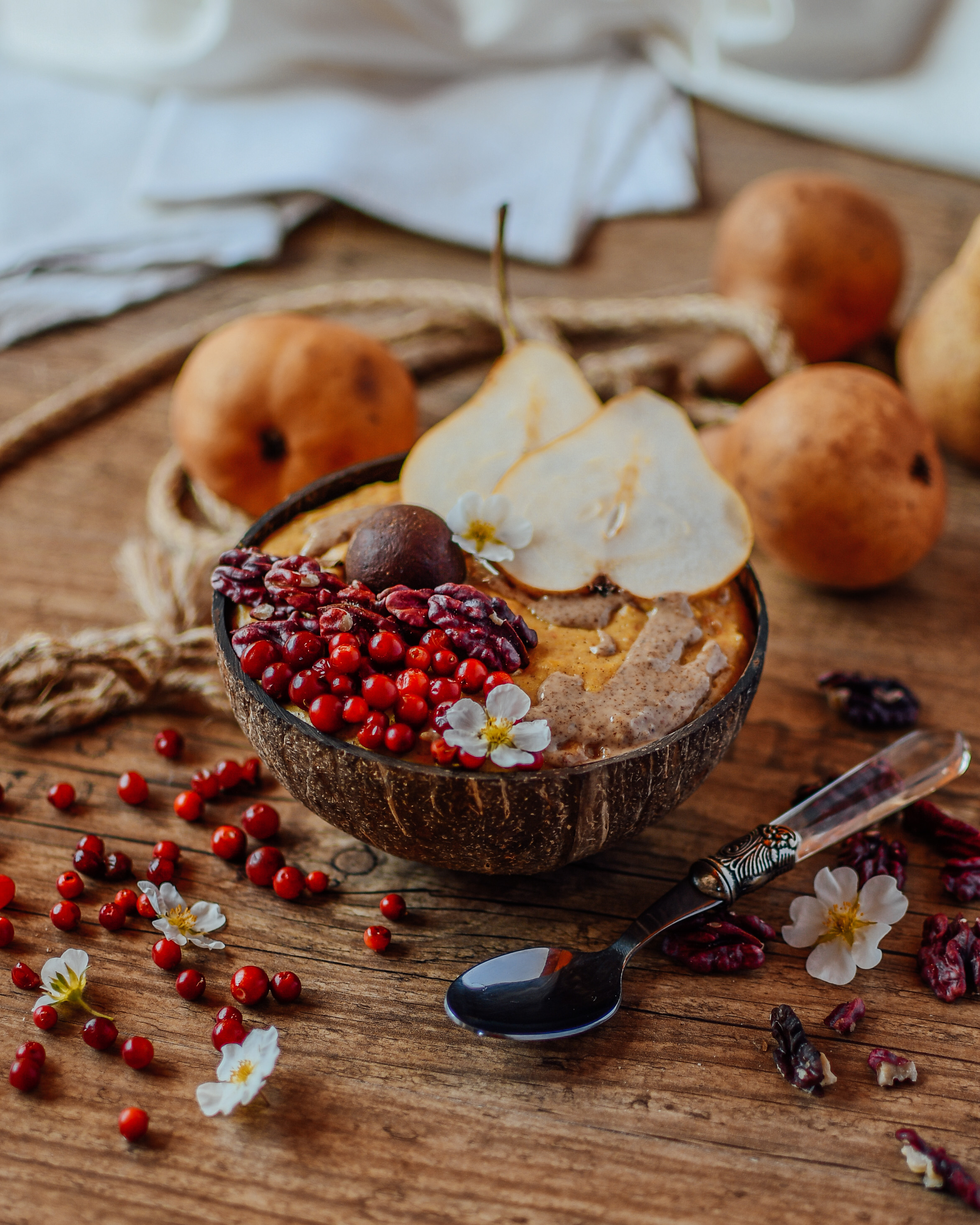 Pumpkin Porridge
2018-09-24 21:56:20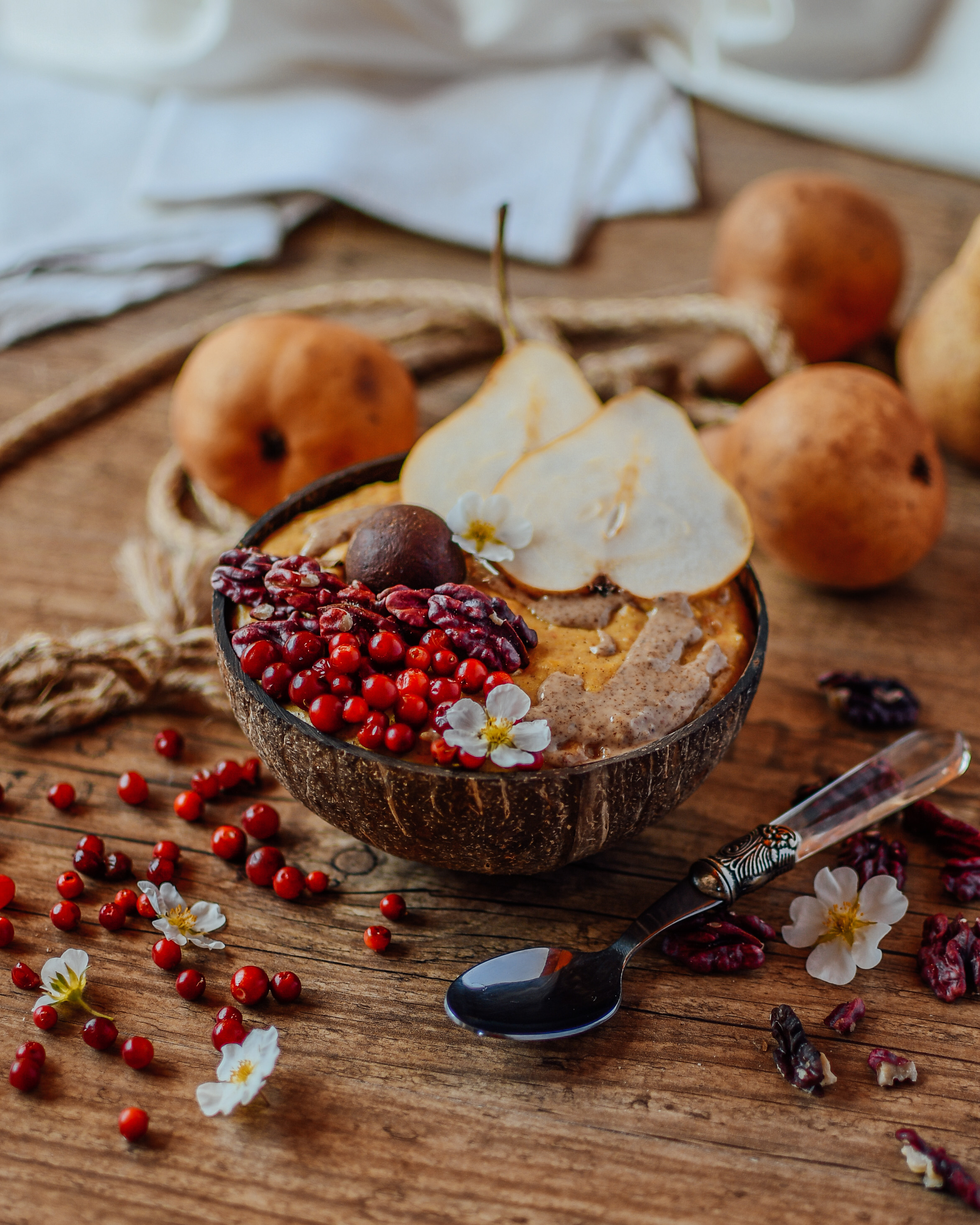 Serves 1
A smooth and creamy breakfast for the fall season
Ingredients
100ml almond milk
20g oat flour
50g pumpkin puree
20g erythrit or xylit
1 tsp of pumpkin spice
1/2 scoop of protein powder
nut butter
apples or pears for topping
Instructions
In a pot boil the oats in milk under consistent stirring.
Once thickened add in the pumpkin purree, sweetener of choice, protein powder and pumpkin spice.
Stir until well combined.
Put in a bowl and top with nut butter of choice and apples or pears.
Notes
Make double the portion if you are really hungry 😉
carinaberry.com https://carinaberry.com/
Are you looking for more vegan and healthy breakfast recipes? Have you seen my vegan breakfast waffles without sugar? If not check them out
here
.
If you are looking for more recipes and photo inspiration you always have the chance to check my Instagram @carina_berry.
Did you make this recipe?

Did you make this recipe?
Tag #carinaberry and get the possibility for a shoutout on my Instagram!
Finally, I always love to see your wonderful creations and it makes me so happy to see you guys actually making my recipes.
xoxo,