Since I am currently on a keto diet, which is a very extreme form of a low carb diet, I wanted to share one of my favorite sweet recipes with you. When you are on keto it is seems to be quite hard to still satisfy your sweet tooth, however, with these delicious low carb keto bounty bars you won't even miss the real sugar! <3
My take on a keto diet
Being on a low carb diet can be quite tricky. Especially when you are trying to eat something sweet. On a ketogenic diet especially you have to cut out most of your carbs and replace them with fats. These tasty keto bounty bars will provide you with a good amount of healthy fats from the coconut. Your nutrition intake should be somewhere between eating 60-70% fat each day. Research says proteins should take up 25% and carbs only 5%.
The longest I have been on a keto diet was for 5 weeks. It has helped me tremendously to fix a bacterial problem I had in my stomach as the bacteria was survived by eating carb. Once I cut out all the carbs I was able to starve the harmful bacteria and was fine again. So a keto diet can actually have great health benefits. I would not suggest this diet to be your general way of eating though. I find it to extreme and at some point I believe your body will be missing valuable nutrients you get from eating fresh fruit for example.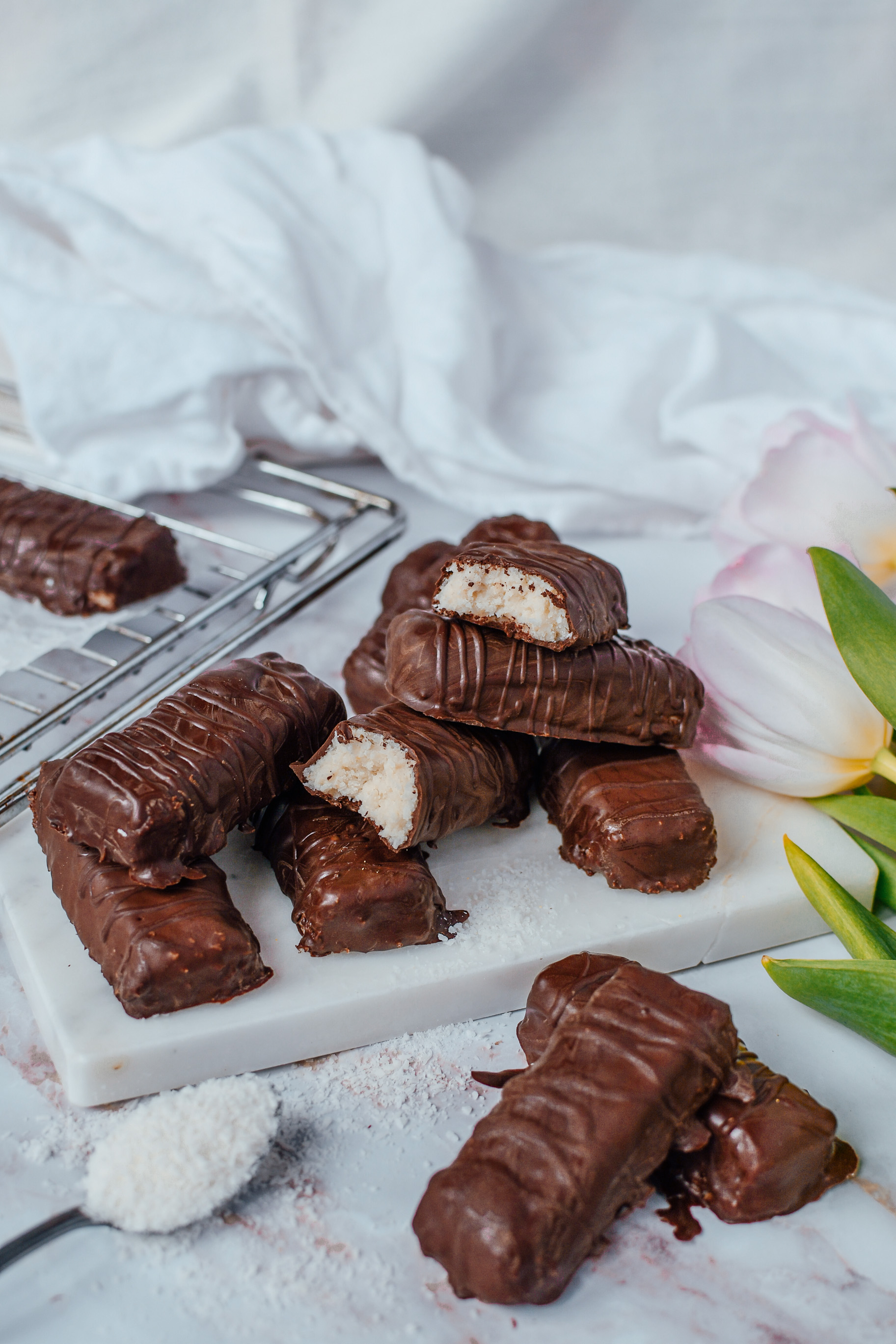 How to make keto bounty bars
So, this is another really easy recipe. As you know my recipes usually don't take longer than 15 minutes and this also a really quick one – no cooking skills required!
First you start out by making the filling. Simply put all ingredients together and mix well until you get a crumbly mixture. It should be moist and stick together. Shape the filling into little bar shapes and place them on a baking sheet. Let them harden in the fridge for 2 hours. They should be really cold when you take them out! You can even put the keto bounty bars in the freezer for a bit so they will harden faster.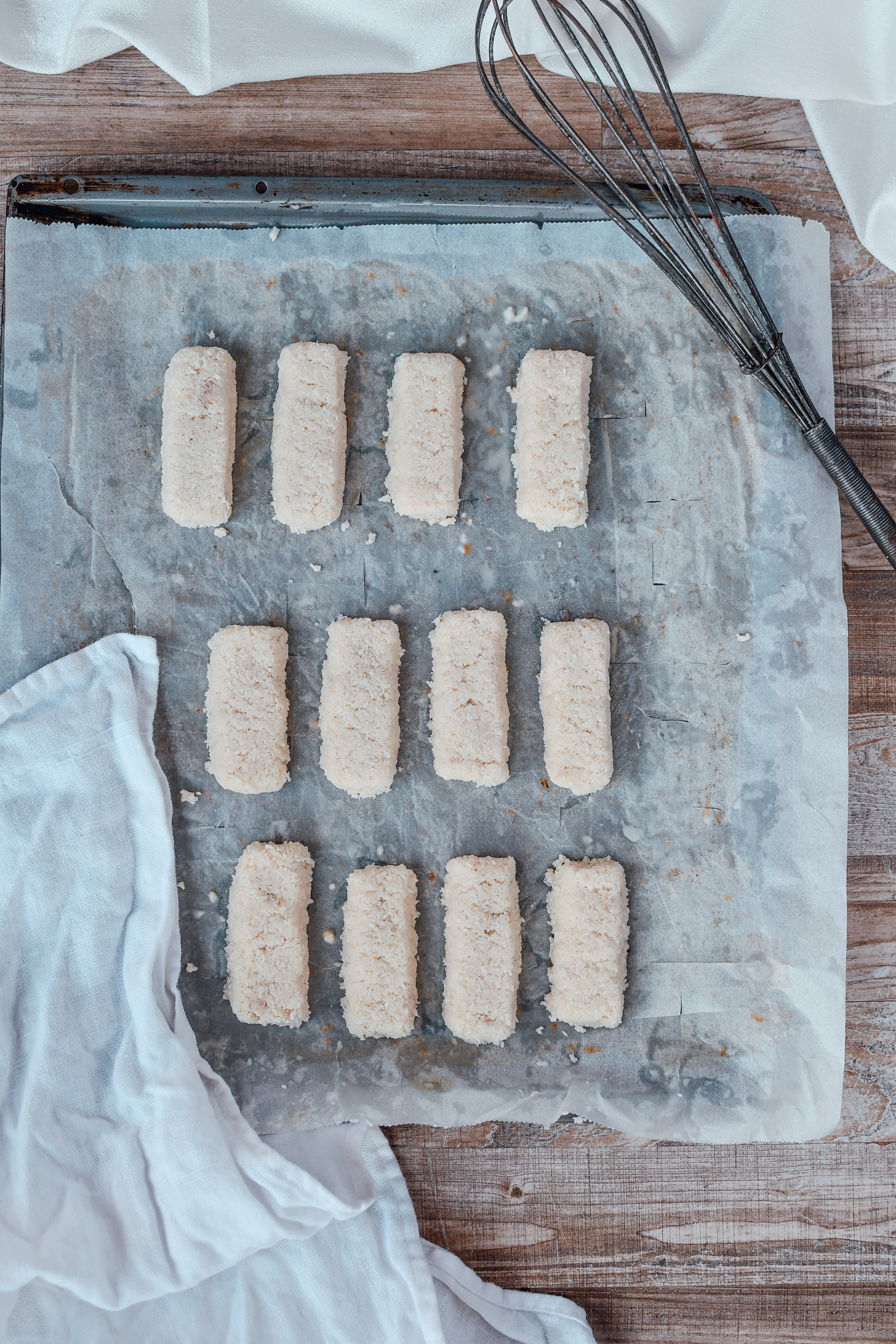 The next step is to make the chocolate coating. The darker your chocolate is the less carbs you will have. Of course a 99% dark chocolate also tastes bitter. I usually shoot somewhere between 75 and 80%.
Melt the chocolate in a medium heat proof bowl. I usually do it in the microwave because it is faster, but if you want to do it the proper way then melt it over the steam of boiling water or at 45 degrees in the oven. I like to add a bit of coconut oil to my coating so it is easier to distribute over the keto bounty bars and also hardens better after.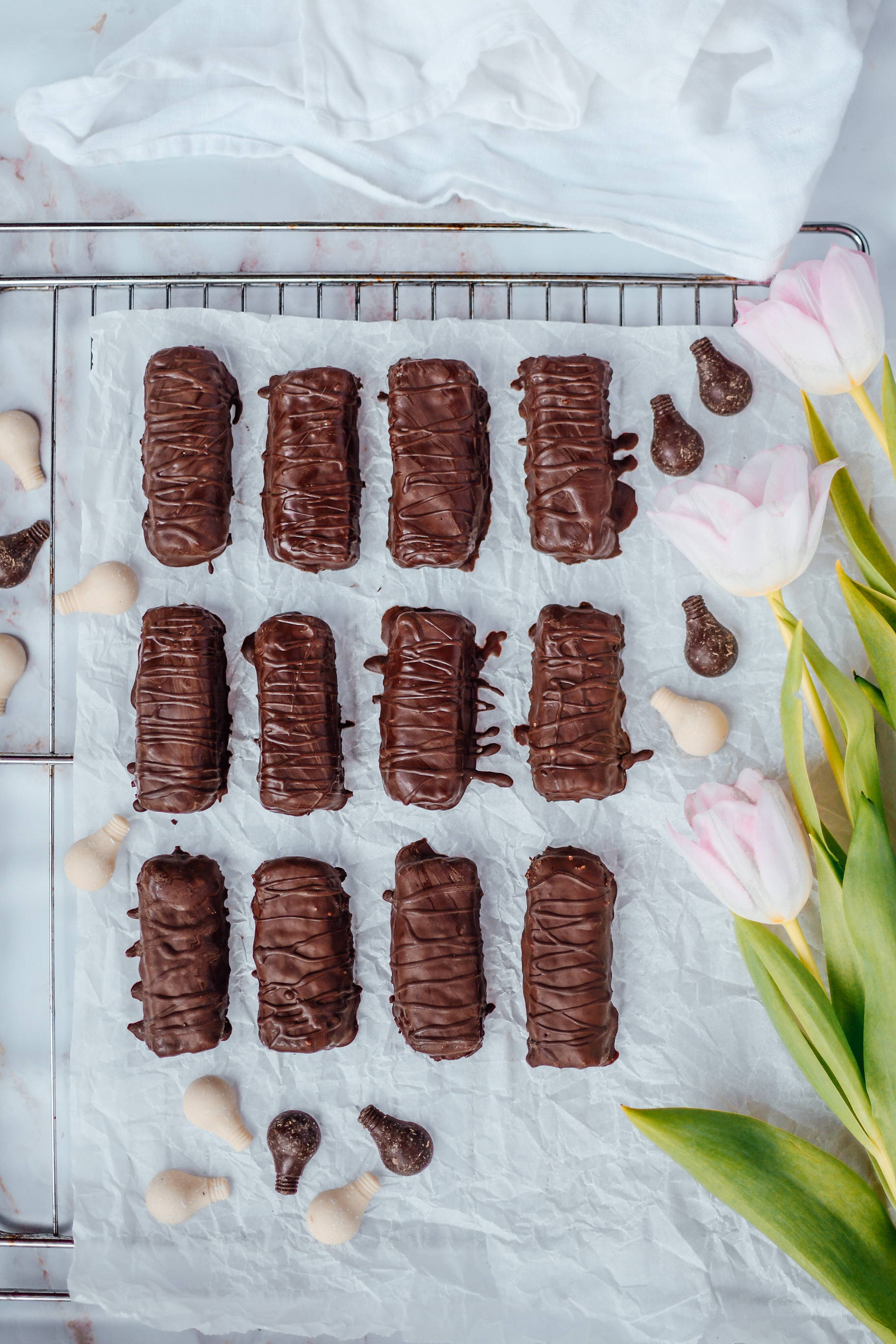 Take out the cold bars from the fridge or freezer and dip them into the chocolate. Let the superfluous chocolate drip off the bars and gently place them on the baking sheet again. If you want you can sprinkle them with coconut flakes now. Best you let them cool in the fridge again for another hour.
You see how easy this recipe is. Done are your easy keto bounty bars. 🙂 I hope you will try this low carb recipe soon!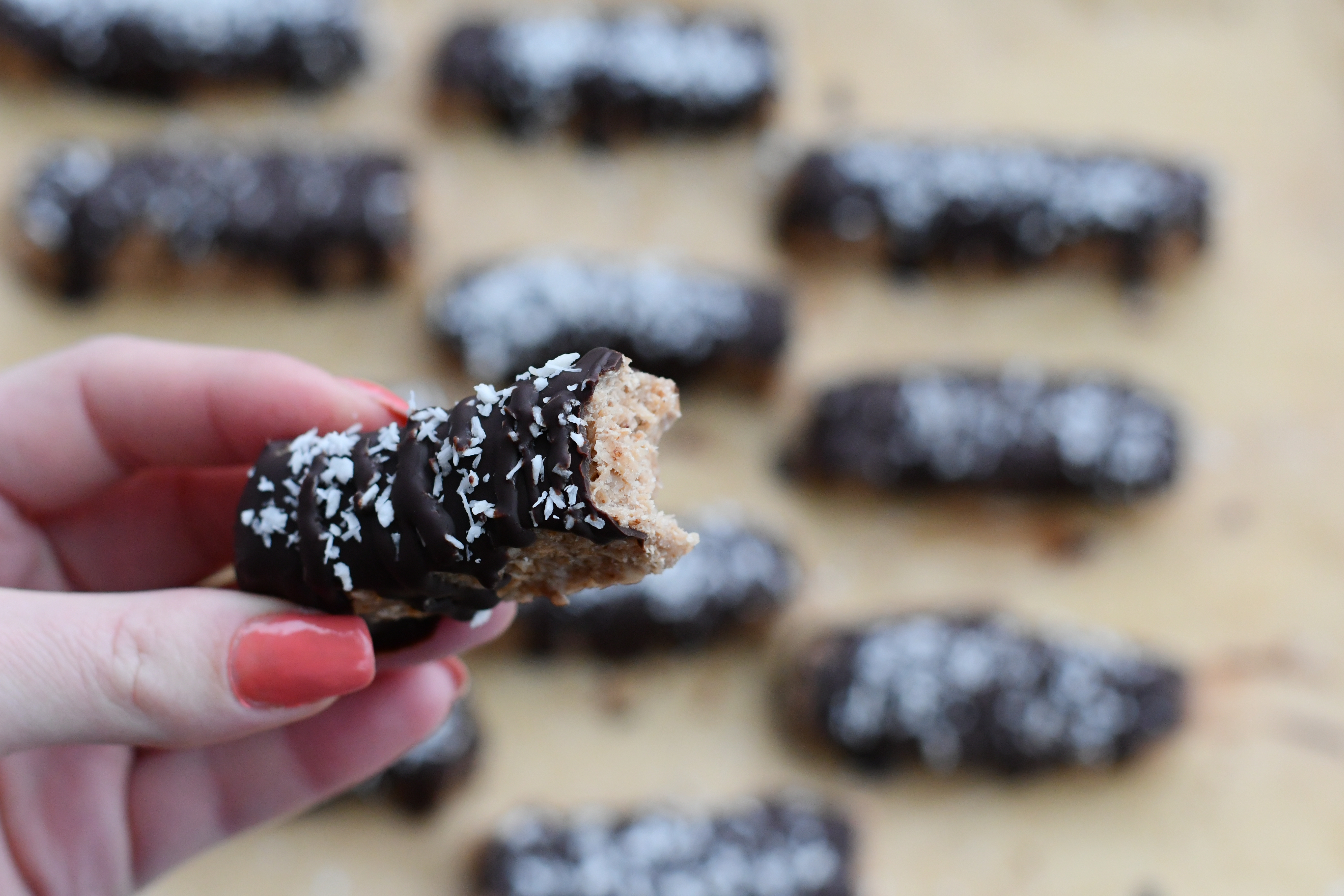 Below I have summarized the recipe in a printable version for you:
Ketogenic Bounty Bars
2018-03-14 16:55:53
Ingredients
200g of coconut flakes
50g of coconut oil
100g of Phiadelphia cream cheese full fat
50g of whey or vegan protein
5-8 Flavdrops Vanilla
Topping
70g dark chocolate 90%
1 tbsp coconut oil
Coconut flakes
Instructions
Put the coconut flakes into the over at 180 degrees for about 7 minutes until they turn golden.
Put them into a bowl and stir liquid coconut oil, Philadelphia cream cheese, whey protein and the Flavdrops in. Now form little bars and put them on a baking sheet.
Put them into the fridge for half an hour.
Melt the chocolate with the extra coconut oil. Pour chocolate over the bars and sprinkle with more coconut flakes. Now cool them again in the fridge.
Notes
Nutrition values for 1 bar: 120kcal, 35g fat, 2g carbs, 15g protein
carinaberry.com https://carinaberry.com/
I hope you enjoyed this easy recipe. You can store them in the fridge for like a week and always have a low carb snack at hand! Check out my super clean protein
Rafaello snack
recipe too. I am sure you would love it!
And did you know I am also on YouTube? I am sharing tons of helpful food blogger advice there and show you some of my favorite recipes as well!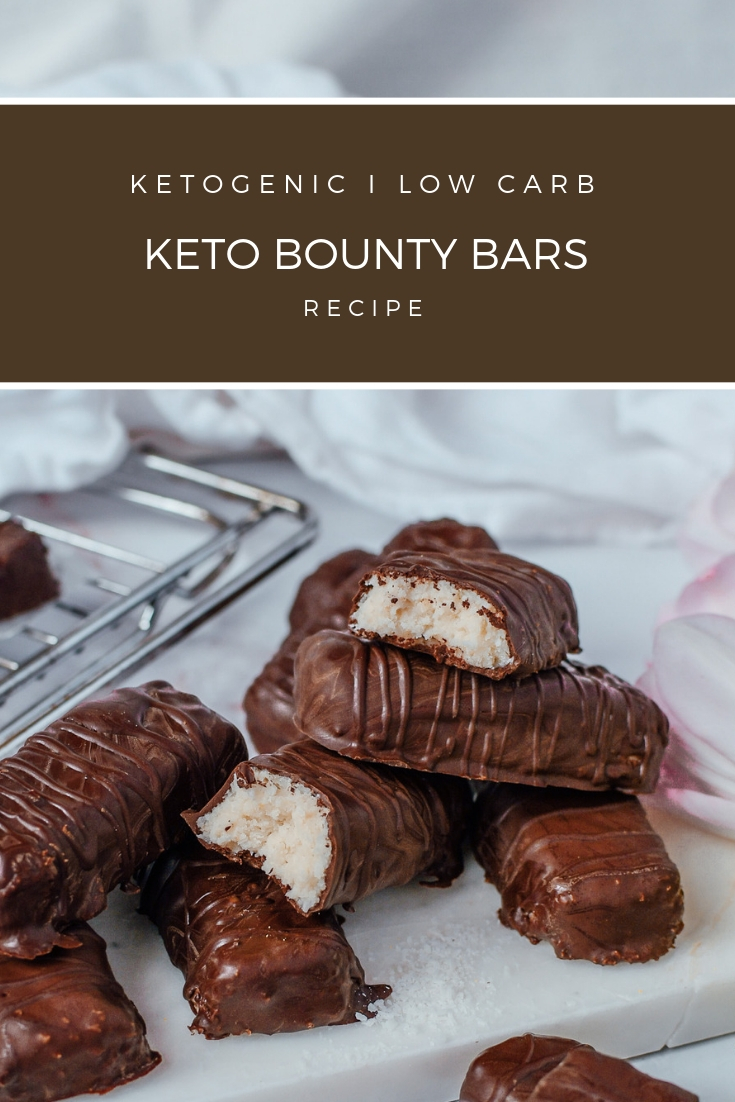 DID YOU MAKE THIS RECIPE?
Tag @carinaberry on Instagram and hashtag it #carinaberry
I'll always be giving shoutouts on my Instastory for those who are making my recipes. <3
xoxo