Fall is just around the corner and its time to harvest all those delicious pears, apples, plums and blackberries. A perfect opportunity to make a healthy crumble for dessert!
In this blogpost I will be sharing my favorite healthy crumble recipe with you, which I use all the time. It is packed with delicious protein and sweet fruit. Like all of my recipes it is super easy to make and doesn't require a lot of cooking skills.
Since I am going to Central America soon – Costa Rica and Panama – I am trying to get all my favorite fall recipes in before I leave since I am pretty sure I won't find fresh pears, pumpkins and plums there. Plus it will be so hot over there that I will probably not feel like eating decadent fall food. Therefore I am currently eating a lot of pumpkin bread, pumpkin soup, pear cake, ect. I will be dedicating the next blogpost to my pumpkin addiction by the way. So many awesome recipes on the way soon guys!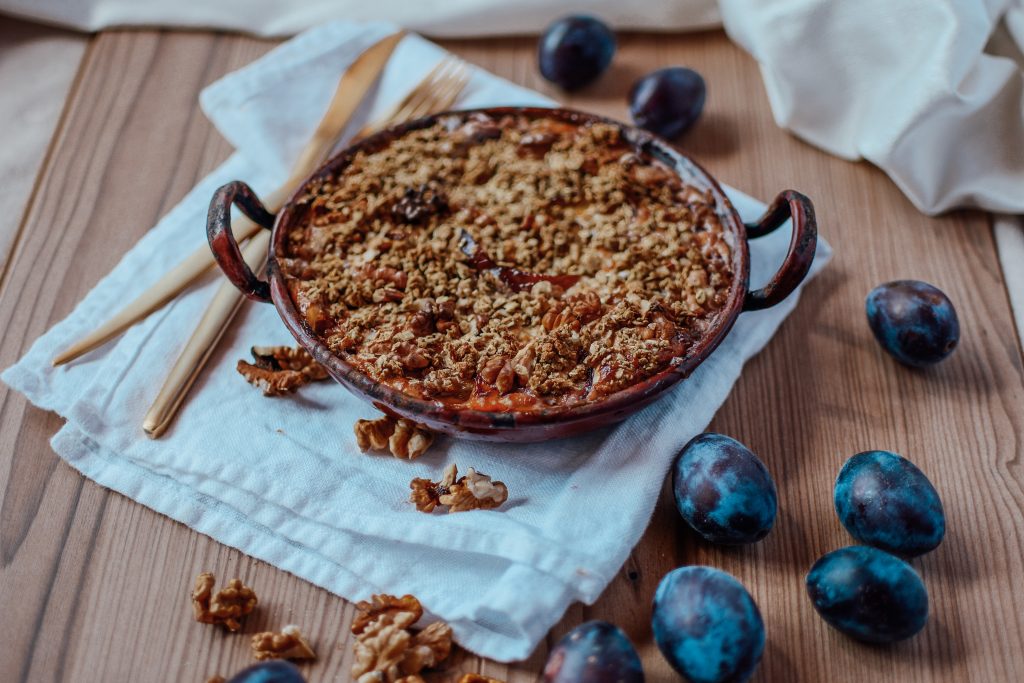 Crumble Variations
So, I will be sharing a basic recipe for the healthy crumble which you can alternate depending on your fruit wishes. You can make the same recipe with pears, cherries, blueberries, blackberries or plums. I have tried it with almost any kind of fruit. The only fruit that doesn't really work are tropical fruits because of their acid which doesn't get along with the dairy and strawberries because they have too much water.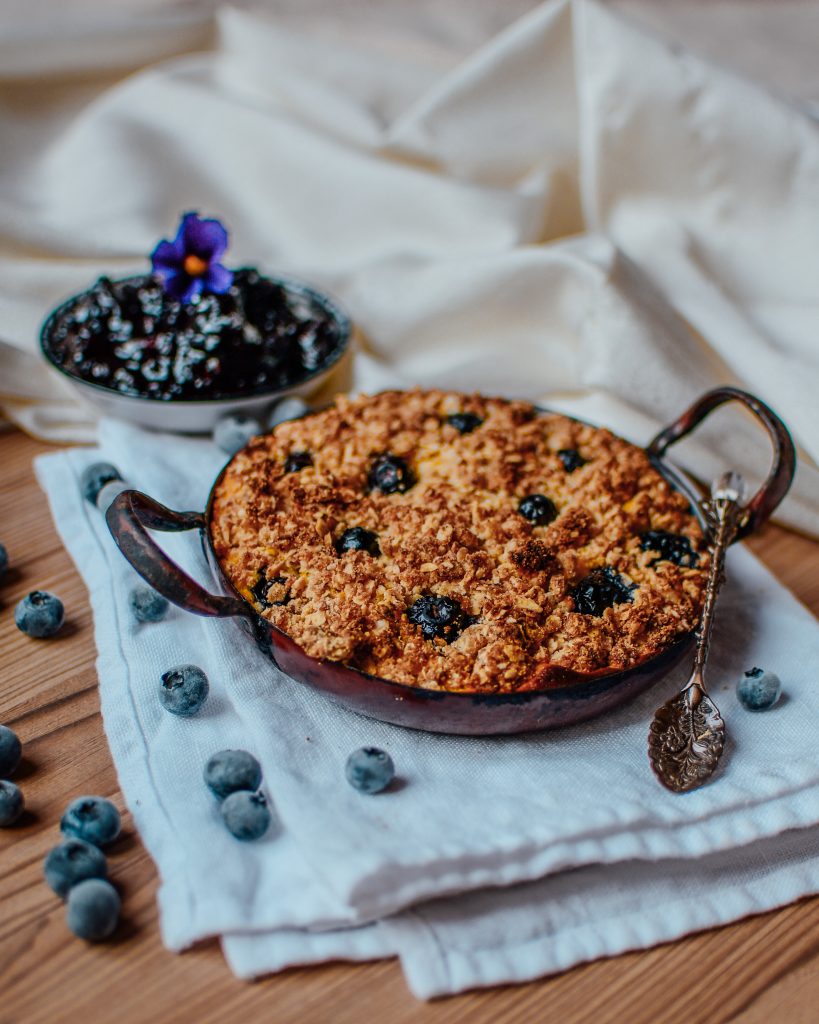 Ingredients
As always you will only need a handful of very basic ingredients. The recipe is divided into two parts. The crumble and the filling.
In total you need 8 ingredients for the healthy crumble. Eggs, protein powder, greek yoghurt, Xylit, oats, peanut butter, cinnamon.
We are replacing unhealthy sugar with Xylit and four that is filled with fast acting simple carbs with complex oats! Also, we are substituting the butter for peanut butter, which adds just like the whey extra protein to the healthy crumble recipe.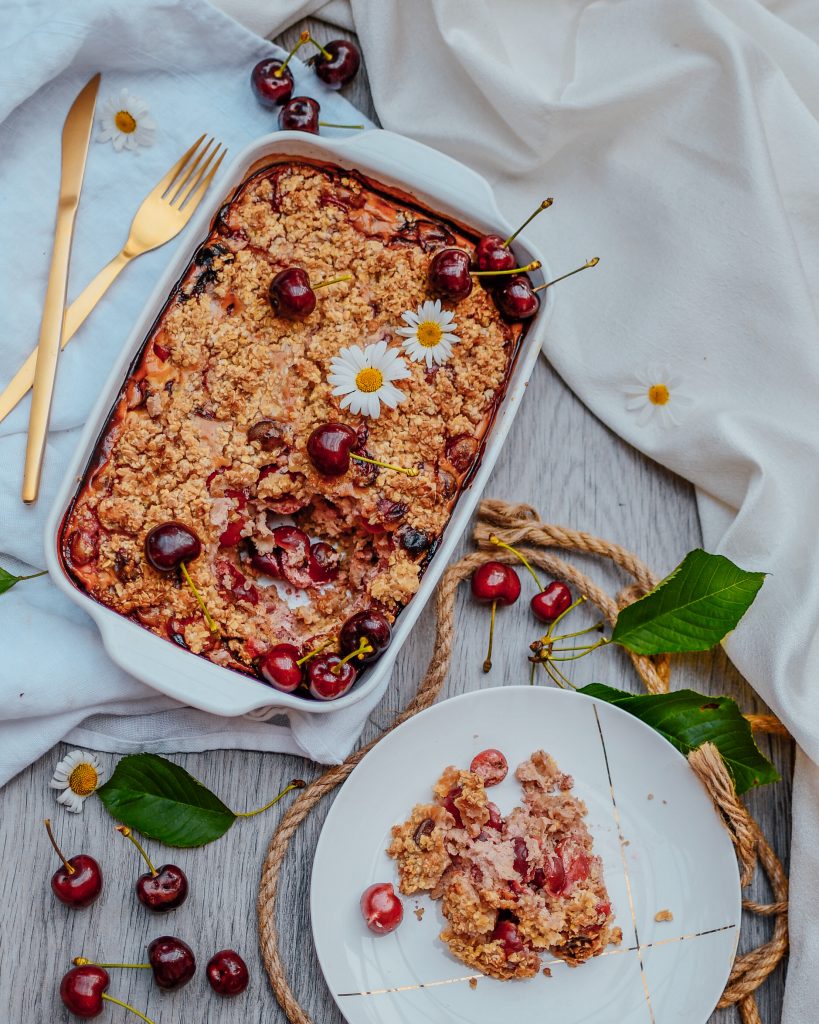 Instructions
You simply mix the eggs, greek yoghurt and Xylit with each other for the filling. Now its up to you to decide which kind of fruit you want to use. Dice your apples, throw in the blueberries, pit and add the cherries.
Now lets make the crumble. For that you simply mix the oats with some water, peanut butter and cinnamon. 2/3 of the crumbles will serve as the crust and the rest will be sprinkles on top of the filling.
Finally, put the crumble into the oven and let it bake for half an hour at 180 degrees. Best served still warm.
Have you seen my favorite protein cheesecake recipe yet? If not check it out here.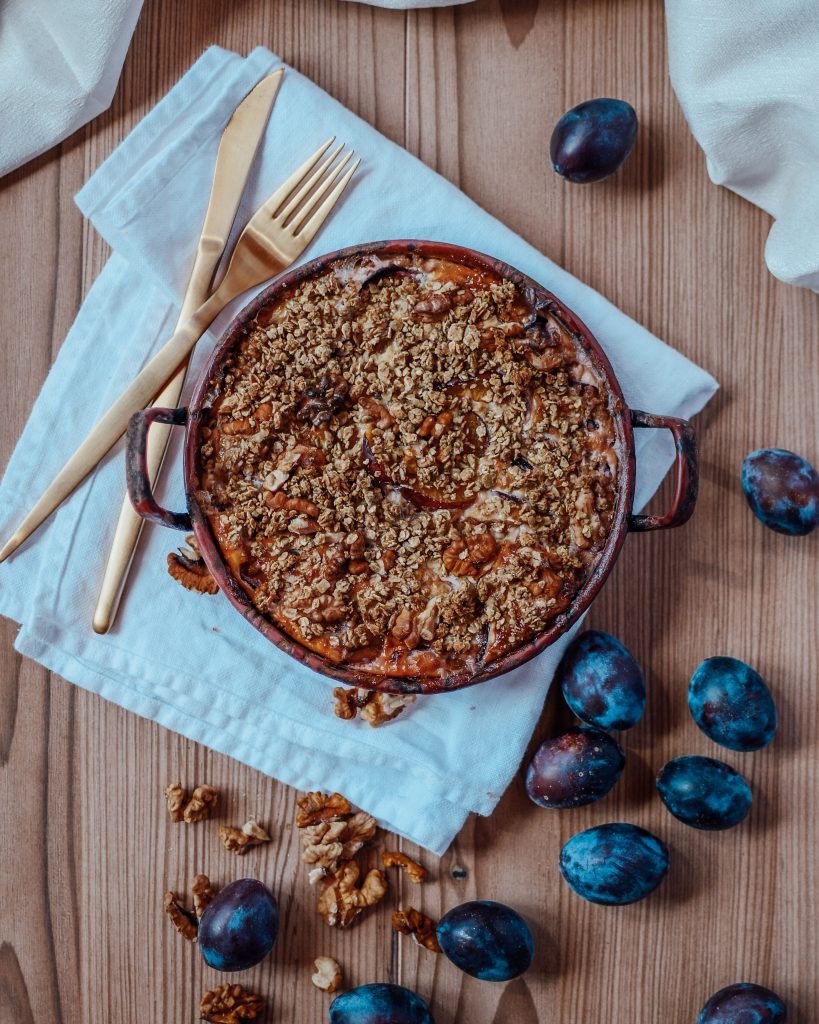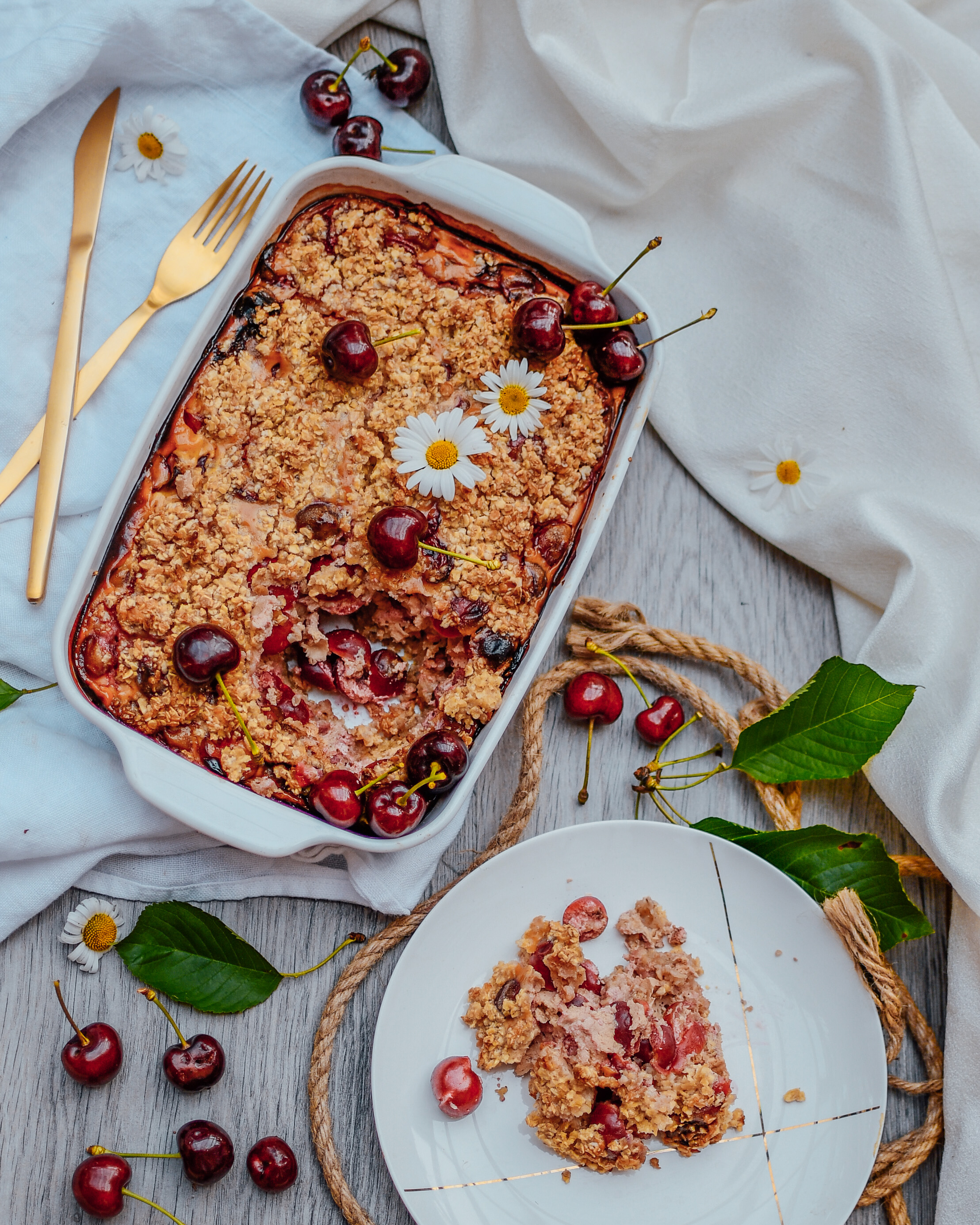 Healthy Crumble
2018-09-18 08:36:17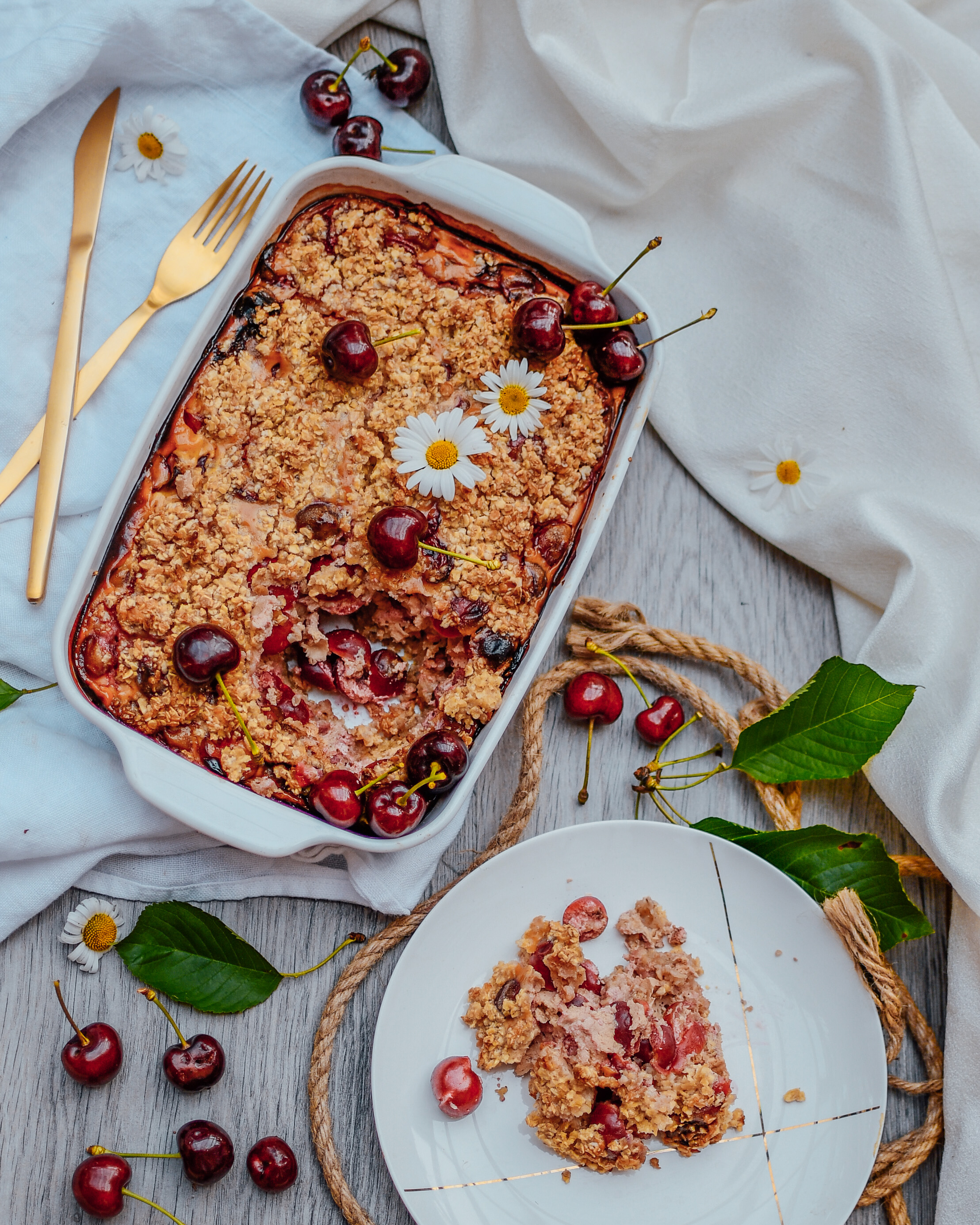 A perfect healthy recipe for the fall season.
Ingredients
2 eggs
1 scoop whey protein
1 tsp baking powder
200g (7oz) greek yoghurt
3 tbsp Xylit
Crumble
100g oats
2 tbsp peanut butter
2 tbsp Xylit
1 tsp cinnamon
40 ml water
Instructions
Mix all the ingredients together for the filling. Cut fruit of choice (except berries) and add them to the mixture.
Combine all ingredients for the crust and crumble until you get a crumbly texture.
Press 2/3 of the crumbles into a little pie form.
Add the filling on top.
Sprinkle the rest of the crumbles on top of the filling.
Bake for 30 minutes at 180 degrees.
Notes
All type of fruit work except tropical fruit with a lot of acid and strawberry because of the high amount of water.
carinaberry.com https://carinaberry.com/
Did you make this recipe?

Did you make this recipe?
Tag #carinaberry and get the possibility for a shoutout on my Instagram!
Finally, I always love to see your wonderful creations and it makes me so happy to see you guys actually making my recipes.
xoxo,