Traveling through Mexico last year gave me tons of food inspiration. One particular trend I picked up there was "golden milk."Its a creamy, but dairy free hot drink that is filled with nutrients! Something that could be found in almost every healthy & vegan café. In this blog post I want to show you how to make the vitamin cocktail yourself!
Golden milk – a trend beverage with additional health benefits
It is said that golden milk has a ton of benefits due to all the wonderful spices used in the drink. Many studies have linked turmeric, which is the main ingredient, with wide-ranging anti-inflammatory effects. This super creamy drink will warm your heart and also bring you a soothing sleep! Rumor has it that drinking golden milk at night will help you to relax and sleep better.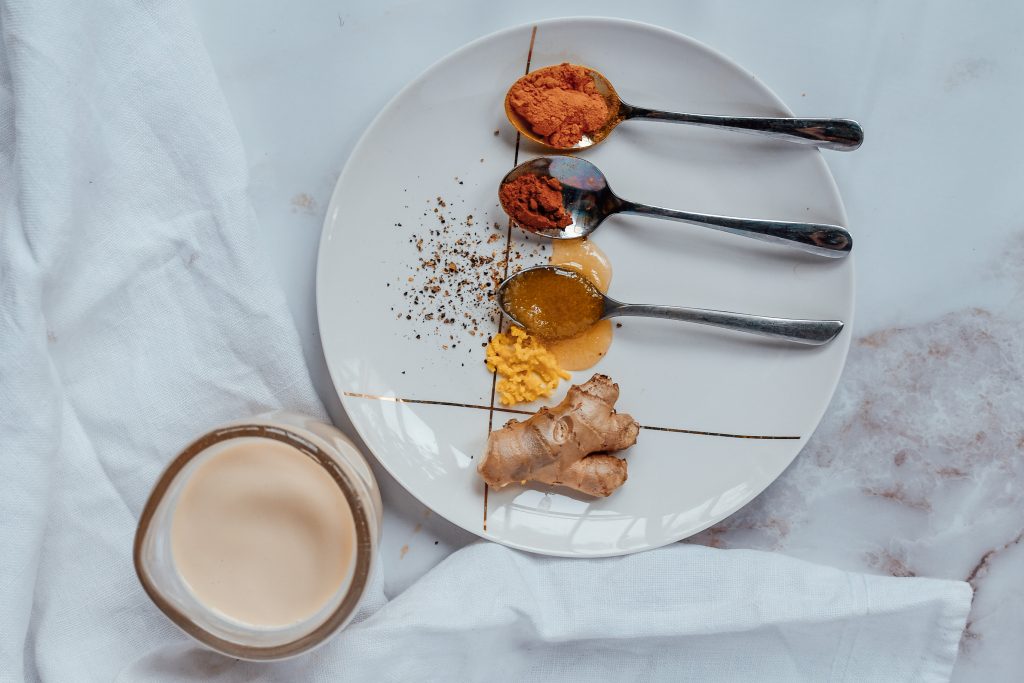 The drink is packed with antioxidants and inflammatory ingredients. Let's look at some of the ingredients and their health benefits that I researched accordingly on the internet:
Black Pepper: Is supposed to help with weight loss and should help to prevent cancer. I also found out that it should reduce memory impairment and cognitive malfunction.
Almonds: Almonds are rich in vitamin E, magnesium and filled with healthy unsaturated fats. It is also said that it helps to prevent diabetes.
Honey: I love to use honey as a sweetener because it is a good source of energy, benefits the skin and has a lot of mineral.
Ginger: There are so many health benefits to ginger I don't even know where to start. For example I always take it when I have a cold, sore throat or a cough and it always helps me to feel better. It is also said to treat kidney infections, stimulates the digestive system and boosts the immune system.
Turmeric: Turmeric is said to be anti-inflammatory and is rich in antioxidants. Its good for your digestion and helps to detoxify.
Cinnamon: besides the fact that I simply love the taste of it cinnamon should regulate your blood sugar levels, reduce your cholesterol and relief joint pains.
Coconut: I like to use a bit of coconut cream as well because it gives it a creamy texture and makes it easier for your body to absorb the fat-soluble turmeric.
All in all the power spice in the drink is really the turmeric and listing all its health benefits would exceed the length of this blog post. However, if you would like to read more about the health benefits and uses for turmeric I recommend you click here and check out this wonderful article explaining in great detail how one single spice can boost every facet of your health!

Functional Food
I love recipes like this golden milk because they don't only taste great, but they also have amazing benefits for your body. Each ingredient of this delicious and creamy hot drink was carefully selected to merge this drink into an explosion of an immune boosting vitamin cocktail for you!
So, if you haven't tried golden milk yet, you are really missing out on something big! I love it because if I drink it before bedtime I can satisfy my cravings for something sweet with it, do something great for my health and get some restful sleep in addition!
I usually watch a series at night time every once in a while and simply loved to eat something while doing that. Well, now I replaced my extra meal with golden milk, save a bunch of calories, get to satisfy my sweet tooth and dream away smoothly at night. Amazing right?!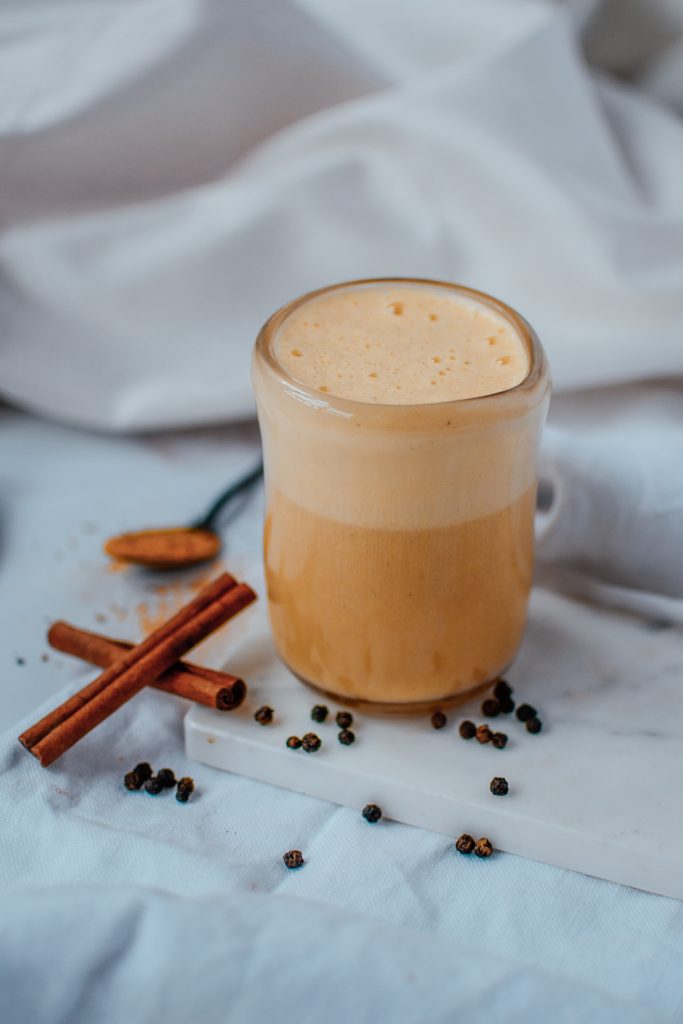 How to make golden milk
The recipe is really fairly easy. You simply need some basic spices at home. Golden milk is made from turmeric, ginger, black pepper, cinnamon and honey.
Ingredients:
200ml unsweetened almond milk
1 tsp honey
1 tsp turmeric
1/2 tsp cinnamon
1/2 tsp fresh pressed ginger (otherwise 1/4tsp ground ginger)
1/4 tsp ground pepper
1 tsp coconut cream
Method:
Heat the almond milk in a pot.
Mix in all the other ingredients and stir well.
Pour into a glass and enjoy while warm.
Feel free to add a bit more honey if you want it sweeter!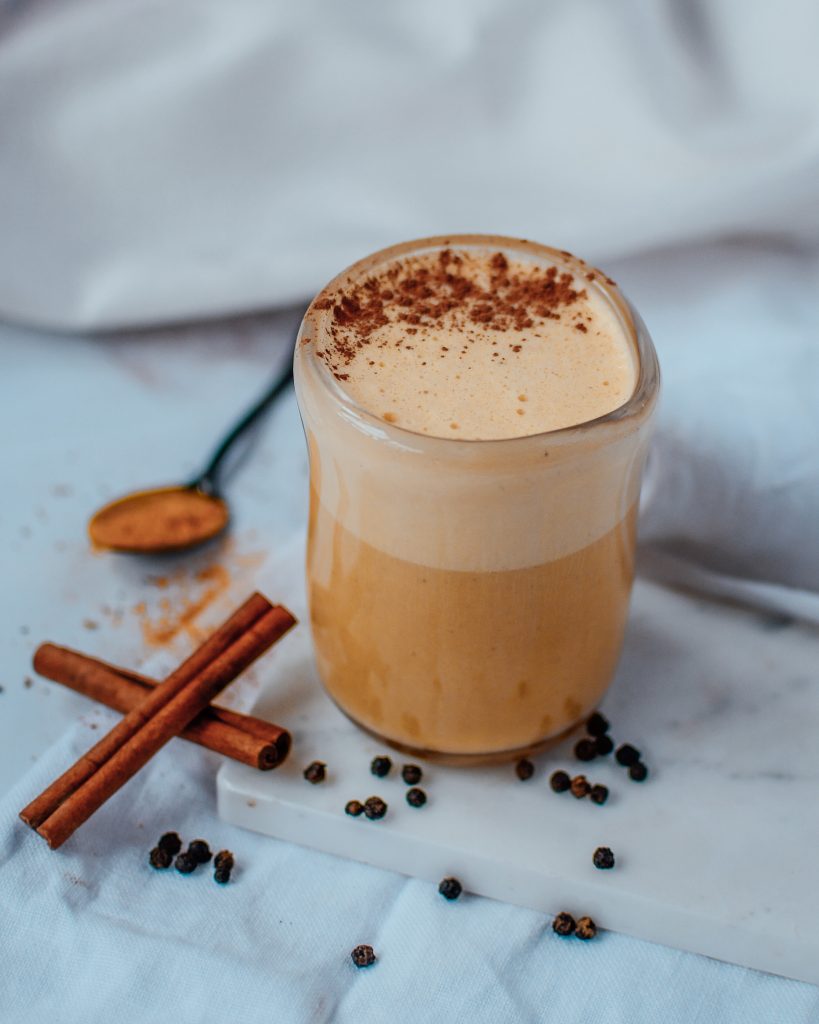 Drinking golden milk has become a great new habit I introduced in 2019. Try it yourself and I am sure you will love it too 🙂 If you are looking for another great detox inspiration make sure to read my blog post about my recent smoothie cleanse. Hope you enjoyed the recipe! Let me know if you would like to see more of those beneficial superfood drinks in the future!
Did you make this recipe?

Did you make this recipe?
Tag @carina_berry and use the Hashtag #carinaberry to get the possibility for a shoutout on my Instagram!
Finally, I always love to see your wonderful creations and it makes me so happy to see you guys actually making my recipes.
xoxo,