Ready to taste the best protein cheesecake of your life?! With this blog post I am sharing my all time favorite recipe with you 🙂
Protein Cheesecake
My protein cheesecake consists of some very easy ingredients and gives you the full dessert indulgence you are looking for without adding those extra calories to your hips 😉
I am literally making this protein cheesecake once a week because it is that good. The wonderful thing about it is that you only need a couple ingredients and it is so easy and fast to make. like most of my healthy recipes.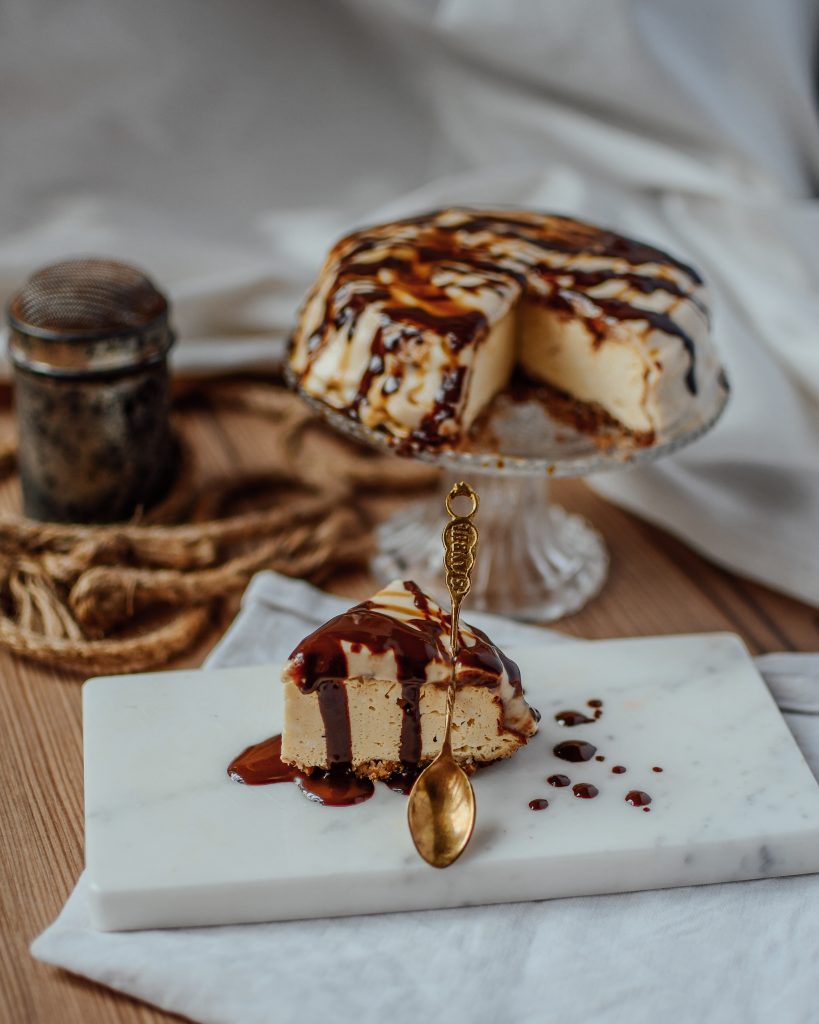 Macronutrients of the protein cheesecake
First of all, I am sure you are wondering why this cake is so much better than regular cheesecake. Obviously since we are not using any sugar the taste will be a bit different than the unhealthy options you get to eat in restaurants, but the macro nutrients are sooo much better.
A lot of people always think that in order to make fitness food you need to spend a lot of time in the kitchen and buy many expensive ingredients. That is not the case at all though, especially not with my recipes. They usually never take longer than 15 minutes and the end result will be tasty and good for you at the same time.
Calories
Did you know that a regular New York Style Cheesecake has about 450kcal per slice? For some girls that could be a regular meal for them. If you go to the Cheesecake Factory and order yourself a Peanut Butter Fudge Ripple cheesecake you might end up eating up to 1100 kcal per slice. That is crazy right. I bet you are curious how many calories this healthy protein version of a cheesecake has now?!
So this one will have only about 250kcal per slice depending on the exact ingredients you use. That is quite a difference right?! You can save almost half of the calories you would usually eat with a normal cheesecake.
Protein
Let's go back and compare our fitness protein cheesecake to a regular New York Style cheesecake regarding the amount of protein you will get per slice. Usually one slice only provides you with around 9 grams. However, due to adding protein powder this fitness cheesecake has up to 31 grams of protein per slice, depending on the whey you are using.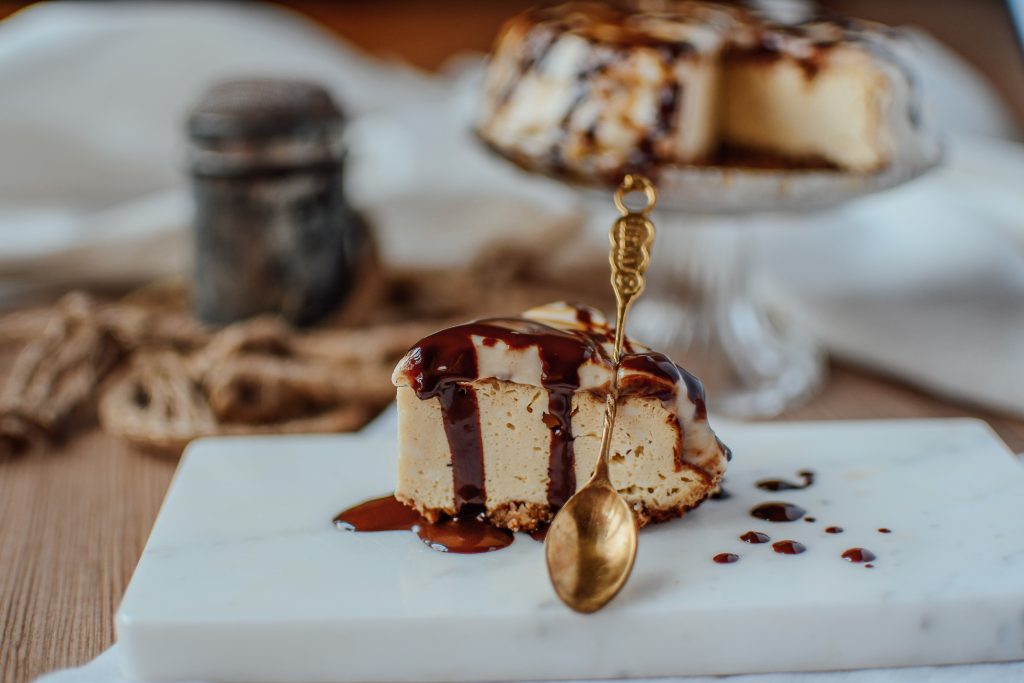 Protein Cheesecake Recipe
Alright after having told you how awesome this protein cheesecake is I hope you are totally ready to make it now.
It is really so easy. All you need are basically two bowls. In the first one you mix all the ingredients for the filling and in the second one all the ingredients for the base.
Then you press the base into a pie form or silicon mold and pour the filling over it. After that it goes into the oven and you let it bake for about half an hour. Take it out and let it cool off completely. For the glaze you will be mixing more cream cheese with Xylit and simply cover the cheesecake with it. Finally melt some dark chocolate and sprinkle over the cake. In my recipe I used a sweetener called Yacon syrup for decoration as well, since it has the looks and subtle taste of liquid caramel. But that is not a must.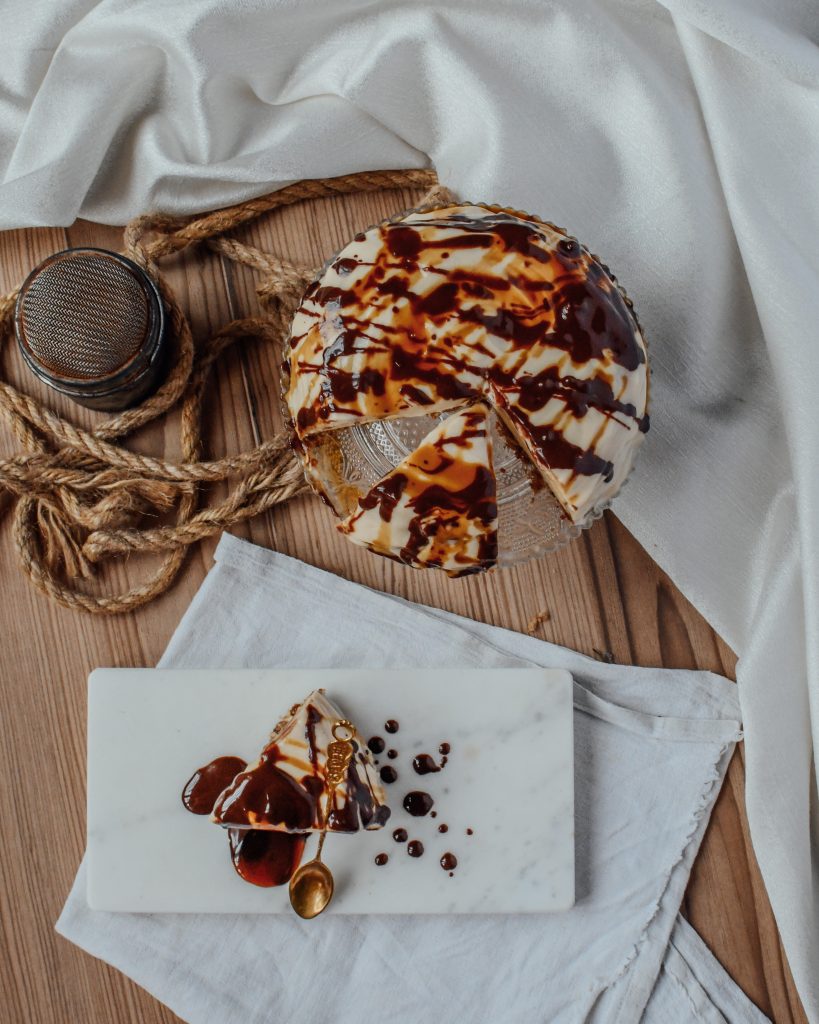 Low carb protein cheesecake variations
Certainly in this very specific example I made a caramel protein cheesecake. I used specifically caramel protein powder and Yacon syrup which is quite similar to caramel. However the base recipe always stays the same and you can substitute the flavors as you want.
Here are some ideas for cheesecake variations:
Strawberry protein cheesecake: You can use strawberry or vanilla whey for the filling. Use sugar-free jam to cover the surface of the cake and decorate with sliced strawberries.
Peanut butter cheesecake: Add 2 tbsp of peanut butter to your filling and more peanut butter for the topping.
Blueberry cheesecake: check my recipe from earlier at the beginning here!
For more healthy recipe make sure to check my YouTube and Instagram channel.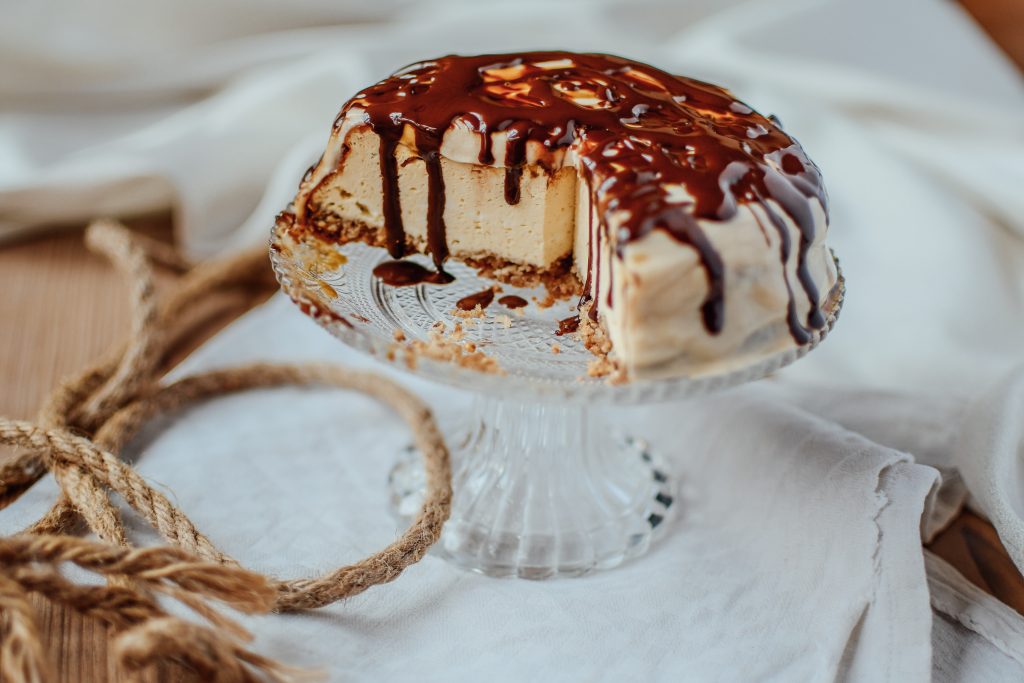 The Recipe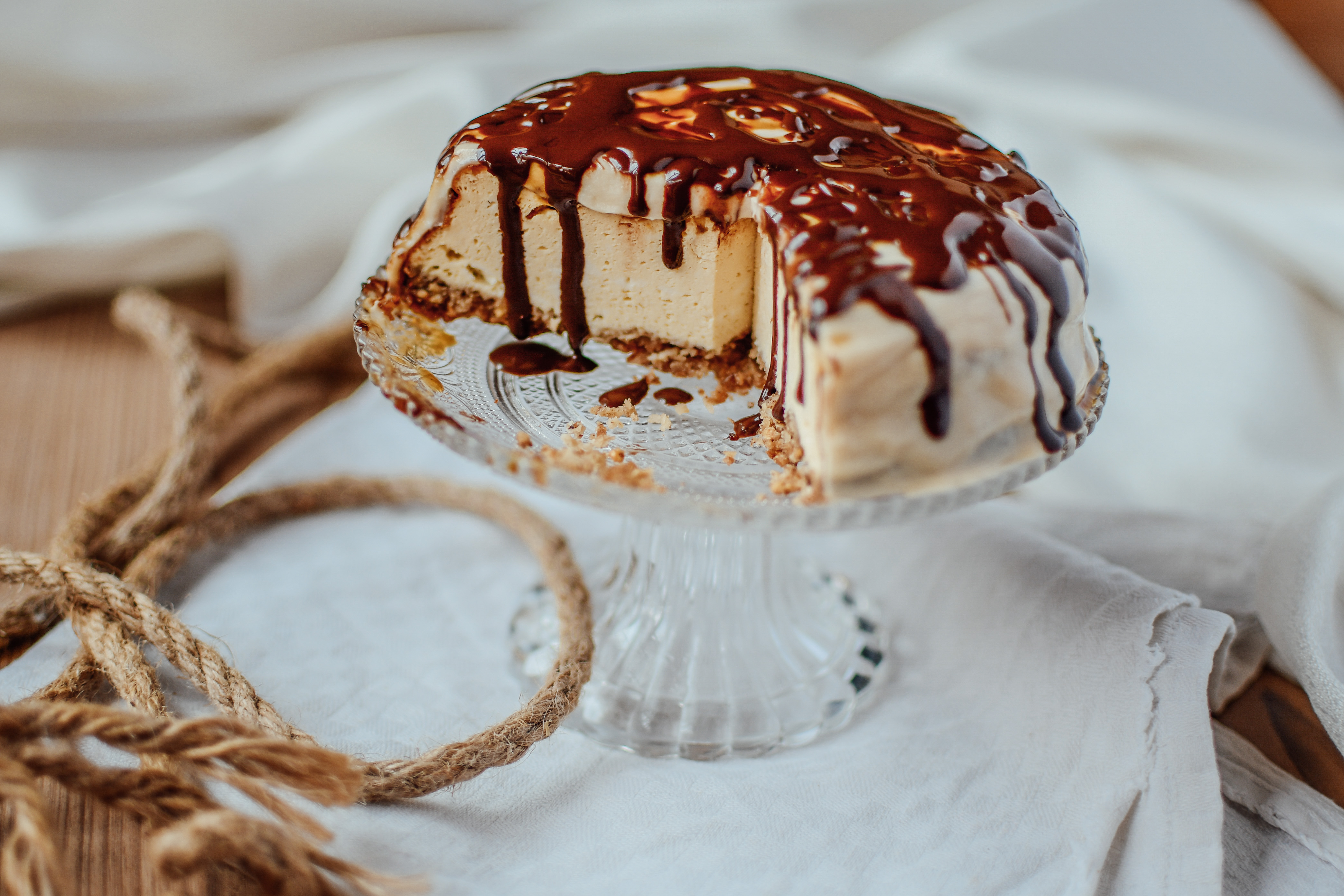 Protein Cheesecake
2018-09-10 16:33:49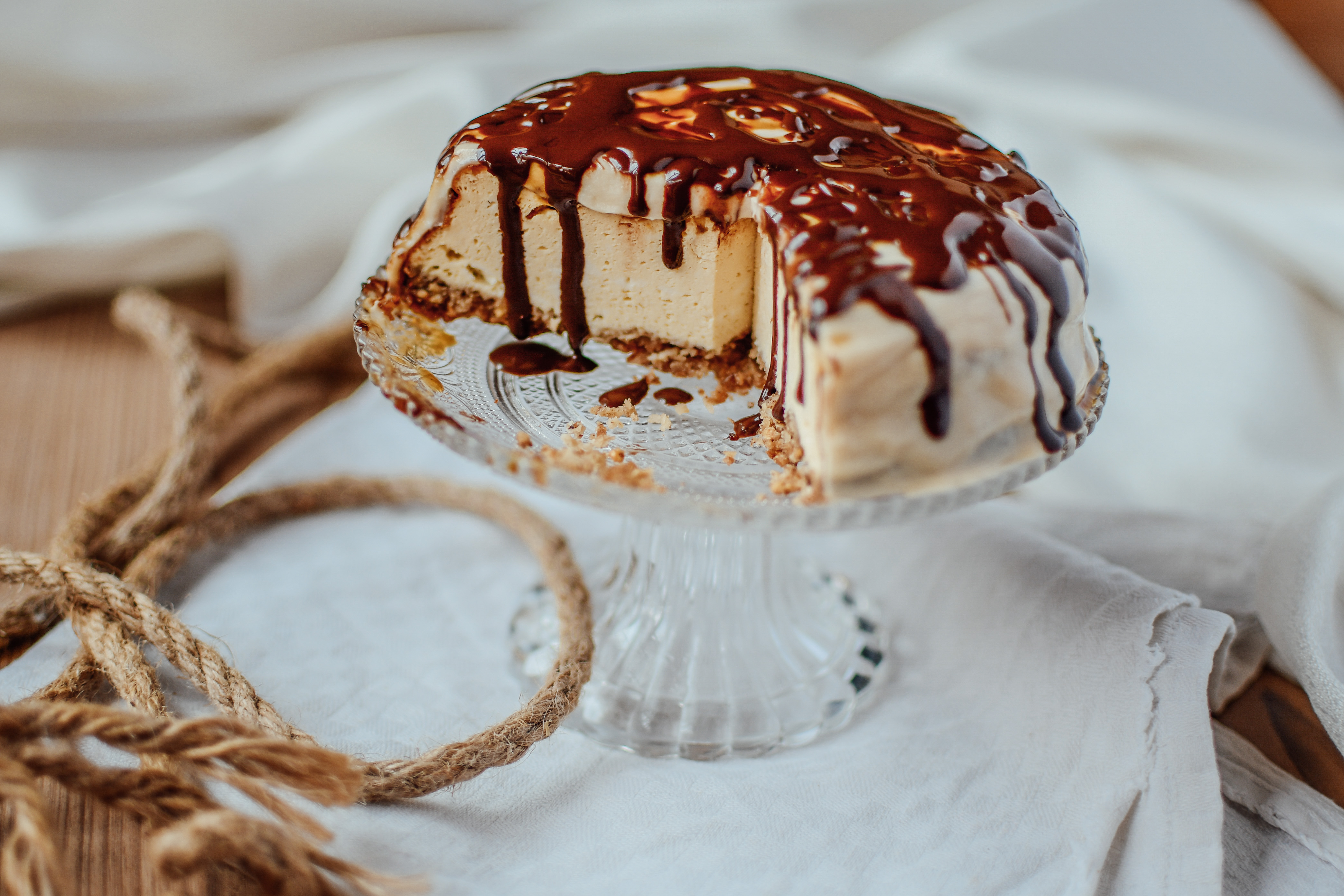 Full taste & half the calories
Filling
2 eggs
250g (8,8oz) greek yoghurt
250g (8.8oz) 
cream cheese
1 scoop protein powder
40g (1.4oz) xylit
zest of one lemon
Crust
80g (2.8oz) oats
1 tbsp coconut oil
2 tbsp water
1 tbsp xylit
2 tbsp peanut butter
Dash of cinammon
Topping
100g (3.5oz) cream cheese
1 tbsp xylit
1 tsp lemon juice
For "caramel" cheesecake topping
1 tbsp Yacon syrup
2 tbsp melted dark chocolate
Instructions
Mix all ingredients for the crust together and press into a pie form.
In a blender mix all ingredients for the filling together and pour over the crust.
Bake for 30 minutes at 180 degrees. Let the cake cool down completely.
For the topping mix the cream cheese with the lemon juice and the sweetener. Spread over the cake.
Notes
For a cheesecake variation you can use anything from blueberries to peanut butter and melted chocolate.
carinaberry.com https://carinaberry.com/
Life Update
On another note I thought to give you a short life update in this blog post. At the moment I am super busy planning everything for my big trip starting at the end of September. I will be going to Costa Rica, Panama and Mexico.
Alberto and I will be traveling through these countries, but working at the same time. It is the first time we are doing this and are simply so excited to try it out. It is so amazing when your work is that flexible and I really just need my camera, computer, phone and internet.
However, there is still so much travel preparation to do and I am getting more and more excited every day to finally leave and escape the cold and windy Austrian fall days.
Also, I need to come up with a plan of how to take most of my food props with me on my travels. This will be quite the challenge, but we will see how it goes to take food pics somewhere else than at my studio at home.
Did you make this recipe?

Did you make this recipe?
Tag #carinaberry and get the possibility for a shoutout on my Instagram!
Finally, I always love to see your wonderful creations and it makes me so happy to see you guys actually making my recipes.
xoxo,