Are you looking for the best healthy food in Cape Town while visiting this beautiful city? I summarized my favorite healthy food options, including everything from raw vegan cafés to fitness food restaurants. Have fun with my selection of clean eating places in Cape Town!
So to start off, South Africa is not really known for it's cuisine and after having lived here for a couple of months I still have troubles finding traditional restaurants and dishes because there is so much influence here from so many different countries. Healthy food in Cape Town is also still not as established as in other big cities around the world and there are only a handful of restaurants and cafés that I would recommend. One thing I noticed that is really big here are freshly pressed juices! You will find them in almost all restaurants and cafés and its just so healthy and wonderful!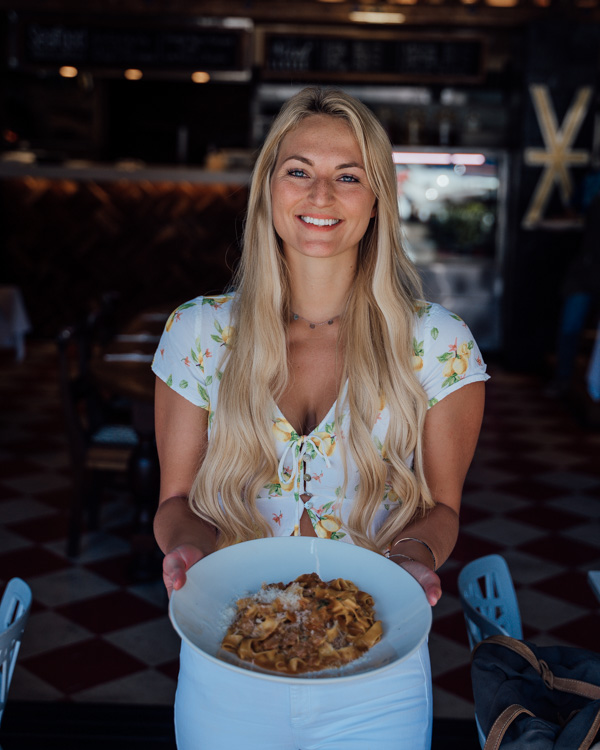 As a full time fitness food blogger I sampled my way through the cities restaurant sphere and picked my favorite places to include them for you here in this blog post:
Poke Co.
A new healthy place that is getting more and more popular is Poke Co. They just opened their third location on Kloof Street and I had probably the best Poke Bowl of my life there! I actually built my own Poke bowl, but you can also choose some of the especially designed variations on the menu. You will find stylish interior and surfer vibes at every location. If you are looking for healthy food in Cape Town this is definitely a place you should visit. We spent quite some time talking to Andrew, the owner, who is a very friendly and welcoming guy. At Poke Co you can also get healthy smoothie bowls and delicious fresh pressed juice! They are also on Uber Eats – so if you are too lazy to go there yourself you can also order yourself a healthy poke bowl straight to your apartment.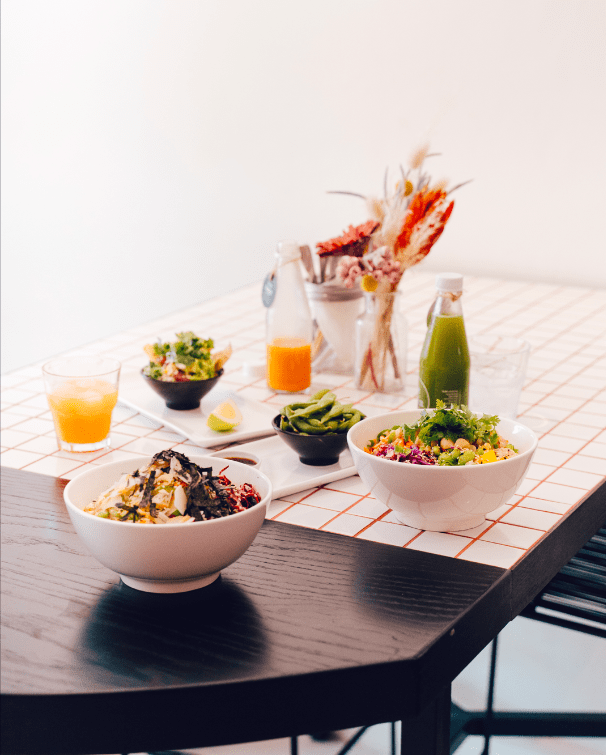 Wildsprout
This concept store is located a bit outside the bustling city center. It is a gluten free, wholefoods Cafè situated in the heart of the suburbs! Wildsprout includes a healthy food store in their restaurant. All the ingredients are locally sourced and partially grown on their own farm outside of Cape Town. This is really a top foodie choice for healthy food in Cape Town. I had the quinoa bowl, which I probably would not order again since it was a bit too bland for my taste. We tried a variety of desserts when we were there and the carrot cake was so delicious!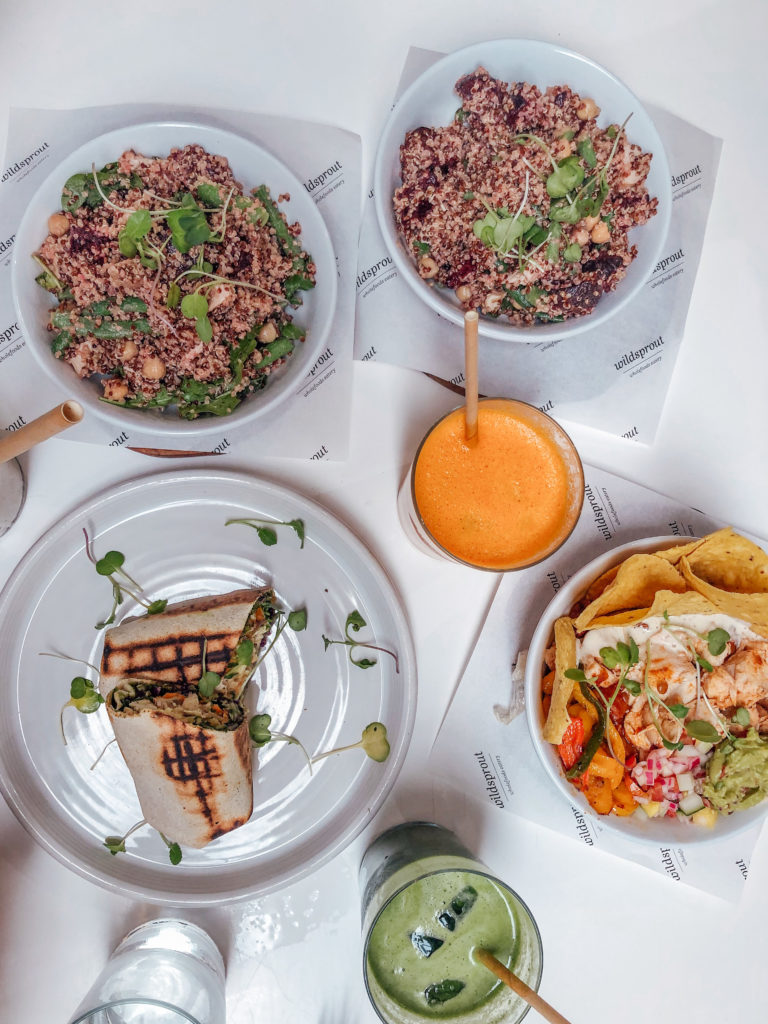 If you are looking for a quiet café away from the noise that is really focused on whole ingredients and sustainable sourcing you should definitely go to Wildsprout. They are really focused on the health aspect and all the meals are wholesome and good for your body! However, solely judging by the taste of the food I would prefer the other places in this blog post. But this is definitely the healthiest one of all!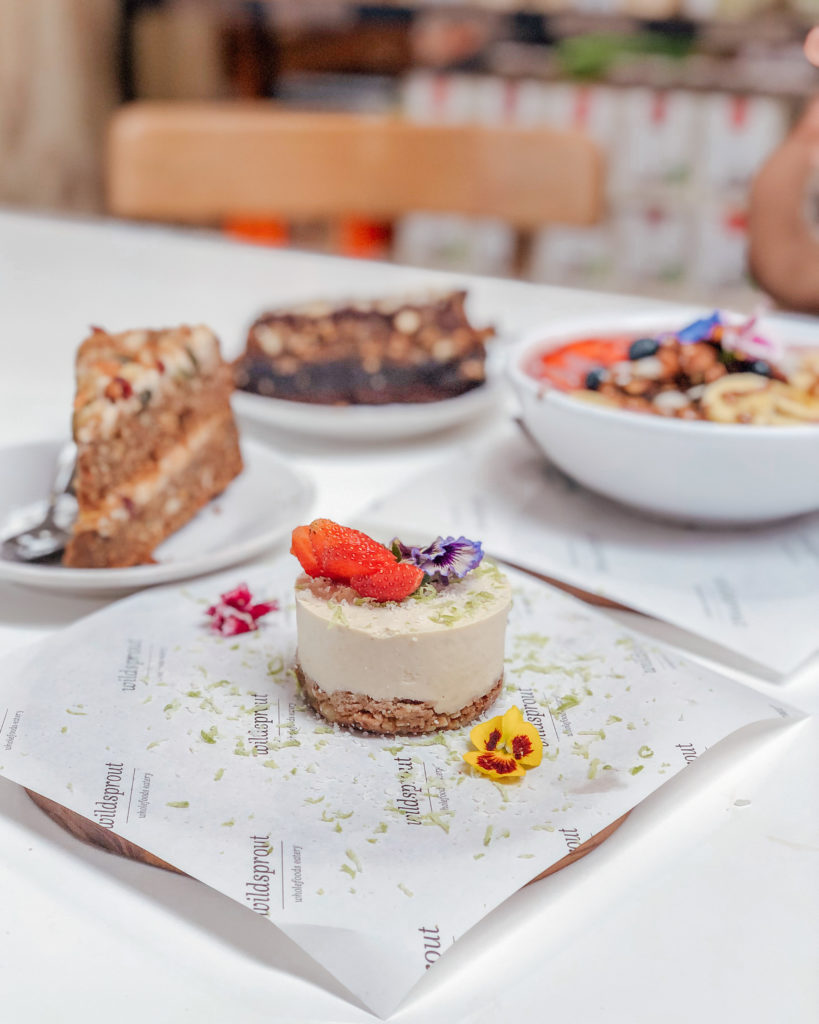 Nourish'd
If you are looking for Bali vibes go to Nourish'd. Walking in reminded me of sitting in my favorite beach Café in Canggu. There are a lot of tropical plants all around and the interior gives you so many good picture spots! It has such a nice, chilled atmosphere and you pretty much only see cool, hip and young people walking in and out of that place.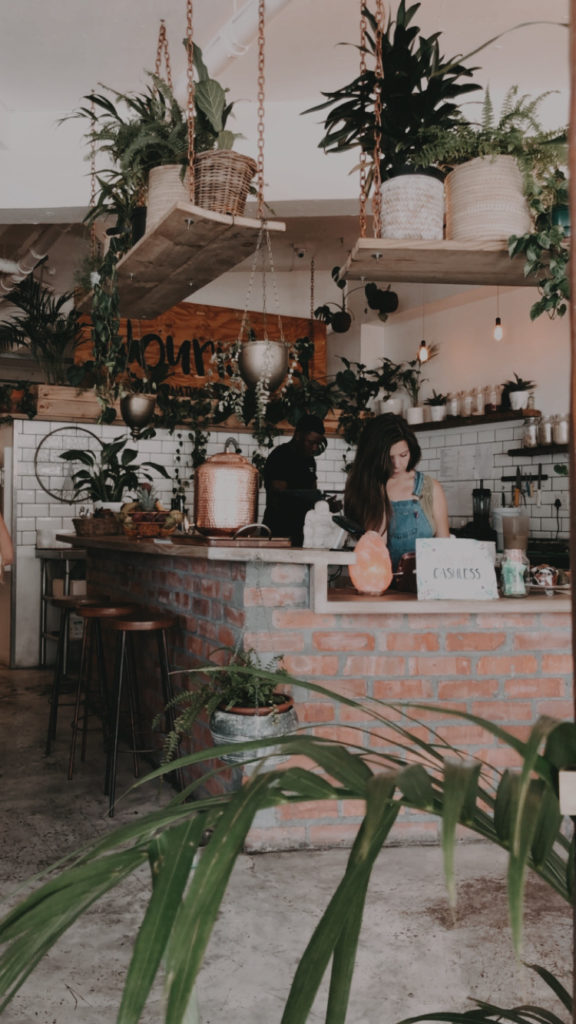 There are two different locations. The one at observatory is much bigger and has a bigger menu choice. I can really recommend you try the rainbow flapjacks. Its a super yummy and fudgy pancake tower. You can also buy raw, vegan Ferrero Rocher balls at Nourish'd, which are mind-blowingly awesome! I actually decided to go for the french toast filled with decadent homemade hazelnut spread. Also very delicious, but very calorie rich at the same time.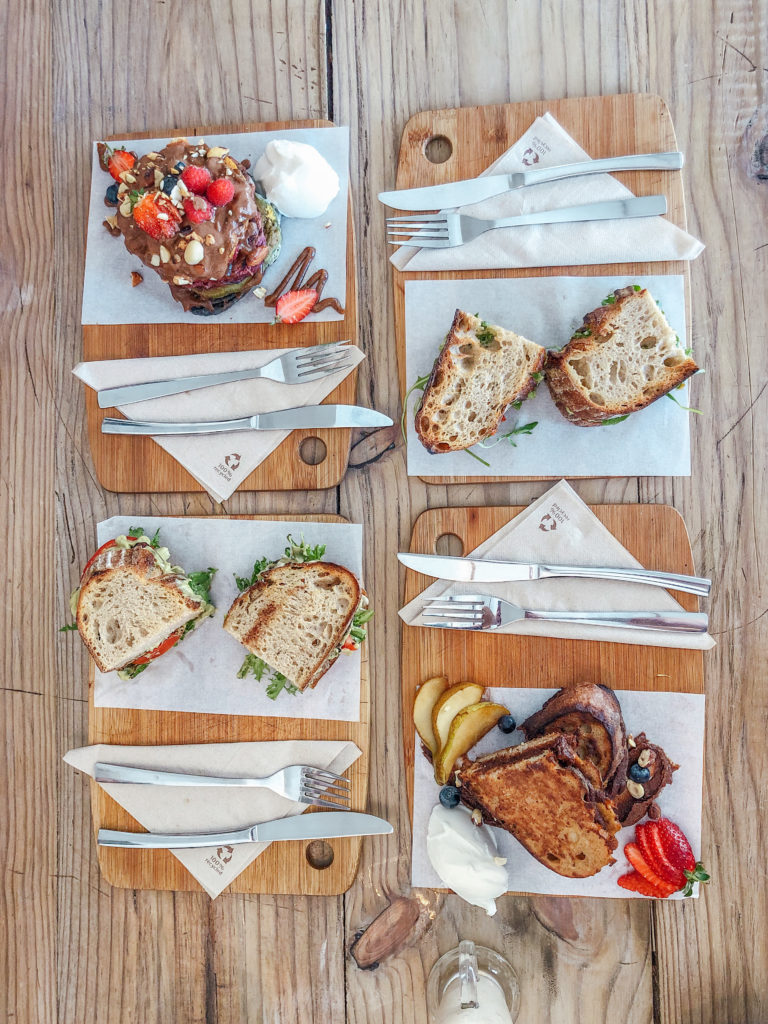 Raw and Roxy
This vegan healthy café is pretty new in the city of Cape Town. It offers delicious vegan food, tea creations, fresh juices and smoothies. I was there on a day where I didn't feel very well I was unfortunately not able to try any of their food. But I enjoyed the warm matcha latte – which was a special creation with mint – and got a big beetroot kickass juice to go! The interior is really nice and I loved the flower arrangement everywhere. It's quite big and a lovely spot to spend a couple hours chatting over coffee. Speaking of coffee – make sure to try their raw coffee. It's a blend of different spices and superfoods and simply so dense and delicious.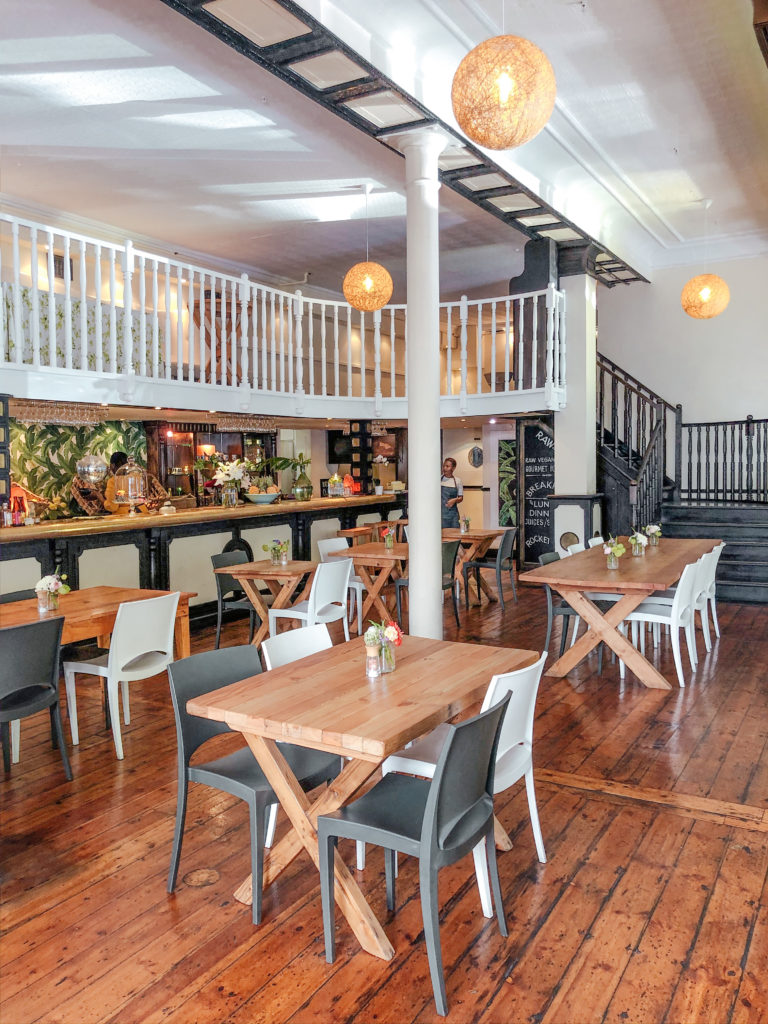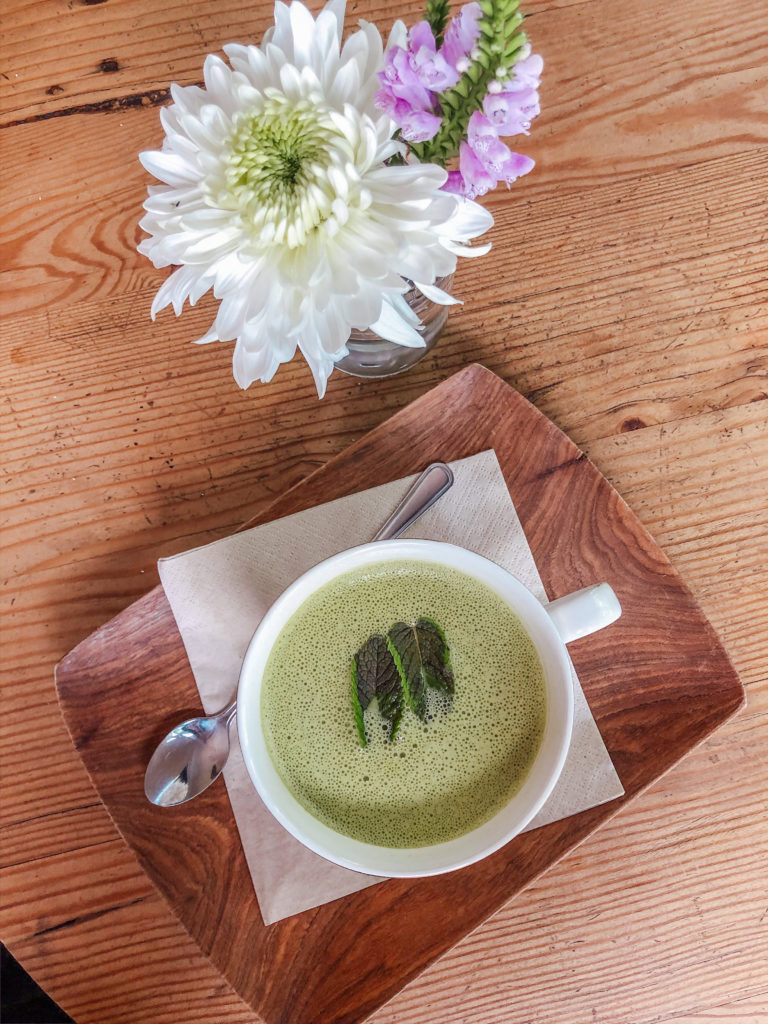 I was actually positively surprised because I looked the place up on Instagram before and was a little underwhelmed by the pictures and account in general. So I actually wasn't sure to expect of it, but was positively surprised when I got there. Its a really nice café and probably one of my favorite spots for healthy food in Cape Town.
Scheckters Raw
If you are looking for healthy food in Cape Town going to Scheckters Raw is a must. They are based in Seapoint and have a really nice, chill restaurant. You can choose from a lot of different things on the the menu. I for example ordered zucchini pasta! They are famous for their healthy, vegan pumpkin based donuts. I obviously had to try it and they are really a yummy. Scheckters also has a stand at the Oranjezecht Farmers market at the Waterfront. So you can try their food at the market on Wednesday, Saturday and Sunday as well.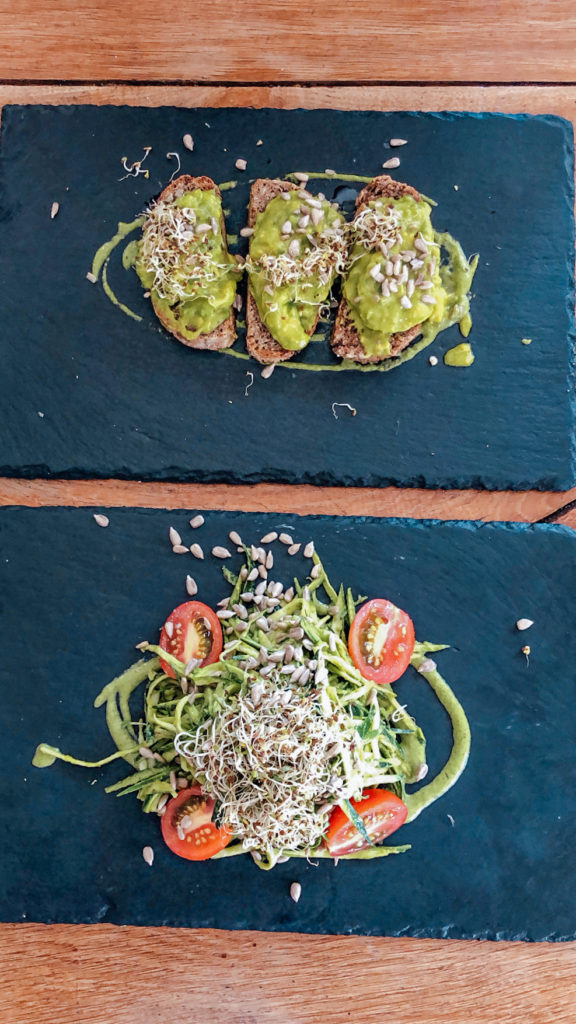 Just like the other superfood places in Cape Town, they have a big selection of freshly pressed juice!
The Strangers Club
The Strangers Club is probably my favorite healthy food place in Capetown. It is owned by a 23 year old entrepreneur called Adam, who started with his first business when he was 18. He opened Strangers Club giving local designers a voice and offering them to showcase their products at the restaurant. Its a very cool concept store and the setting is just lovely. It is so hidden I walked by 2 times when I went there the first time. The menu is short but sweet and everything is made fresh. The Nutty smoothie bowl is supposed to be the best in Cape Town!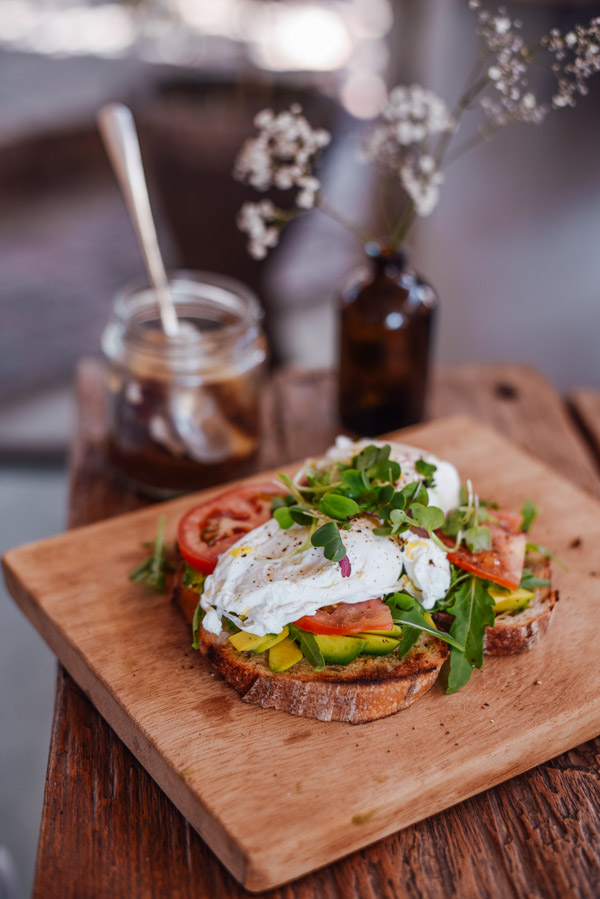 This was the first café I noticed people coming in with their laptops doing some work from the café. The place was packed and it had a good mix of tourists and locals. Definitely check it out when you are in Capetown.
More food guides
I really hope you enjoyed this guide on best healthy food in Capetown. There are not as many healthy food places as in other cities, but you can tell they are up and coming. Clean food, vegan options and raw desserts definitely still seems to be quite new to Capetown, but the few places they have a really great!
Check out my other city food guides for more healthy eateries abroad:
I hope you enjoyed this guide for healthy food in Cape Town!
xoxo,